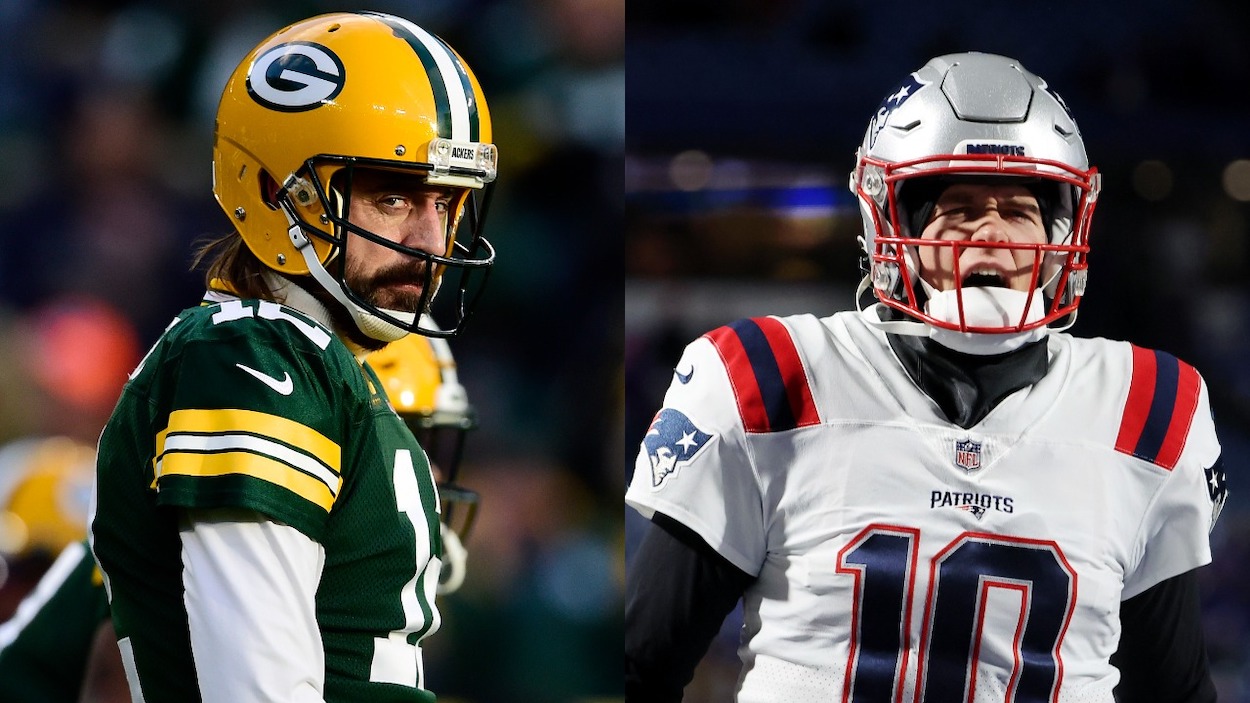 Aaron Rodgers Subtly Throws Shade at Mac Jones After 3-Pass Performance: 'I Just Don't Think That Would Be Necessary, You Know?'
Aaron Rodgers says that while the Patriots three-pass win in Week 13 was fine, he would never do what Mac Jones did, throwing it just three times in a game.
There's an old cliché in sports that a win is a win and a W looks the same in the standings whether it was pretty or ugly. Green Bay Packers quarterback Aaron Rodgers surely knows this adage, but it doesn't seem like he agrees with it. While discussing New England Patriots QB Mac Jones' three-pass performance in a win on Monday Night Football, Rodgers was dismissive and explained why that would never happen to him.
Mac Jones won a game throwing the second-least number of passes in NFL history 
Week 13's Monday night game between the New England Patriots and Buffalo Bills was historic. Rookie "passer" Mac Jones won a game. It was ninth overall and seventh in a row. He did it while throwing just three passes and completing two of them for 19 yards.
Since 1967, a team has thrown four passes or less in an NFL game five times. And, shockingly, all five times, that team won the game.
In Week 5 of the '67 season, Chicago Bears QB Jack Concannon was 3-of-4 for 37 yards and an interception. Yet, the Bears bested the Detroit Lions 14-3 at Wrigley Field. In '78, the New Orleans Saints beat the San Francisco 49ers 14-7 on a 2-of-4, 31-yard, one-touchdown performance by Archie Manning.
Three-pass wins have now happened twice after the Patriots' 14-10 win in Buffalo. The other time it happened was in '68. That's when the Kansas City Chiefs beat the Oakland Raiders 24-10. KC QB Len Dawson threw three passes and completed two for 16 yards on his way to victory.
The GOAT of not throwing passes and winning, though, goes to Buffalo's Joe Ferguson. That's because, in Week 3 of '78, the former Arkansas Razorback threw just two passes, completing neither of them. However, his team still beat Joe Namath and the New York Jets 16-12.
Aaron Rodgers says he'd never need to throw it so few times
As Aaron Rodgers does on Tuesdays, he joined the Pat McAfee Show to discuss a wide range of NFL-related (and non-football) topics.
This Tuesday, the topic de jour was Monday night's Navy Midshipmen-style performance by Mac Jones and the Patriots.
Co-host and Rodgers' former Green Bay Packers teammate, A.J. Hawk, asked the veteran QB, "Would you be OK if you only threw three times in a game?"
Rodgers answered with his trademark bluntness, throwing some shade at Jones for winning in this way, even though he never even mentioned the rookie signal-caller's name:
I don't think that that would be necessary. We've played in a lot of inclement weather. … And there's little adjustments to the plan you can make, and you realize what throws are high percentage throws. … I think you have to take some shots down the field. Regardless of how bad the wind is, you have to find a way to keep them honest, even if you throw an incompletion. …There wasn't a whole lot [the Patriots] needed to change at all, but I do think that there's still a way to get some high percentage attempts in inclement weather, and we've been able to do that.

Aaron Rodgers on Mac Jones' three-pass performance
While Rodgers didn't outright mock or disparage Jones by name, the subtext was clear. Rodgers would never let a coach tell him to throw just three times in a game, and any QB worth their salt wouldn't either.
Maybe Rodgers respects Jones' potential and just didn't say that, while he would never allow it to happen, Jones is a rookie and made the correct, team-first choice to go with the game plan, and he totally gets that.
Or maybe not.
Rodgers has thrown a lot in his career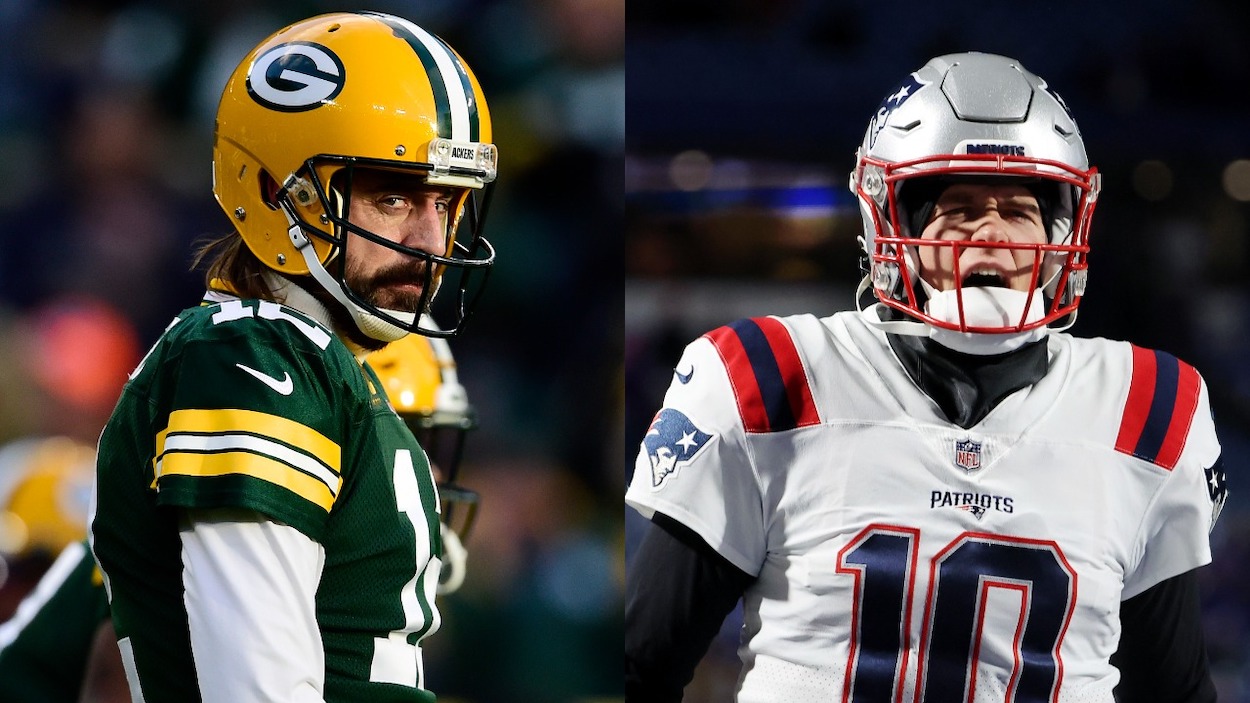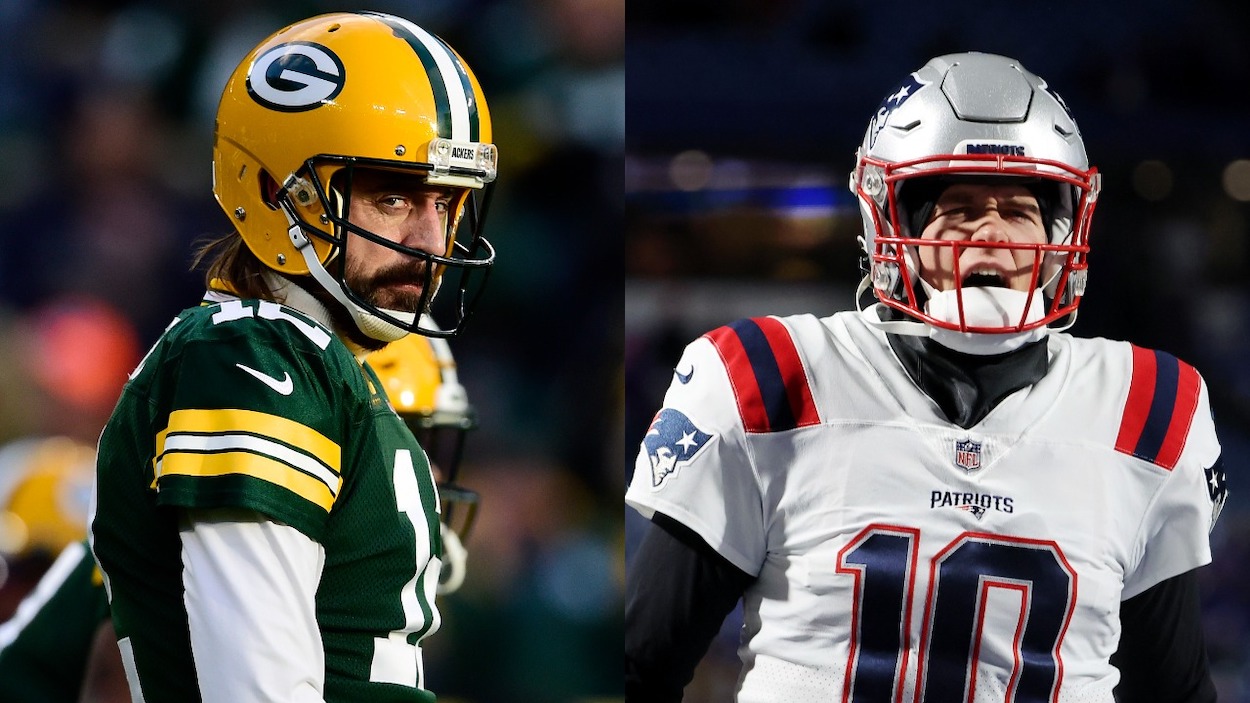 Another part of A.J. Hawk's question was whether Aaron Rodgers remembers the least number of passes he's ever thrown in a game.
Rodgers noted that he'd likely have to go back to his high school career to find a personal stat line where he threw anywhere close to as few passes in a game as Mac Jones threw against Buffalo.
The Green Bay QB with the photographic memory did correctly identify — off the top of his head — that he threw 22 passes in his first start. However, Rodgers also incorrectly stated that he thinks he's never thrown less than 20 passes in a game he finished.
During a 28-26 win over the Detroit Lions in Week 4 of 2010, Rodgers threw just 17 passes. Outside of that, he was correct, though. The only times he's had less than 20 throws other than that games are ones he's left due to injury or a lopsided score.
Rodgers is currently 11th all-time in NFL history for passing attempts with 6,960.
There are only three active players ahead of him on that list: Matt Ryan (7,863), Ben Roethlisberger (8,293), and the all-time leader, Tom Brady (11,106).
During his 11 full seasons (not counting his first three, two lost to injury, and this not-yet-completed season), Rodgers has averaged 545 passing attempts per year. If he plays three more seasons, he should rise to the No. 5 spot in this list behind Peyton Manning (9,380).
At this pace, he'd have to play six more seasons — until he's 44 — to catch and pass the guy he used to back up, Brett Favre (10,169). And, to put the No. 1 guy's greatness in perspective, Rodgers would have to play at least eight seasons after Brady retires to catch the GOAT.
All stats courtesy of Pro Football Reference