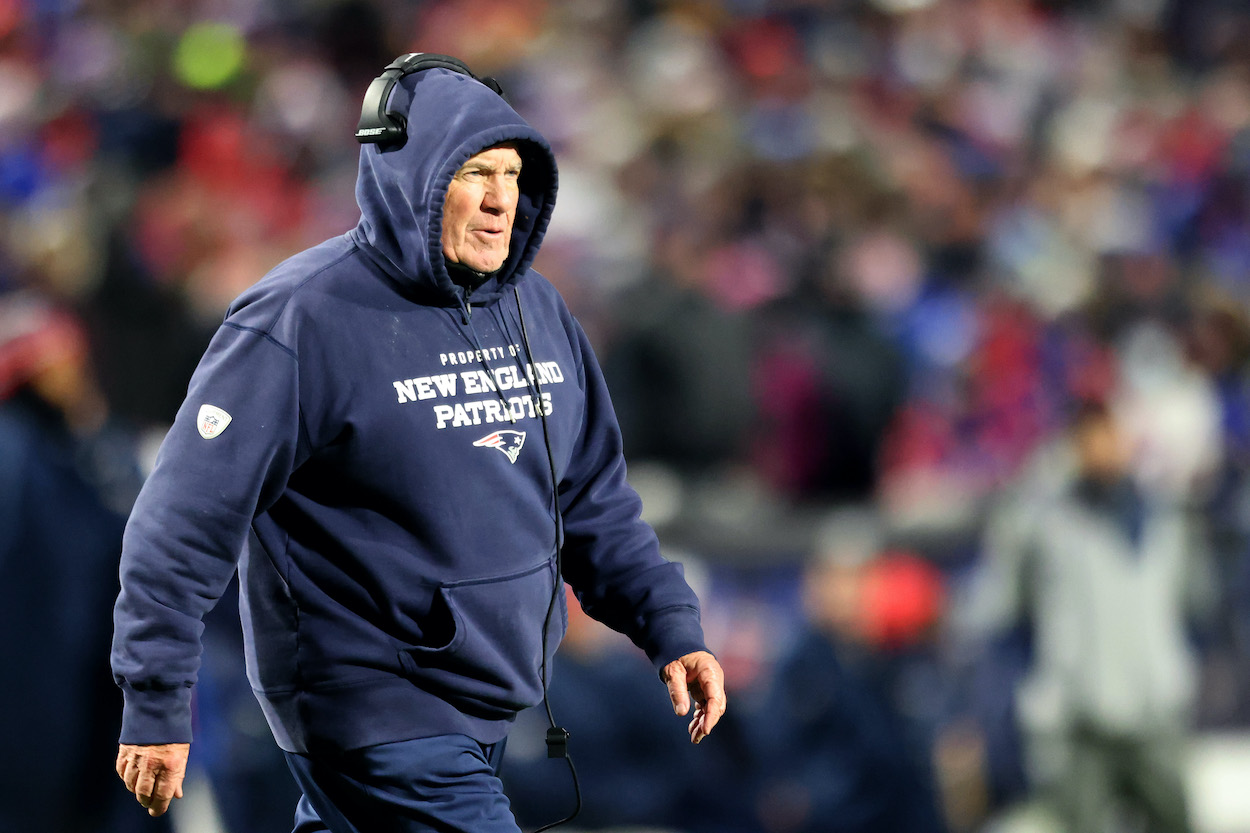 Bill Belichick Dropped a Major Hint About His Game Plan Before Beating Down the Buffalo Bills With 46 Rushes
Legendary New England Patriots coach Bill Belichick wore a revealing mask into the stadium before running all over the Buffalo Bills D in Week 13.
New England Patriots head coach Bill Belichick orchestrated yet another masterful and historic performance in a Week 13 Monday Night Football win over the AFC East rival Buffalo Bills. The legendary head coach and offensive coordinator Josh McDaniels called just three pass plays to 46 running plays during the team's 14-10 win. This game plan seemed shocking in the moment. However, Belichick actually gave fans a major hint about what he was about to do with his pregame attire.
Bill Belichick beat the Buffalo Bills with a masterful, old-school game plan
Bill Belichick and the New England Patriots arrived in Buffalo to trademarked Western New York weather. It was cold and snowy with wind gusts up to 50 mph.
In pregame warmups, ESPN showed Patriots kick returner Gunner Olszewski tossing a football up in the air and running around wildly trying to get underneath it, only to have the ball blow away, out of his reach. 
Conditions were inhospitable to the passing game. Even rocket-armed Buffalo Bills QB Josh Allen struggled at times to control his throws. So, what did Belichick decide to do? 
Simply not pass the ball. 
The Patriots' final box score read 2-of-3 completions for 19 yards, 46 rushing attempts for 222 yards, and one touchdown. The score came on a first-quarter 64-yard TD dash by Pats RB Damien Harris. That run, combined with a two-point conversion and two field goals, was enough to flummox the vaunted Bills D to give the Patriots the W. 
It was a historic game plan for Belichick and McDaniels. Rookie quarterback Mac Jones' three passes tied for second-least in the Super Bowl era. 
On Oct. 20, 1968, Kansas City Chiefs QB Len Dawson was 2-of-3 for 16 yards in a 24-10 win over the Oakland Raiders. In that game, the Chiefs ran the ball 60 times for 294 yards and three TDs. 
Four years later, on Sept. 29, 1974, the Buffalo Bills defeated the New York Jets with QB Joe Ferguson going 0-of-2 for 0 yards. Led by O.J. Simpson's 31-carry, 117-yard performance, the Bills rushed 61 times for a total of 223 yards and two scores.
In today's pass-happy NFL, a team throwing just three times is much more surprising than it was 40-plus years ago.
That said, if you watched Belichick's pregame interview and saw the mask he was wearing walking into the stadium, you might have got an inkling as to what was to come. 
Belichick dropped a major hint about his rushing plans, wearing a Navy mask pregame
Bill Belichick grew up in Annapolis, Maryland, the home of the United States Naval Academy, per Patriots.com. His father, Steve — a Navy veteran — worked as an assistant coach for the Navy football team for 33 years.
Because of Belichick's longtime connection to Navy football, most viewers likely didn't think twice about the coach walking into Highmark Stadium in Orchard Park wearing a Navy mask on his face.
However, because fans can never rule out next-level mind games from the six-time Super Bowl-winning coach, that mask may have been a sly hint about what was to come.
The Navy football program — along with its primary rival and fellow service academy, Army — is known for running the ball.
In the early days of football, most teams ran run-option-style offenses. In the 1970s and 80s, though, as passing became more in vogue, this offensive style nearly disappeared. However, because Navy Midshipmen players are headed into the military after graduation and not the NFL, the football program has implemented a run-heavy style for years.
Maybe Belichick was simply paying tribute to his father or supporting his boyhood team ahead of Saturday's Army/Navy game with his mask.
Or, maybe he just grabbed the closest mask to the door on his way out of Massachusetts without thinking about it, as so many of us do these days.
Or, maybe — just maybe — because he's Bill Belichick and he's playing 3D chess while the rest of the football world is playing checkers, the future Hall of Fame coach wanted to send a winking message to everyone about how he was about to dismantle the Buffalo Bills and secure first place in both the division and conference.
The New England Patriots should come out firing after their late-season bye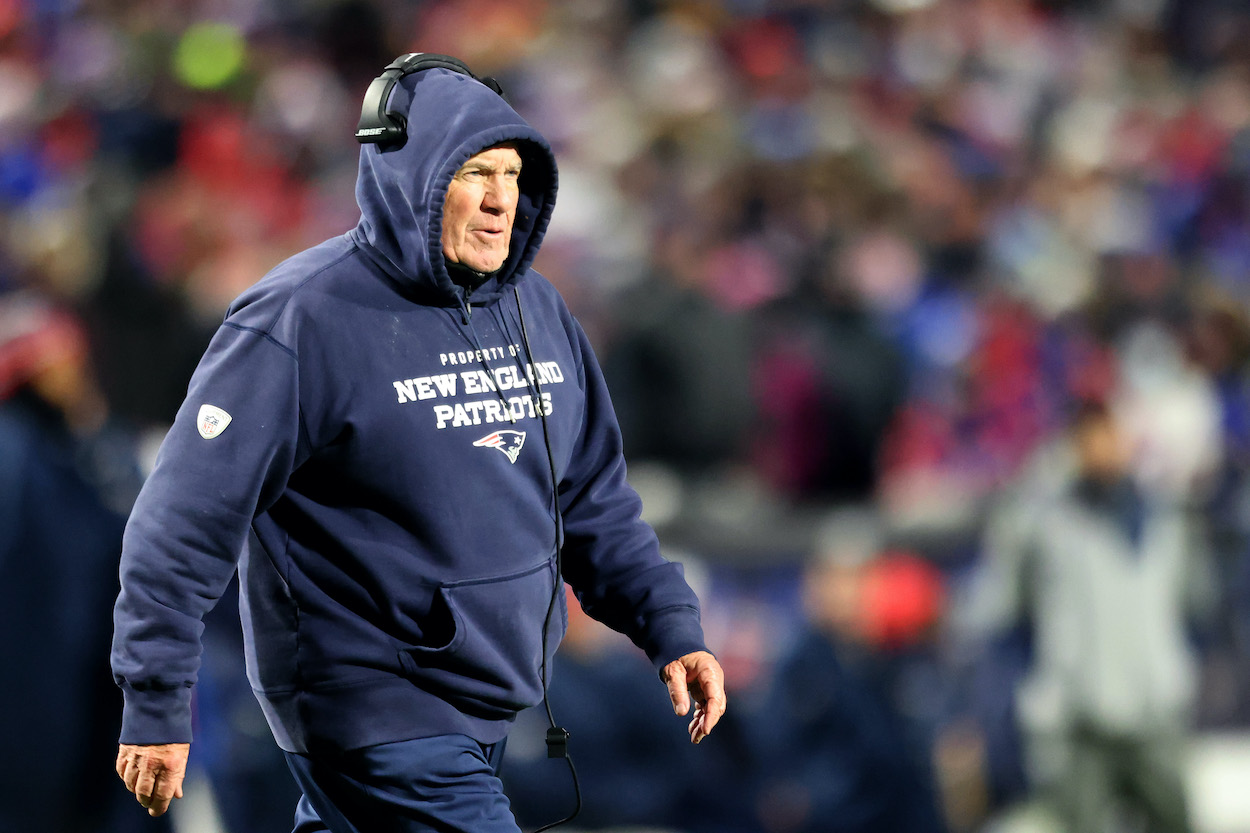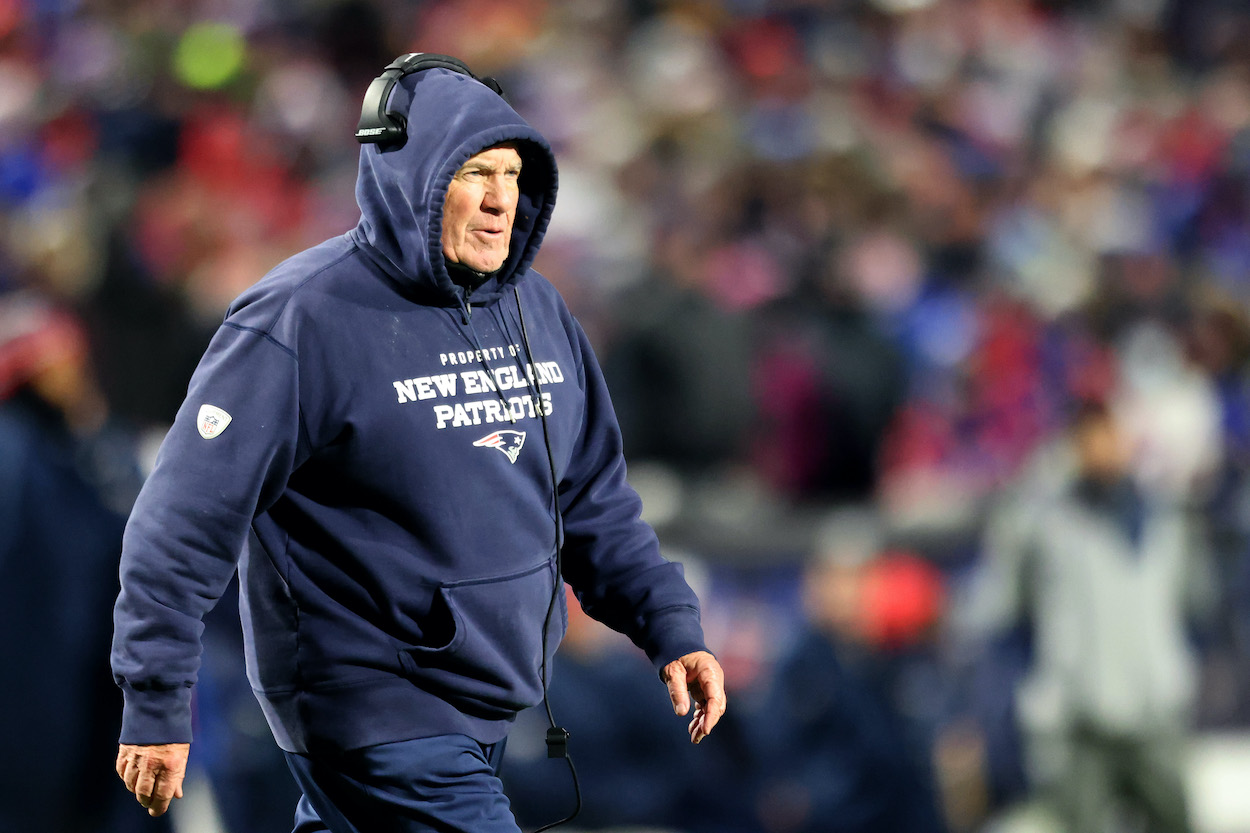 With the win over Buffalo, the New England Patriots currently hold home-field advantage throughout the 2021 playoffs in the AFC.
And, in a fortuitous twist of scheduling, the team has its bye during the last bye week of the season in Week 14. This allows Bill Belichick, his staff, his team, and his rookie QB Mac Jones to regroup, get healthy, and come up with a plan on how to best move forward later than almost any other team in the NFL.  
It's almost unfair.
Coming out of the bye — where teams historically perform well, and Belichick is 15-6 with the Patriots — New England faces a tough challenge in the Indianapolis Colts. After that, there's the Foxborough rematch with the Bills, followed by two relatively easy games to end the season: home against the scandal-plagued Jacksonville Jaguars and at the Miami Dolphins in Week 18.
After one down season in the post-Tom Brady Era, Belichick has a new Brady-esque QB in Jones, and his team, yet again, sits atop the AFC. It is an incredible testament to the all-time great and may win him his fourth Coach of the Year Award.
Belichick surely isn't worried about that, though. He's focused on winning a Super Bowl and doing it in historic fashion, with a rookie QB.
As for how he plans to do it, maybe we should keep a close eye on his pregame mask for clues.
All stats courtesy of Pro Football Reference