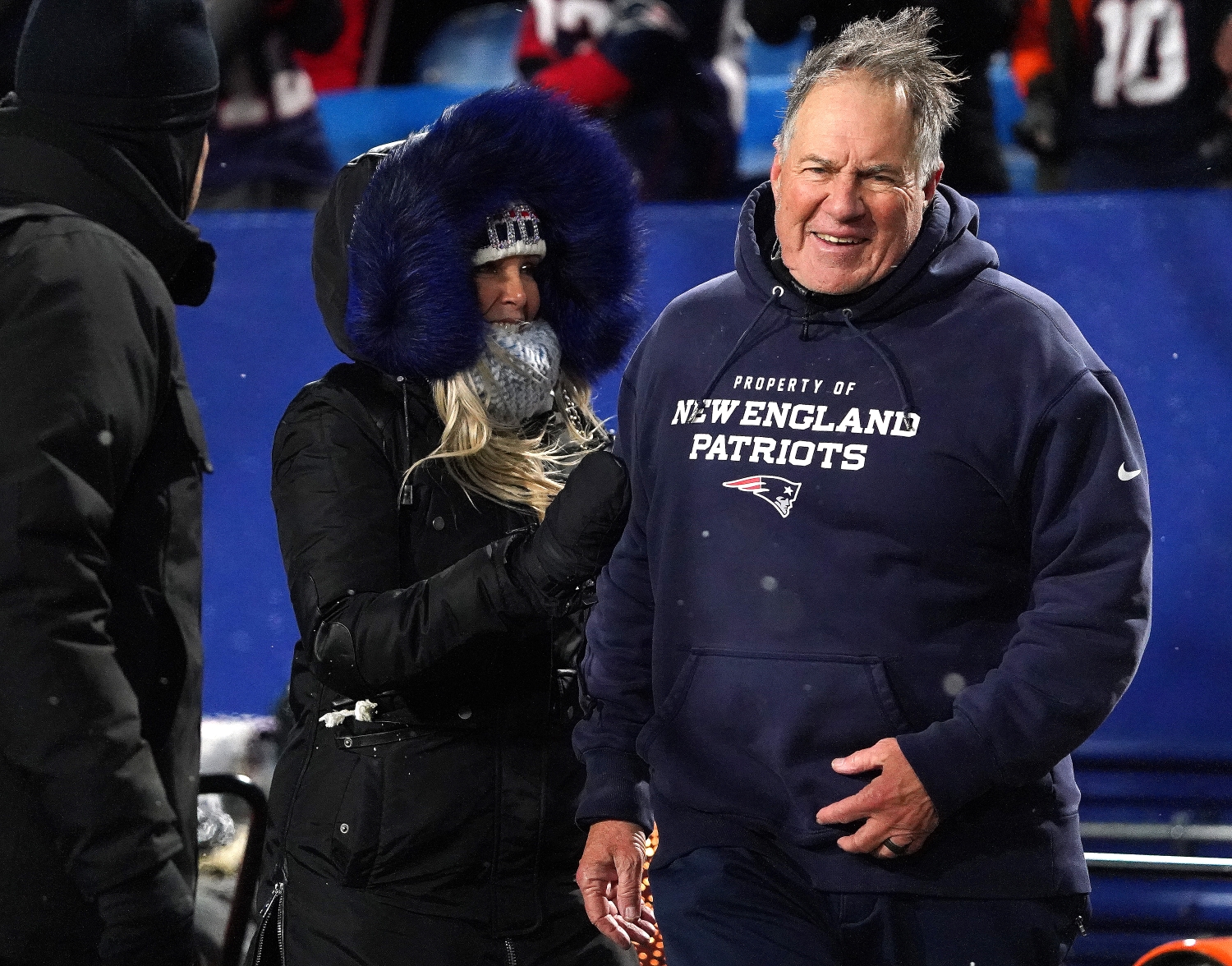 Bill Belichick Cements Coach of the Year Case With Beautifully Ugly Win Over Bills That Only He Can Appreciate
Bill Belichick's brilliant game plan for the Bills and willingness to stick to it should cement his case for NFL Coach of the Year honors.
It's over, folks.
In case anyone had any reservations about who deserves NFL Coach of the Year honors, Bill Belichick proved exactly why he's the only worthy candidate of the coveted award by defeating the Bills with a beautifully ugly game plan that allowed the New England Patriots to secure a hard-earned victory on a blistery cold night in Buffalo.
With the wind blowing hard and the temperature dropping into snow flurry territory, the notoriously cunning Belichick considered all the factors at play and implemented a strategy that made an ugly game even uglier.
Ultimately, though, the optics didn't matter.
By the time the final whistle blew, the Patriots owned a 14-10 advantage on the scoreboard over the Bills, who suffered their fourth loss in their last seven games. While the victory included some costly mistakes — namely a muffed punt by the perpetually disappointing N'Keal Harry — New England extended its winning streak to seven games and made the idea of a first-round bye realistic, if not probable.
And you can bet Belichick will be more than happy to talk about this game for years to come.
After all, only he could appreciate the beauty in the ugliness that was the Week 13 edition of Monday Night Football.
In a league that's become increasingly pass-oriented over the years, the Patriots refused to throw the ball against the Bills. That didn't reflect a lack of faith in Mac Jones. It didn't have anything to do with a lack of confidence in the offensive line, either. And it definitely didn't boil down to a dearth of talent at receiver or tight end.
No, the Patriots had a healthy quarterback, a full cast of weapons, and a dominant offensive line that actually has too many starting-caliber players. Yet even with all the pieces needed to move the ball through the air, they made almost no attempt to do so in the four-point road victory.
And that's exactly what Belichick wanted.
Rather than take any chances on a windy night that made life miserable for kickers and punters, New England simply did what it does best: play bully ball.
Instead of asking Jones to make reads or diagnose coverages, Josh McDaniels relied on the two-headed tandem of Damien Harris (10 carries for 111 yards and a touchdown) and Rhamondre Stevenson (24 carries for 78 yards) to carry the offense. Plus, Brandon Bolden sprinkled in 28 yards on four carries.
In fact, after totaling a career-high 310 passing yards in last week's win over the Tennessee Titans, Jones finished his 13th NFL game with a mere 19. Then again, considering he only attempted three passes, it's fair to say he had no shot at padding his season stats.
But while Jones' critics will point to Josh Allen's 30 attempts as a sign that the Patriots clearly didn't trust their rookie signal-caller, that simply isn't the case.
The former Alabama star did his job, and his job in this type of game was to hand the ball to whoever lined up in the backfield and get out of the way. Belichick didn't need his quarterback to win under harsh conditions that clearly affected how the ball traveled through the air. He needed his philosophy of overpowering opponents with a physical offensive line and a stout defense to pay off, and that's exactly what happened.
With 222 yards on 46 carries, the Patriots wore down a Bills defense that still managed to record nine tackles for loss. Homegrown guards Ted Karras and Shaq Mason, along with bruising fullback Jakob Johnson, helped pave the way for Harris and Stevenson, who may form the most dangerous running back duo in the league. Isaiah Wynn, David Andrews, and Trent Brown (plus sixth OL Michael Onwenu) also deserve credit for doing the dirty work in the trenches.
As much as it may have pained NFL fans to watch a game that featured a winning team with a quarterback who completed two passes, Belichick will be smiling gleefully in his office when he reviews the film.
The star-studded showdown between two AFC heavyweights surely could have gone in either direction. Yet because the roster he put together has players on both sides of the ball who exude toughness and physicality, the legendary coach sent Bills fans home in dismay. The Patriots are built to grind out close-scoring affairs with a run-first offense (led by a rookie quarterback, of course) and a defense that can change things up not only on a week-to-week basis but also on a drive-to-drive basis.
Oh, and let's not forget they employ one of the best kickers in the NFL — a major advantage when points are at a premium. While Nick Folk made both of his field-goal attempts, the Bills' Tyler Bass made a 35-yarder before missing a 33-yarder at the end of a lengthy fourth-quarter drive.
Belichick didn't have a great year in 2020, but it's impossible to look past the faster-than-expected resurgence of his football team. The Cam Newton experiment clearly failed to pan out, but the Mac Jones pick looks like a home-run move by a general manager who also landed Stevenson and promising defensive tackle Christian Barmore in the 2021 draft. And Belichick the GM helped Belichick the coach by signing a number of high-impact free agents, including Matthew Judon (team-high 12.5 sacks), tight end Hunter Henry (team-high seven touchdown receptions), and wide receiver Kendrick Bourne (team-high 623 receiving yards).
Unsurprisingly, the Patriots didn't look anything like this early in the season, which raised concerns about their chances of making the playoffs, let alone winning a Super Bowl title. Patience, practice, and persistence paid off, though, and they've transformed from pretenders into the top contender in the crowded AFC. Much of the credit has to go to players for executing on the field.
But Belichick needs to receive recognition for what might be the best coaching job of his career.
After getting off to a 2-4 start that included tough-luck losses to the Tampa Bay Buccaneers and Dallas Cowboys, the Patriots have ripped off seven straight wins, several of them in lopsided fashion. They've done so by gradually putting more on their rookie quarterback's plate and reeling things back when necessary. They've also accomplished that feat by playing aggressive man coverage and utilizing zone looks. And they've cemented their status as the No. 1 team in the conference by cutting down on turnovers and forcing more on defense.
All of that stems from good coaching, and Belichick even admitted he and his staff specifically work with their players on techniques to gain and prevent yardage. That attention to detail, along with the self-awareness to identify a weakness, is what makes the 69-year-old the best in the business and the best of all time.
And that attention to detail is exactly why the Patriots have outscored their opponents by a stunningly wide margin of 225-73 during their seven-game winning streak.
Monday's win in Buffalo was a thing of beauty in the eyes of Belichick, whose willingness to abandon the pass and stick with the ground-and-pound approach no matter what demonstrated his genius as a game-planner and his commitment to doing what he believed was necessary to win. The box score and fantasy stats may have been ugly, but his team came out on top on the road against a division rival in a hostile environment with bad weather.
Fittingly, Allen's final attempt got broken up by Myles Bryant, a second-year undrafted free agent who saw more action than usual due to breakout star Kyle Dugger being on the reserve/COVID-19 list.
In other words: It was everything Bill Belichick could have asked for.
At this point, the only question that should be asked is whether the unquestioned Coach of the Year can make NFL history by winning a Super Bowl with a rookie quarterback.
And with the way things are trending in New England, that might just happen.
All statistics courtesy of Pro Football Reference.