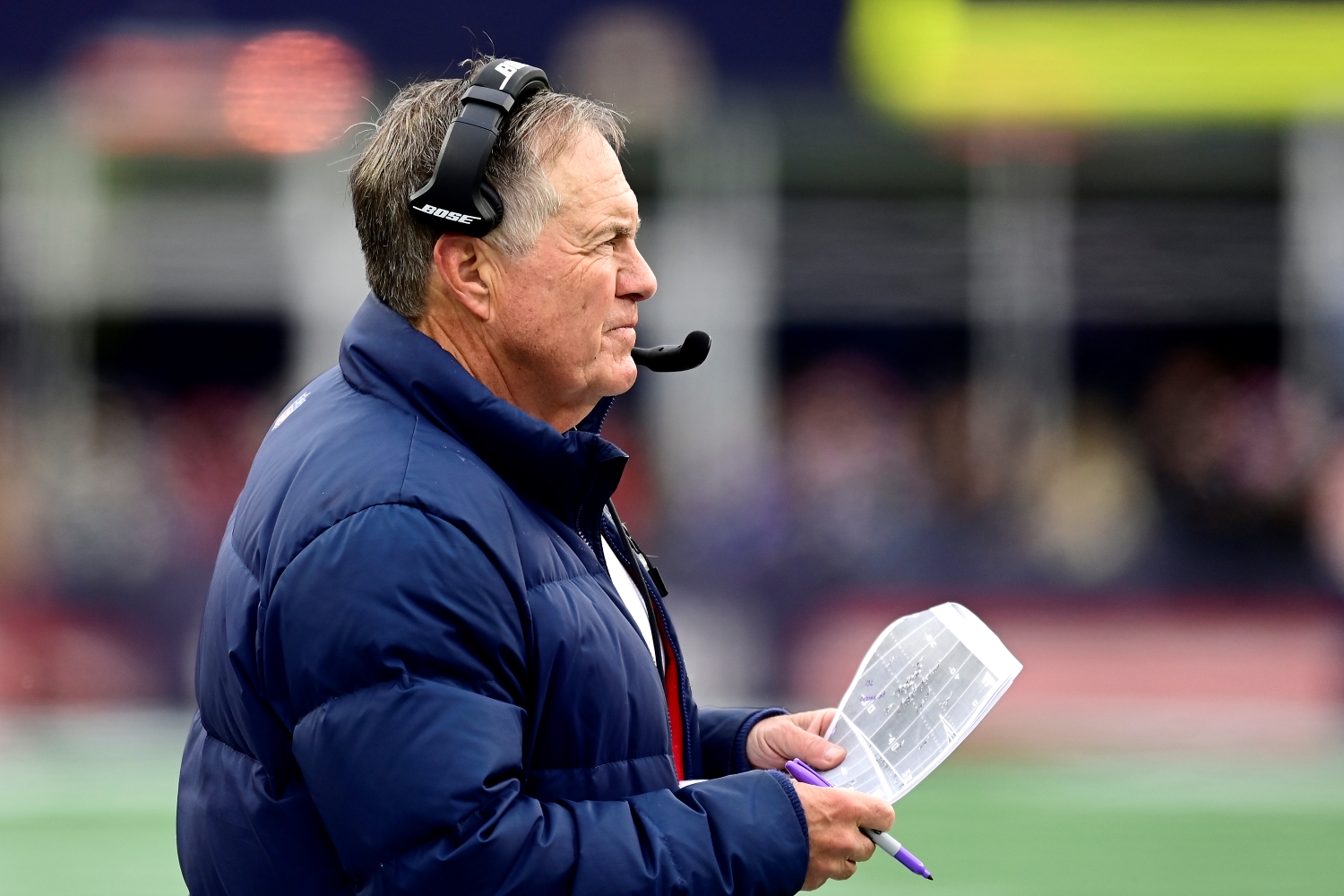 Bill Belichick is Officially Losing the Leverage Battle Against the Latest Patriots Star Searching for a Significant Raise
With one of the Patriots' homegrown stars receiving major recognition for an outstanding November, Bill Belichick has even less leverage at the negotiating table.
Leverage matters both on and off the field in the world of professional football.
From a pure physics standpoint, it can make the difference between delivering a bone-crunching tackle and getting ran over in front of tens of thousands of fans.
At the negotiating table, it can make the difference between securing a record-setting contract and receiving an underwhelming offer.
Unfortunately for Bill Belichick, he just lost even more leverage over a homegrown star who seems destined to land a life-changing raise in the coming months. But given the notoriously value-driven general manager's penchant for letting big-name players leave, don't be surprised if the New England Patriots take a similar approach with another ball-hawking cornerback with an impressive resume.
The Patriots face a monumental decision regarding J.C. Jackson's future in Foxborough
Although Belichick whiffed badly on Duke Dawson in the second round of the 2018 NFL Draft, he landed a franchise-altering talent in the form of undrafted free agent J.C. Jackson. The Maryland product wasted no time showing why he should have been selected by contributing three interceptions for a Patriots team that defeated the Los Angeles Rams in Super Bowl 53.
Following a fruitful first season in Foxborough, the 6-foot-1, 198-pound corner has developed into one of the best players at his position. And thanks to his penchant for picking off passes and being in the right place at the right time, Jackson has a chance to cash in this spring.
Of course, he received a sizable bump in pay earlier this year by agreeing to play under a second-round restricted free agent tender. But after earning less than $2 million on his rookie deal and less than $3.5 million this season, Jackson looks bound to make a substantially higher salary in 2022.
Set to hit free agency, the 26-year-old should force the Patriots to at least use the franchise tag to retain his rights. While there's no doubt Jackson's track record of production (24 interceptions in 57 games) and skill set would make him a coveted commodity for most teams, whether Belichick wants to pay $18-20 million a year for a non-quarterback remains a mystery.
After all, he shipped 2019 NFL Defensive Player of the Year Stephon Gilmore to the Carolina Panthers largely because of contract-related issues.
Ultimately, the uncertainty surrounding the star corner's future in Foxborough reflects the challenges a front office faces with the roster-building process. After all, to keep Jackson around for several more seasons, New England will have to pay a premium for his services.
Bill Belichick just lost even more leverage over his star cornerback
Unfortunately for Belichick the GM, he just lost even more leverage over one of his most impactful players. And with the way Jackson keeps trending, it wouldn't be a surprise if his value continues to skyrocket as the postseason inches closer.
On Thursday, the fourth-year corner received well-earned recognition for his ridiculously dominant November numbers. Jackson took home AFC Defensive Player of the Month honors after recording four interceptions and one forced fumble in four games — all of which ended with the Patriots owning the advantage on the scoreboard. According to Pro Football Focus, he only allowed four completions for 19 yards, which helped him earn a league-leading overall grade of 90.0 for the month.
Needless to say, November turned out terrific for a player who's within striking distance of scoring a big-time payday. Jackson has clearly proven capable of being a true No. 1 corner — a question he's had to answer ever since Gilmore suffered a season-ending quad injury last December. By consistently generating turnovers (his official Twitter handle is @MR_INT) and completely eliminating receivers from the game, he's established a reputation as an elite player at his position.
By being named Defensive Player of the Month, Jackson certainly has a stronger case to ask for a contract that would make him one of the highest-paid corners in the NFL. On the other hand, Belichick has a weaker argument to not give the homegrown star a lucrative multi-year extension.
At this point, Jackson has done everything possible to prove he deserves a top-of-the-market deal. He's never let his laughably low salaries become a public distraction. All he's done is produce at a high level for a team that has experienced some struggles in re-stocking the talent pipeline through the draft.
But just because his resume looks even better after Thursday doesn't mean he'll get what he wants from the Patriots.
History suggests New England may refuse to break the bank to keep Jackson around for years to come
Belichick seemingly has little leverage at the moment over Jackson. In fact, it's fair to say he would have been better served to try and get a deal done with the superstar defensive back before the 2021 draft, or at least before training camp began.
However, perhaps the lack of movement on the Patriots' front suggests Jackson isn't in their long-term plans. And though it may sound illogical to let an elite talent walk out the door, let's not forget Belichick has a history of letting money get in the way of keeping beloved players in New England.
In particular, his track record at the cornerback position reflects why the idea of Jackson playing elsewhere as soon as 2022 could come to fruition.
Despite being a pillar of the Patriots' defense for a decade, 2019 Pro Football Hall of Fame inductee Ty Law didn't get a chance to finish his career in a New England uniform. Instead, Belichick released him after the 2004 season because he didn't want to pay the aging corner a near-$13 million salary.
His replacement, Asante Samuel, also went from being the Patriots No. 1 corner to suiting up for another team. After playing the 2007 season under the franchise tag, he signed a six-year, $56 million contract with the Philadelphia Eagles.
Even Darrelle Revis essentially got shown the door. Despite helping the Patriots secure their first Super Bowl title in a decade, the team didn't pick up his $20 million option for 2015. And instead of working out a new deal with the former New York Jets star, Belichick let Revis sign with his old team, which actually turned out to be a smart decision in the end.
Most recently, Malcolm Butler and Gilmore found out how difficult it can be to deal with Belichick the negotiator. The former failed to convince his boss to give him an extension, which eventually led to an ugly exit. The latter now calls Carolina home again because the Patriots wouldn't re-do his contract.
So, even though J.C. Jackson has become a shining star for one of the best-run franchises in the NFL, he clearly faces an uphill battle to get a big-money deal from his current employer. But even if Bill Belichick doesn't want to pay him, the ball-hawking corner should eventually score a well-deserved multi-year contract from a team that needs an upgrade at one of the most important positions in the sport.
All statistics courtesy of Pro Football Reference. All contract data courtesy of Spotrac.