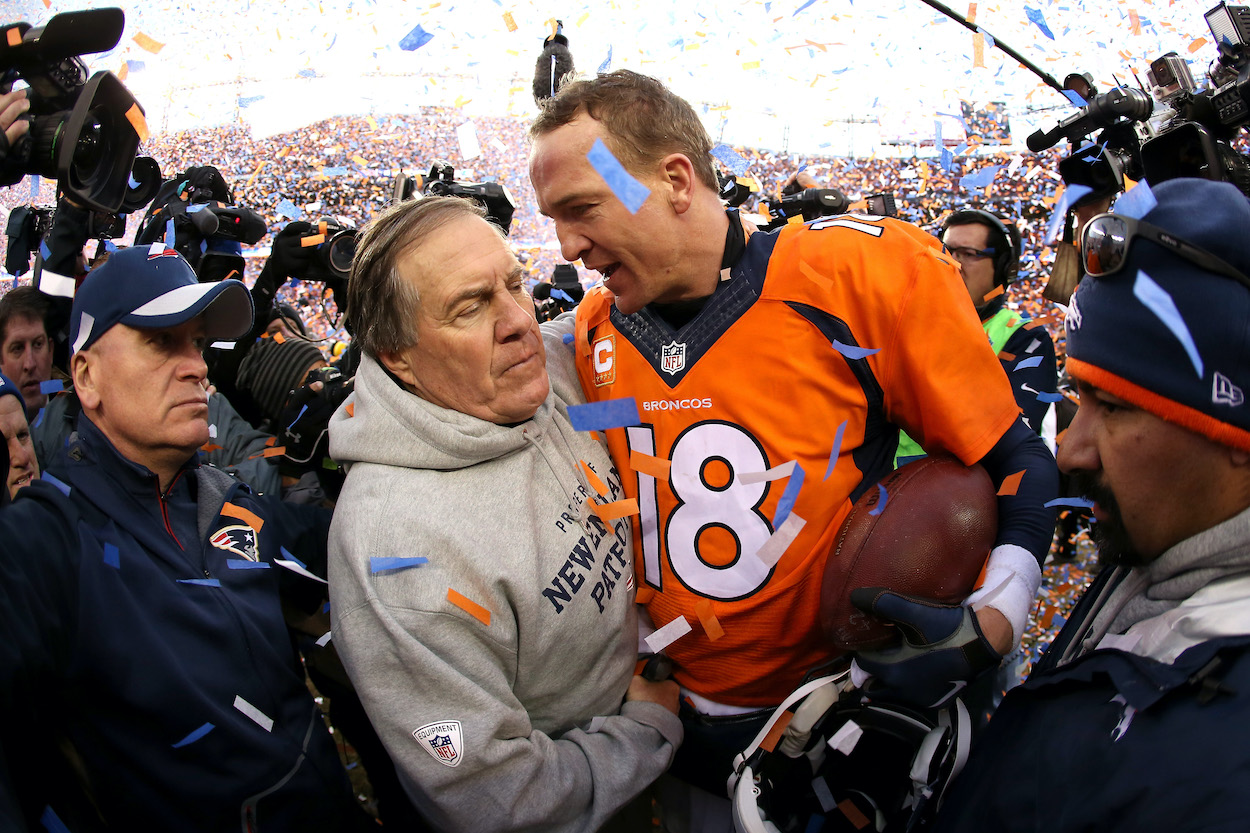 Bill Belichick Stuck it to Peyton Manning 1 More Time by Denying the Former QB's Request to Talk to Mac Jones Ahead of Week 13's 'Monday Night Football' Game: 'So Yes, I Did Get Denied'
Even though Peyton Manning retired long ago, Bill Belichick can still tweak Manning and proved it by denying his request to talk to Mac Jones ahead of the New England Patriots' Week 13 'Monday Night Football' game.
New England Patriots head coach Bill Belichick vs. Indianapolis Colts and Denver Broncos quarterback Peyton Manning produced some of the best and most memorable games in the first 15 years of the 2000s. While the two haven't gone head-to-head in six seasons, Belichick finally found a way to make Manning's life difficult again, denying the now-broadcaster's request to talk to Mac Jones leading up to the Week 13 Monday Night Football game between the Patriots and Buffalo Bills.
Bill Belichick and the New England Patriots vs. Peyton Manning was the rivalry of the 2000s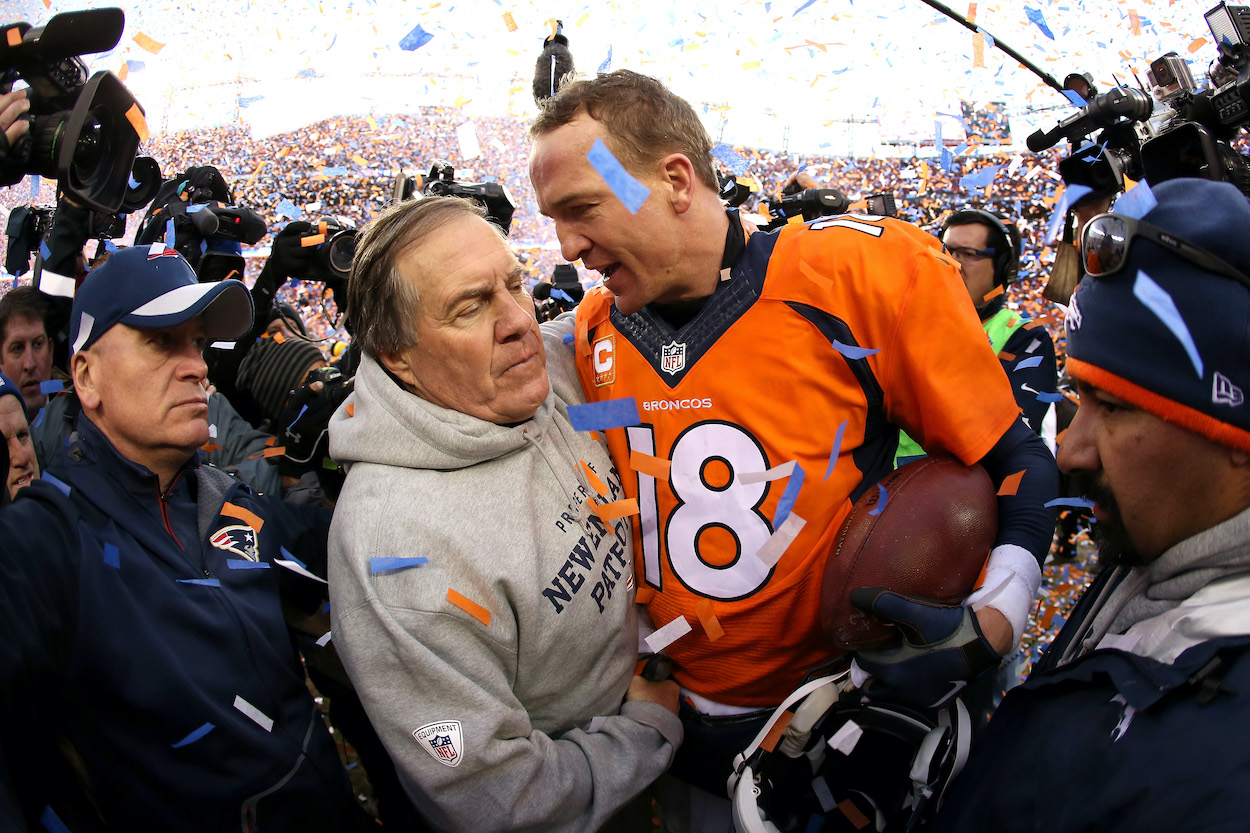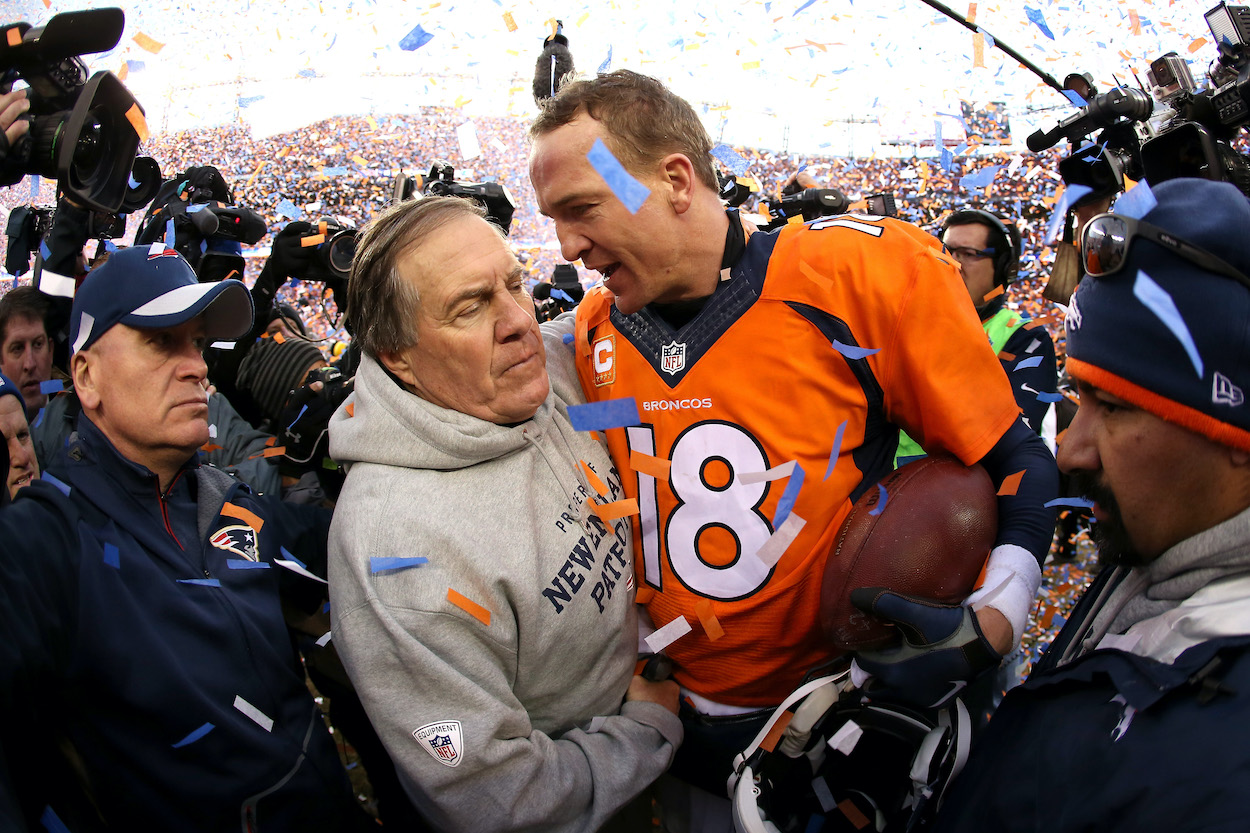 During the first decade and a half of the 2000s, the road to the Super Bowl in the AFC almost always went through the New England Patriots or Peyton Manning's Indianapolis Colts or, later, Denver Broncos.
In fact, from 2001–15, either the Patriots or a Manning-led team represented the AFC in the Big Game in nine of those 15 seasons.
While much was made of the Manning vs. Tom Brady rivalry in these games, the defining chess match was actually between Manning's offense and head coach Bill Belichick's defense.
Manning's career record against Belichick's Patriots isn't that impressive during the regular season at just 5-10. However, the Hall of Fame QB did get the best of the future Hall of Fame coach — who calls Manning the best quarterback he's ever faced — in the playoffs.
Early in his career, Manning lost to Belichick twice in the playoffs. Indianapolis lost to New England 24-14 in the 2003 AFC Championship Game and 20-3 in the 2004 Divisional Round.
That was the last time Manning lost to Belichick in the playoffs, though. He beat the Pats 38-34 in the 2006 AFC Divisional Round on his way to his first Super Bowl. Several years later and with the Broncos, Manning got the best of Belichick 26-16 in the 2013 AFC Championship Game and 29-18 in the 2015 AFC Championship Game on Manning's way to Super Bowl trophy No. 2.
The coach and the quarterback may not have faced off since that last game on Jan. 24, 2016, but in the lead-up to Week 13's Monday night game, Belichick and Manning crossed paths once again, and the former once again made life hard for the latter.
Belichick zinged Manning one more time ahead of 'Monday Night Football' game
Peyton Manning retired following the 2015 season, leaving Bill Belichick without his iconic rival for the last six seasons.
That doesn't mean that Belichick can't still fluster Peyton all these years later, as evidenced by an exchange on the Week 13 ManningCast between Peyton and his brother, Eli Manning.
"Peyton, you said you talked to Josh Allen," Eli said to his brother. "Did you talk to Mac Jones? Did you talk to all the quarterbacks?"
Eli asked the question with a smirk on his face, so he obviously knew the answer that came next:
Well, I tried to talk to Mac Jones, and he was very respectful. He said, 'Peyton, I want to do it, but can you call our PR director, Stacey [James], because he kind of has to oversee all things.' I said, 'No problem.' I called Stacey. It was very professional. I said, 'Stacey, I'm talking to Coach Belichick. Can I talk to Mac Jones?' And, I gotta tell ya, I appreciate how they're handling Mac Jones. They are trying to protect him. Give him as few off-the-field distractions as possible. Let him concentrate on playing football. So yes, I did get denied. It was the first quarterback I haven't talked to.

Peyton Manning on trying to talk to Mac Jones
Despite the rejection, Peyton continued to insist that he appreciates how the organization is handling Jones' media availability during his rookie season.
The former Indianapolis Colts star shared that the franchise that drafted him approached his rookie season similarly. He said that Colts Hall of Fame general manager Bill Polian wouldn't let the marketing or community relations departments talk to the young signal-caller.
Polian told the business side of the franchise of Peyton as a rookie, "It's all football this first season. Don't bother him."
The Hall of Fame QB is a big fan of Mac Jones
Despite not being allowed to talk to the rookie out of Alabama, it's clear that Peyton Manning is a fan of Mac Jones.
Just before Eli forced Peyton to admit the Patriots denied his access to the young signal-caller, the former Tennessee Volunteer was explaining some of the technical things that impress him so much about Jones' game.
He even says Jones is doing some things better than he did coming out of college:  
He does a great job manipulating defenders with his eyes. That's pretty rare for a young quarterback. I remember I stared at my receivers a lot as a rookie. Twenty-eight interceptions later, I paid the price. … He is really playing impressive football. He does not get rattled; he is calm and cool out there.

Peyton Manning on Mac Jones
Jones is by far the most impressive rookie QB this season, and not just because of which team drafted him. However, that does play a big part.
As Bill Belichick showed in his three-pass, 46-run masterpiece against the Buffalo Bills Monday night, there is no coach better in NFL history at putting his team in a position to play to its strengths and advantages each and every week to win games.
This applies as much to his always-adapting game plans as it does to his handling of a rookie QB, something he's never had to do before this season.
If Jones continues playing quarterback at a level beyond his years and Belichick keeps being Belichick, they may accomplish something no rookie passer ever has: making the Super Bowl.
All stats courtesy of Pro Football Reference