Aqib Talib Explains a 'Peyton Manning Manual': 'If You Mess up, You're Gonna Feel the Vibrations'
Like the best NFL teams, the Manning Cast is peaking as it gets late in the season. ESPN's alternate Monday Night Football broadcast had its sharpest episode during Week 13's New England Patriots vs. Buffalo Bills slugfest. The guest list included Peyton Manning's former teammate Aqib Talib who schooled little brother Eli Manning on what a "Peyton Manning manual" is and why Eli never got one.
Peyton Manning is called 'The Sheriff' for good reason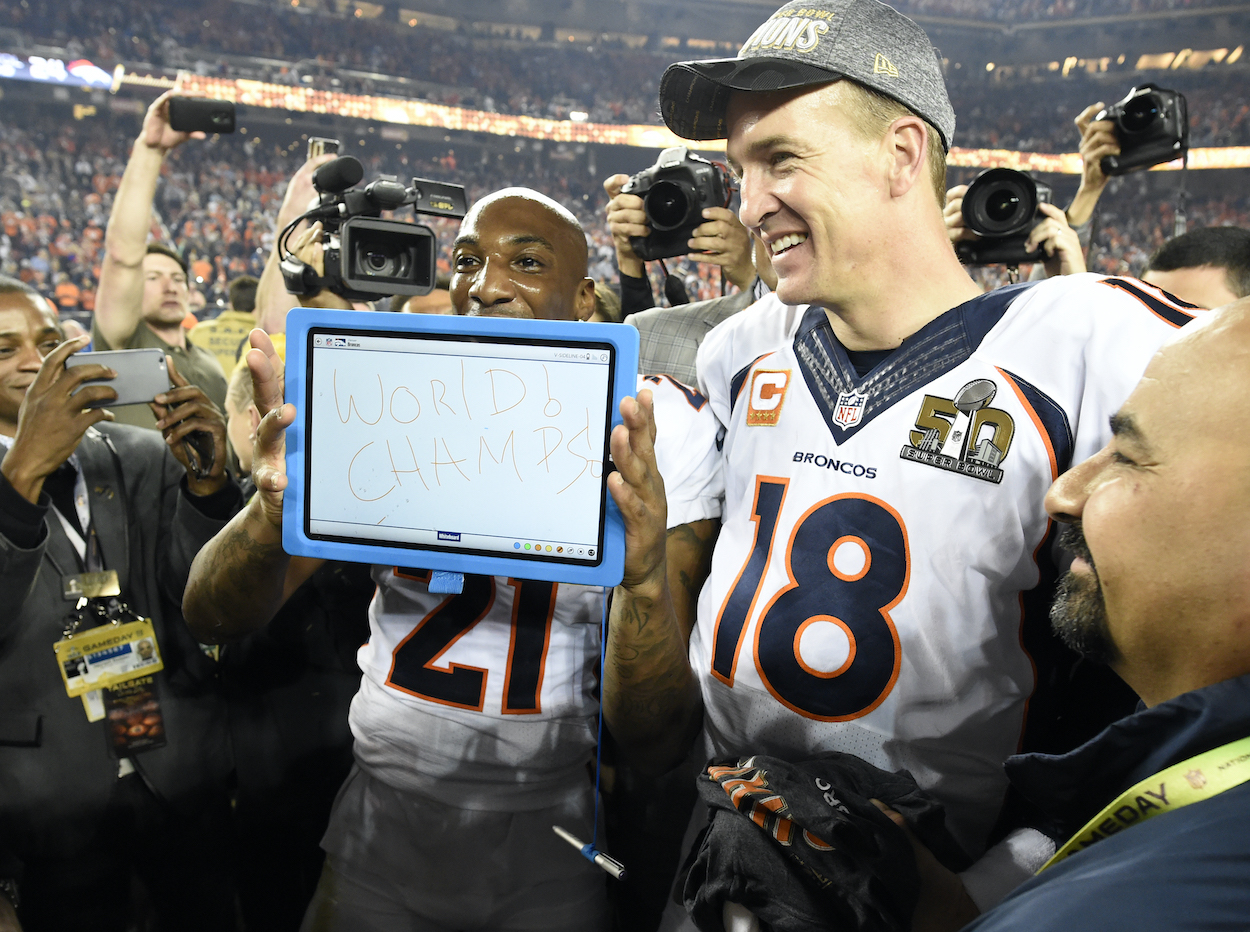 During Peyton Manning's Hall of Fame career, NFL fans came to know him for his affable interviews, funny commercials, and even more hilarious Saturday Night Live hosting gig. Off the field, he seemed like — and by all accounts is — a genuinely nice guy.
On the field is a slightly different story.
Like many great competitors, Peyton Manning seemingly had a switch he flipped when he stepped between the white lines of a football field.
Peyton's demeanor is so tough and business-like that he earned the nickname "The Sheriff." According to SBNation, Peyton got the moniker in 2009 from then-Monday Night Football broadcaster Jon Gruden because he "lays down the law" on the field.
There are plenty of examples of Peyton being hard on teammates over the years.
Tales of "The Sheriff" laying down the law include the time he benched rookie WR Austin Collie in 2009 with a simple gesture for attempting a one-handed catch and the time he kicked QB Dan Orlovsky out of the film room so he could watch tape alone — while out injured.
On this week's Manning Cast, former Denver Bronco Aqib Talib added his own story to the legacy of "The Sheriff."
Aqib Talib explained to Eli Manning what the 'Peyton Manning manual' is
In the third quarter of this week's Monday night Manning Cast during the New England Patriots vs. Buffalo Bills game, Peyton Manning's former Denver Broncos teammate Aqib Talib joined Peyton and Eli Manning.
During a fascinating but not exactly action-packed game, Talib was a breath of fresh air. His personality, knowledge, and chemistry with Peyton — the two won a Super Bowl together in 2015 — was a joy to watch.
One of the best exchanges came when Eli asked Talib about Peyton's strict reputation on the field.  
Eli noted that on a recent episode of Talib's podcast, Catchin' Fades, the former defensive player and another one of Peyton's old teammates, former Colts tight end Dallas Clark, swapped stories about "The Sheriff."
"You all talked about the 'Peyton Manning manual,' which is 'don't screw up,'" Eli said. "Now, how does that work? Does he pass out that manual at the beginning of minicamp? I never got a manual."
The former Kansas Jayhawk explained to the younger Manning:
Nah, you feel it. The manual is verbal, right? You can feel Peyton's energy in these walkthroughs and then practice, you feel his energy, and that's your manual right there, you understand? And if you mess up, you're gonna feel the vibrations, see what I'm saying? You know what time it is. It's a verbal manual. Everybody who play with him get it. You ain't play with him, Eli, so you ain't get one.

Aqib Talib on Peyton Manning
After Talib's explanation, Eli confirmed that the former All-Pro corner was correct, saying, "Yeah, I didn't get it."
The Manning Cast is finding its stride late in the season
We are 13 weeks into the NFL season and, more importantly, eight weeks into the inaugural season of the innovative and entertaining Manning Cast.
The Monday Night Football alternate broadcast on ESPN2 has been both a critical and a ratings success for the Worldwide Leader in Sports. Being a fly on the wall (or a person on a barstool) listening in on two of the best QBs in NFL history chop it up while watching football has been an excellent fan experience as well.
Best of all — just like when they were on the field — Eli and Peyton Manning seem to be striving for continuous improvement.
Week 13's Manning Cast was the best episode to date.
The Manning brothers cut the guest list down to three, which helped in two ways. It allowed more brotherly banter and football talk. And, the guests didn't feel as rushed as they usually do.
The producers in charge of the broadcast are also getting better at booking guests.
Non-football guests (Sue Bird, Condoleeza Rice, Kevin Hart) have been awkward at times, and David Letterman this week was no exception. Although, with Letterman, it's hard to tell if the awkwardness is organic or a bit from the longtime late-night host.
Broadcasters (Charles Barkley) and former Manning teammates (Michael Strahan) have been among the best guests, and when you get both (Pat McAfee), you can have real magic. Aqib Talib fit that bill Monday, and Joe Buck as a seasoned announcer was great too.
All in all, the Manning Cast keeps getting better each week. The only problem now is we don't get the next one until Week 17's Pittsburgh Steelers vs. Cleveland Browns game on Jan. 3, 2022.
Like Sportscasting on Facebook. Follow us on Twitter @sportscasting19