Bill Parcells Called out Peyton Manning for Partying With Joe Montana Before This Week's ManningCast: 'I'm Scouting You Just Like I Used To'
Legendary NFL head coach Bill Parcells joined Peyton Manning and Eli Manning on the Monday Night Football alternate ESPN2 "ManningCast" broadcast. Parcells talked football, shared stories, and even talked a little trash to the Manning brothers during an excellent appearance on the show. He even called older brother Peyton out for not properly preparing for the broadcast because he was out partying with another Hall of Fame signal-caller on Saturday.
Bill Parcells is an iconic NFL head coach 
Bill Parcells had one of the most fascinating, distinguished, and polarizing NFL coaching careers of all time.
Parcells was a head coach in the NFL for 19 seasons. He spent the first eight coaching the New York Giants before spending four seasons with the New England Patriots, three seasons with the New York Jets, and four seasons with the Dallas Cowboys.
With the Giants, Parcells record was unimpeachable. He was 77-49-1 for a 61.0% winning percentage. The New Jersey native led the G-Men to two Super Bowl titles (1986, 1990), won NFL Coach of the Year twice (1986, 1994), and only had one losing season.
In his three other stops, the coach was 95-81 for a 53.9% winning percentage with one Super Bowl appearance (a loss with the Patriots in 1996).
He retired four times in his career. Once from 1991-1992 before coming back for the Patriots job. Another time in 2000-2002 before coming back for the Dallas Cowboys job. He retired yet again, in 2007, before taking a job as Executive Vice President of Football Operations for the Miami Dolphins. Finally, he retired from football for good after the 2009 season.
Parcells most famous exit from a team was his contentious breakup with the Patriots. Upon his departure, the always quotable coach said, "It's just like a friend of mine told me, if they want you to cook the dinner, at least they ought to let you shop for some of the groceries," per the New York Times.
Parcells left a memorable legacy in the NFL, both on and off the field, including an impressive coaching tree. Coaches that learned under "The Big Tuna" include Bill Belichick, Sean Payton, Tom Coughlin, Mike Zimmer, and a dozen others who had NFL head coaching jobs at some point.
Bill Parcells called out Peyton Manning for going out before 'Monday Night Football' broadcast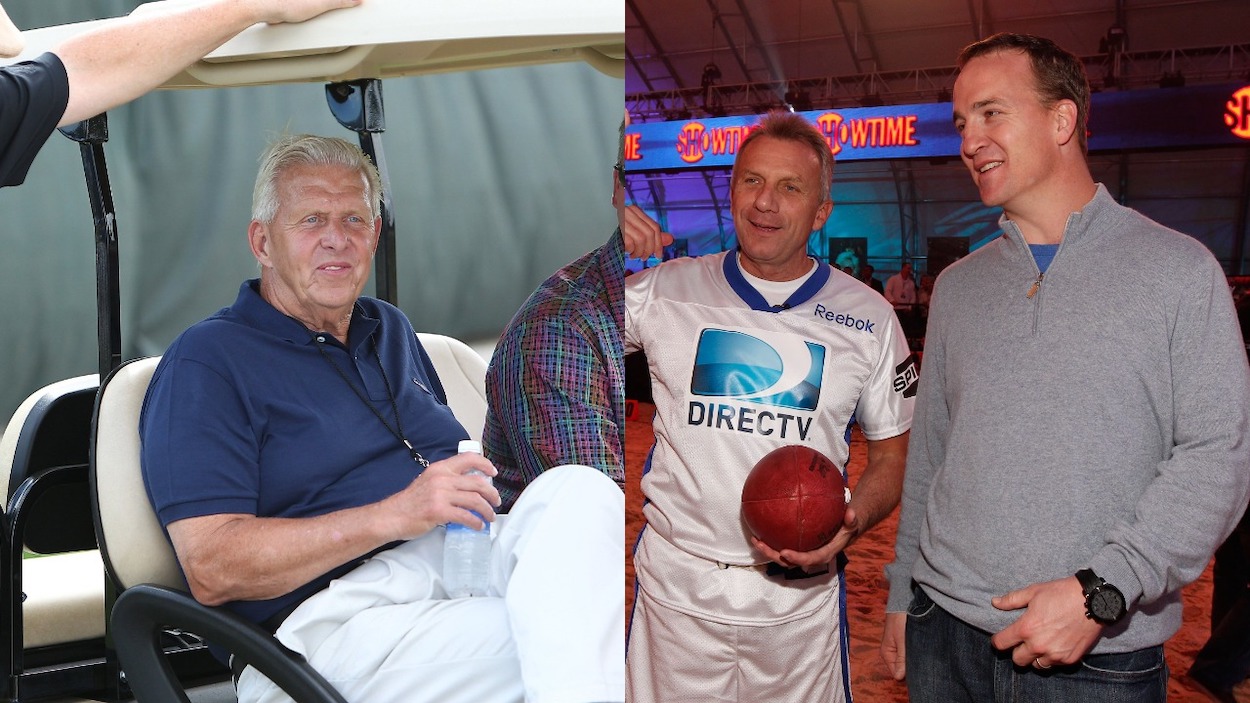 On Monday night's ManninngCast, Bill Parcells joined two QBs he used to do battle with late in his career: Eli Manning and Peyton Manning.
The former head coach, who spent time during several of his retirements as an NFL analyst on TV, was an excellent guest for the Manning's. He talked X's and O's with ease and knew when to spice things up with some humor or light ribbing of the brothers.
One such moment came when Parcells, a coach who was notoriously tough on his players, called out Peyton for not being properly prepared for the broadcast because he was out "partying" with Hall of Fame QB Joe Montana on the Saturday before the New York Giants vs. Tampa Bay Buccaneers Week 11 game:
Eli, I'm a little upset with Peyton. You know, he's out Saturday night. The Gibson Hotel out there—Gibson Steakhouse — in Chicago partying, and we got a big game here Monday night, and I don't think he got any rest. He's out partying with Joe Montana. … I want you to know I'm scouting you just like I used to. So I got two guys watching you, so be careful.

Bill Parcells on Peyton Manning
Always quick on his feet, Peyton explained that he was just at dinner with the all-time great QB "studying film" and "talking to Montana about two-minute offenses, trying to get some insight into Tom Brady's world."
Whatever Peyton was doing at the restaurant (which is officially named Gibsons Bar & Steakhouse), he now knows that even though Parcells is (probably) truly retired, the coach still keeping an eye on his old nemesis.
Bill Parcells had a better record vs. one of the Manning brothers than the other
Bill Parcells had a chance to scout against the Manning brothers eight times in his career.
As the head coach of the New York Jets, Parcells played against Peyton Manning's Indianapolis Colts once and then twice as the coach of the Dallas Cowboys.
In Peyton's third game as a pro, the Jets crushed the Colts 44-6. The rookie QB from Tennessee was 20-of-44 for 193 yards with two of his rookie record-setting 28 picks. A year later, the Hall of Fame QB got his revenge, beating the Jets 16-13 on a slightly improved 21-of-35 for 210 yards with a touchdown and an interception.
Six years later, in Parcells final year as a head coach and now with the Dallas Cowboys, the defensive guru won the rubber match. The Cowboys prevailed 21-14 over the Colts, with Peyton going 20-of-39 for 254 yards with two TDs and two INTs.
Younger brother Eli Manning fared better against The Big Tuna. The two faced off five times in three seasons in the NFC East, with Eli's Giants getting the best of Parcells in three of the five meetings.
Eli actually performed better statistically in his two losses (485 passing yards, three TDs, one INT), then in his three wins (485 passing yards, five TD, four INTs), but came away with the career winning record vs. Parcells nonetheless.
All told, Parcells was 4-4 lifetime against the Manning brothers, which is fitting, because all three came away from their appearance on Monday Night Football together with a big W.
All stats courtesy of Pro Football Reference