Tom Brady and the Manning Brothers Clown the Fan Who Gave Back the QB's 600th TD Ball: 'If He Would Have Held it, He'd Be Sitting in the Tom Brady Suite'
Tampa Bay Buccaneers quarterback and ageless wonder Tom Brady had a historic day on Sunday. On his way to crushing the spirit of the Chicago Bears, Brady threw his 600th touchdown pass. However, he almost lost the ball after the monumental moment. The QB eventually got it back and then had a good laugh about it on Monday Night Football with none other than Eli and Peyton Manning.
Mike Evans gave away the ball Tom Brady threw for his 600th touchdown pass on Sunday 
With six seconds left in the first quarter of the Tampa Bay Buccaneers' 38-3 blowout of the Chicago Bears, Tom Brady hit his receiver, Mike Evans, on a nine-yard touchdown pass.
The team celebrated, and Evans ran over to the home crowd in the stands and handed the ball to 29-year-old Bucs "super fan" Byron Kennedy, per CBS Sports.
On almost any other TB12 touchdown toss, this wouldn't have mattered. However, this was Brady's historic 600th touchdown pass. Once the Buccaneers sideline realized Evan's gaffe — cameras caught the receiver exclaiming, "I gave the ball away!" — the organization went to work retrieving the historic piece of memorabilia.
Kennedy told CBS that he initially didn't want to give the ball back. However, he ultimately relented because: "You can't say no to Tom Brady. He's asking for his 600th touchdown football back. He's the one who earned it."
After the game, the team put together a nice reward package for him that included:
Two signed jerseys plus a helmet from Brady.
A signed Mike Evans jersey plus the cleats Evans wore in the game.
A $1,000 gift card to the Buccaneers team store.
Buccaneers season tickets for the rest of 2021 and all of 2022.
While that is a great package, it pales in comparison to the estimated $500,000 or more the ball would likely have been worth if Kennedy had put it up for auction.
Brady and the Manning Brothers had a laugh about the guy who gave back the ball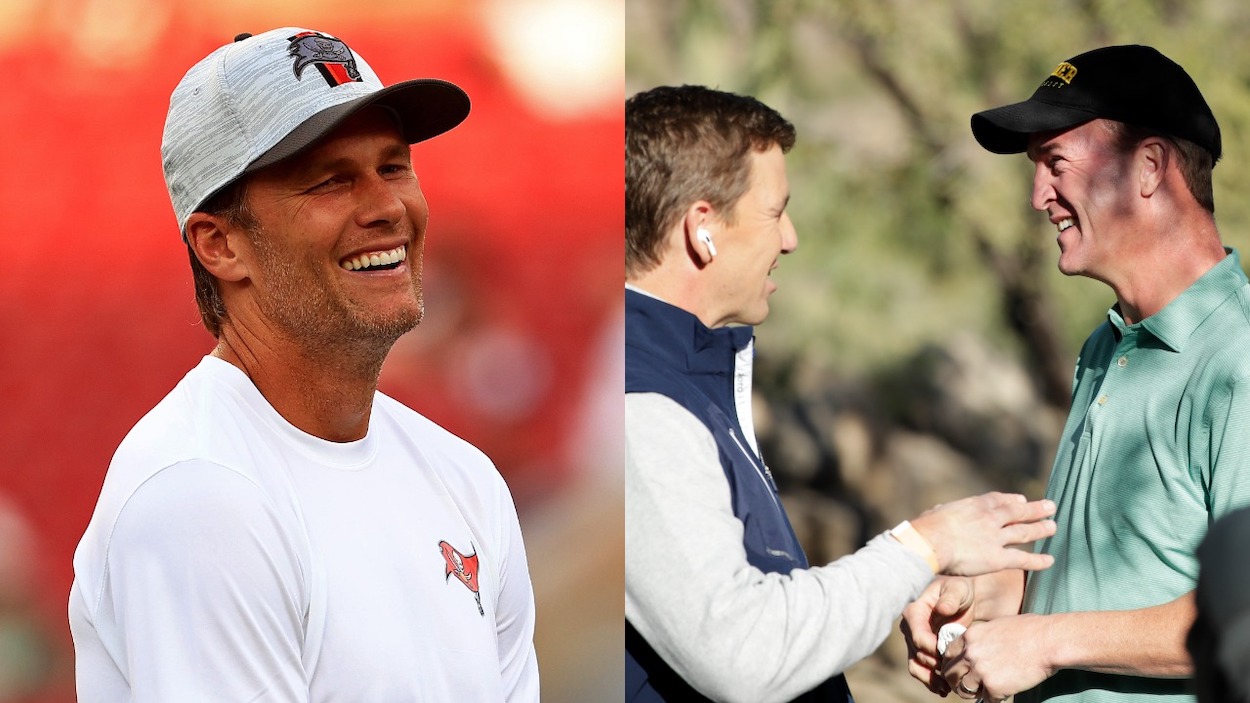 The day after the game, the touchdown pass, and the negotiation with Kennedy, Tom Brady joined his buddies Peyton and Eli Manning on the ESPN2 "ManningCast" during Monday Night Football.
The conversation eventually turned toward the 600th TD pass (61 more than Peyton Manning and 234 more than Eli Manning) and getting the ball back. When Eli asked Brady if he got the ball, the seven-time Super Bowl winner said, "I got it back. There was a lot of negotiations in order to get the ball back."
He also said, "Byron realized he lost all his leverage when he gave the ball away. He should have held it to get as much leverage as possible."
Peyton responded by crushing the fan and cracking up Brady and Eli:
Amateur move. If he would have held it, he would have been sitting in the Tom Brady suite for the rest of the season, but amateur move on his part.

Peyton Manning on Byron Kennedy, the fan who gave back Tom Brady's 600th TD ball
Brady did leap to the defense of his new friend. He said the fan got a pretty good deal with all the stuff he got and revealed one more kicker: Kennedy also received a Bitcoin from Brady, currently valued at around $60,000.
So maybe not that "amateur" a move after all.
Tom Brady has 600 touchdown passes
While the story of Mike Evans and Tom Brady and the Manning brothers is a good one, let's not overlook what brought us all here.
Brady has thrown 600 touchdown passes in his career.
To put that in perspective, consider this: With 10 games left to go in the 2021 season — and who knows how many after that — Brady (now with 602) is already 31 touchdown passes clear of second-place Drew Brees and 175 TDs ahead of the next active player, 37-year-old Aaron Rodgers.
That means if Rodgers played five more seasons, to get from his current 17 to Brady's 22, he'd need to average 35 TDs a season, which is a number he's only surpassed five times to this point.
It's no secret that NFL teams have passed more and more in the last two decades. However, comparing Brady's numbers with other all-time greats is still shocking. If you added John Elway and Joe Montana's career touchdown totals, their combined number would be 27 fewer than Brady has. How about putting Terry Bradshaw, Kurt Warner, and Troy Aikman together? You'd still be 17 short of Brady's number.
What Brady has done (and is still doing) is incredible. He is hitting milestones that we are unlikely to see again for a long time.  
And, thanks to some deft negotiating by his Tampa Bay crew, the GOAT has the ball to commemorate these milestones with as well.
All stats courtesy of Pro Football Reference
RELATED: Tom Brady Joins Michael Jordan in Accomplishing Something Wayne Gretzky and Peyton Manning Couldn't