Buffalo Bills Safety Tandem of Jordan Poyer and Micah Hyde Go off on Reporter for 'Disrespectful' Question Following Loss to the New England Patriots: 'I Mean, What Kind of Question Is That?'
The New England Patriots beat the Buffalo Bills 14-10 during Week 13's Monday night game. Thanks to the nasty weather conditions in Buffalo, the Patriots beat their AFC East rivals in historic fashion, throwing the ball the second-fewest times in modern NFL history. It was a bad loss for the Bills, who are now hanging on to their playoff spot by a thread. Some would even call it "embarrassing." Just don't say that to Bills' safeties Jordan Poyer and Micah Hyde, though.
The New England Patriots beat the Buffalo Bills throwing the ball just three times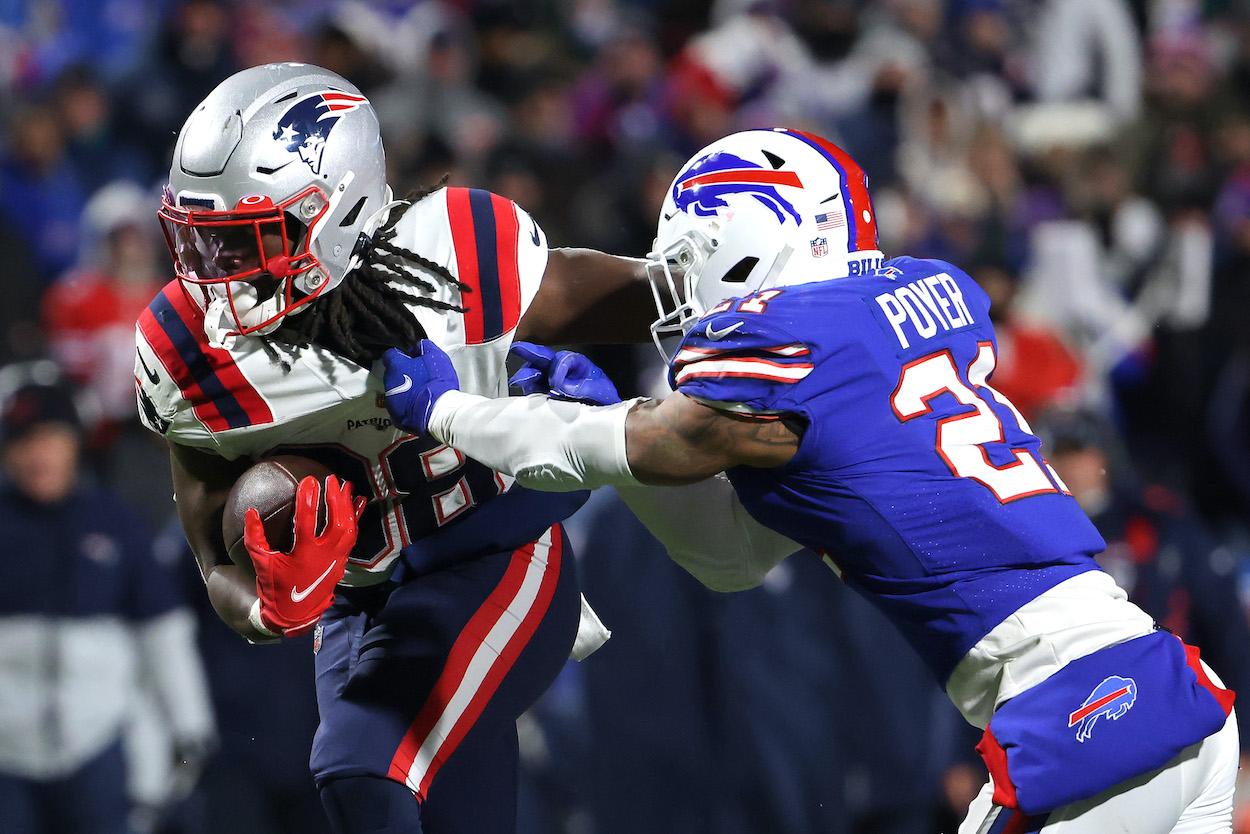 On a blustery, cold, windy, Western New York night, the New England Patriots took control of the AFC by playing a style of football not seen in the NFL for decades.
According to the Buffalo Bills Twitter account, the game-time temperature in Orchard Park was 23 degrees with 50 mph wind gusts. There were snow flurries before and during the game as well.
These were inhospitable conditions for a passing game. So, the Patriots — perhaps the most adaptable team in NFL history under Bill Belichick — decided simply not to throw the ball.
Rookie QB Mac Jones' final stat line was 2-of-3 for 19 yards.
The Pats running game was a different story. Running backs Damien Harris, Rhamondre Stevenson, and Brandon Bolden (along with wideouts Nelson Agholor and Kendrick Bourne, tight end Jonnu Smith, and Jones) combined for 222 yards and a touchdown on 46 carries.
This included a season-long, game-changing 64-yard TD run by Harris in the first quarter.
Run defense wasn't the Bills' only problem. Familiar issues with dropped passes, penalties, head-scratching play-calling, and the inability to run the ball themselves combined to cost the team the game and, maybe, a 2021 playoff spot.
However, after the brilliantly simplistic game plan from Belichick and offensive coordinator Josh McDaniels in the abysmal Buffalo weather, the porous run defense was the most "embarrassing" issue for the Bills.
Don't tell that to Bills' safeties Jordan Poyer and Micah Hyde, though.
Micah Hyde and Jordan Poyer did not appreciate a reporter's question about the Bills' "embarrassing" run defense 
After the game, two of the Buffalo Bills' most accomplished leaders, safeties Jordan Poyer and Micah Hyde, sat dejectedly answering questions at a postgame press conference.
Reporter Jerry Sullivan, who's covered the Bills for 31-years, according to WIVB 4, described the historic nature of the New England Patriots running attack on Monday night asked the duo, "is that embarrassing?"
Poyer and Hyde, one of the best safety tandems in the NFL, did not appreciate the question.
"I mean, what kind of question is that?" Poyer asked, while Hyde simultaneously said, "Boy, what are we doing, bro?"
"I think we gave up seven points. Fourteen?" Poyer continued. "We made stops when we had to. They had one big run. I mean, they got good backs. They kept coming back to a couple runs. I don't know how you want us to answer that."
While Poyer was answering Sullivan's question, Hyde was growing increasingly angrier.
"That's funny," Hyde said sarcastically, pointing at Sullivan. "We'll remember that. I said, I'll remember that."
Hyde's attack on Sullivan didn't stop there.
Hyde continued as he was leaving the podium, "This goes — respect. It's all about respect, man. I come here every single week, and I answer your questions truthfully, honestly. I appreciate you guys. Don't do that. Don't do that."
After the tense interaction, Sullivan took to Twitter to fire back at Hyde, saying he "acts like he's doing the media a favor," and tweeting about the team, "The post-game scene betrayed the very thing objective people around the country are saying about the Bills: That they're soft and in denial."
The Buffalo Bills should be embarrassed by the Patriots historic night 
Some people, like NFL analyst Brett Kollman, deemed Jerry Sullivan's question "disrespectful," while Sullivan and others championed the question as an example of necessary sports journalism.
Wherever you fall on the appropriateness of the question, the fact is that the entire Bills team should be embarrassed by their performance on Monday Night Football.  
Bill Belichick and Josh McDaniels didn't even attempt to disguise their game plan in the horrific conditions. They didn't mix in passes or get creative with a wide range of run plays. They lined up 46 times and pushed the vaunted Bills D backward 222 yards.
That's simply not good enough for a unit and a team with Super Bowl aspirations.
It's not just the defense that was bad, though. There is plenty of blame to go around.
Tight end Dawson Knox was singularly bad. He dropped three passes and picked up a massive false start penalty in the red zone. The offensive line also continued to pile up the penalties. And, they were just as overmatched in the run game by New England's defensive line as their counterparts on the other side of the ball.
The coaching staff should be embarrassed too.
OC Brian Daboll's play-calling continues to be terrible. Outside of QB Josh Allen's six carries for 36 yards, the rest of the team only managed 63 yards on 19 attempts, yet the offensive play-caller continued to dial up handoffs.
Head coach Sean McDermott's game-management was equally bad. He decided to kick the extra point on the team's first TD, going down 8-7. Then, he settled for field goals twice (one made, one missed) instead of going for it down by four.
Micah Hyde, Jordan Poyer, and the entire Bills organization might get plenty of time to contemplate this brutal loss sooner than they'd like, too. Upcoming trips to Tampa Bay and New England could knock them out of the 2021 playoffs entirely.
Going from a preseason favorite to win the Super Bowl to missing the playoffs? Now that's embarrassing.
All stats courtesy of Pro Football Reference