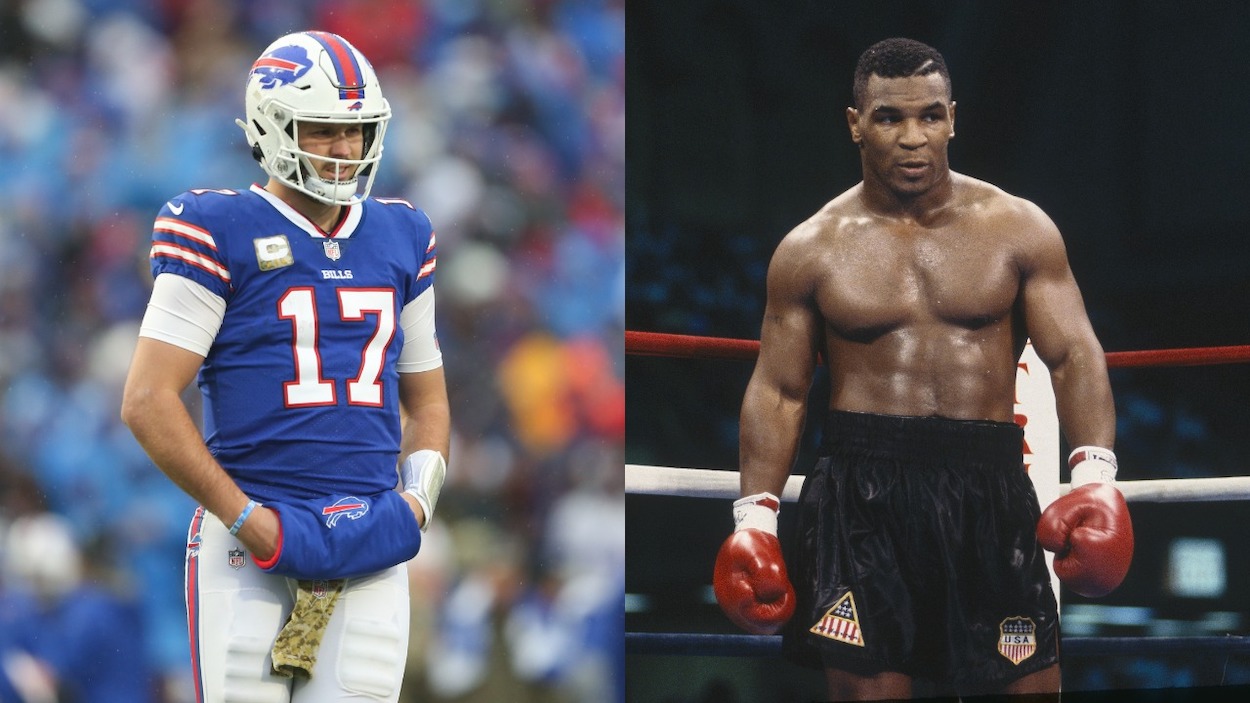 The Buffalo Bills Have a 'Mike Tyson Quality,' According to Colin Cowherd: 'If They Feel Weakness, They Pounce on You'
The 2021 Buffalo Bills are incredibly talented, yet flawed, just like legendary boxer Mike Tyson, according to radio host Colin Cowherd, and now face the biggest fight of their season vs. the New England Patriots.
The Buffalo Bills 2021 NFL season has been anything but predictable. When the Bills are good, they look unstoppable. However, it can look like a train wreck when they show up unfocused. That's why Colin Cowherd's analogy comparing this Bills to legendary boxer Mike Tyson is so spot-on. And, now, this Tyson-esque team is preparing for the biggest fight of its season.
The Buffalo Bills have had a rollercoaster 2021 season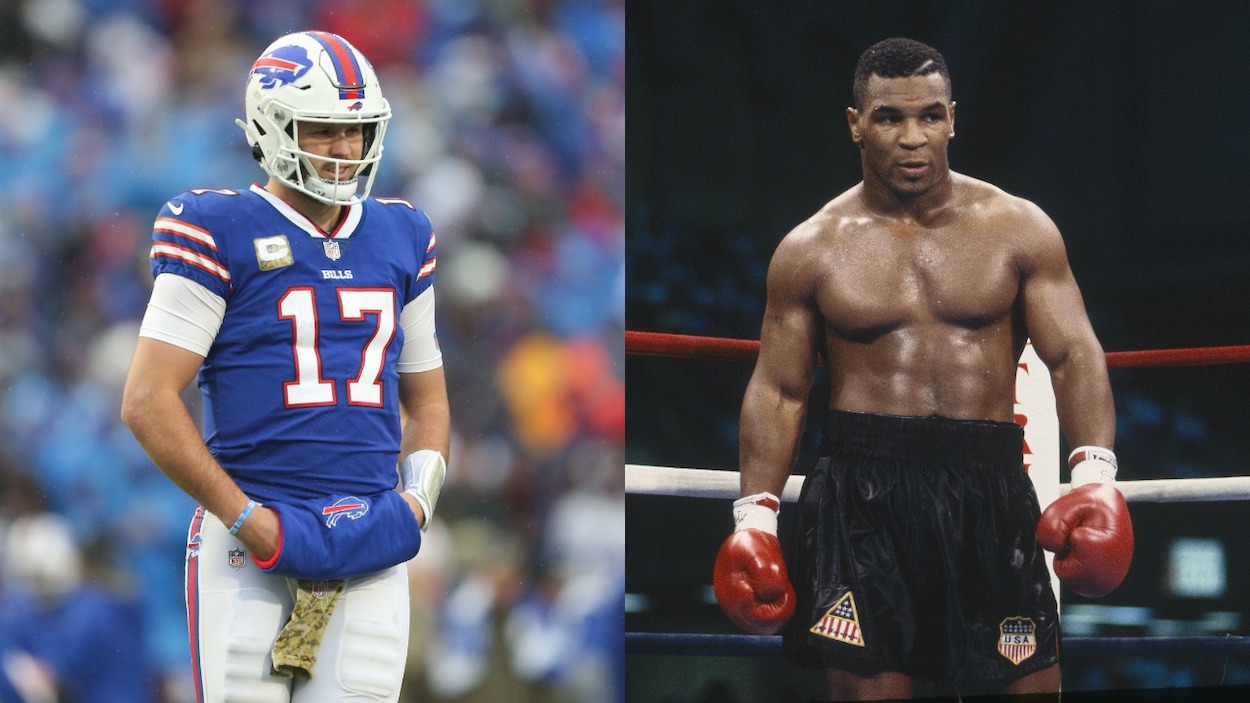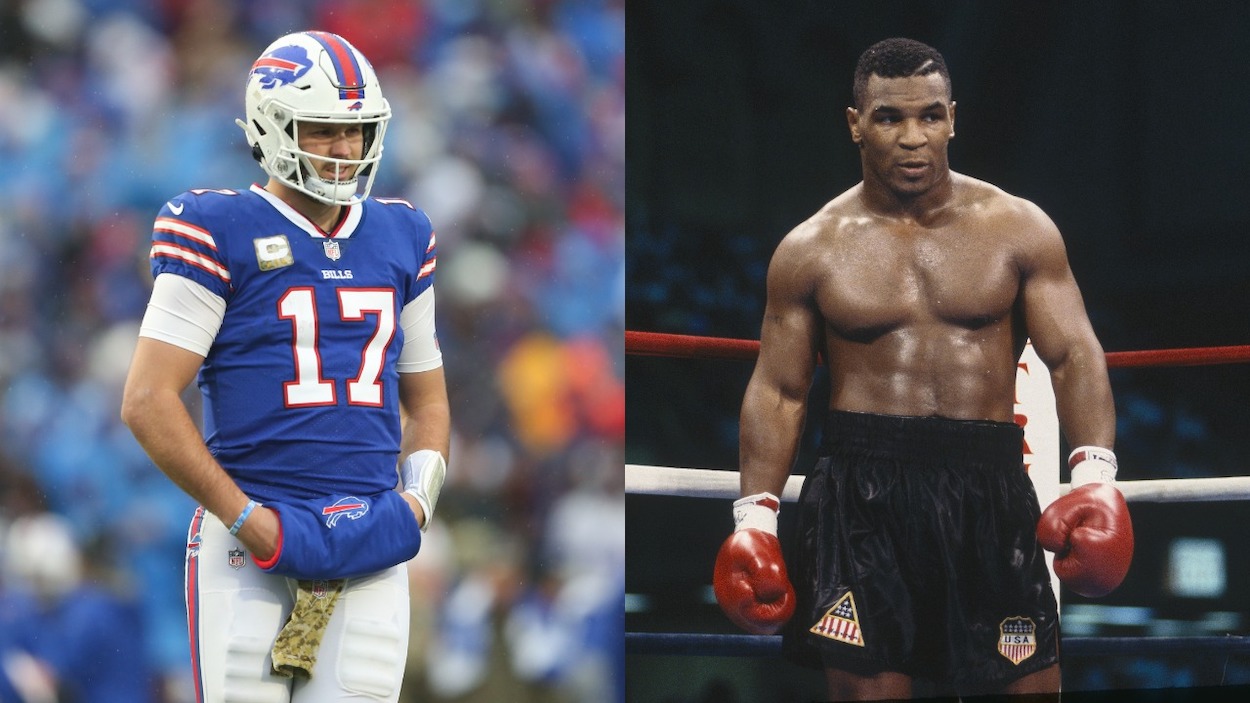 The Buffalo Bills were among the preseason favorites to make and even win the 2021 Super Bowl in Los Angeles.
The season started poorly for the head coach Seam McDermott, quarterback Josh Allen, and the rest of the AFC favorites with an opening day 23-16 loss to the now-5-5-1 Pittsburgh Steelers. The squad turned it around after that, though, ripping off four consecutive blowout wins over the Miami Dolphins (35-0), Washington Football Team (43-21), Houston Texans (40-0), and Kansas City Chiefs (38-20).
A three-point Week 6 loss to the Tennessee Titans with a healthy Derrick Henry was nothing to be ashamed of.
However, the next two L's — a stunning 6-9 Week 9 loss to the lowly Jacksonville Jaguars, followed by a 41-15 beatdown by the Indianapolis Colts — did show major flaws with the team.
The Bills have become very Allen-dependent, and when he's not at his absolute best (which he seemingly isn't every other game), it's a problem. They also have no running game to speak of, and their offensive line is undisciplined and, at times, looks flat-out untalented.
When it looks good for the Buffalo Bills, it looks real good. When it doesn't, it really doesn't.
That dynamic is what makes Colin Cowherd's cross-sport analogy about Buffalo so interesting.
Colin Cowherd has the Bills as the 6th best team in the NFL and compared them to Mike Tyson
Despite the up and down nature of their season so far, most pundits still consider the Buffalo Bills a top 10 NFL team in 2021. Colin Cowherd, in his "Herd Hierarchy" segment on The Herd with Colin Cowherd, has them at No. 6 in the league this week.
Because of the Bills power, combined with the volatile nature of their performances this season, Cowherd found a perfect analogy for Josh Allen and his squad:
Buffalo's a fascinating team, and there's part of me that thinks they're the best team in football. Every one of their wins has been by 15-plus points. There's a Mike Tyson quality. If they feel weakness, they pounce on you. But they don't pass block, they have no running game, they're very one-dimensional with Josh Allen, but they are so magnificently dynamic you can never look at them as anything other — as like Kansas City good. Because if you have weakness, if your O-line struggles, you're going to be running all day from their defensive front.

Colin Cowherd on the Buffalo Bills as Mike Tyson
When the Bills are at their best, as Cowherd notes, they could be the best team in the entire league. When they show up and don't feel like playing, they can just as easily get knocked out by Buster Douglas (aka the Jaguars).
Now, in Week 13, the Bills face their version of Tyson's Michael Spinks fight… if Spinks was more like Muhammad Ali.
The biggest game of the season for the Western New York team comes Monday Night
To further play out Colin Cowherd's Buffalo Bills as Mike Tyson analogy, early in Josh Allen's career was his James Tillis, Mitch "Blood" Green, Marvis Frazier period. Allen's 2018 and 2019 were simply about proving his talent and improving his game.
The 2020 season was the Bills' Trevor Berbick/Larry Holmes era, where they proved they were for real and had staying power in the NFL.
The Bills take on the New England Patriots on this week's Monday Night Football. It's not the Brady/Belichick Patriots (aka Muhammad Ali), but it is the best one of the best teams in the NFL right now, which was Michael Spinks in 1988.
The two AFC East rivals come in with heavyweight defenses. They are No. 1 and No. 2 in the NFL right now for scoring D and are tied for second in the league in turnovers with 25 apiece. On offense, Buffalo is seventh in passing yards and 13th in rushing yards. New England is ninth in rushing and 10th in passing.
The game is in Orchard Park, and the temperature at kickoff should be in the 20s. There's even a chance of snow.
If the Bills can pull off the victory — like Tyson did over Spinks in 91 seconds — they will take first place in the East and again become a legit Super Bowl contender.
If the unfocused, undisciplined Bills show up — like Tyson did in Japan against Buster Douglas in 1990 — the outcome for the Bills could be the same as that infamous Tyson fight: a knockout that Buffalo may never recover from
All stats courtesy of Pro Football Reference