Jonathan Taylor Went 3rd Person Ahead of His Monster Day: 'That's What Fuels Jonathan Taylor'
Indianapolis Colts running back Jonathan Taylor is the hottest offensive player in the NFL right now. As such, CBS interviewed him ahead of his big Week 11 game against the Buffalo Bills. During the interview, we learned more about Taylor, the person. After the interview, we learned a lot more about Taylor, the player, and the newly-minted MVP candidate.
Indianapolis Colts RB Jonathan Taylor dominated the Buffalo Bills
The Indianapolis Colts traveled to New York on Sunday to play the Buffalo Bills. The game should have been a grudge match between two of the top teams in the AFC.
Instead, it was a coronation of Jonathan Taylor as the best RB in the NFL right now.
The second-year back ran all over the formerly No. 1-ranked Bills D. When the dust settled, Taylor's stat line read: 32 carries for 185 yards, four rushing touchdowns and three catches for 19 yards, and a receiving score.
More importantly for Taylor and the Colts, the scoreboard read Colts 41, Bills 15.
The performance by the former Wisconsin Badger was notable on several levels. Taylor's four rushing touchdowns against the No. 1 defense surpassed Derrick Henry's three and all other running backs who've faced the Bills' two, according to NFL Research's Twitter account.
With Henry out injured, Taylor is also leading the league in rushing yards (1,122) and rushing touchdowns (13). He also has the most total yards from scrimmage (1,444) and combined rushing and receiving TDs (15).
It was also the first three touchdowns-in-the-first-half game this season from a pass-catcher or back. The last person to do it was Alvin Kamara. The Saints RB accomplished the feat in Week 16 last season against the Minnesota Vikings.
The most impressive part of Taylor's day is that he tied Hall of Fame running back LaDainian Tomlinson for the most consecutive games with 100+ scrimmage yards with one or more rushing touchdowns (8) in a single season since 1950. The former San Diego Charger runner set this record in 2006, the year he won the NFL MVP Award.
Taylor talked about what drives him in a pregame interview with CBS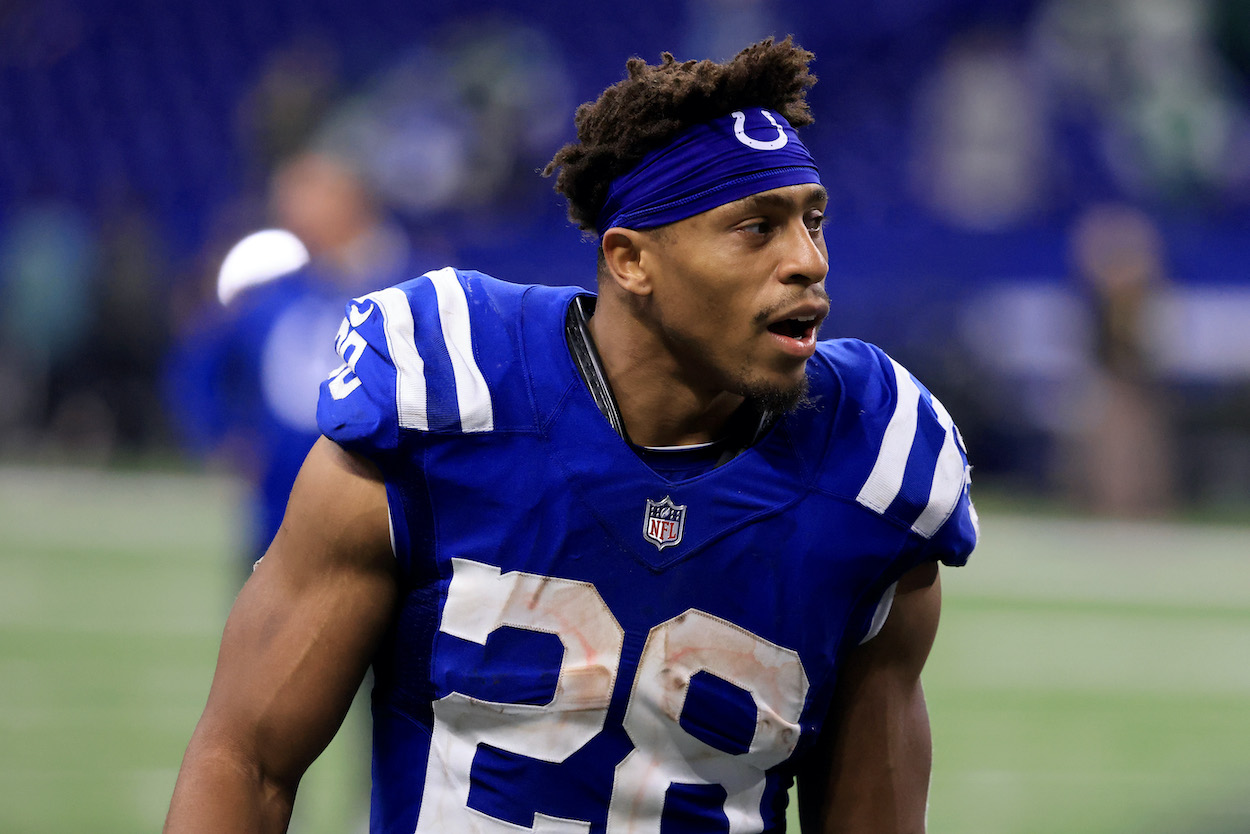 As Jonathan Taylor's exploits become more impressive, the clamor from Colts and NFL fans alike to learn more about the second-year sensation grows louder.
The CBS pregame show, The NFL Today, leaned into the curiosity surrounding this somewhat unknown player and featured an interview where Taylor sat down with Melanie Collins. The CBS sideline reporter started by asking the running back, "Who is Jonathan Taylor?"
The Colts budding star responded in the third person:
Jonathan Taylor is someone who really wants to go out there each and every single day and prove to his coaches and teammates that they can trust him on any down and distance. In any scenario, any situation. That's what fuels Jonathan Taylor, being able to have that trust from his coaches and teammates.

Jonathan Taylor on Jonathan Taylor
After sounding like Rickey Henderson talking about Rickey Henderson in the '80s and '90s, Taylor went back to giving more normal-sounding answers.
He also spoke about how preparation before a tough game is the key to recovering afterward and how his 100-meter sprinting background helped him hit 22 miles-per-hour on his 78-yard touchdown run against the New York Jets.
The interview gave more insight into who Taylor is, how seriously he takes his job, and how physically gifted the New Jersey native truly is.
As the season goes on, there's a good chance we'll all learn even more about Taylor as he states his case for being the best back in the NFL and maybe even the league MVP
Can the Colts' running back win the NFL MVP Award? 
After running wild over the Buffalo Bills, Taylor put his name squarely in the MVP conversation. Is that a realistic possibility, though?
First, we have to consider that a non-quarterback winning the MVP award is rare. That said, when it does happen, it is usually a running back who wins it. In fact, the last player to win who wasn't a QB or RB was LB Lawrence Taylor in 1986.
Since 2000, a running back has won the award four times. These players were Adrian Peterson (2012), LaDainian Tomlinson (2006), Shaun Alexander (2005), and Marshall Faulk (2000).
Is Taylor in that class in 2021?
The Colts RB is on pace for 1,836 rushing yards and 25 total touchdowns. For comparison, in their MVP seasons, Peterson has 2,097 rushing yards and 13 total TDs, Tomlinson had 1,815 yards and 31 TDs, Alexander went for 1,880 yards and 28 TDs, and Faulk put up 1,359 yards and 26 TDs.
Although he does has an extra game, if Taylor keeps up his current pace, his numbers should fit in nicely with these MVPs' seasons.
The other argument for Taylor is that no superstar QB has stepped up and grabbed the award. Aaron Rodgers, Tom Brady, Patrick Mahomes, Josh Allen, Kyler Murray, Lamar Jackson, and Dak Prescott have all had injuries or stumbles this year, making them less attractive MVP candidates than usual.
If the 5-foot-10, 226-pound back keeps up his torrid pace and the Indianapolis Colts keep winning, Jonathan Taylor could have an MVP award in Jonathan Taylor's future.
All stats courtesy of Pro Football Reference