Maurice Jones-Drew's Favorite Young Running Backs Include a Back He Didn't Like, a Guy From His Hometown, and a Player Who Needs a New Team
If anyone knows what it takes to be a successful running back in the NFL, it's former Jacksonville Jaguars running back Maurice Jones-Drew. The former All-Pro player, who now works in sports media as an NFL Network analyst and Los Angeles Rams' color commentator, recently shared who his favorite young RBs are, and they include a prospect he missed on, a fellow Bay Area native, and a back he says could be the best in the league if he wasn't on such a terrible team.
Maurice Jones-Drew was a top NFL running back for nine seasons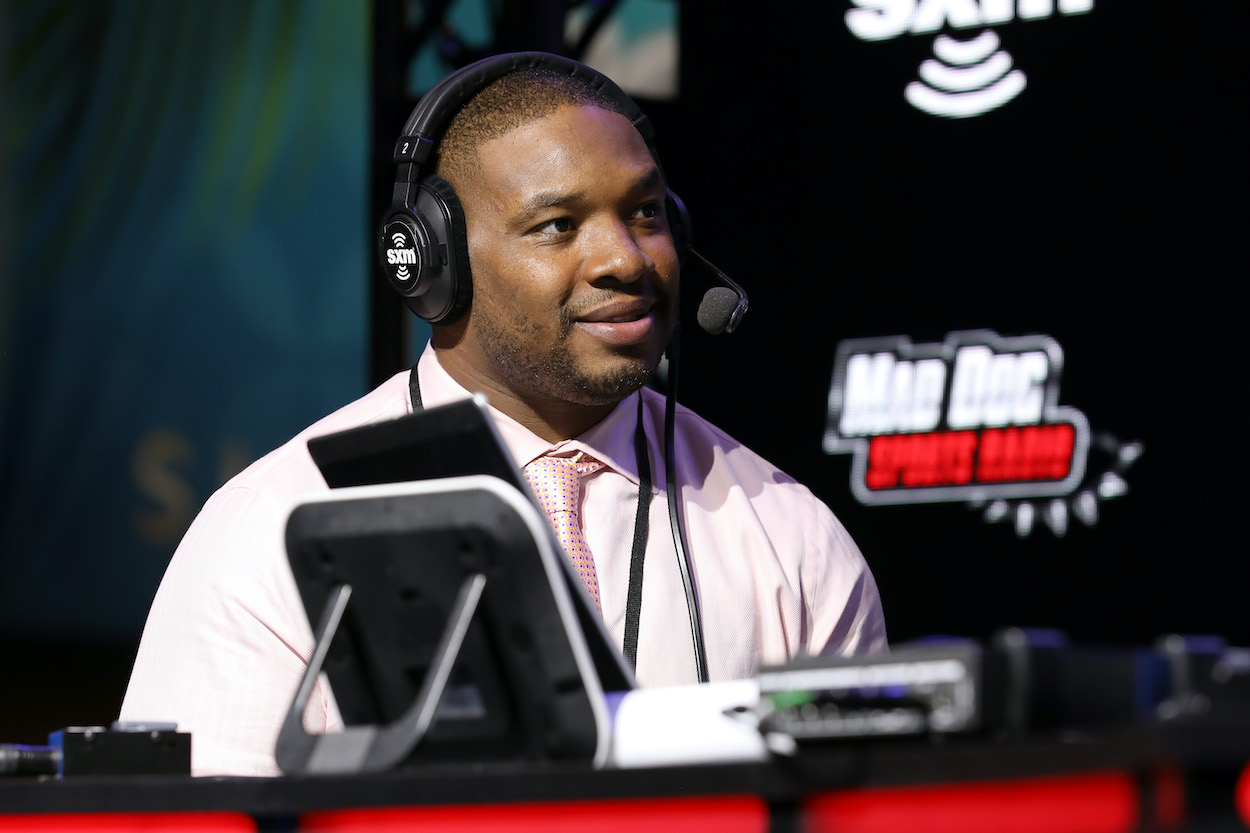 Former NFL RB Maurice Jones-Drew, or MJD as he's known, grew up in the Bay Area of California, then stayed in-state and attended UCLA. After three seasons as a Bruin, the Jaguars picked the 5-foot-7 running back No. 60 overall in the second round of the 2006 NFL Draft.
The diminutive runner became a star right out of the gate. He rushed for 941 yards in his rookie season and caught 46 balls 436 yards, scoring 15 total touchdowns. He had over 1,000 all-purpose yards in his next two seasons before rushing for over 1,000 yards in 2009-2011.
Jones-Drew made the Pro Bowl in each of those three seasons. In 2011, he led the NFL in rushes (343), total touches (386), rushing yards (1,606), and rushing yards per game (100.8).
MJD played two more seasons in Duval before returning home to play his final season in Oakland in 2014.
In his current role as the LA Rams color commentator and NFL Network analyst, Jones-Drew joined the Pat McAfee Show. Co-host Boston Conner asked the former star RB who his favorite rookie or second-year players at his old position are today.
Jones-Drew wasn't a Jonathan Taylor fan coming out of Wisconsin
Jonathan Taylor is part of an impressive lineage of Wisconsin Badgers running backs. Behind traditionally large offensive lines and in a run-first offense, these backs have dominated the Big 10 for years.
As good as backs like Ron Dayne, Montee Ball, and Melvin Gordon were in Madison, they've had mixed results at best in the pros. Maurice Jones-Drew said this history is why he was wrong on the Indianapolis Colts' Taylor:
First, I gotta tell you, Jonathan Taylor, I was wrong. I had him as my sixth guy coming out of the draft. I thought he was a really good player, but I thought Wisconsin running backs, they run through holes I could drive my truck through, I knock him down for that. They have such a great offensive line. I knocked him down for that. The fit for him going to the Colts has been perfect. You see the way he's playing, the way he's running, the way they're leaning on him. I love that.

Maurice Jones-Drew on Jonathan Taylor
Taylor is having a banner year so far in 2021. He has 821 yards and eight rushing TDs through nine games. He leads the league in total yards from scrimmage with 1,114 yards and has the longest run from scrimmage with an 83-yard scamper in Week 6 vs. the Houston Texans.
Najee Harris is a Bay Area guy just like Jones-Drew
The next player Jones-Drew mentioned on his list of favorite young runners is Pittsburgh Steelers rookie back Najee Harris. The team selected Harris out of Alabama with the No. 24 overall pick of the 2021 draft, and he's rewarded the team for that pick.
Harris has four rushing touchdowns to go along with his 541 rushing yards this season. He also has a whopping 40 catches already for 289 yards and two scores.
The former Crimson Tide back's pass-catching has long been a strength of his, and that's what MJD likes about his fellow Oakland-area back:
Najee Harris is from my hometown here in the Bay Area. This is what you haven't seen with him yet, and I know, Pat, you're a Pittsburgh guy. He can run routes like a receiver, so when they start lining him up out wide, and they start routing guys up eventually, that's coming too. I've coached against him in both seven-on-seven football and high school tackle football, and [he's] a competing monster.

Maurice Jones-Drew on Najee Harris
MJD sounds like he truly believes in the Steelers' rookie and, if he's as good and as versatile as advertised, it should help the Steelers as they transition away from Ben Roethlisberger and to another QB/style of offense in the coming seasons.
If D'Andre Swift was not on the Detroit Lions, could he be the best?
Maurice Jones-Drew only made the playoffs twice in his career, so he knows all about toting the rock for bad teams.
That's likely why he has a special place in his heart for Detroit Lions running back D'Andre Swift. Jones-Drew said of Swift:
This is the other thing. I think D'Andre Swift, if he was in a different situation, he'd probably be the best out of all of them. But he's in Detroit. No disrespect to Detroit, but they're trying to bite kneecaps and stuff right now instead of giving my dawg the ball.

Maurice Jones-Drew on D'Andre Swift
Despite the talent that MJD believes Swift has, the former Georgia Bulldog is struggling this season on an 0-8 team in the Motor City. He has 289 yards this season on 90 carries with three touchdowns. He's been better in the pass game (as the Lions have to pass a lot being down so often), with 47 catches for 415 yards and two TDs.
Swift is in just his second season so, unless Detroit gets better in the next few seasons, we won't get to see Swift shine until he has the chance to leave after 2023 or 2024.
All stats courtesy of Pro Football Reference