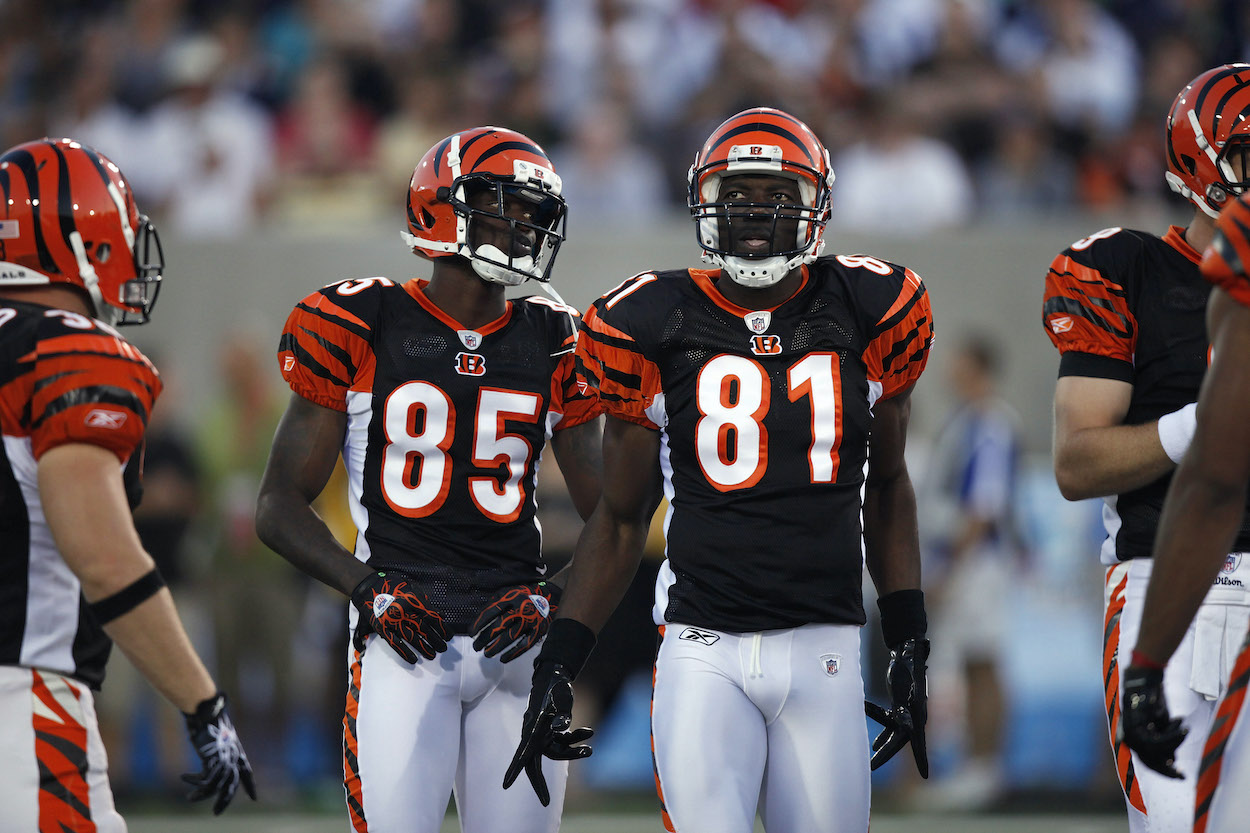 Carson Palmer Reveals What It Was Like Playing With Chad Ochocinco and Terrell Owens Together: 'Dude, We're Calling a Running Play, Relax'
When Terrell Owens and Chad Ochocinco both played for the Bengals in 2010, Carson Palmer wast the QB tasked with keeping them happy and he says it was easier than you'd think.
To borrow an old schoolyard trope, if you look up the term "diva wider receiver" in the dictionary, you'd see pictures of Terrell Owens and Chad "Ochocinco" Johnson. While they mostly plied their trades separately in the NFL, they did play together for one season with the Cincinnati Bengals.
Carson Palmer was the quarterback tasked with keeping these two all-time great players and talkers happy. He says it was actually mostly "comedy" and wasn't as bad as you'd think.
Chad Ochocinco and Terrell Owens were two of the most outrageous wide receivers in NFL history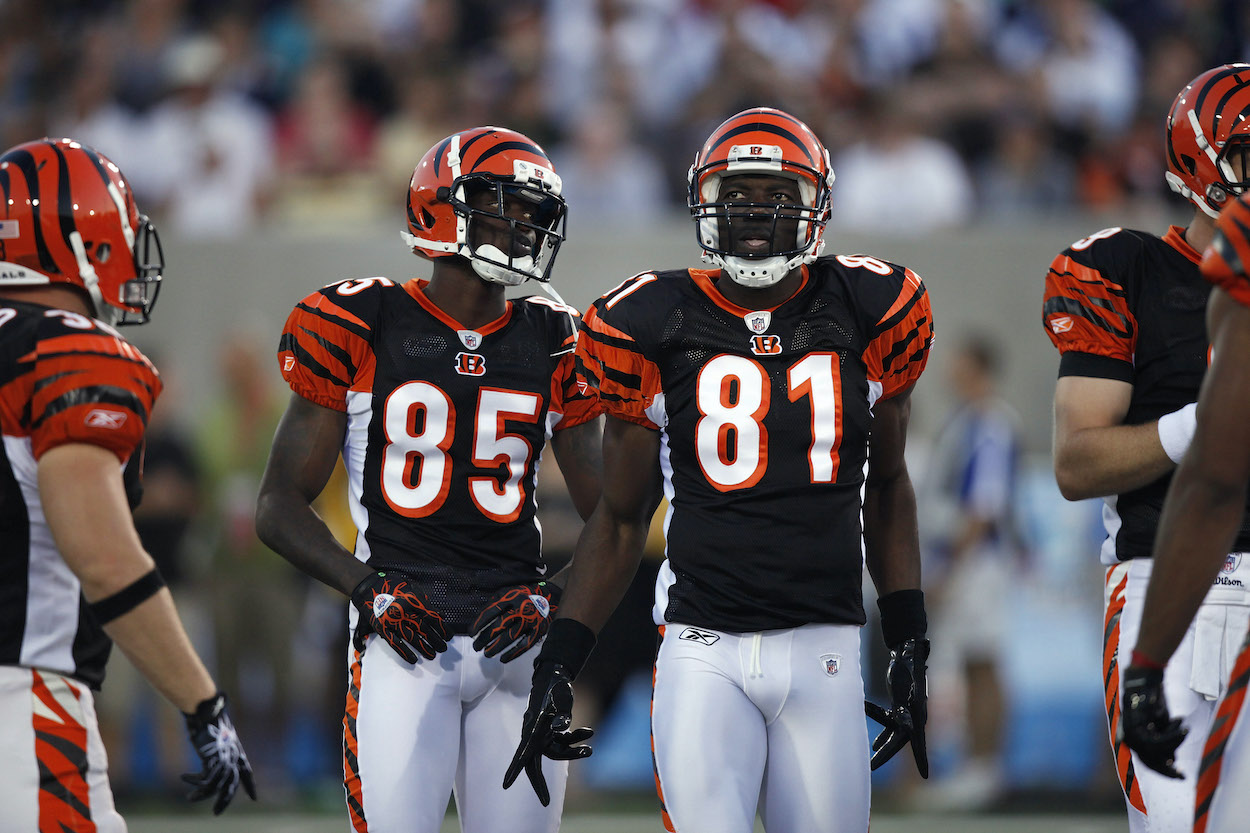 Terrell Owens is one of the more improbable stories in NFL history. Drafted in the 1996 draft's third round by the San Francisco 49ers out of the University of Tennessee-Chattanooga, Owens wasn't exactly a blue-chip prospect. However, by 2000, Owens led the league in yards per game (103.6) on his way to his first Pro Bowl and All-Pro nods.
All-told in his 15-year career with the 49ers, Dallas Cowboys, Philadelphia Eagles, Buffalo Bills, and Bengals, Owens produced 1,078 catches for 15,934 receiving yards and 153 touchdowns. He made the Pro Bowl six times and was named All-Pro five times.
Along with the production came the antics. T.O. pulled a sharpie out of his sock and signed the ball after one touchdown, and dumped popcorn in his face after another. He almost started a brawl in Dallas by posing on the star at midfield and openly waged war against his coach Andy Reid and QB Donovan McNabb in Philly while working out shirtless in his driveway.
T.O. was simply one of the most talented and most controversial players in NFL history.
Not quite as controversial but equally as colorful is Chad "Ochocinco" Johnson. A second-round pick in 2001 out of Oregon State, the player who officially changed his last name to Ochocinco (a Spanish-inspired nod to his No. 85 jersey) from 2008 to 2012, played 10 seasons for the Bengals and one for the New England Patriots.
Ochocinco caught 766 balls in his career for 11,059 yards and 67 touchdowns. He also rivaled T.O. for some of the best and most hilarious touchdown celebrations in NFL history. His histrionics included an oversized future Hall of Fame jacket, doing a Riverdance, putting the football, and giving it CPR as well.
Having these two icons on the same team, even late in their careers, had to be wild. And, according to their QB Carson Palmer, it was.
Their former QB Carson Palmer shared what it was like playing with them together 
Carson Palmer joined the Dan Patrick Show to discuss the relationship between Odell Beckham Jr. and his Cleveland Browns QB Baker Mayfield this week. In doing so, Palmer referenced his time with Terrell Owens and Chad Ochocinco.
Host Dan Patrick told Palmer he would put him in the Hall of Fame just for dealing with those two in the same team. The former USC QB told Patrick it was actually enjoyable for him:
I loved it. It was constant comedy in practice. And there were some highs and lows and ups and downs, but that's the game. But hearing those two guys tell you while you're calling a play, 'I'm open, I'm open,' I'm like, 'dude, we're calling a running play, relax. We'll get you on the next one.' But yeah, those two mouths and those two trash talkers were a lot of fun to play with.
Palmer also told Patrick that having T.O. and Ochocinco together never became a distraction because "those two guys practiced as hard as any other player on the field every single day."
The QB said it usually leads to good situations on NFL teams when "your best players and your biggest egos work harder than anyone else."
Unfortunately for Palmer, Owens, and Ochocinco, that good situation didn't translate to many wins.
The Palmer/Ochocinco/Owens combo ultimately didn't work out well
The 2010 Cincinnati Bengals had sky-high expectations following a 10-6 AFC North-winning season in 2009. The team brought back its leading passer (Carson Palmer), receiver (Chad Ochocinco), and rusher (Cedric Benson) from the previous season.
They also added high-profile talent in Terrell Owens to add to the team's already potent offense.
The 2010 season started with a 38-24 loss in Foxborough to the New England Patriots, but the Bengals ripped off back-to-back wins after that, defeating the Baltimore Ravens and Carolina Panthers.
The Week 3, 20-7 win over the Panthers was the last good moment of Cincinnati's season. They didn't win another game until Week 15.
The veteran-heavy Bengals went on a franchise single-season record 10 game losing streak, per Bengals.com. While the team had the talent, Palmer and company just couldn't get it done when it mattered most. Seven of the 10 losses ended with the Bengals down eight points or less.
The disappointing 4-12 year was the last in Cincinnati for Palmer, Ochocinco, and Owens. Owens retired after the season, and the Bengals traded Ochocinco to the Patriots.
Fed up with the organization, Palmer retired in order to force a trade. After initial reluctance, the emergence of rookie QB Andy Dalton led to the franchise moving Palmer to the Oakland Raiders after Week 6.
All stats courtesy of Pro Football Reference