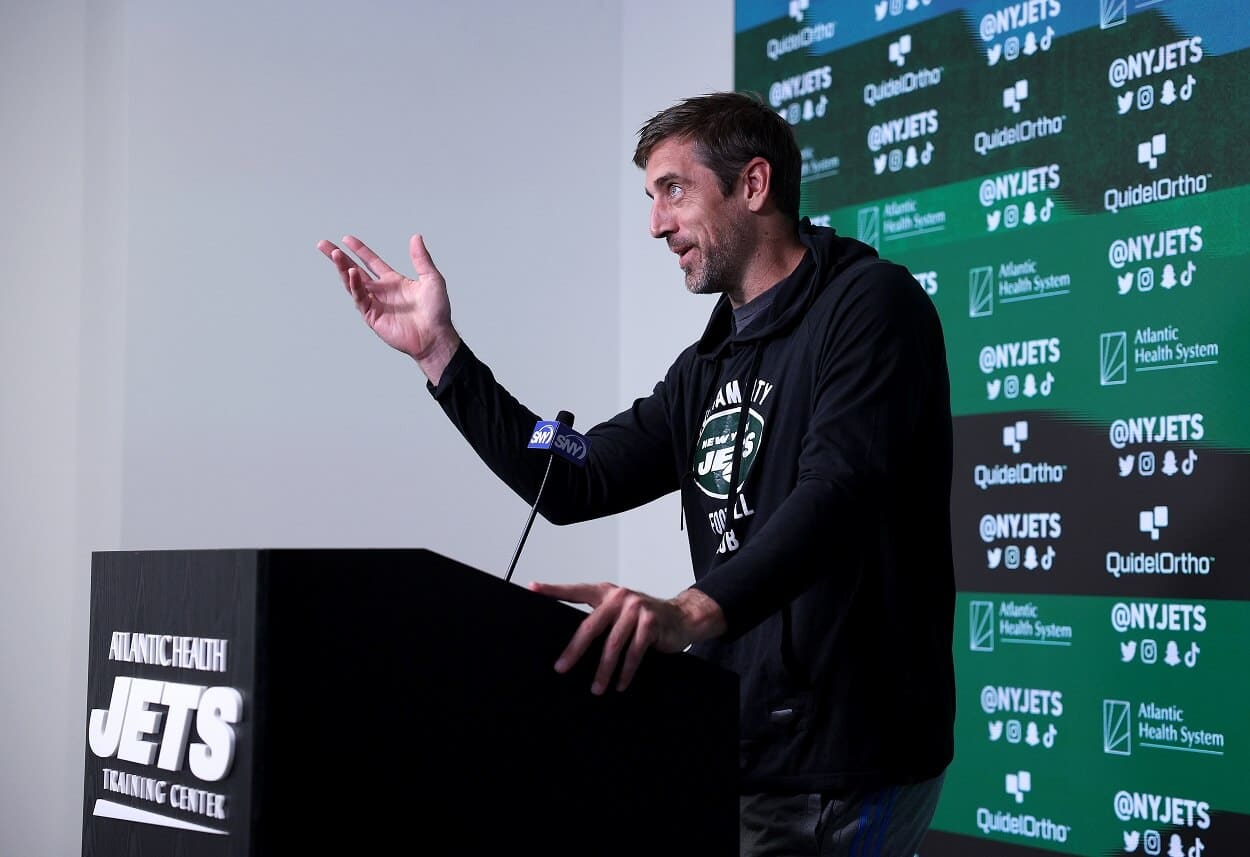 Aaron Rodgers' Injury and Mekhi Becton's Accusations Are Two Early Tests for a Fragile Jets Franchise
It's not all sunshine and rainbows with the New York Jets right now.
It didn't take long for Aaron Rodgers to suffer his first setback as a member of the New York Jets. Ironically, it only occurred because he showed up for organized team activities, something he refused to do during his final years with the Green Bay Packers. While the star quarterback should be just fine, his first injury scare shows just how thin of a margin the Jets have as they attempt to snap their record-long 12-year playoff drought. 
However, fans shouldn't just be concerned about Rodgers' ability to stay healthy for a full season (and playoff run) as he approaches his 40th birthday. 
For a franchise that's clearly all-in for 2023, having two players make public accusations that put Robert Saleh and Joe Douglas under even more scrutiny makes it even more difficult to have faith in a head coach who's clearly on the hot seat and a general manager who enters his fifth season with a 20-46 record and less job security than ever.
Aaron Rodgers' injury shows how quickly things could go south for the Jets
After skipping portions of the Packers' offseason program in recent years, Aaron Rodgers has taken a different approach in his first year with the Jets. Unfortunately for the future Pro Football Hall of Famer, his decision to attend voluntary workouts led to a minor mishap on Tuesday. 
According to ESPN's Rich Cimini, Rodgers did not participate in any drills during the Jets' second OTA session. The veteran quarterback elected to sit out practice after tweaking his right calf during pre-practice conditioning. 
"The injury appeared to happen while he was hopping with a small medicine ball — one of the quirky exercises they do to warm up before practice. Rodgers wouldn't confirm that, saying only that it occurred while he was running. He noted that it was the first time in his 19-year career that he warmed up in such a weird fashion," Cimini wrote. 
While Rodgers' injury shouldn't keep him out of action long, what happens if he suffers a more serious one later in the year? A tweaked calf won't derail the Jets' Super Bowl dreams, but even a multiple-week injury could drastically alter the 2023 season for a team that plays in a stacked conference. If Rodgers gets hurt and has to sit out for an extended stretch at any point, how can Saleh and his staff feel confident about having the incredibly erratic Zach Wilson leading the offense? 
Ultimately, Rodgers' injury may be minor, but a major one would instantly cause the Jets to go from contenders to pretenders. And even though he's played through pain before, the four-time MVP also has a fairly extensive injury history.
Accusations by Mekhi Becton and Ty Johnson add another layer of concern for a desperate franchise
With rest and rehab, Rodgers' calf should be good to go sooner than later. Then again, based on accusations from Ty Johnson and Mekhi Becton, it might be a mistake to put that much faith in the Jets to get things right. 
Johnson, a 25-year-old running back who tore his pectoral muscle while working out in the offseason, recently posted a video on Instagram in which he revealed that he underwent surgery when the Jets' team doctor told him to "get it fixed." But instead of being a part of the team's plans for the 2023 season, Johnson got cut not long after undergoing the procedure. 
That decision didn't sit well with the reserve running back for obvious reasons. However, Johnson isn't the only player who has a problem with how the Jets have handled injuries. 
Mekhi Becton, the team's top draft pick in 2020, raised eyebrows with critical comments about the coaching staff in a Newsday interview. 
"I hurt my right knee. That's going to be the knee that I put the most pressure on [while backpedaling in pass protection]. I explained it [to the coaches], but no one cared," Becton said of an injury he suffered in 2022. "I got forced to play a position I don't play. I was pretty much telling them I wasn't feeling good the whole time throughout camp, and I was told I shouldn't be complaining. Go out there and do it. I was limping throughout the whole practice, and I just took a step, and my knee buckled, and I got hurt again and had to get reconstructive knee surgery."
Becton deserves criticism for failing to live up to expectations through his first three NFL seasons. At the same time, though, Saleh enters his third year on the job with an underwhelming 11-23 record and questions about his ability to establish a winning culture on his own. Having multiple players, including one you took 11th overall just three years ago, paint the franchise in a negative light certainly isn't a good look for a staff that's in Super Bowl or bust mode. 
Have the Jets done enough to set Rodgers up for success in 2023?
It's easy to see the upside of a fully healthy, locked-in Jets team. Even though he turns 40 in December, a motivated version of Aaron Rodgers might be one of the scariest sights in football. Plus, the supremely confident signal-caller has an exciting collection of pass-catching options that includes familiar faces like Allen Lazard and Randall Cobb, 2022 Offensive Rookie of the Year Garrett Wilson, veteran Corey Davis, and the speedy Mecole Hardman Jr. 
Still, there are valid reasons to be concerned about Rodgers' chances of winning his second Super Bowl ring in his first season in New York. 
Did Joe Douglas do enough to upgrade the offensive line? Entrusting a declining Duane Brown or an unproven Becton to protect Rodgers' blind side seems like a major risk. And if second-year tackle Max Mitchell isn't ready to man the right side, the Jets could be in major trouble given their lack of proven depth at the position. 
Meanwhile, the interior offensive line features several question marks, too. Free-agent acquisition Laken Tomlinson went from being one of the league's best left guards in 2021 (75.9 PFF grade) to posting a disappointing 56.8 mark in 2022. Right guard Alijah Vera-Tucker, who the Jets drafted 14th overall two years ago, still isn't at full strength after suffering a torn triceps last season. 
Oh, and Rodgers looks poised to work with a center who has zero NFL experience in second-round rookie Joe Tippmann. 
Needless to say, several prominent members of the Jets organization should be feeling a ton of pressure on their shoulders heading into training camp and the regular season. And if things don't go according to plan in 2023, don't be surprised if Aaron Rodgers, Robert Saleh, and Joe Douglas are among the notable names that aren't back in 2024.