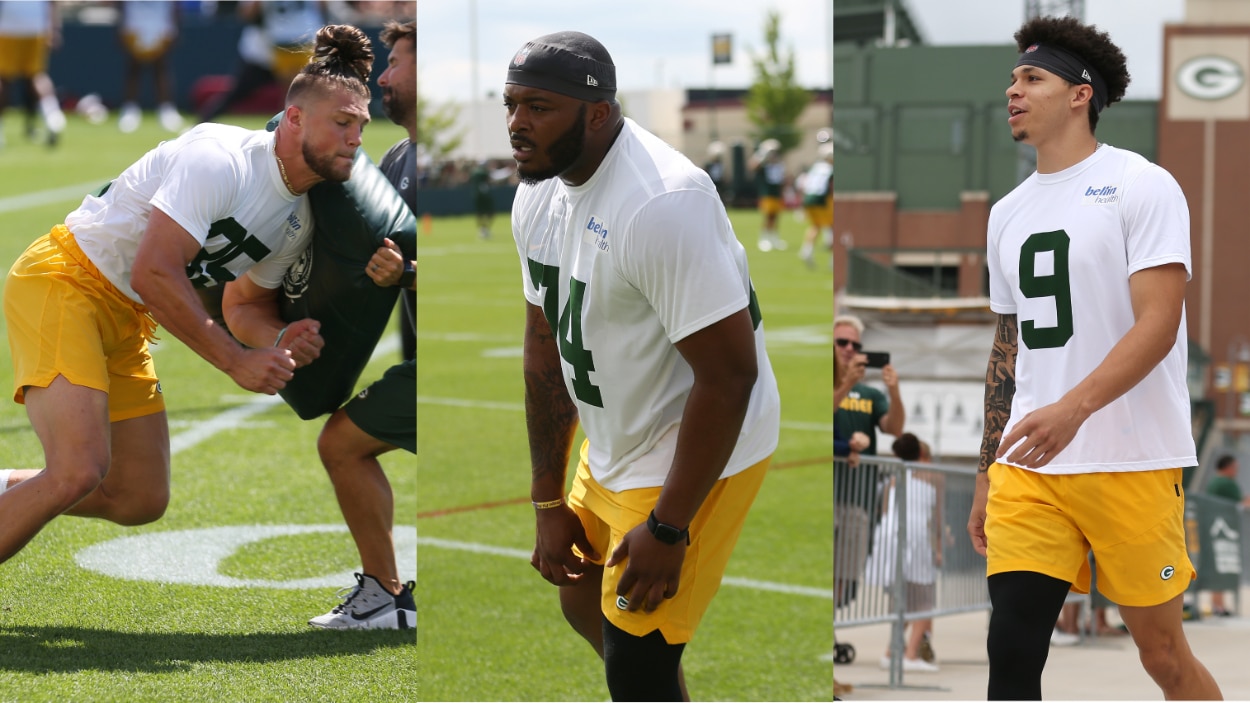 Aaron Rodgers and the Packers Get Fantastic Injury Updates on 3 Key Players After First Preseason Game
The Green Bay Packers injury updates are good on three key players for Matt LaFleur, Aaron Rogers and the Packers offense.
The Green Bay Packers lost their first preseason game of 2022 to the San Francisco 49ers 28-21. That doesn't matter at all. Aaron Rodgers didn't play, nor did most of the presumed starters. The game was almost entirely for head coach Matt LaFleur to get a good look at the backend of the roster. However, after the game, the franchise did announce some good news for the squad in the form of injury updates on Elgton Jenkins, Robert Tonyan, and Christian Watson.
Elgton Jenkins, Robert Tonyan, and Christian Watson injury updates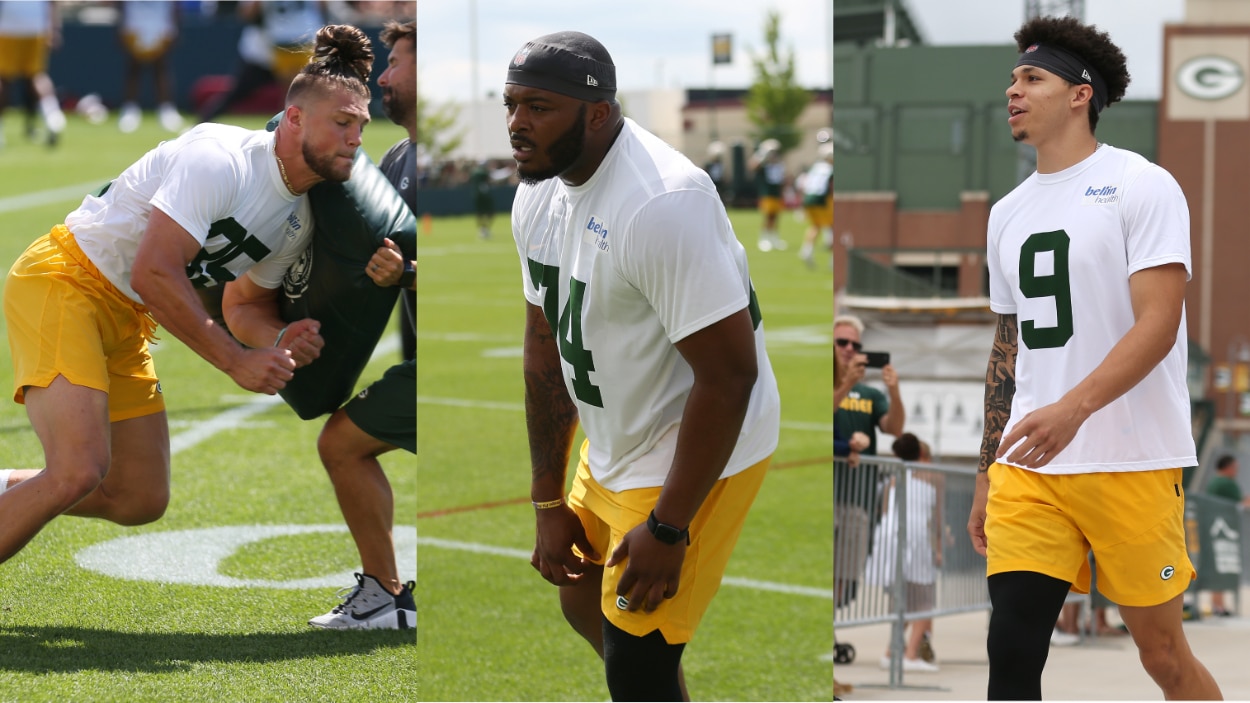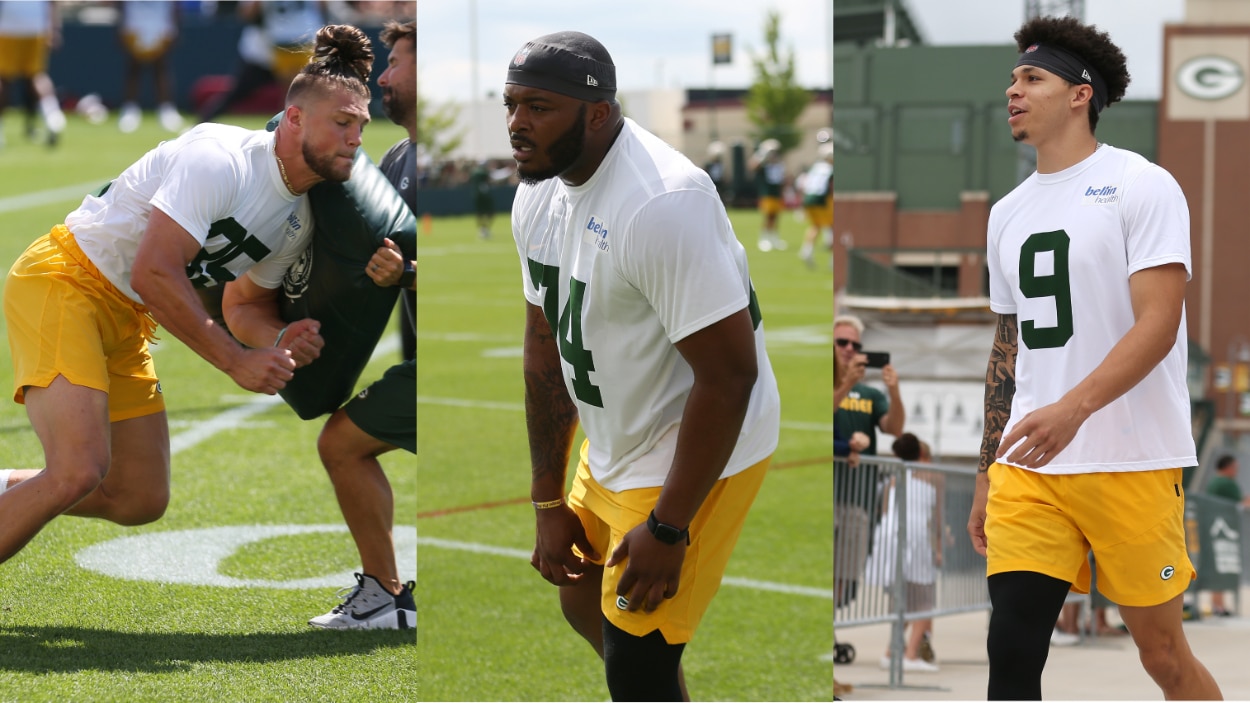 Offensive tackle Elgton Jenkins, tight end Robert Tonyan, and rookie second-round wide receiver Christian Watson all missed the first Green Bay Packers preseason game with injuries. 
Jenkins is recovering from offseason knee surgery. He tore his ACL in a Week 11 game vs. the Minnesota Vikings last season. Tonyan, who signed a one-year, $3.75 million extension to come back to the Pack this offseason, is also recovering from his own torn ACL (Week 8 vs. the Arizona Cardinals. 
As for Watson, the North Dakota State widout the Packers picked No. 34 overall in the 2022 NFL Draft, he suffered a minor knee injury at the end of OTAs and has yet to participate in training camp. 
On the Sunday after the Packers' Friday night preseason game, Matt LaFleur told reporters that all three players will "come off the PUP list for individual drills and walk-through participation" this week. 
This is big, exciting news for Aaron Rodgers and the Packers offense. Jenkins is a Pro Bowl tackle and will add a lot to a line tasked with protecting a 38-year-old quarterback. As All-Pro tackle David Bakhtiari continues to sit out from his 2020 knee injury, getting Jenkins back is a significant boost for the O-line. 
Tonyan is a huge piece of the offense as well. He is the unquestioned starter at the tight end spot, and the depth behind him isn't great. Marcedes Lewis, 38, is the No. 2 TE, and the next few players vying for the position include unproven players Josiah Deguara, Tyler Davis, Dominique Dafney, Alizé Mack, and Sal Cannella. 
As for Watson, everyone knows what the Packers' WR situation is after the Davante Adams trade. Rodgers will have to develop that elite chemistry with new receivers this season, and Watson coming into camp helps that process.
The rookie's return is also much-needed for himself. Fourth-round WR Romeo Doubs has been lighting up Packers training camp thus far. Watson needs to come in and make an impression before he loses too much ground to his fellow 2022 draftee. 
The next Packers preseason game is on Friday, August 19, hosting the New Orleans Saints. 
Like Sportscasting on Facebook. Follow us on Twitter @sportscasting19 and subscribe to our YouTube channel.