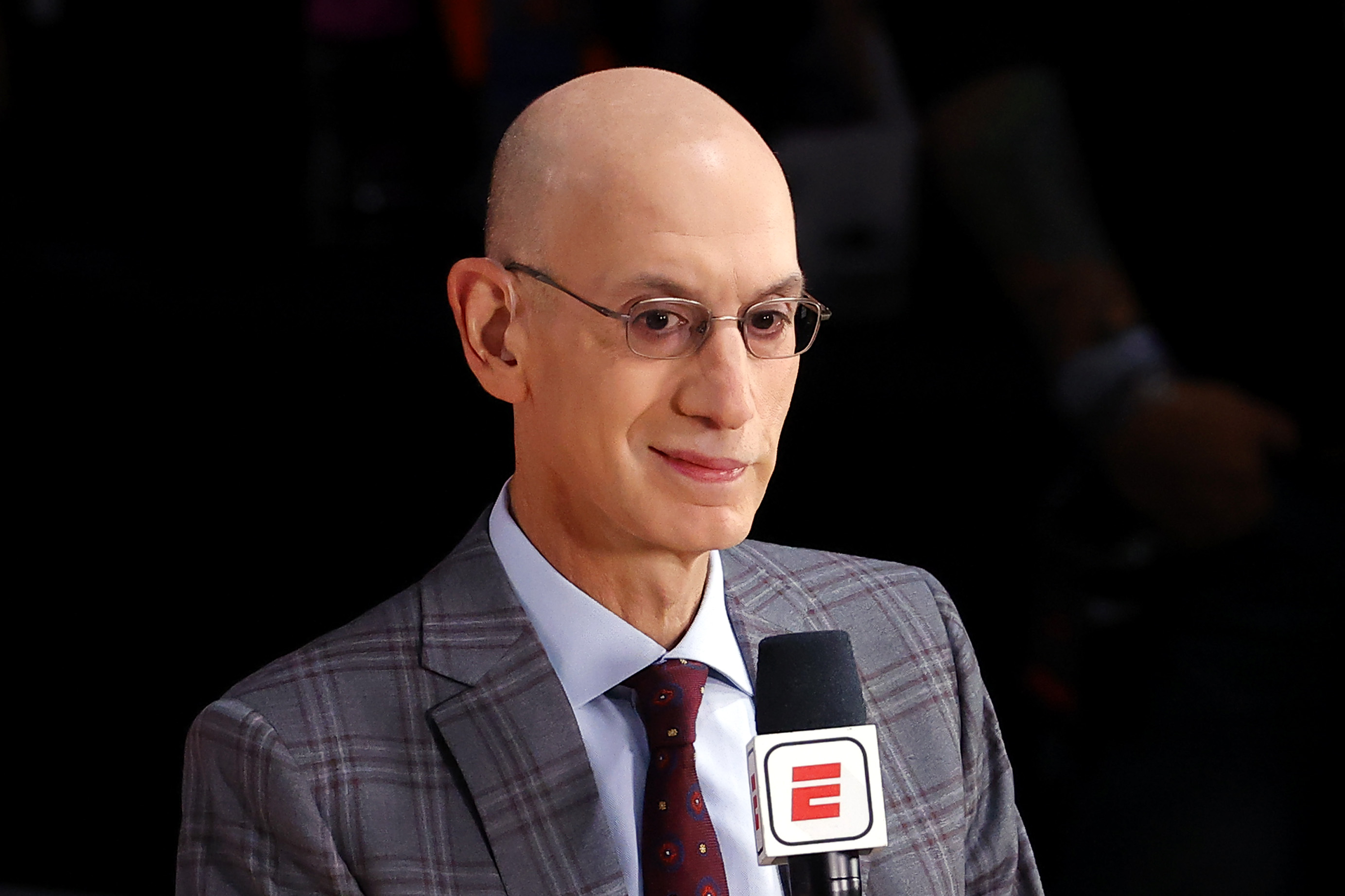 Adam Silver Raises Red Flags and Sends Concerning Message on NBA Season Outside of Bubble
A day before the 2020-21 NBA season tips off, commissioner Adam Silver candidly admitted with the pandemic still raging, the season could be disrupted again.
The NBA season tips off on Tuesday. On Monday, league commissioner Adam Silver visited with Stephen A. Smith to talk about the 2020-21 NBA season. The pair discussed the pandemic, how the league dealt with it the first time around, and how the NBA plans on navigating this upcoming season with the pandemic still raging. Silver offered an honest assessment and admitted because the season won't be played in a bubble, there's always a chance we might have a repeat of what happened in March. 
Adam Silver shuts down NBA mid-season 
March 11, 2020, will go down as one of the most memorable days in sports history. That's when Utah Jazz center Rudy Gobert tested positive for COVID-19 and commissioner Adam Silver decided the NBA would be the first sports league to suspend operations. As we all know now, it was the first of many dominoes to fall in the world of sports.
For months, there were no sports. On July 30, more than four months after shutting down, the NBA resumed action in the Orlando bubble at Disney World, where 22 teams tried to jockey their way into playoff position. 
The NBA playoffs were quite memorable for various reasons, including a players' boycott of games in protest of police brutality and social injustice. For a couple of months, teams from both conferences battled for supremacy. In the end, Adam Silver presented LeBron James and the LA Lakers with the Larry O'Brien Trophy after defeating the Miami Heat in six games. 
To Adam Silver and the NBA's credit, there were zero positive cases throughout the entire time in Orlando.
Other sports leagues struggled with outbreaks
A week before NBA teams restarted the 2019-20 season in Orlando, MLB started its pandemic-shortened 60-game season with teams playing in their respective home markets. Initially, it didn't go well. 
The Miami Marlins endured the first COVID-19 outbreak just days into the season when 18 players tested positive. The outbreak resulted in a dramatic shuffling of schedules for multiple teams. The St. Louis Cardinals had an outbreak as well. 
Of all the leagues, the NFL had the most time to ramp up and prepare for a season played in a pandemic. Even with that extra planning time, multiple teams dealt with outbreaks, including one of the biggest in Baltimore where more than 30 players missed time, including MVP quarterback Lamar Jackson. 
Adam Silver cautiously optimistic about upcoming NBA season
In an interview with Stephen A. Smith on ESPN's First Take, NBA Commissioner Adam Silver addressed the upcoming season. He acknowledged it will be very different than the restart back in July just because there is no bubble and that is cause for concern.
"Now that we're going to be in 30 markets and completely outside of a bubble, there's no doubt we're going to have issues," Silver bluntly admitted. "We've been watching closely what's been happening, not just with other leagues, college sports, etc., that are playing outside of a bubble."
Understanding there will be cases, Smith asked Silver the hundred million-dollar question — could the NBA season be postponed again?
"Baseball did an incredible job under the circumstances, and so is the NFL now. But those are outdoor sports. They're in stadiums. Just as when we went into the bubble, we couldn't be sure how things would play out. Now that we're trying something new, an indoor sport, again different protocols that we haven't had in place before, I think we wouldn't be acting responsibly, and I wouldn't be acting responsibly, if I said it's just full steam ahead, no matter what."
Silver said, despite those concerns, the league is confident in its approach, which includes making changes to the schedule and travel arrangements. He said, ultimately, the priority is the well-being of the players and staff.
"We have a fair degree of confidence in it, but I want to make sure that everyone understands that the safety and health of our players and all the participants are our No. 1 priority and if at any time we feel that's being jeopardized, we will stop."
Adam Silver has made that difficult call before. He's willing to make it again. Fingers crossed he won't have to do it.
Like Sportscasting on Facebook. Follow us on Twitter @sportscasting19.