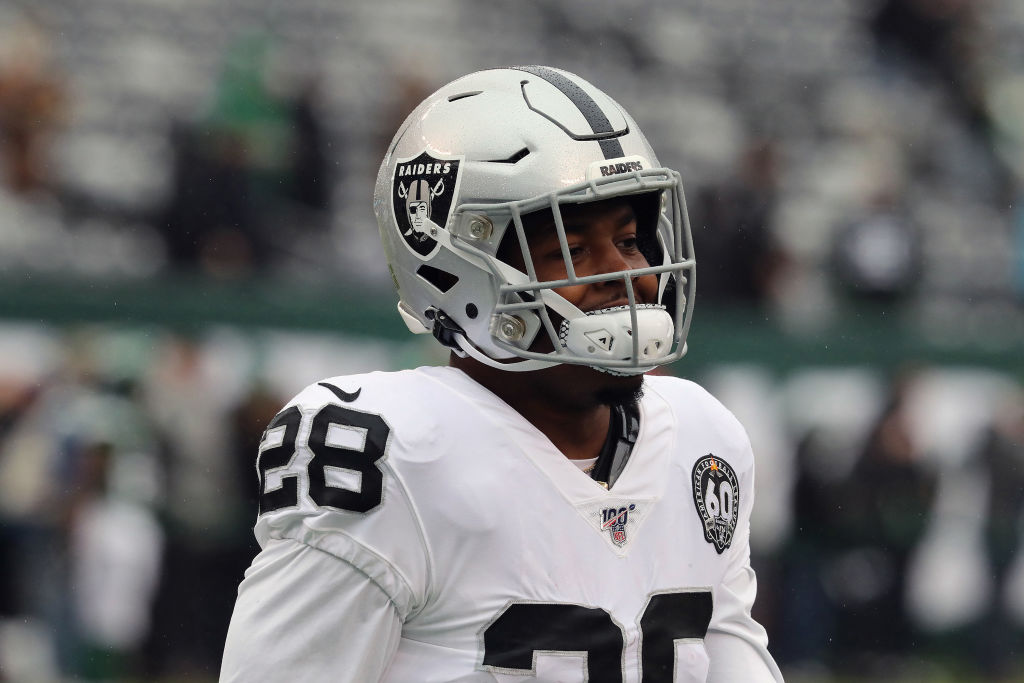 After Growing Up Homeless, Raiders Running Back Josh Jacobs Gives Back In a Big Way
Oakland Raiders running back Josh Jacobs grew up homeless. Now that he's hit the big time, the running back is making sure to give back.
While it's easy to think of professional athletes as superheroes who we only see at game time, they're all real people. Each of those people has their own unique background; Oakland Raiders running back Josh Jacobs, for example, was homeless for part of his childhood.
Jacobs has made it big in the NFL, but that doesn't mean that he has forgotten his past. In fact, the running back recently gave back in a big way.
Josh Jacobs' difficult childhood
While Josh Jacobs is now an NFL star, he didn't always live on Easy Street. In fact, there were times when the future running back didn't have a home at all.
In 2006, Jacob's parents, Marty and Lachelle, separated. While the children initially stayed with their mother, but Josh wasn't happy with the situation; after clashing with Lachelle, he ended up staying with his father. There was one catch, though. Marty had recently moved out of his apartment.
Without a place to live, the pair slept in the family's Chevrolet Suburban. The arrangement was far from ideal; Josh would sleep in the back seat, while his father remained up front, occasionally holding onto a pistol in case any issues arose. "I don't ever remember him going to sleep," Josh recalled.
Marty eventually won custody of his children, but life didn't get easier. The family then bounced from motel to motel, trying to find bargain rooms and free continental breakfasts. After brief stints in several different apartments, the group finally found a place they could call home. By that time, Josh was starting high school; he found structure and safety on the gridiron and began to excel.
Josh Jacobs' rise to stardom
Despite his difficult childhood, Josh Jacobs came to dominate the gridiron. His outstanding performances didn't initially translate into recruiting success, though; the running back didn't receive any Division 1 offers until his coach shared some highlights on social media. Shortly after, Alabama came calling.
Jacobs split time with Damien Haris and Bo Scarbrough during his first season with the Crimson Tide, but still managed to post 567 rushing yards; his numbers took a step back as a sophomore but turned out the running back was playing with a broken ankle. As a junior, however, Jacobs restated his NFL credentials, rushing for 640 yards, 11 touchdowns, and running riot against the Georgia Bulldogs in the SEC title game.
On the back of that success, the Oakland Raiders selected Jacobs with the 24th pick of the 2019 NFL draft. Despite missing a few games at the end of the season, the young running back proved that he belonged; he smashed the Raiders rookie rushing record, finishing the campaign with 1,150 yards and seven touchdowns on the ground.
Giving back to his biggest supporter
After his rookie year, Josh Jacobs took home a little over $7 million. He made sure to use that money for a good cause.
On Tuesday, the running back tweeted that he bought his father a house. After sleeping in a car and spending nights in motels around the city, Marty Jacobs now has somewhere to call his own.
The Oakland Raiders also shared a video of the running back's Instagram posts, showing the house and his father's emotional reaction to the gift. It concluded with a simple message. "I'm real blessed," Josh Jacobs wrote. "I've spoke everything I was going to do into existence."