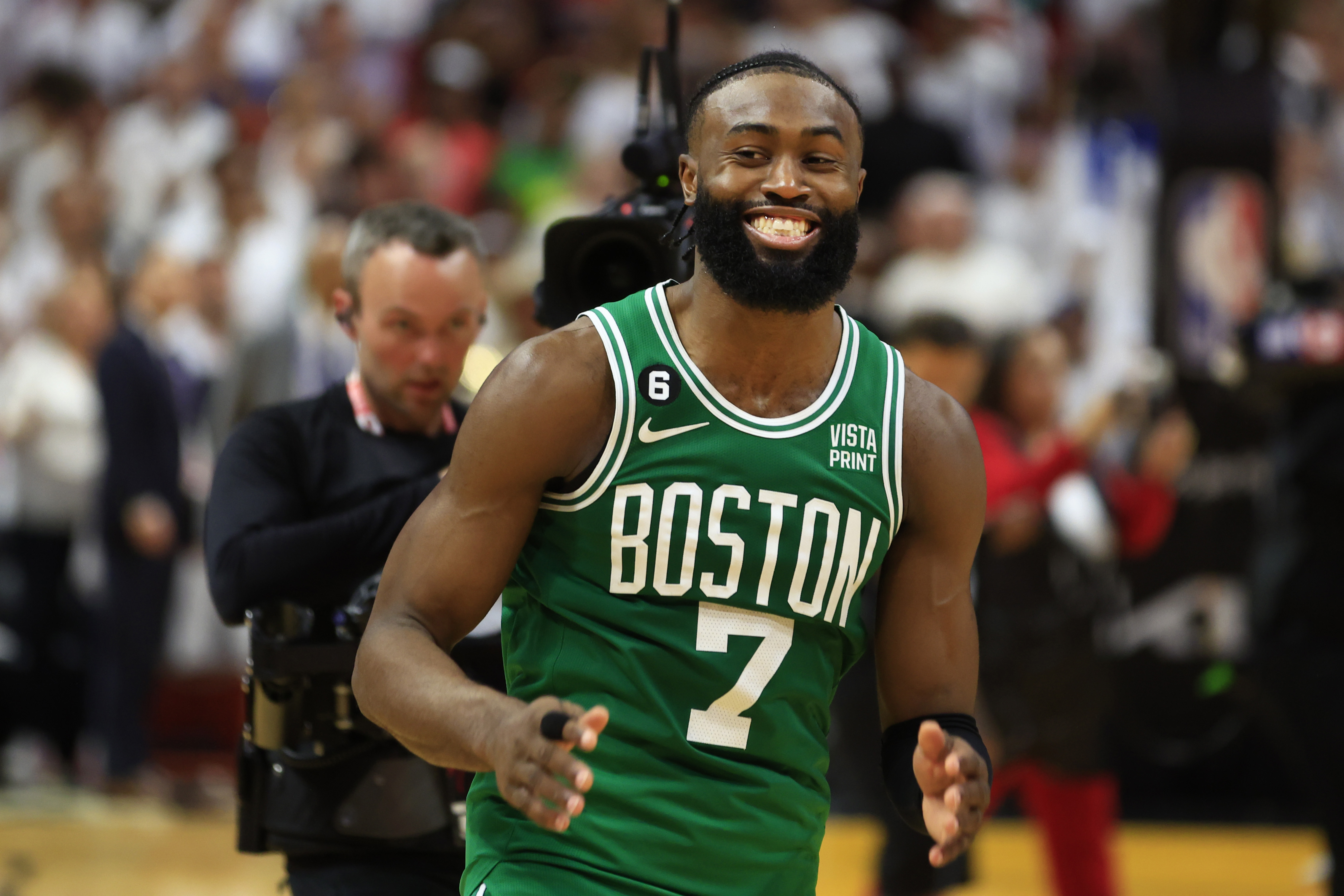 After Signing the Richest Deal in NBA History, Jaylen Brown Has 1 Goal That Has Nothing to Do With Basketball
Jaylen Brown was smiling even more after signing a five-year extension with the Boston Celtics worth $304 million.
Jaylen Brown recently made history by inking the richest deal in NBA history. Now, the Boston Celtics star wants to make an impact.
Brown earned All-NBA honors last season, which qualified him for a supermax deal. He and the Celtics agreed to a five-year extension worth $304 million. Now that the deal is behind him, he's ready to make a difference — off the court.
Jaylen Brown will make nearly $70 million in the final year of his deal
The Boston Celtics are going to have to shell out some serious cash in the next several years. Brown's current deal expires at the end of the 2023-24 season. That's when his record-setting deal will kick in. In the final year of his new deal, Brown will make $69.1 million, according to ESPN.
For now, Brown can say he has the richest deal in league history, but that won't last very long. Brown isn't even the best player on his own team, never mind the NBA. With the way salaries are rising, his new deal will soon be a distant memory.
At the end of next season, Brown's teammate, Jayson Tatum, will be eligible for his supermax extension. The Celtics will be looking at committing nearly $700 million to two players.
Tatum and Brown are arguably the NBA's top duo. With that said, they haven't won anything. They reached the NBA Finals once but fell short against the Golden State Warriors in 2021. Last year, the door was wide open for them to return to the championship round. The Celtics rallied from a 3-0 deficit against the Miami Heat in the conference finals but failed to win a Game 7 at home with a Finals berth on the line.
Brown hopes to make a significant impact off the court
While Brown's basketball goal is to win a championship, he's hoping to make a bigger difference off the court. He's a social justice advocate and has big plans with his newfound wealth and his platform as a well-known athlete.
During an appearance on CBS Mornings, Brown explained why his first thought after signing his big deal was giving back.
"Being an athlete, you have a lot of influence in your community," he said. "If you use it responsibly, you can make the world a better place.
"Work needs to be done. Society needs to be improved. Just because I escaped the barriers that allowed me to make it to the NBA doesn't mean I'm going to forget about the groups of people where I came from. I'm just trying to help as much as I possibly can and ultimately make the world a better place."
In 2019, Brown founded the 7uice Foundation, which helps give children an educational opportunity they normally wouldn't have. He hopes to build on that foundation.
"My goal is to build the next generational leaders of the world," he said. "I want to launch a project to bring Black Wall Street to Boston. I want to help bridge the wealth gap here. The wealth disparity is top five in the U.S. every single year here in Boston. Nobody really talks about it."