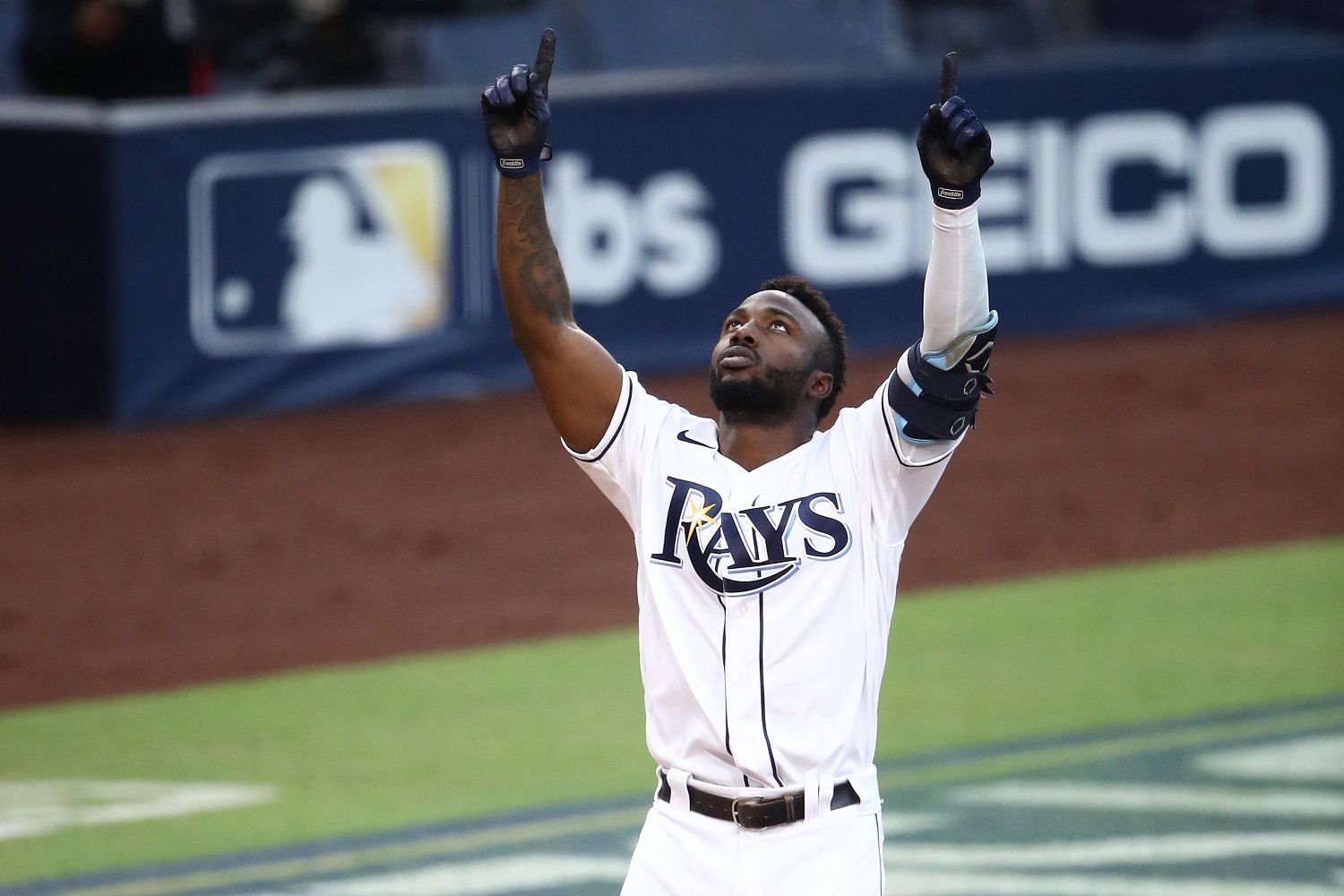 ALCS MVP Randy Arozarena Is the Lowest-Paid Player on the Tampa Bay Rays' World Series Roster
Of the 28 players on the World Series roster for the Tampa Bay Rays, ALCS MVP Randy Arozarena made less than anyone during the 2020 MLB season.
Come on now, be honest. Coming into the 2020 Major League Baseball season, had you honestly ever heard of Tampa Bay Rays outfielder Randy Arozarena before? Okay, perhaps we can let St. Louis Cardinals fans off the hook here as he was with that organization for three years before being traded to the Rays this past January. But it's likely safe to say that not too many people knew much about him coming into the abbreviated 2020 season, a season that was even further delayed for Arozarena when he contracted COVID-19.
But baseball fans certainly know who Randy Arozarena is now.
The Cuban native, who defected from his home country in 2015, has been on an absolute tear in the postseason and has the Rays in the World Series for the second time in franchise history. He's easily been the biggest star for Tampa Bay this year but he certainly wasn't paid like one.
In fact, of the 28 players on the Rays' active roster for the World Series, Randy Arozarena was Tampa Bay's lowest-paid player in 2020.
Randy Arozarena used his time in quarantine to add 15 pounds of muscle
When Randy Arozarena found out he'd contracted COVID-19 over the summer, he certainly used his time in quarantine to his advantage. He missed the first five weeks of the 2020 season, his first with the Rays, and holed up in an apartment in St. Petersburg, where he taught himself to cook and worked out like crazy.
According to the Tampa Bay Times, Arozarena ate a healthy dose of chicken and rice while quarantined and packed on 15 pounds of muscle by adding 300 pushups to his daily workout routine.
He finally played his first game in a Rays uniform on August 30 and played 23 games to close out the regular season. He hit .281 with seven home runs, 11 runs batted in, and had an OPS of 1.022. But he's been on a completely different level in the postseason.
He's been on a tear in the postseason
Randy Arozarena played solid baseball to close out the regular season but his performance in the postseason has been unreal.
In the Rays' two-game sweep of the Blue Jays in the Wild Card round, he was 4-for-8 with a walk, two doubles, a triple, an RBI, and scored three runs. During Tampa Bay's five-game series win over the Yankees in the ALDS, Arozarena hit .421 with a walk and three home runs. In the Rays' seven-game battle with the Astros in the ALCS, he earned MVP honors by hitting .321 with four home runs, six runs batted in, a double, two walks, and six runs scored.
In total, Randy Arozarena has made 60 plate appearances in the postseason and is hitting .382 with an OPS of 1.288. He has 21 hits, four walks (he was also hit by a pitch in Game 5 of the ALDS), three doubles, a triple, seven home runs, 10 runs batted in, and has scored 14 runs.
Randy Arozarena is the lowest-paid player on the Rays' World Series roster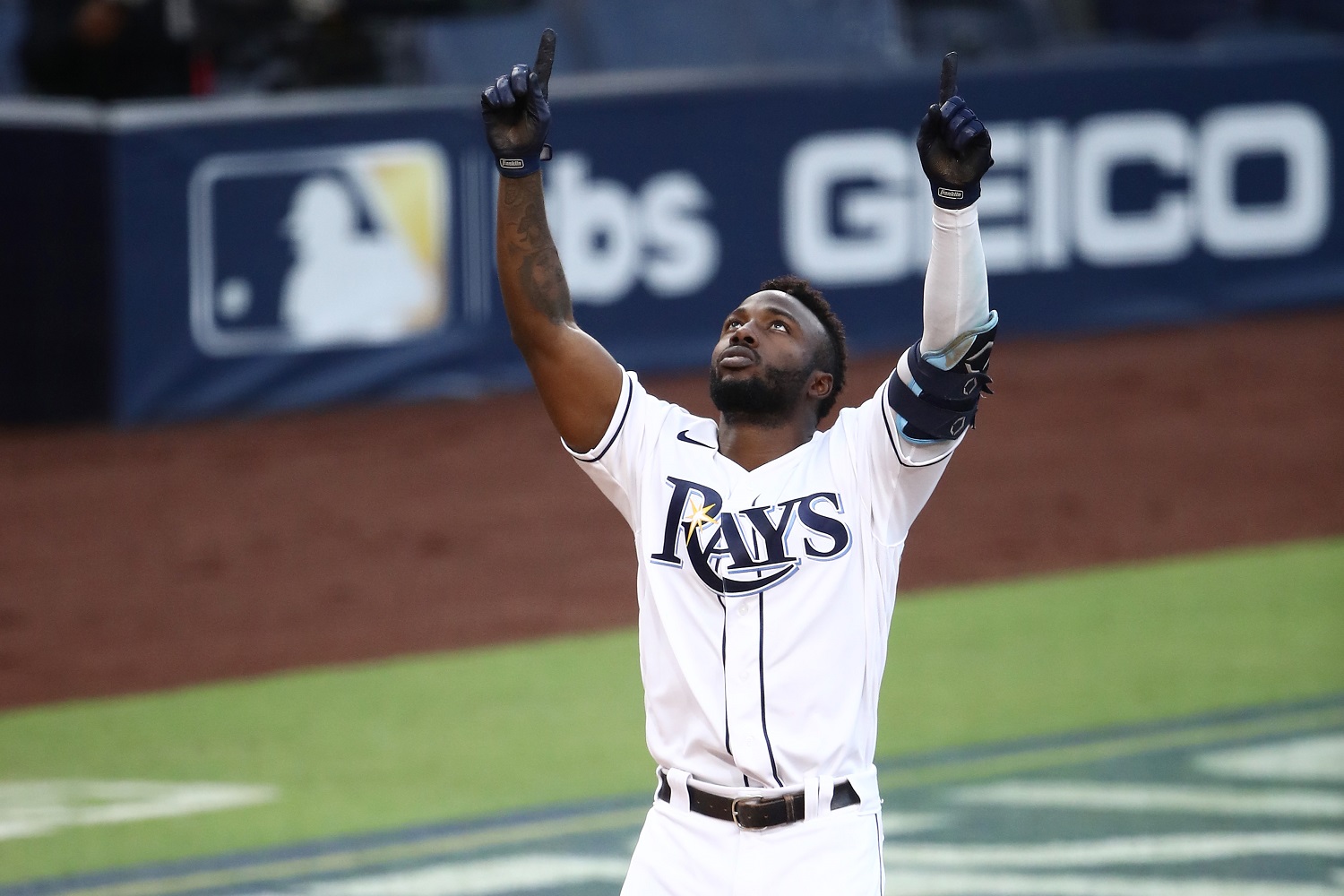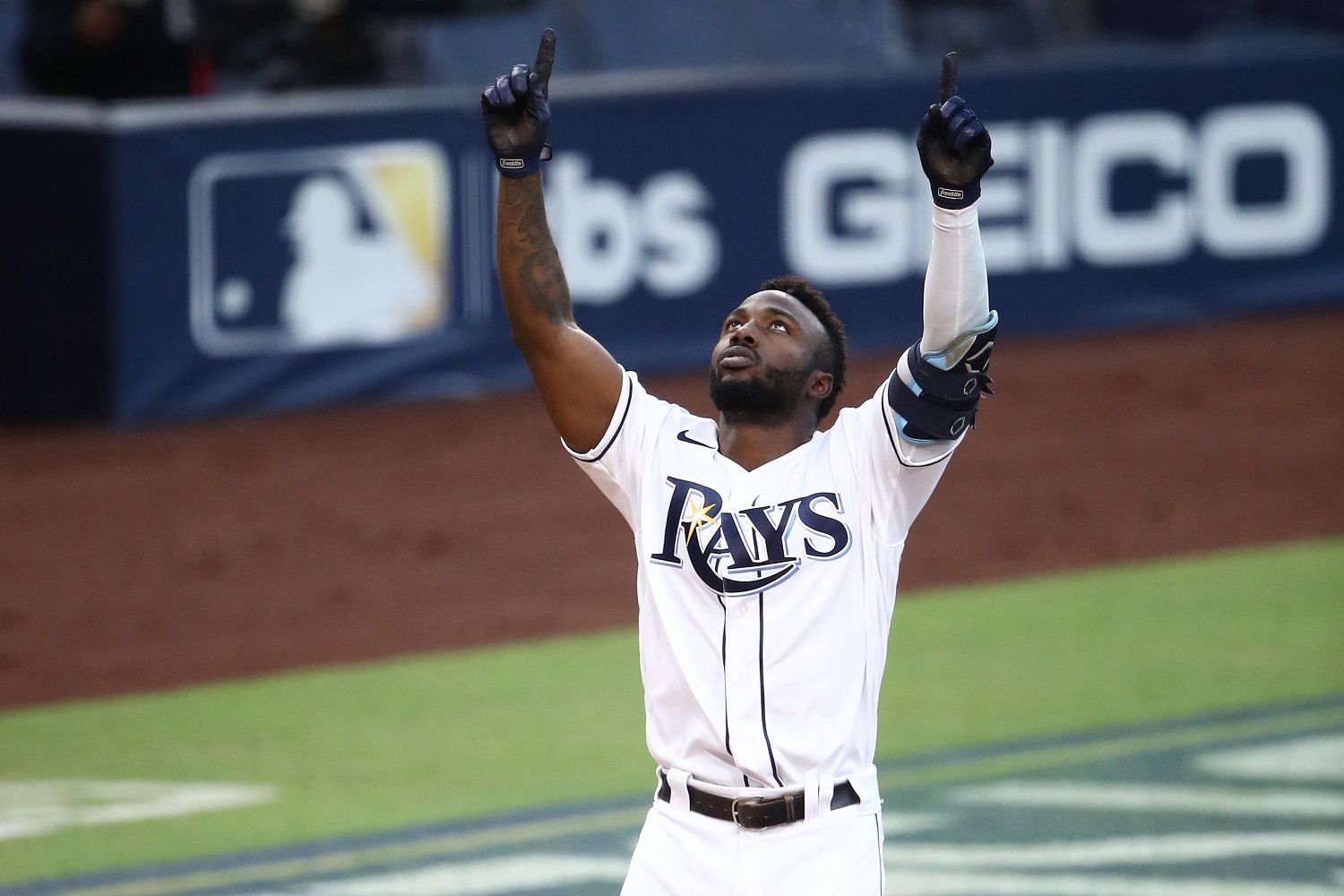 With the stats listed above, it would be easy to think that Randy Arozarena is a seasoned veteran and is making the big bucks. But what one has to remember is that he's still just a rookie (he only had 28 overall plate appearances with the Cardinals in 2019) and doesn't make that much money at all.
As mentioned, of the 28 players on the Rays' World Series roster, Randy Arozarena made less than anyone. With the adjusted salaries due to the pandemic, he made $90,335 in 2020. He was only set to make the league minimum of $563,500. Two other players on Tampa Bay's roster for the Fall Classic, pitchers Aaron Slegers and Josh Fleming, were also league-minimum guys but still made more than Arozarena when the salaries were adjusted.
Given how he's played this fall, it's likely Randy Arozarena will get a nice pay raise in 2021.
Stats courtesy of Baseball Reference; Contract info courtesy of Spotrac