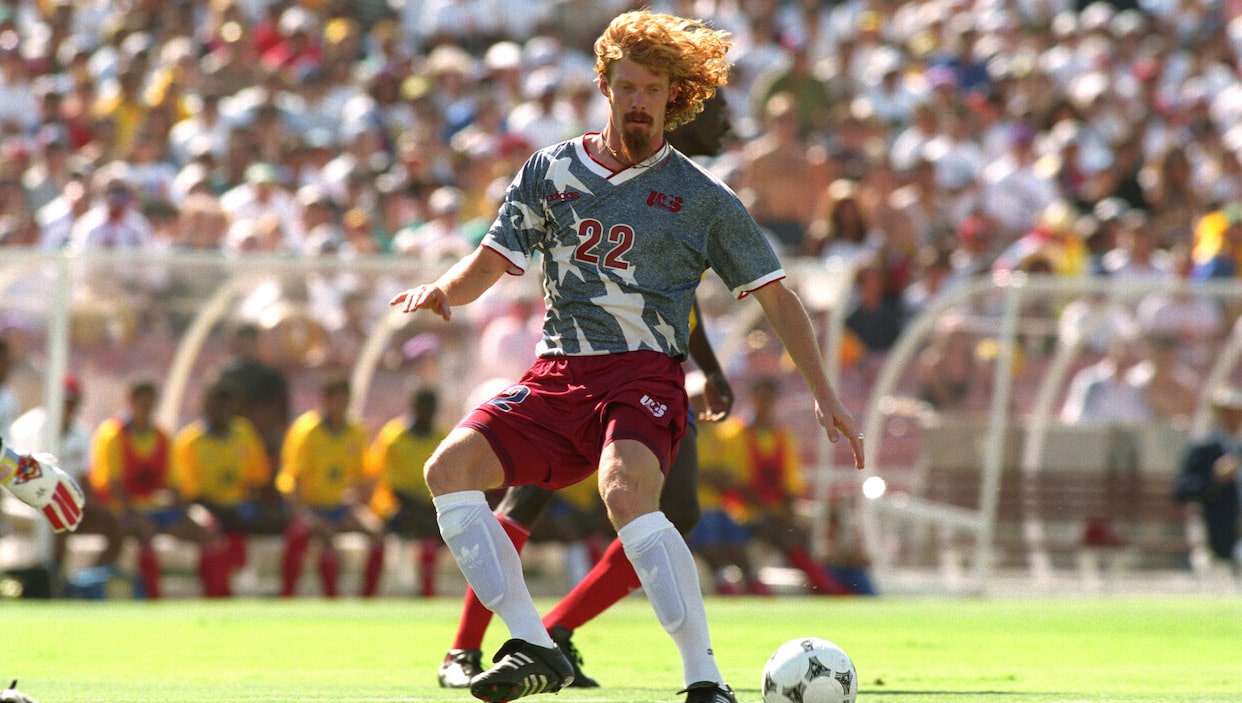 Alexi Lalas on USMNT World Cup Kits: 'A Little Bit Arrogant, That's Who We Are'
The 2022 USMNT World Cup kits are out and most don't like them. Former USMNT star Alexi Lalas explains the reasons why.
The 2022 World Cup in Qatar is now just about two months away. As part of the buildup to the world's biggest soccer tournament, national teams are starting to unveil their World Cup uniforms. The USMNT World Cup kits were among those debuted next week, and the reaction was tepid at best. Former USMNT star Alexi Lalas summed up best why the kits are so polarizing.
Alexi Lalas perfectly summed up what's wrong with the 2022 USMNT jerseys
Last week, Nike unveiled the 2022 USMNT World Cup kits. The jerseys, shorts, and socks leaked online a few weeks ago, and even USMNT players expressed their disappointment.
The home jersey is an uninspiring blue and black tie-dye pattern, while the away is all white with tiny red and blue accents that are reminiscent of many England national team kits through the years.
Soccer pundit Alexi Lalas, who played a starring role in the USMNT's 1994 World Cup, discussed the kits on his podcast, State of the Union, and summed up the issues with these yawn-inducing kits perfectly.
Lalas started by saying that it's almost impossible for national team jerseys to drop that get a high approval rate and that sometimes, people's opinions on kits soften over time. That said, Lalas doesn't like the 2022 USMNT World Cup kits.
"When it comes to U.S. uniforms, we — and when I say we, I mean the United States – we have a built-in appearance. We are red, white, and blue. We are stars and stripes. And I think, no matter who it is, whether it's a soccer team or somebody else, we should lean into that, Lalas said. "And we should take pride in that. I think being big and bold and beautiful, and yeah, at times, a little bit arrogant. That's who we are, and our aesthetic should reflect what I think is the greatest country in the world."
The former USMNT defender said that, with that in mind, U.S. sports jerseys should basically "design itself." Lalas wants big, bold, red, white, and blue, with stars and stripes, and "over the top."
Lalas is right, of course. These jerseys miss the mark badly, and Nike should have done better. For the former soccer player, he knows well what it takes to make a great USMNT World Cup kit. That's because he wore the best one ever.
Best USMNT World Cup kits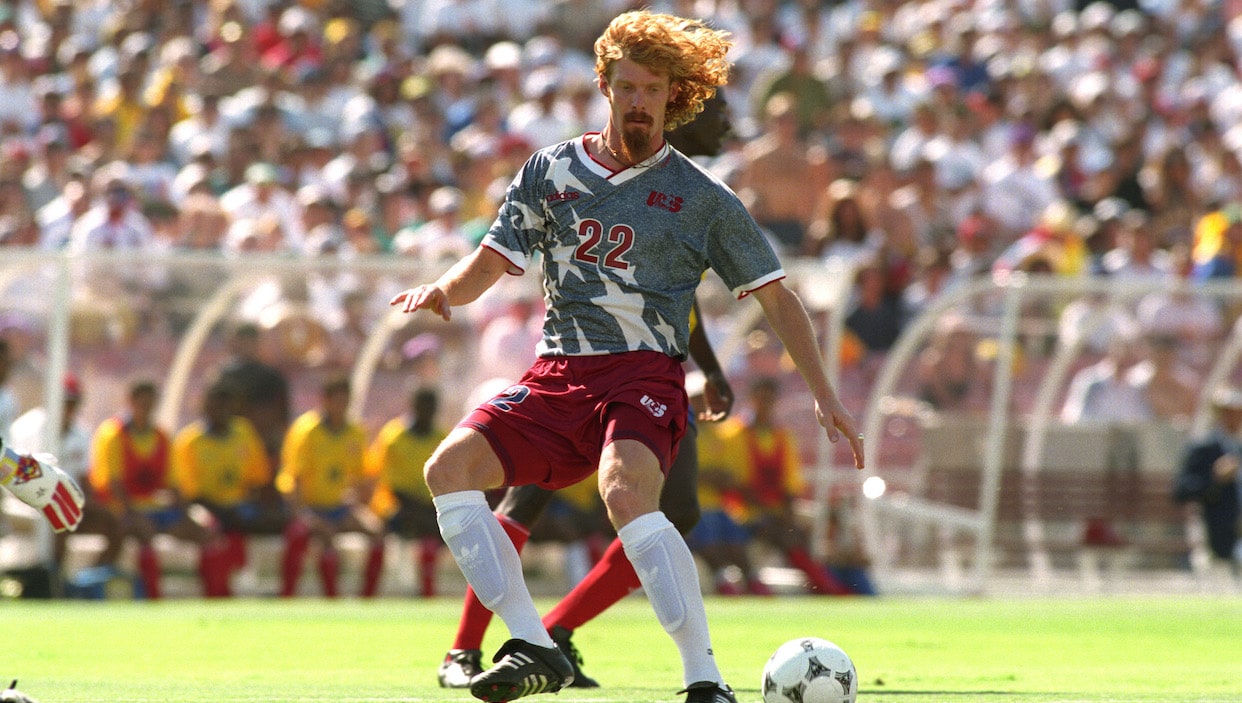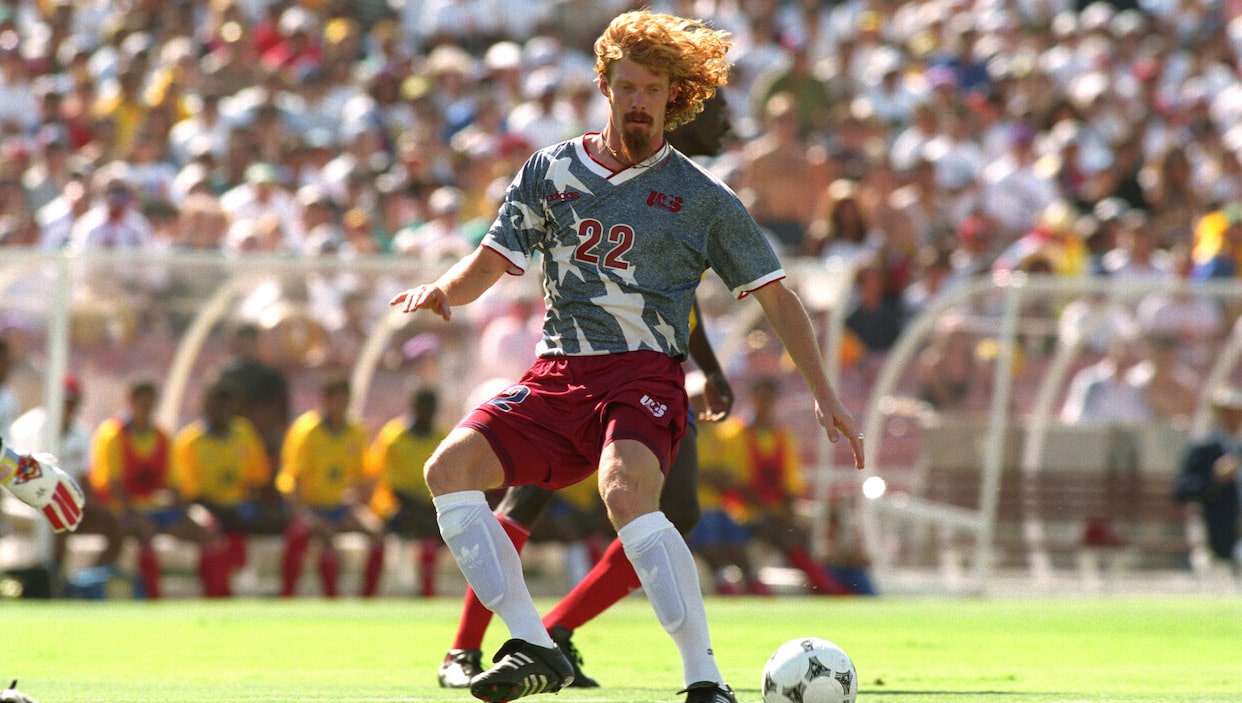 The USMNT will have played in seven of the last eight World Cups when the tournament kicks off in Qatar on November 20, 2022.
Of the seven USMNT World Cup kits, there are some hits and some misses in the last almost 30 years. The best of which was the kits Alexi Lalas wore in 1994. The jerseys that America hosted the World Cup in were awesome. The homes featured bold red and white stripes that looked like a flag flying. And the aways were a perfect '90s blue jersey with stars.
Over the next several World Cups, the kits started getting a little dicey. The white jerseys got plainer, and the colored uniforms went to a relatively standard dark blue (save for 1998's red numbers).
Then, in 2014, the kits got a little more interesting. The whites were still unexciting, and the collar was polarizing. However, the bold primary blue and red with a white stripe jerseys stood out in the crowd.
If the USMNT performs well in Qatar and provides some memorable moments, maybe people will look at these kits more favorably. For not, though, Nike produced some ho-hum jerseys that, hopefully, don't foreshadow the USMNT's performance at the World Cup.
Like Sportscasting on Facebook. Follow us on Twitter @sportscasting19 and subscribe to our YouTube channel.