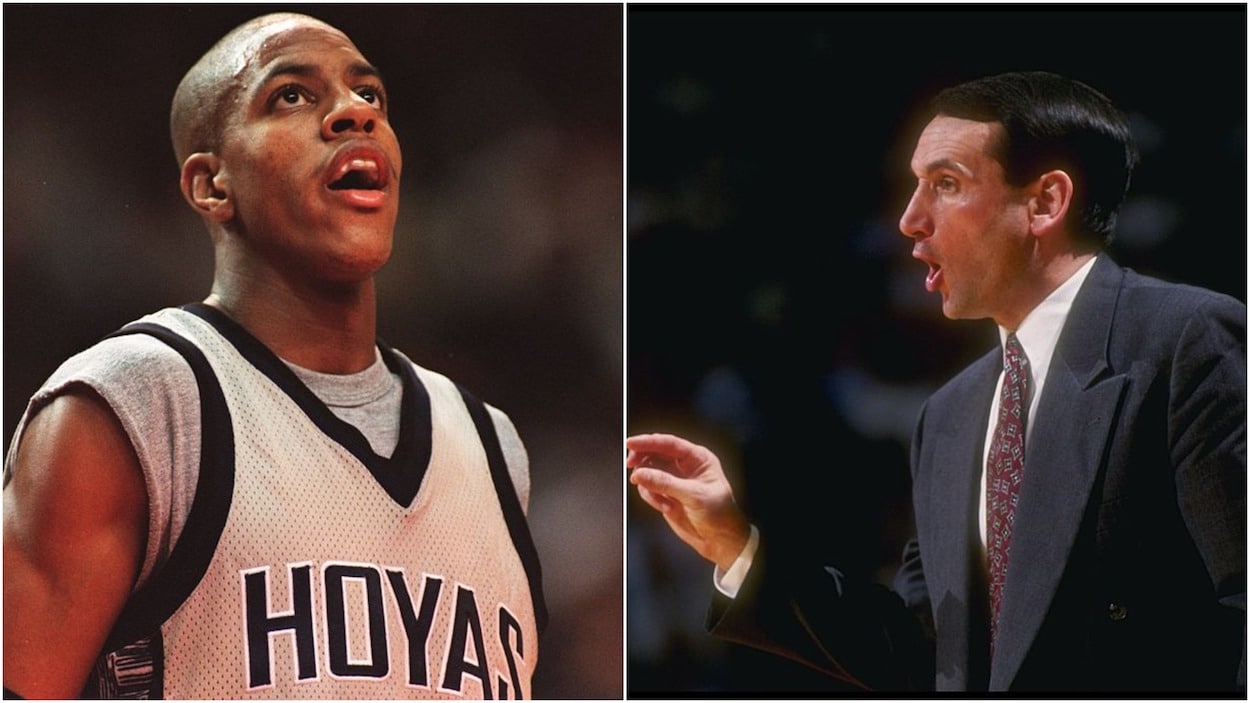 Allen Iverson Could Have Prevented 1 of the Worst Seasons in Coach K's Duke Career
Allen Iverson made his name at Georgetown but, if things had gone a bit differently, he could have changed the course of Duke history.
While it's been quite a while since he hit the professional hardwood, let alone played in NCAA action, Allen Iverson made his mark at Georgetown. Playing under John Thompson, the guard proved to be a legitimate talent. His two seasons with the Hoyas propelled him into the NBA, and, from there, the rest is history.
In hindsight, though, things could have been much different. Could you imagine AI suiting up for Coach K and the Duke Blue Devils?
While that, of course, never happened, Iverson recently admitted that he had unofficially visited Duke and met Bobby Hurley. At the risk of indulging in a hypothetical situation, it's easy to see how that collegiate commitment could have changed the course of Mike Krzyzewski's career.
Allen Iverson admitted that he had an affinity for Bobby Hurley and wanted to go to Duke
As long-time basketball fans know, Iverson headed to Georgetown after his mother convinced John Thompson to take a chance on the teenager. If he had his choice of programs, though, AI might have done things a bit differently.
"I thought about, I really wanted to go to Notre Dame," the guard told Dan Patrick during a recent interview. "I wanted to go to Notre Dame, and then Joe Smith went to Maryland, so I thought about Maryland to play with him. And then I went up to Duke on not really a visit, but I, you know, went up there, and I got to meet Bobby Hurley. Bobby Hurley was my favorite college basketball player. … So I really wanted to go there because I loved Bobby Hurley so much."
In fairness to Iverson, though, he admitted that he was more of a Hurley fan than an overall Duke fan. It's not clear, however, if that would have swayed his ultimate choice.
AI's arrival would have been perfectly timed to prevent one of the worst stretches of Coach K's career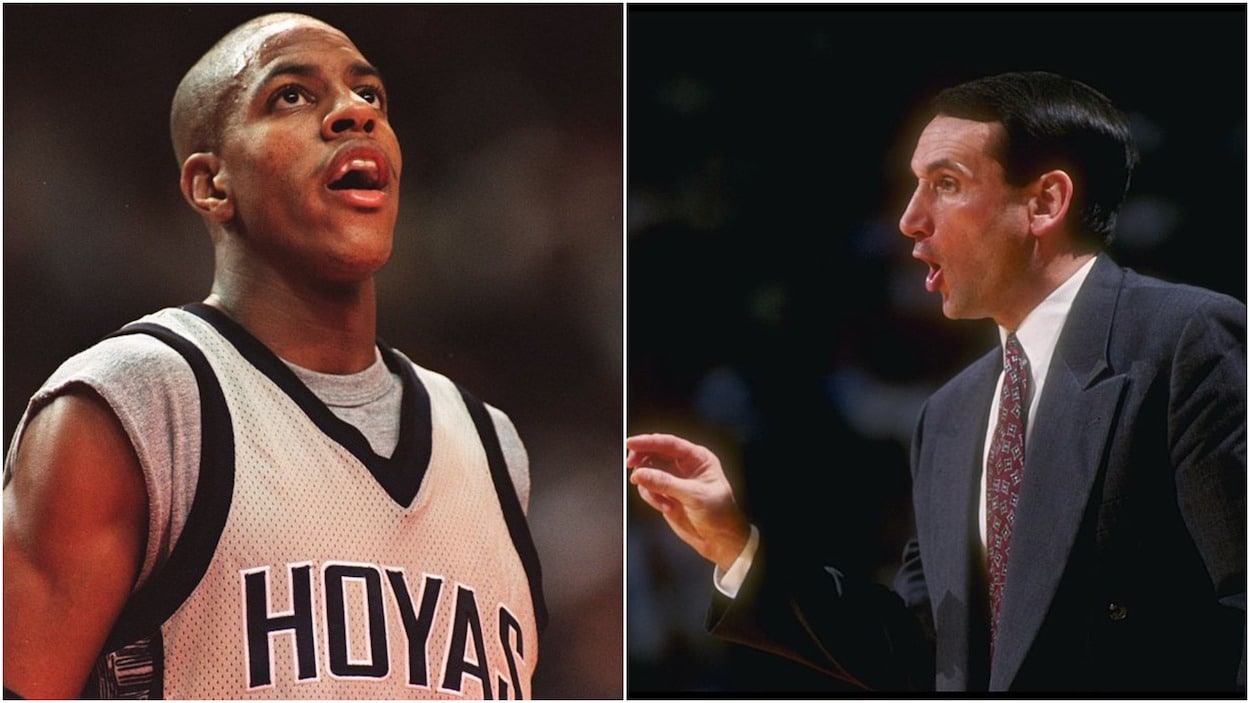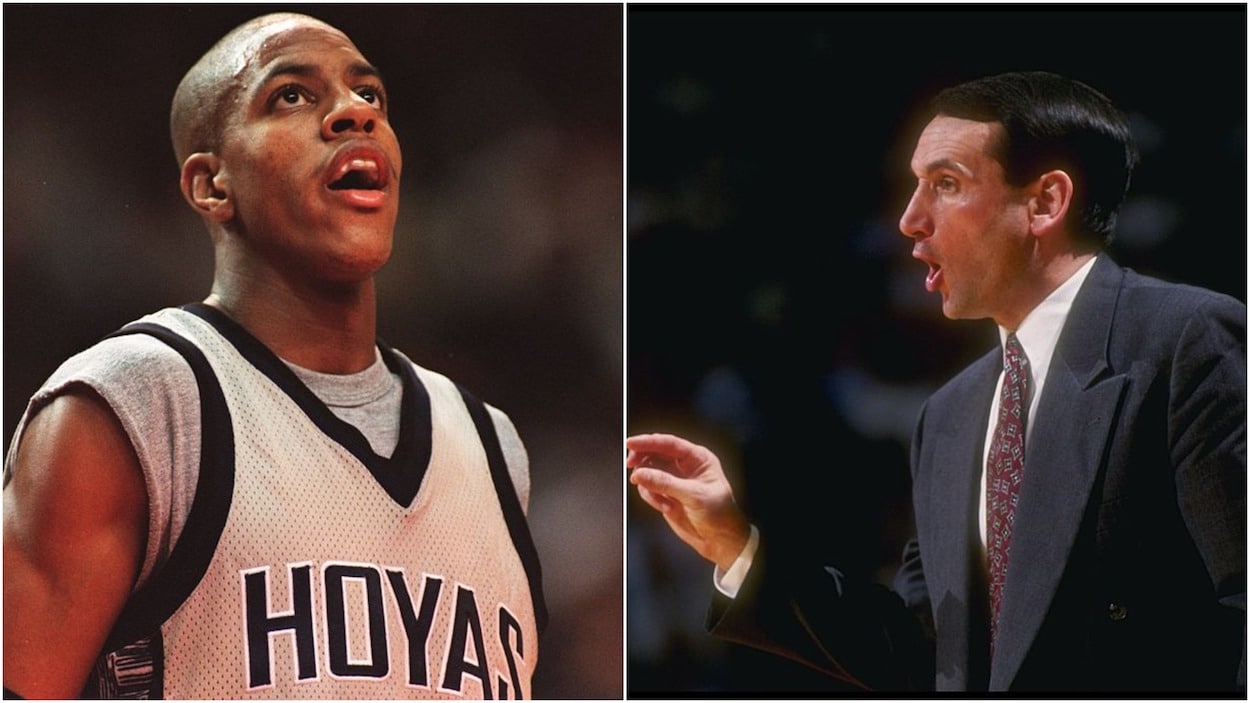 Based purely on raw talent, Allen Iverson would have improved Coach K's roster at any point in history. The guard's NCAA career, however, was perfectly timed to when Krzyzewski needed him the most.
Let's flash back to the 1994-95 basketball season. Despite coming off a loss in the previous year's NCAA title game, Duke struggled. The team lacked truly top-end talent — they only had four players averaging double-digit points per game, and only one of those players, Cherokee Parks, posted more than 13 per outing — and struggled. To make things worse, Coach K only spent 12 games on the sidelines before medical issues forced him away from the team. The Blue Devils went 13-18 and failed to reach the NCAA Tournament. Surely AI could have made things a bit brighter in Durham.
While things improved the following year, they didn't get that much better. The roster still lacked a true star and, while Duke reached the Big Dance, they crashed out in the first round with an embarrassing defeat at the hands of Eastern Michigan.
At the risk of being somewhat reductionist, it's easy to see how Iverson could have mitigated the problem. As a freshman, the guard averaged a shade over 20 points per outing. During his sophomore season, that number jumped to 25.0 points per contest.
Beyond those points simply being enough to win basketball games, AI would have made Duke a more dynamic unit. While it would be naive to claim he'd turn someone like Erik Meek or Ricky Price into a world-beater, it's easy to imagine them reaping the rewards of Iverson's penetration.
If we want to take the butterfly effect out even further, we could consider how Iverson's presence would have changed Krzyzewski. While he probably would have still had to miss time — no roster can cure exhaustion and debilitating back pain — the program would have probably been better equipped to survive his absence. If we assume that AI would have still only played two years in college, that could have also opened Coach K to the possibility of recruiting players who wanted to leave Duke before graduation. No one left the program early until Elton Brand, William Avery, and Corey Maggette did so in 1999, and, even then, it was quite a departure from the norm.
At this point, all parties have moved on. Iverson had a legendary NBA career, Krzyzewski has retired, and Duke hasn't had a problem bringing in big-time recruits. With all of that being said, though, the idea of AI taking the court at Cameron Indoor Stadium is pretty interesting, even in hypothetical hindsight.
Stats courtesy of Sports-Reference