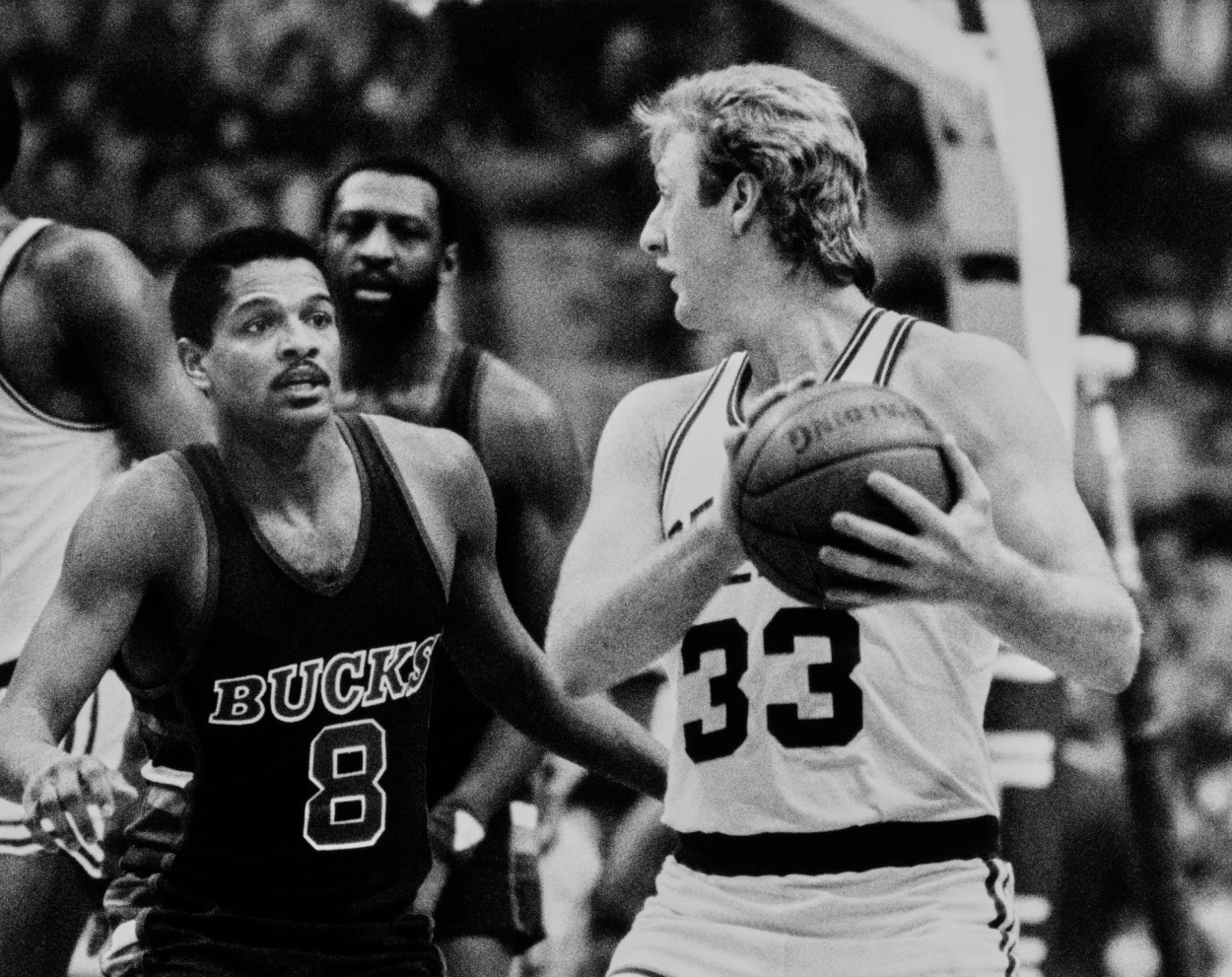 An Angry Larry Bird Followed Through on His Promise After Humiliating Sweep by the Milwaukee Bucks in '83
Larry Bird showed some rare emotion after the Boston Celtics were swept by the Milwaukee Bucks in 1983, according to former Boston Globe reporter Bob Ryan
He was hardly an angry Bird. Larry Bird always went at it hard on the basketball court but rarely did emotions consume him to the point where he'd become overly fired up.
That changed in 1983 after the Boston Celtics were embarrassingly swept by the Milwaukee Bucks in the conference semifinals. Longtime Boston Globe reporter Bob Ryan witnessed Bird's emotions and a promise he made in the locker room after that humiliating elimination game.
Larry Bird and the Boston Celtics had a rough playoff series against the Milwaukee Bucks in 1983
Larry Bird quickly turned around a struggling Boston Celtics franchise as a rookie during the 1979-80 season. Boston had won just 29 games, but Bird led the Celtics to an NBA-best 61 wins en route to winning Rookie of the Year honors. The following season, Boston won the first of its three NBA championships in the decade.
The next two seasons, however, the Celtics failed to return to the championship round after promising regular-season success. In 1982, they fell to the rival Philadelphia 76ers in the conference finals. In '83 the Bucks manhandled them, posting a four-game sweep. Bird was sick and did not play in Game 2 as the Bucks escaped with a 95-91 win and took a 2-0 series lead back to Milwaukee, where they completed the sweep.
Former Celtics forward M.L. Carr said the team simply wasn't in the right frame of mind. He believed a coaching change was desperately needed. Sure enough, Bill Fitch resigned after the season.
"We lost to the Bucks in four (in 1983), but to be honest, any team in the playoffs that year could have beat us in four games," Carr once told Michael D. McClellan of Celtic Nation. "To be quite frank, we came to the conclusion, as a team, that it was time for our coach to go. I make no bones about that."
"I remember we were down," former Celtics guard Danny Ainge was quoted in Maxwell's book If These Walls Could Talk. "And some of the players on the team were saying, 'Well, the good news is if we lose this series, we won't have to listen to him anymore.' I think Kevin (McHale) even made a comment in the papers about his free-agency status could be determined by whether Fitch was back or not."
An angry Bird made good on a 1983 promise
After the ugly four-game sweep, Ryan remained in the locker room and saw Bird in rare form.
"There's only one time during the career when (Bird) was overtly, externally angry about losing and said so and wanted to do something about it that he articulated," Ryan said during the Goodman, Ryan, and Tanguay podcast. "That was in '83 after they were swept by the Bucks.
"One of the reasons they were swept is that he was sick. He missed a whole game in that series. They got swept by the Bucks. It was humiliating. Let's face it.
"This is the gospel truth. There's two media people left talking to him when everyone else was gone. It was me because I was in my TV era, and I didn't have to go write a story. There was Glenn Ordway, the color man. (Bird) is telling us he's angry. He's mad, and he's gonna go home, gonna work, and come back and be better. That's the only time I've ever heard him speak that directly in that way.
"Guess what happened, guys? Do the math, '84. They came back, and they won. Larry was the MVP in the Finals. He was the MVP in the league. He did it."