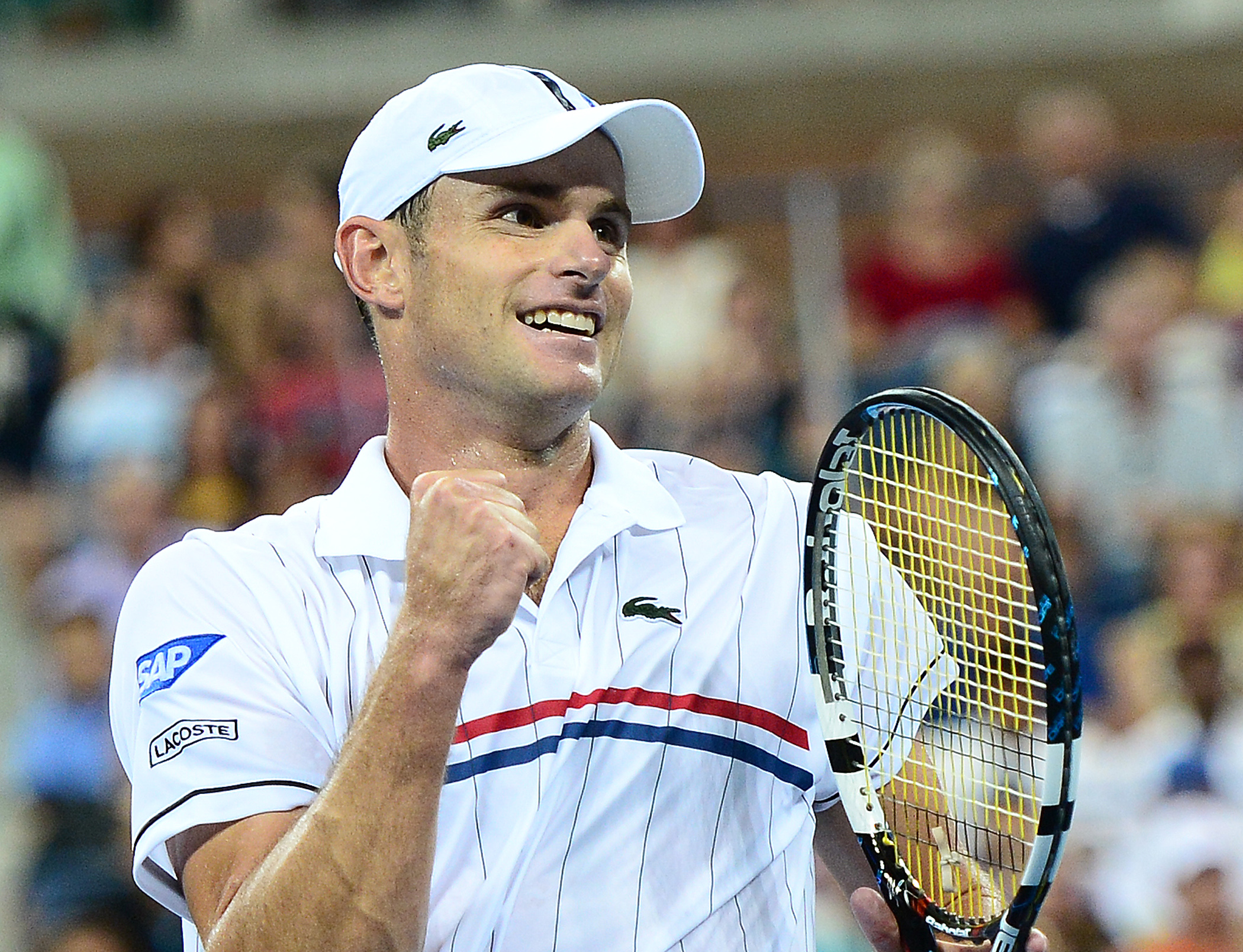 Andy Roddick Recalls Being 'Overwhelmed' During Unexpected Encounters With Michael Jordan and Cal Ripken Jr.
Even tennis sensation Andy Roddick got star-struck.
Sometimes the stars can get star-struck as well. It's happened to tennis Hall of Famer Andy Roddick on more than one occasion. The 2003 U.S. Open champion was the face of American tennis during the peak of his career. He was the star everyone wanted to see. The tables were turned on the young star when he had unexpected run-ins with Michael Jordan and Cal Ripken Jr.
Andy Roddick was the rock star of tennis in 2003
Roddick won 612 matches on the ATP Tour during the course of his career, which peaked in 2003. He established himself as one of the game's best that year when he took his 22-1 record into the U.S, Open as the fourth seed in the tournament.
Roddick rallied from a two-set deficit in the semifinals to defeat David Nalbandian 6–7, 3–6, 7–6, 6–1, 6–3. In the finals, he defeated Juan Carlos Ferrero in straight sets, winning 6–3, 7–6, 6–3 for the first and only Grand Slam title of his Hall of Fame career. Roddick finished the season as the ATP's top male player.
At 21 years old, Roddick became the youngest American male to be ranked No. 1 in the world. He spent 13 weeks at No. 1 before being dethroned by Roger Federer. Roddick was a rock star, the face of American tennis.
He finished his career with 32 ATP titles. He announced his retirement on his 30th birthday, finishing with a singles record of 612-213. Roddick was inducted into the International Tennis Hall of Fame in 2017.
Although Andy Roddick is a star, he was also blown away by the stars, including Michael Jordan
Even though Roddick was a star, he still showed he was human. While many fans were giddy when they saw the young tennis star, he was the same way when he ran into those he looked up to. He recalled the time he unexpectedly crossed paths with NBA legend Michael Jordan on a golf course.
"I didn't even play golf at this point, but I was hanging out with a couple of friends of mine and I left a putter on a green," Roddick said on the most recent episode of the Endless Hustle podcast. "I was hustling back, and all of a sudden I see Michael Jordan walking down the hill, and he hands it to me and he said, 'You gotta remember your club,' and he said, 'A.R.' like he knew my name.
"It was like the coolest thing I've ever seen. It's those unplanned, spontaneous moments that I probably got overwhelmed a little bit. I just tried to walk away so he didn't notice."
Roddick was also blown away by an interaction with Cal Ripken Jr.
Jordan wasn't the only athlete who made Roddick's jaw drop. The tennis star remembered another time when he was star-struck after playing in an exhibition match with Andre Agassi.
"I remember walking into a locker room," he said. "Just played an exhibition with Andre for a charity run by Pam Shriver. I think it was 2002. Andre was very good about bringing me into those all the time.
"I walk into the locker room after the match and I'm taking my stuff off, and I hear this voice in the corner that says, 'Oh, I'm sorry. I'll get out.'
"I turn around, and it's Cal Ripken Jr. I was like, 'Oh my God.' So I turn around and go, 'Holy s—. Oh my God, you stay. I'll leave.' I was like, 'Am I bothering you?' He goes, 'What, by being in here?' I was like a complete kid."
Roddick certainly proved that even big stars can be intimidated by even bigger ones.