Michael Jordan Is Actually so Good at Golf That a Pro Recently Said Playing With Him Is 'Beneficial' for Their Game
Michael Jordan was potentially the greatest basketball player to ever play in the NBA. But over his lifetime, he has also become pretty good at another sport: golf.
There are many legendary golfing stories about Jordan, and while he may not be a pro, he seems good enough to compete with some of them. In fact, a professional golfer even recently said that golfing with the Chicago Bulls legend is pretty "beneficial" for them.
Michael Jordan enjoys playing golf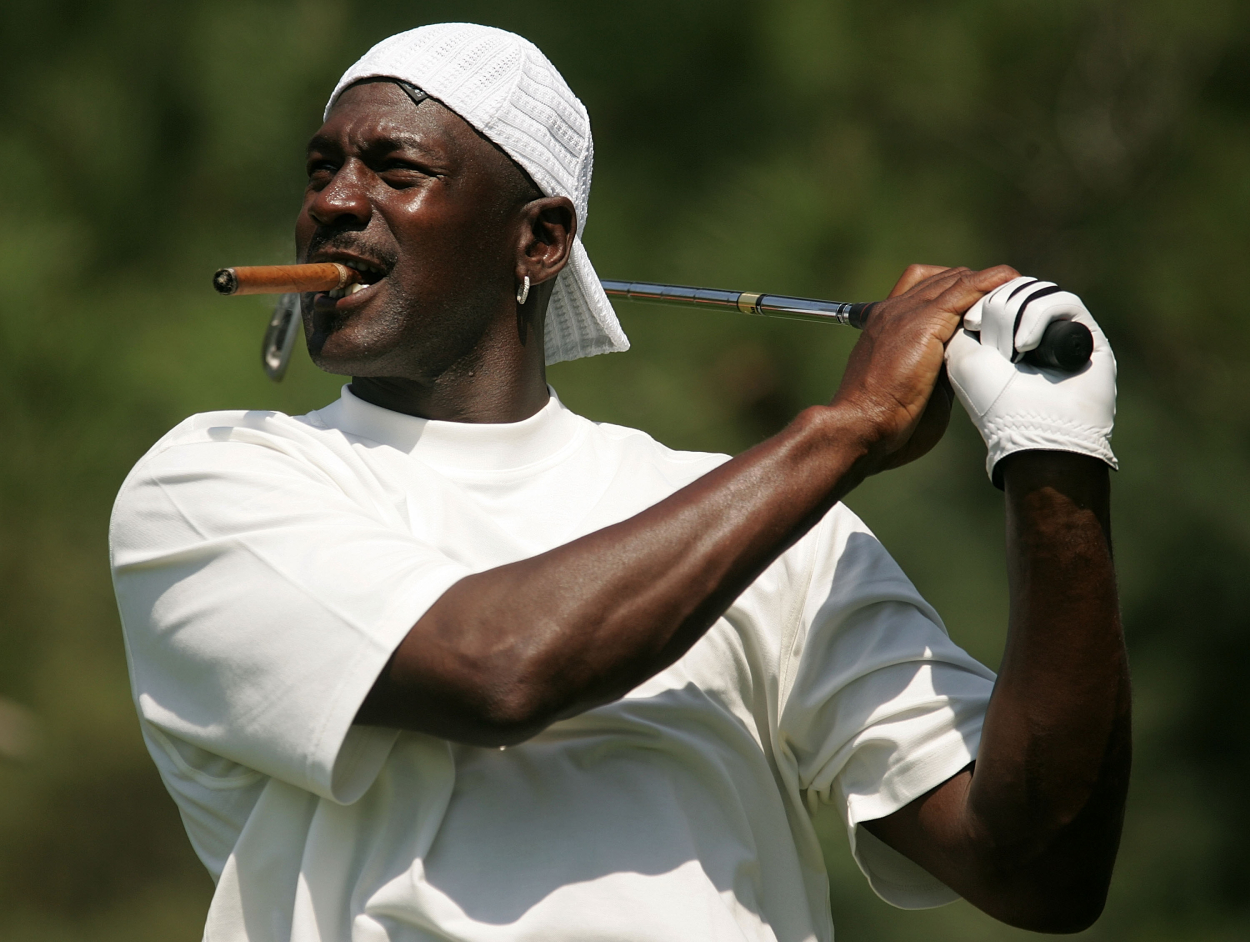 RELATED: Michael Jordan's Star College Teammate Said He Had a 'Big Mouth' Before Even Playing 1 Game at UNC
Jordan was ruthless on the basketball court. His competitive fire made him one of the greatest basketball players to ever play the game, which has led to some incredible hoops stories coming out about him.
However, there are also many great tales of Jordan on the golf course. This includes the time he went up to Chuck Daly's hotel room to force the coach into a rematch "at the crack of dawn," according to Golf Digest. He also once bet Tiger Woods he could break 92 at the Golf Digest U.S. Open Challenge.
Unsurprisingly, Jordan supposedly loves to bet big money while hitting the links. Actor Samuel L. Jackson once said that when he would golf with Jordan in the past, MJ loved trying "to bet amounts of money that made you uncomfortable."
So, how good is the basketball GOAT? A pro might have actually given us that answer.
Rickie Fowler says golfing with MJ is 'beneficial'
RELATED: Michael Jordan's 'Exposed' Actions Led to a Popular Actor Liking Him a Lot Less
Rickie Fowler, a five-time PGA Tour winner, plays golf with Michael Jordan quite frequently. He has said in the past that he usually gives MJ 10 strokes.
Despite that significant advantage, though, Fowler recently said golfing with Jordan is "beneficial" for him.
"I'm lucky enough to call him a friend, and we play a decent amount; I'll probably try and play with him here a couple times in the next week-and-a-half before I go out to the tournament," Fowler said on the April 27 episode of Slow News Day. "I think it's very beneficial for me. One, you're playing against MJ, one of the most clutch guys there is. He's good, especially when you get him around the greens and putting. He'll putt anyone straight up."
Golf may not be Jordan's first sport, but it seems like everyone has to bring their A-game whenever they play MJ in anything. They also must not let themselves get too intimidated by the fact they're playing against the great Michael Jordan.
"For people, when it's their first time playing with him, or first few times — it's Michael Jordan," Fowler said.
No matter how good Jordan is at golf, though, he will always be known as a basketball GOAT.
Michael Jordan dominated the NBA for years
RELATED: Michael Jordan's Love Affair With Golf Began by Hitting Balls With a Future PGA Championship Winner in His Final Year at North Carolina
Before becoming somewhat of a golfing legend, Jordan was arguably the most dominant player to ever step foot on a basketball court.
He led the NBA in scoring in 10 different seasons, scoring as many as 37.1 points per game in 1986-87, and he ultimately led the Chicago Bulls to six NBA championships, winning two separate three-peats.
Here is a look at just how dominant Jordan was:
14 All-Star selections
Five-time NBA MVP
Six-time NBA Finals MVP
1987-88 Defensive Player of the Year
32,292 career points (fifth all-time)
2,514 steals (third all-time)
30.1 career points-per-game average (No. 1 all-time)
Jordan's dominance has made him wealthy, too. The Bulls legend earned an estimated $93.7 million on the court in the NBA, per Spotrac.
The legacy he created while playing basketball, though, has allowed him to have an even more substantial wealth off the court. He has made over an estimated $1 billion from Nike since signing with the company in 1984, according to Forbes, and he has an estimated net worth of $1.6 billion, also per Forbes.
Based on all the stories and the fact that he played not only professional basketball but also pro baseball, it seems like Jordan is good at nearly every sport. His athletic success has now translated to the golf course.
Stats courtesy of Basketball Reference