Anfernee Simons Exploded for a Career-High 43 Points a Day After Tragedy Struck His Family
With no Damian Lillard or CJ McCollum in the lineup for the Portland Trail Blazers on Monday night, 22-year-old Anfernee Simons poured in a career-high 43 points in a 136-131 win against Trae Young and the Atlanta Hawks.
Simons' career-best performance was impressive enough on its own, but it's even more commendable considering the tragic news he received just 24 hours beforehand.
Anferee Simons' career day leads the Trail Blazers to an upset victory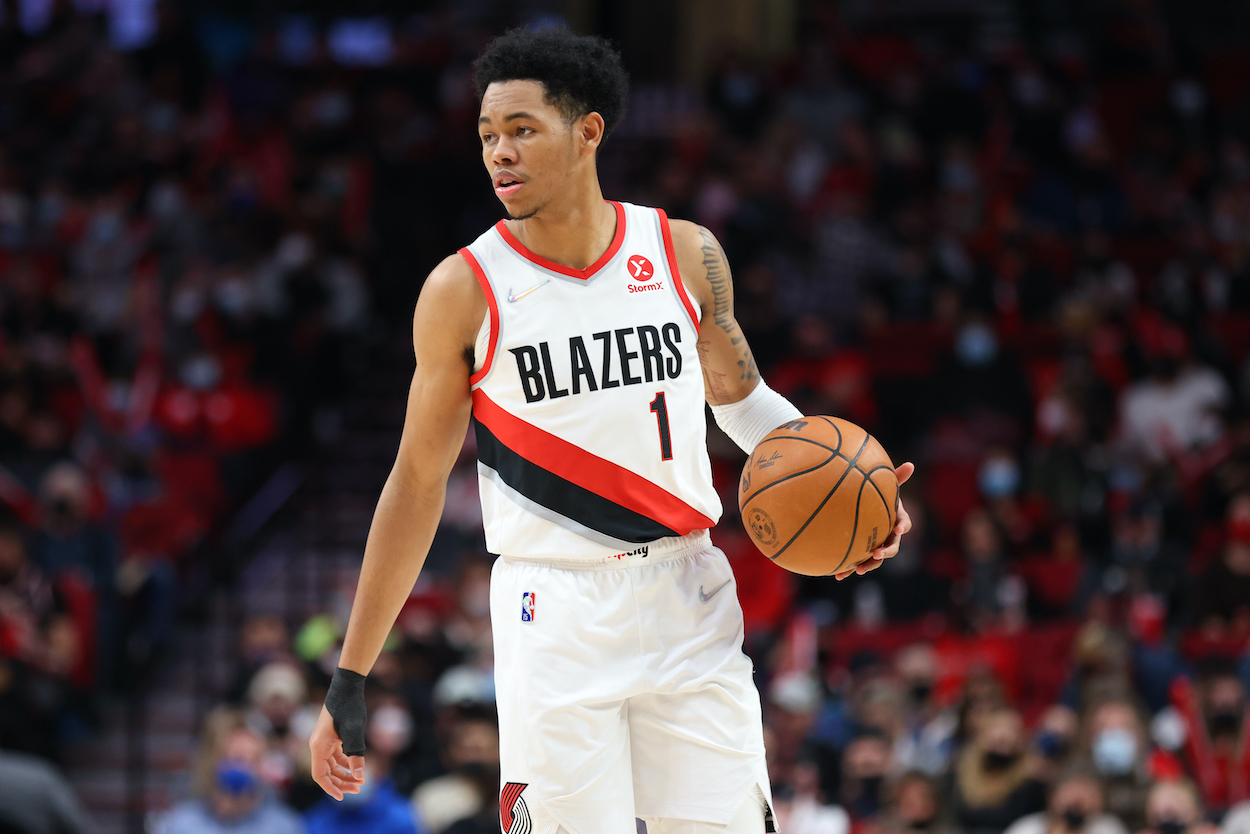 Simons has averaged only 8.4 points per game over his four-year NBA career. He had recorded just one 30-point game before Monday's matchup against the Hawks. Not many casual basketball fans outside the city of Portland even know his name.
But that's about to change.
On Monday night, Simons exploded for 43 points on 13-of-21 from the field and 9-of-16 from beyond the arc. He also added three rebounds and seven assists in the contest. It was, by a wide margin, the best performance of his young NBA career.
More importantly, though, Simons led the struggling Trail Blazers to a much-needed win against a superior opponent with their two best players out of the lineup. Portland now sits at 14-22 through 36 games and one game back of the all-important 10th spot in the Western Conference standings.
This team cannot afford to throw away games at this point in the season, and Simons wasn't going to let them Monday night.
Simons dedicated the performance to his late grandfather
Simons' offensive outburst on Monday night was the most impressive performance of his basketball career. But impressive really doesn't do his 43-point masterpiece justice.
After the game, Simons revealed his grandfather passed away on Sunday after a battle with cancer.
"I really can't take credit for how well I played tonight," Simons said. "I was just going out there and playing my game. I got a couple of shots to go in. Like I said I really can't take it today. Sadly, my grandpa died yesterday of cancer. It's all him, honestly. I give credit to him. I dedicated this whole game to him. Like I said, I can't take credit tonight. It was all him."
Simons didn't have much help on the court Monday night, but he clearly got an assist from his late grandfather in an angelic performance.
A rare bright spot in an otherwise dark season
It hasn't been a dream start for new head coach Chauncey Billups, as his Trail Blazers sit outside the playoff picture nearly halfway through his first season in charge. Lillard is having the worst shooting season of his career, McCollum hasn't been much better, and Portland's 115.2 defensive rating ranks as the worst in the NBA.
If things don't improve and the Blazers miss out on the postseason, Lillard could be the next superstar to force his way out of town.
But one of Portland's rare bright spots in 2021-22 has been the emergence of Simons as one of the best bench scorers in the Western Conference. The 22-year-old is scoring a career-high 12.9 points per game on 43.5% shooting at 39.0% from three.
Simons is set to become a restricted free agent following the season, so the Trail Blazers will have an interesting decision to make this summer.
Like Sportscasting on Facebook. Follow us on Twitter @sportscasting19.