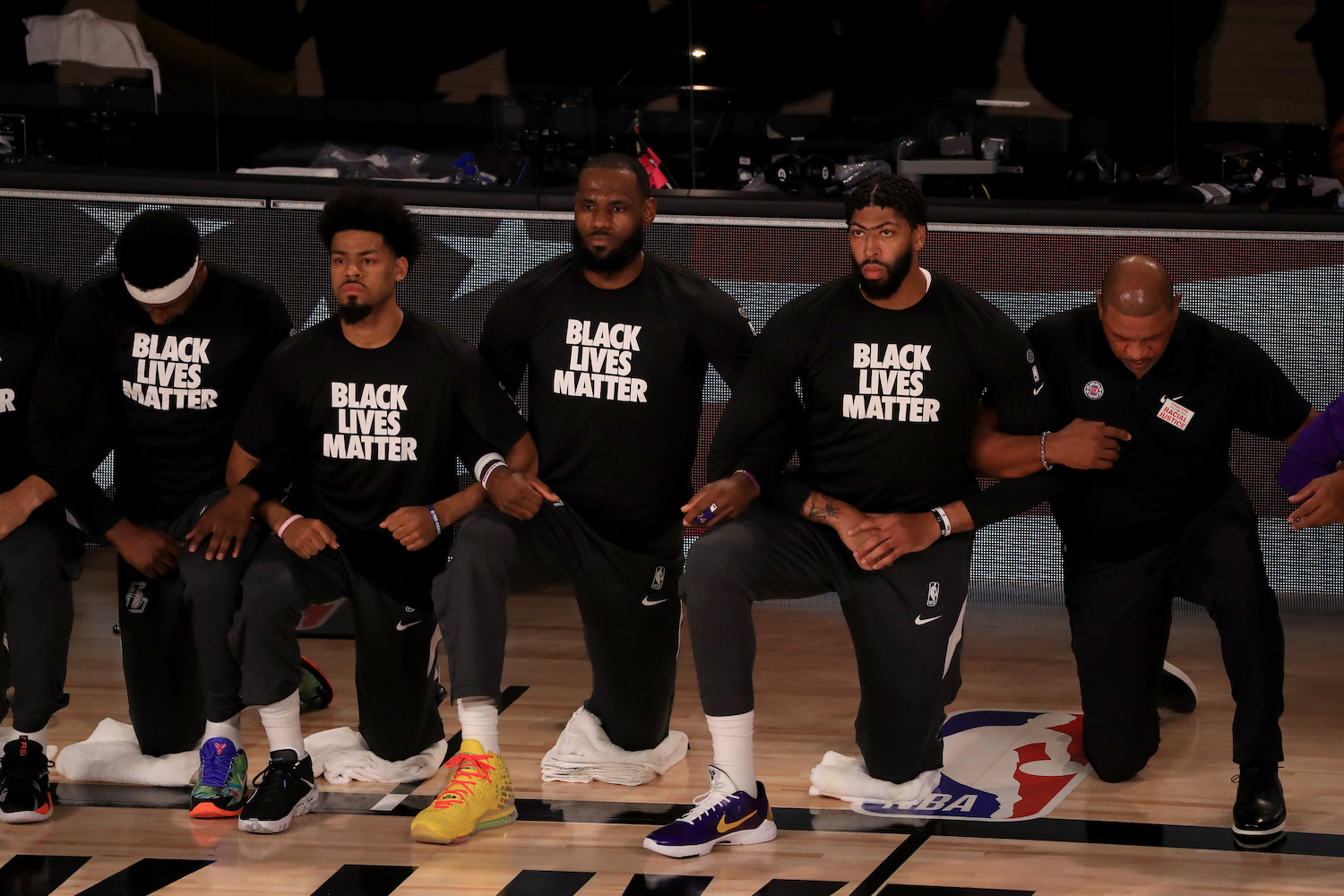 Angry LeBron James Fires Expletive-Laced Tweet in Support of Milwaukee Bucks Boycott
LeBron James has been outspoken on racial injustice and police brutality in recent months. He took it to another level in an expletive-laced tweet following the Milwaukee Bucks and their playoff game boycott.
NBA superstar LeBron James hasn't hesitated to use his platform to advocate for social change in the past. Since the death of George Floyd in May, James has been very outspoken on multiple issues relating to racial injustices against the Black community. With the Milwaukee Bucks boycotting Game 5 in their first-round playoff series against the Orlando Magic in protest of the recent police shooting of Jacob Blake in Wisconsin, James has issued his most forceful statement to date on racial issues in America, and he's understandably very angry.  
LeBron James outspoken since death of George Floyd
When police killed an unarmed George Floyd in Minnesota back in May, many athletes used their platforms to discuss the racial injustices faced by the Black community, including police brutality. One of the loudest voices was the biggest name in sports, LeBron James. 
The day after Floyd's death, James shared a graphic on his Instagram that featured two images. On the left, a Minneapolis police officer kneeled on the neck of George Floyd. On the right, Colin Kaepernick kneeling during the national anthem. The caption above it read, "This…" on the image with Floyd and "…Is Why" above Kaepernick's image. 
On June 10, James posted a photo on his Instagram. It had a picture of him wearing a shirt that read, "EQUALITY" spelled backward; in essence, saying looking at James is looking in a mirror at yourself. Do unto others. James wrote: What More You Want From US?!?!?! #Equality 
LeBron James forms More Than a Vote
The same day LeBron James posted about equality on Instagram, he also announced that along with his childhood friend and business partner Maverick Carter, they were launching More Than a Vote. This new organization is intended to engage with the Black community on voter-related topics, including voter suppression and voter turnout. 
Carter told the New York Times the organization will be asking, "What are we as Black people asking of these politicians? What do we want them to change? I don't have the answer yet, but we need to get to very specific asks."
Other founding members of the organization included current and former basketball players Trae Young, Skylar Diggins-Smith, and Jalen Rose. On June 17, James posted an update on the organization's progress by welcoming on a new list of athletes to the cause including No. 3 overall pick in the 2020 NFL draft Jeff Okudah, ESPN's Maria Taylor, tennis player Sloane Stephens, and U.S. men's soccer star Jozy Altidore. 
"Thank you for giving this your passion, leadership, and massive show of support. We're just getting started!! As mama always told me, 'Don't talk about it, be about it.'"
James shows support of Milwaukee Bucks boycott
As LeBron James' mother taught him to be about it, he's proven time and time again he's determined to shine a light on problematic areas that pose challenges to the Black community, including police brutality. A day after police in Kenosha, Wisconsin shot Jacob Blake in the back seven times, James responded on Twitter.
"And y'all wonder why we say what we say about the Police!! Someone please tell me WTF is this???!!! Exactly another black man being targeted. This sh-t is so wrong and so sad!! Feel so sorry for him, his family and OUR PEOPLE!! We want JUSTICE."
On Wednesday, just minutes after the Milwaukee Bucks boycotted Game 5 of their first-round playoff series against the Orlando Magic in protest of the Blake shooting, James emotionally expressed his feelings for the overall situation and his support of the Bucks. 
"F–K THIS MAN!!!! WE DEMAND CHANGE. SICK OF IT," he wrote in all caps. 
The anger and frustration expressed by James and other athletes is palpable. They've spoken about it. Now they're acting on it. And that's exactly what it's going to take to make real change.