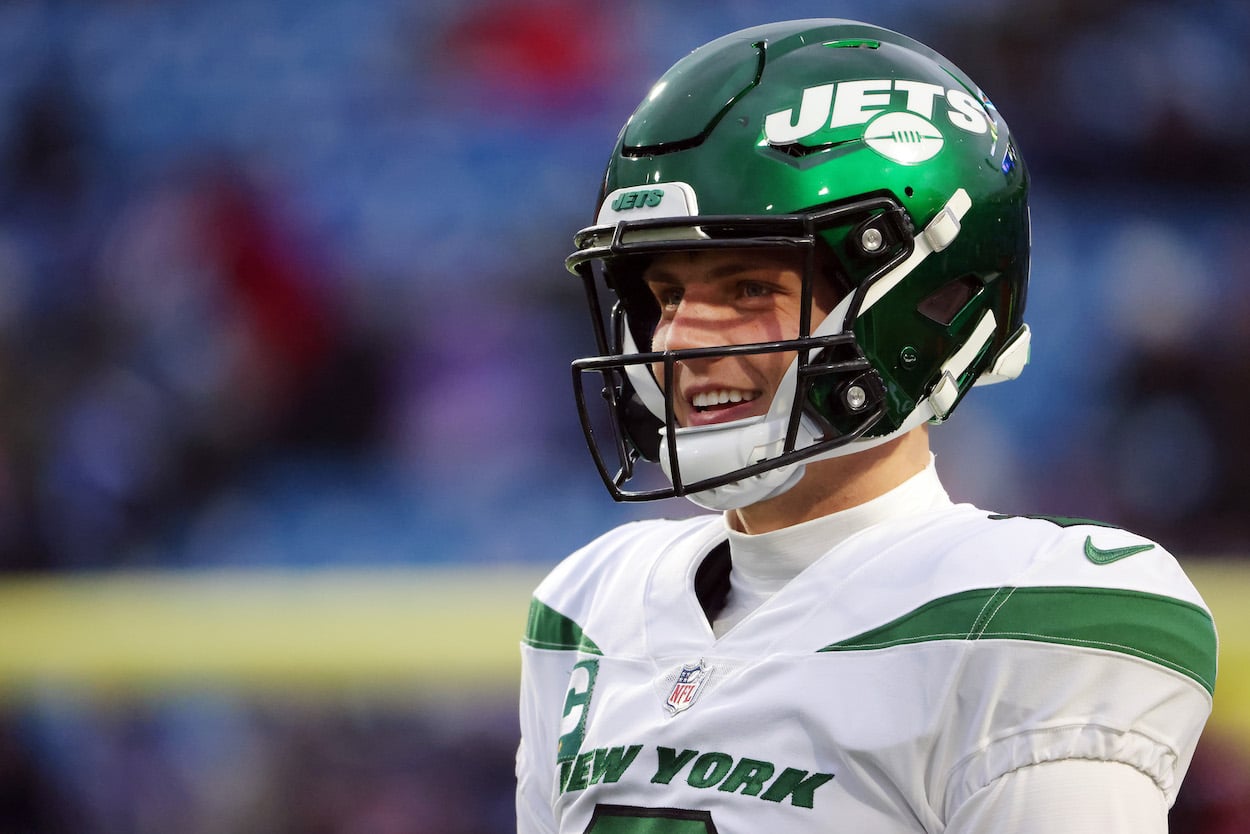 Anonymous Defensive Coaches Dish on Jets Zach Wilson: 'He Misses a lot of Layups'
Two defensive coaches who faced Zach Wilson and the New York Jets last season shared some interesting insight about the second-year signal-caller.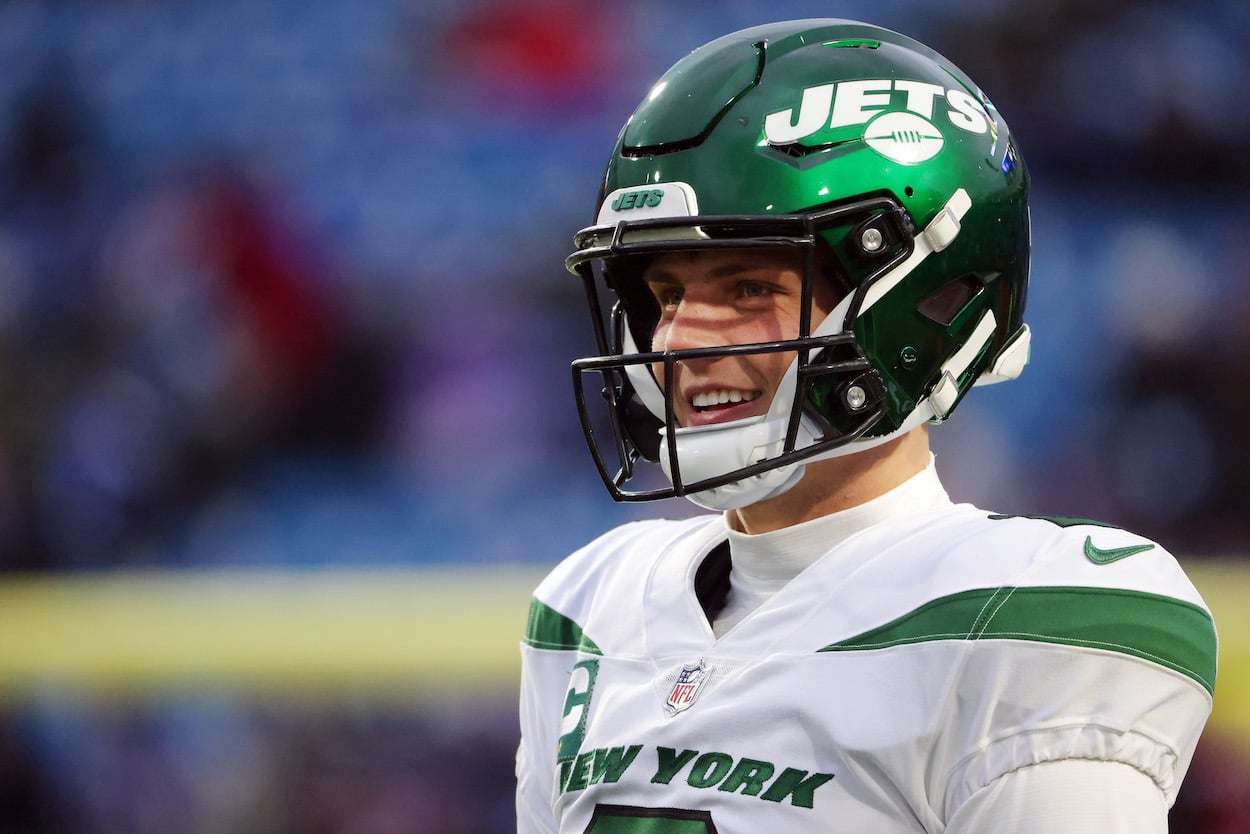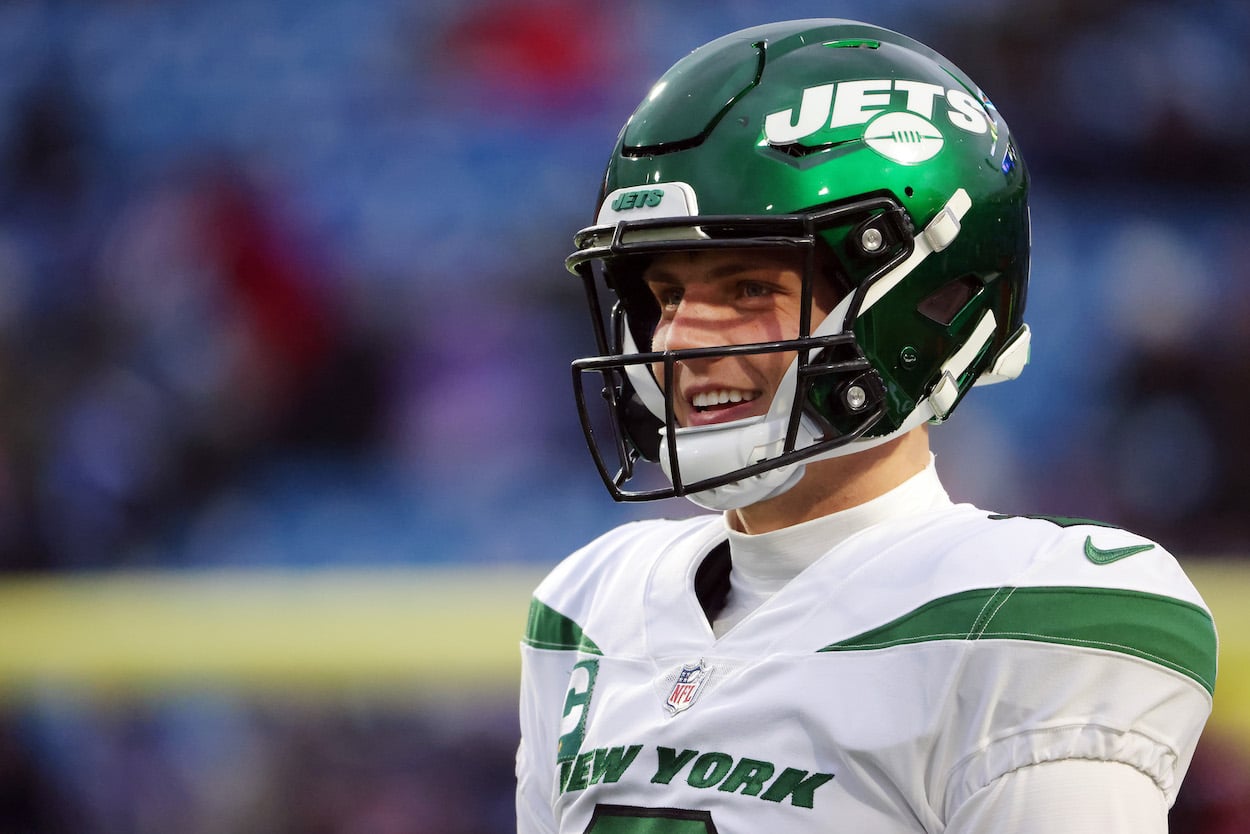 New York Jets rookie quarterback Zach Wilson had an up and down first year. There were flashes of brilliance but a lot of ugly play as well. With this rollercoaster ride of a season, it's no surprise that defensive coaches who played against the former BYU signal-caller give Wilson mixed reviews heading into the 2022 NFL season.
Zach Wilson's rookie season 
New York Jets QB Zach Wilson had a rookie season like many NFL rookies. There were some good moments and plenty of bad ones. It was a similar inaugural campaign to the rookie year of superstars like Peyton Manning and busts like David Carr.
After the Jets took Wilson with the No. 2 overall pick, he started 13 games for Gang Green. The team had plenty of holes in 2021, so all the L's certainly weren't this fault, but Wilson posted a 3-10 record as a starter.
Wilson completed 213-of-383 passes (55.6%) for 2,334 yards. He also threw nine touchdowns and 11 interceptions. On the ground, the QB toted the rock 29 times for 185 yards and four scores. Opposing defenses sacked Wilson 44 times.
That last stat is telling. The Jets line isn't bad by any means. The unit finished 11th in PFF's final 2021 rankings. By comparison, Trevor Lawrence got sacked 32 times, Justin Fields went down 36 times, and Mac Jones experienced 28 sacks.
Heading into the 2022 season, a lot is riding on Wilson's development. The Jets had an excellent draft this offseason and could have a team to contend for a Wild Card spot. That is if Wilson can make the leap to respectable starting QB.
Anonymous defensive coaches had mixed reviews of Wilson
NFL Network insider Mike Girardi recently posted on Twitter that he spoke to two defensive coaches (from different teams) who both faced Zach Wilson and the New York Jets in 2021. The coaches (anonymously) had some good to say about Wilson but also had some serious questions.
The first coach said of Wilson:
Very few guys generate that kind of whip, which is why he can fling it off-platform. I'd actually like to see him do that more. Instead of sitting in the pocket as much. He took a ton of sacks. Too many. Don't be afraid to roam some. Maybe he didn't think he could because he got hurt early in the year. But I'd encourage him to do a little more, especially if the line doesn't improve drastically.

Anoymous NFL coach No. 1 on Zach Wilson
Coach two echoed the points about the arm strength and sacks. He also added that the return of 2020 No. 11 overall pick, LT Mekhi Becton, and the additional offensive weapons the Jets picked up in the offseason should help:
They need Becton to be their left tackle. With Tomlinson in place, Zach will be a lot safer in the pocket. And clearly they're betting on Becton, otherwise, they would have taken one of those tackles at No. 4. His arm is eye-popping, but he misses a lot of layups. He's gotta clean up his footwork, and he's also got to dramatically improve how he sees the defense. They gave him some answers last year. He just didn't use them. Look at how many sacks he took. The added weapons should help. He was throwing to some JAGs (just a guy) a year ago. I'd be surprised if he doesn't look better this year. What's his ceiling? Too early to tell. They were really bad last year, and he was bad with 'em. That part makes it an unfair evaluation.

Anoymous NFL coach No. 2 on Zach Wilson
With the jury still out on Wilson as a legit NFL QB, next season will go a long way toward knowing whether the Jets made the right pick or if going back to the drawing board yet again could be the next move.
The New York Jets starting offense in 2022
There's a good chance that Zach Wilson will have one of the more talented offenses in the league around him in 2022. While that could be great for his development, it also means that there are no more excuses either.
On the offensive line, Mekhi Becton should return and lineup next to another first-round pick from last year, Alijah Vera-Tucker. Veteran Connor McGovern, last season's highest-ranked lineman, returns at center, and free-agent Laken Tomlinson joins breakout starter George Fant on the left.
Wilson also got a massive upgrade in his offensive weapons stable this offseason.
Wide receivers Elijah Moore, Corey Davis, Denzel Mims, and Braxton Barrios return from last year, as do tight end Tyler Conklin and running backs Michael Carter, Ty Johnson, and Tevin Coleman.
To those players, the Jets added free-agent TE C.J. Uzomah and draft picks like WR Garrett Wilson, RB Breece Hall, and TE Jeremy Ruckert.
The Jets offense is a loaded unit for 2022, and a good quarterback could do well with this roster. Now, the question becomes, is Zach Wilson a good quarterback?
All stats courtesy of Pro Football Reference
Like Sportscasting on Facebook. Follow us on Twitter @sportscasting19 and subscribe to our YouTube channel.