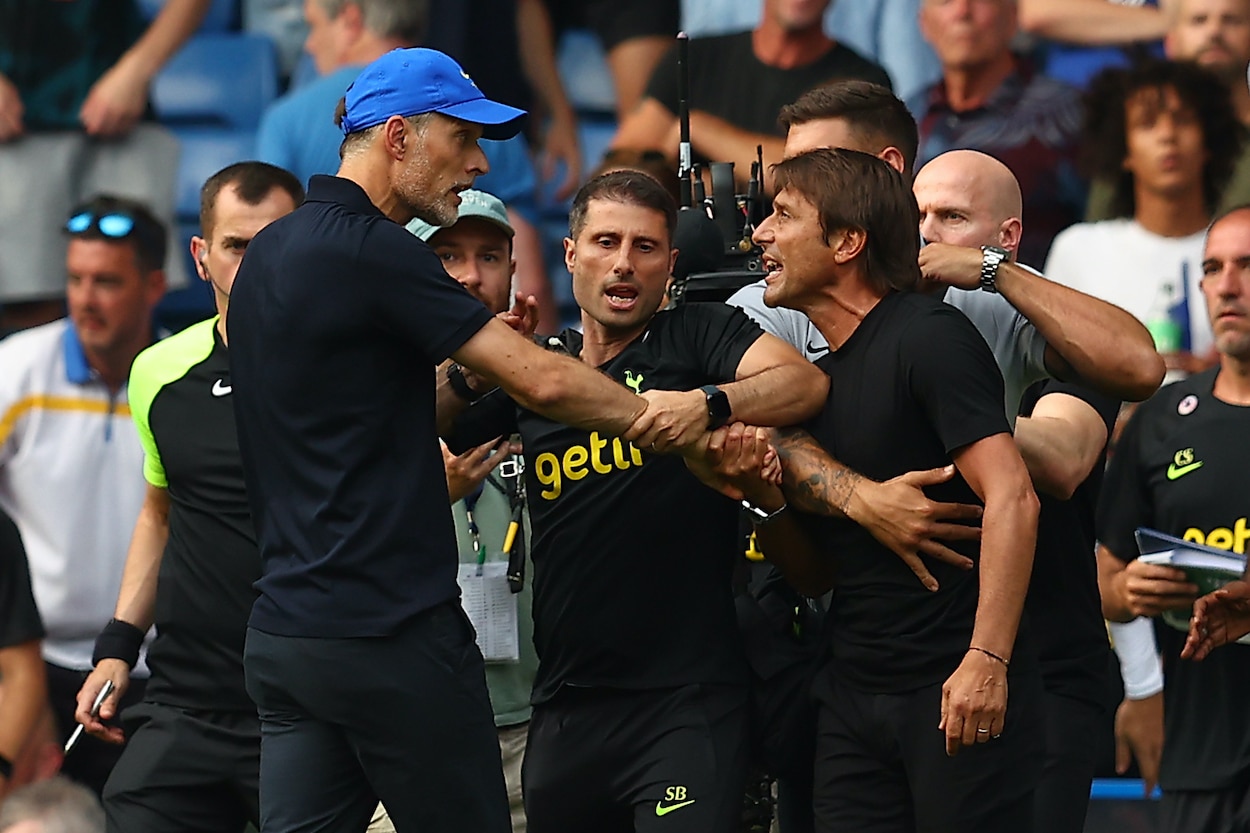 Tottenham Manager Antonio Conte Moves the Trash-Talk to Social Media After Nearly Coming to Blows with Chelsea Skipper Thomas Tuchel
Chelsea manager Thomas Tuchel and Tottenham manager Antonio Conte almost fought on the field and Conte tweaked Tuchel on Instagram off it.
Tottenham Hotspur's fiery Italian manager Antonio Conte and Chelsea's (usually) stoic German boss Thomas Tuchel are two of the most famous gaffers in all of soccer. That's why it was such big news when the two almost came to blows on the touchline in the final moments of a dramatic 2-2 draw between Spurs and Chelsea. After the game ended, though, cooler heads seemed to prevail. However, Conte couldn't help but take one more shot at his rival coach on Instagram.
Antonio Conte vs. Thomas Tuchel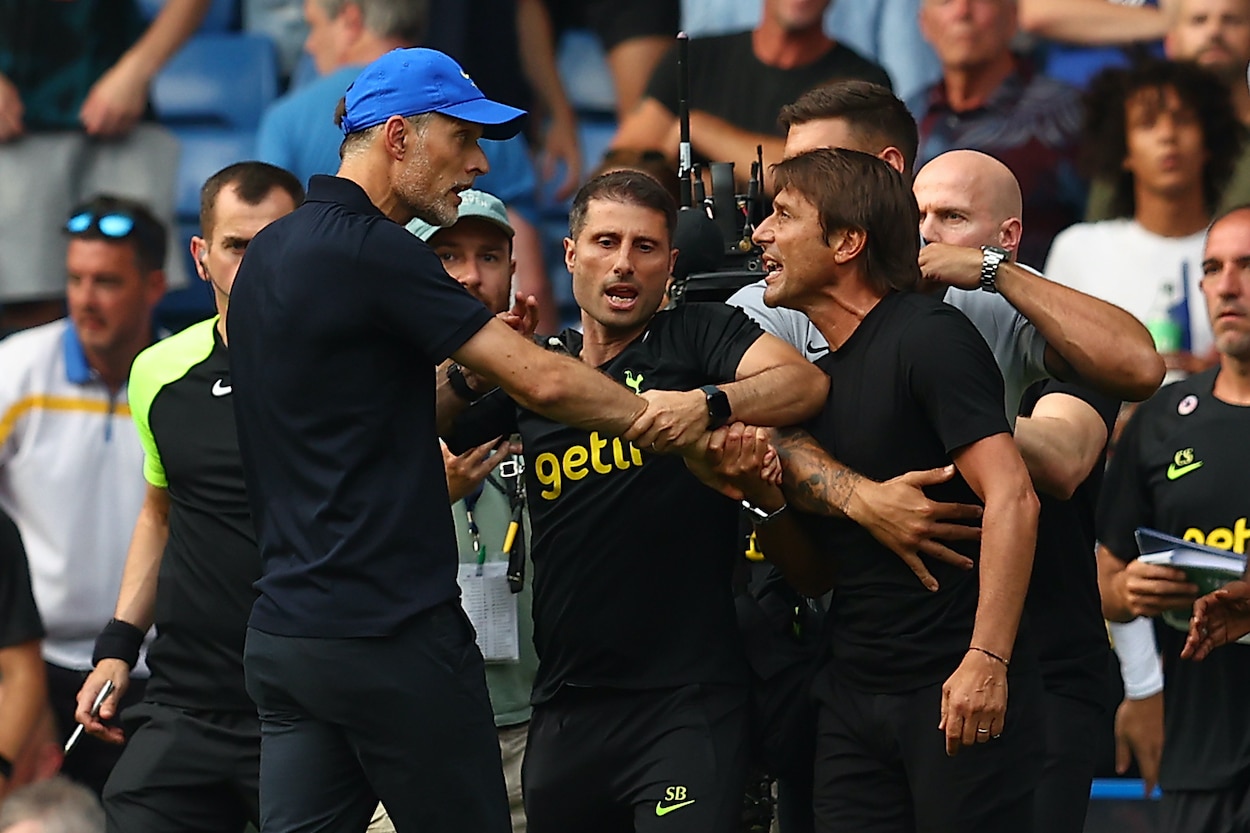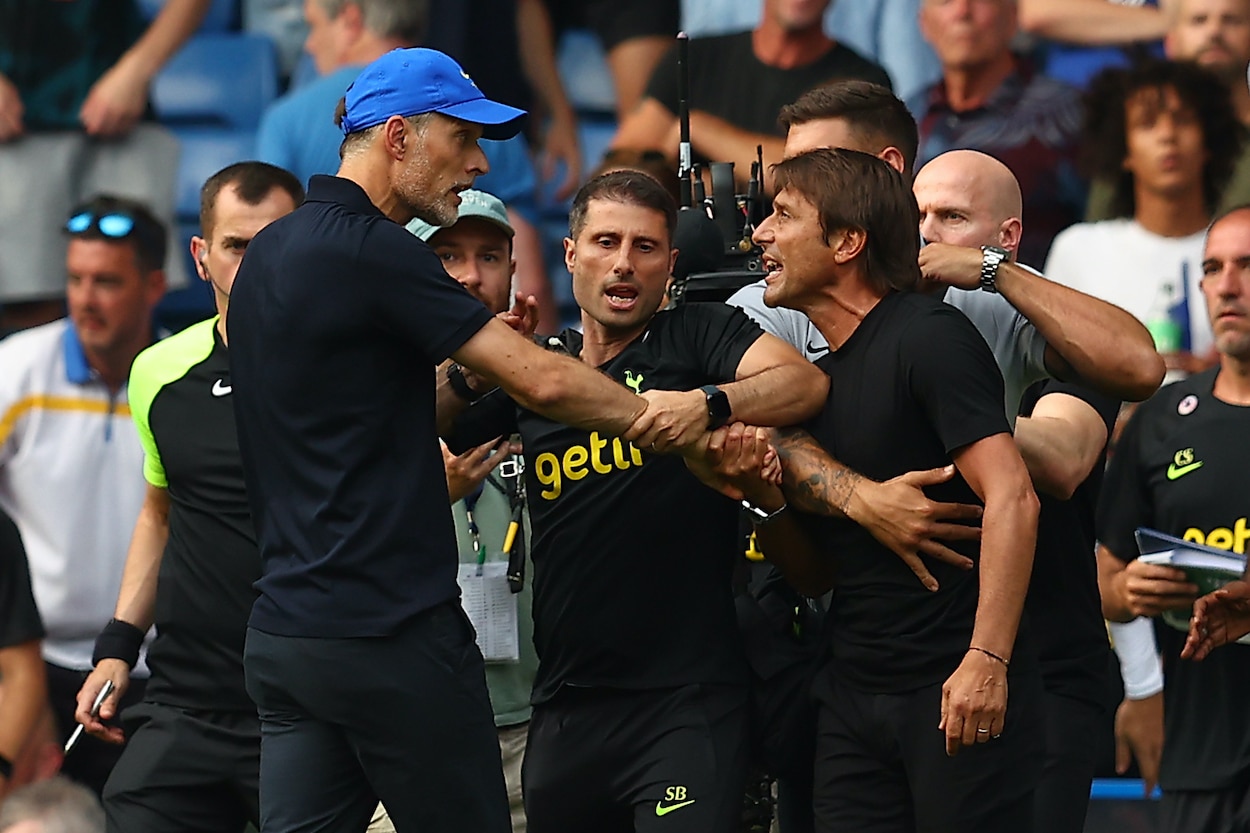 Thomas Tuchel and Antonio Conte never faced off until early 2022, shortly after former Chelsea manager Conte took over at Tottenham.
Chelsea won all three matches heading into Sunday's clash.
The match between two of London's heavyweight Premier League clubs lived up to the advanced billing.
Chelsea's summer signing Kalidou Koulibaly put the home team ahead in the 19th minute. The game remained at 1-0 for nearly 40 minutes before Spurs' Pierre-Emile Hojbjerg evened the score line in the 68th minute.
This goal came after an uncalled foul by Tottenham that enraged Tuchel. After the Hojbjerg strike, assistants had to separate Conte and Tuchel. 
Chelsea went back ahead on Reece James' 77th-minute strike, and Tuchel made a point to sprint all the way down the sideline, celebrating past a despondent Antonio Conte.
Finally, Tottenham's Harry Kane dramatically rescued a point for Tottenham six minutes into stoppage time. During the post-match handshake between the two managers, Conte gripped Tuchel's hand. The Chelsea manager grabbed it and wouldn't let go. Conte tugged, turned, and started shouting, sparking a near-brawl between the two skippers and their teams.
Both managers drew red cards for the scene.
After the match, the fight seemed over, at least until the teams meet again in late February 2023. However, Conte doesn't seem ready to let it go.
Late in England, after the game ended, Conte posted a video of Tuchel celebrating the James goal while running past his counterpart. Conte is covering his face and looking down after his team gave up the lead, so it seems he didn't see Tuchel running.
Conte captioned the video, "Lucky I didn't see you… making you trip would have been well deserved…" followed by three laughing emojis.
It's highly unlikely that Tuchel will fire back on social media. But the next time these two sides play — be it in February or in a cup match before that — Spurs vs. Chelsea (and Tuchel vs. Conte) will be must-see TV.
Like Sportscasting on Facebook. Follow us on Twitter @sportscasting19 and subscribe to our YouTube channel.