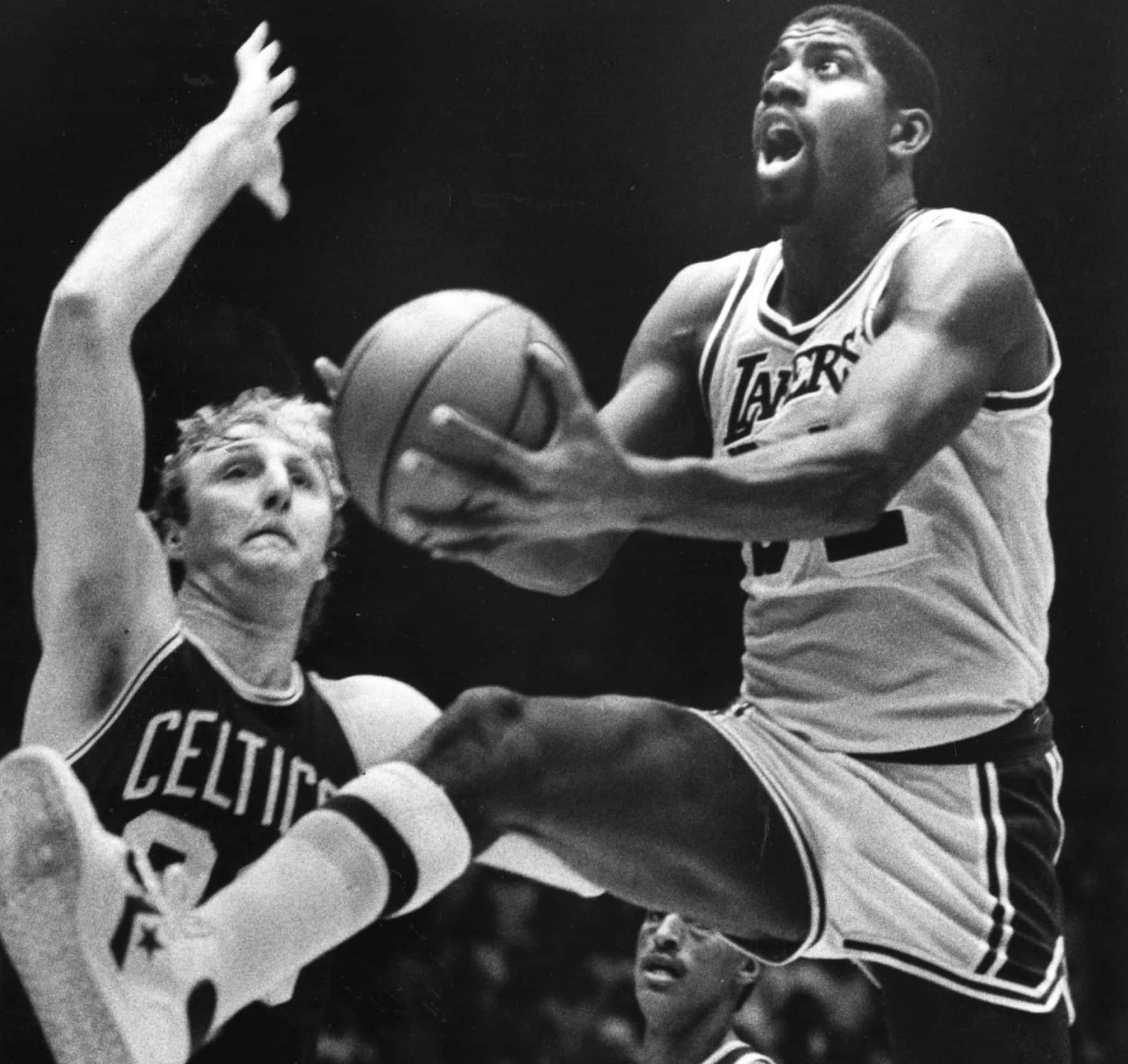 At One Point, Larry Bird Actually Felt Sorry for Magic Johnson During Their Heated NBA Rivalry
There was a time when Larry Bird actually felt sorry for his biggest rival, Magic Johnson, during their playing days.
There has never been a bigger and more important personal rivalry in sports than Larry Bird and Magic Johnson. The two met in the epic 1979 NCAA men's title game and carried that intense competitiveness into the NBA, where it lasted throughout the 1980s. Either Bird's Boston Celtics or Magic's Los Angeles Lakers reached the NBA Finals in every year of the decade. They squared off in the championship round three times.
Bird and Magic guided the league to new heights. They captivated the nation and then helped make the NBA a global game. The Celtics vs. Lakers rivalry was reignited by the Bird vs. Magic rivalry. The teams despised each other, yet there was an instance during this stretch when Bird admitted he felt sorry for the Lakers All-Star point guard.
Larry Bird and Magic Johnson came into the NBA at the right time
The NBA didn't have the greatest image in the 1970s. The league had an issue with drugs, something former Utah Jazz general manager and coach Frank Layden pointed out in 1980.
"There is not a team in the league you can confidently say does not have a drug problem," Layden told The Washington Post in 1980. "Every team could benefit from a rehabilitation program. I had two (drug) cases out of 11 players last year. We need a place to send these people (for help)."
Bird and Magic arrived on scene at the perfect time. They brought hype. They brought hope. David Stern, then the league's commissioner, used the two NBA stars to help generate television revenue and market the game's biggest stars.
"The league was kind of building around Larry and Magic," Bird's former teammate Kevin McHale said during a 2021 appearance on The Cedric Maxwell Podcast. "It was always Magic and the Lakers and Larry and the Celtics.
"They built it up, man. David Stern did a great job. God bless his soul. He got us all, everybody, paid. These guys today — we missed out on a lot of those paychecks — but the guys today are doing OK on it.
"Every time we played, that was a massive build-up, and rightfully so. Those two guys at the time were the face of the league. I thought David Stern did a great job of using those two guys and their teams and everything to kind of propel the league."
Bird admitted there was a time when he felt sorry for his rival
Bird and Johnson went at it throughout the decade. The league always wanted more Bird vs. Magic because they only faced each other twice during the regular season. Stern actually had the Celtics and Lakers meet four times in the preseason during the 1985-86 season.
Bird and Magic were must-see TV. They were bitter rivals on the court, but according to Jackie MacMullan's book When the Game Was Ours, Bird had a soft spot for Magic at one point in the early part of Johnson's career.
According to MacMullan, Johnson had a tough time early on with head coach Paul Westhead and some of his teammates. After Johnson signed a 25-year, $25 million deal early in his career, some of his teammates, including Kareem Abdul-Jabbar and Norm Nixon, accused him of being more on management's side than the players' side. The trust wasn't there. Teammates thought that Johnson might take it back to management if something was said by players in the locker room.
He clashed with Westhead, who was fired and replaced by Pat Riley during the 1981-82 season. During warmups in the first game after Westhead's firing, fans booed and targeted Johnson. Johnson was surprised that he was being blamed, but he was more surprised that his teammates didn't back him up.
"The worst part about it was my teammates," Johnson said, per MacMullan. "They hung me out to dry. None of them backed me up. (Michael Cooper) was the only guy. He wasn't in a position to do it publicly, but he did it privately. The rest of the team couldn't be bothered, and I took it personally."
From afar, Bird watched and took note. He was confused by all the turmoil.
"I kinda felt bad for him," Bird said of Magic.
Things quickly changed as the Lakers won 17 of their first 20 games under Riley. They went on to win their second championship of the decade.