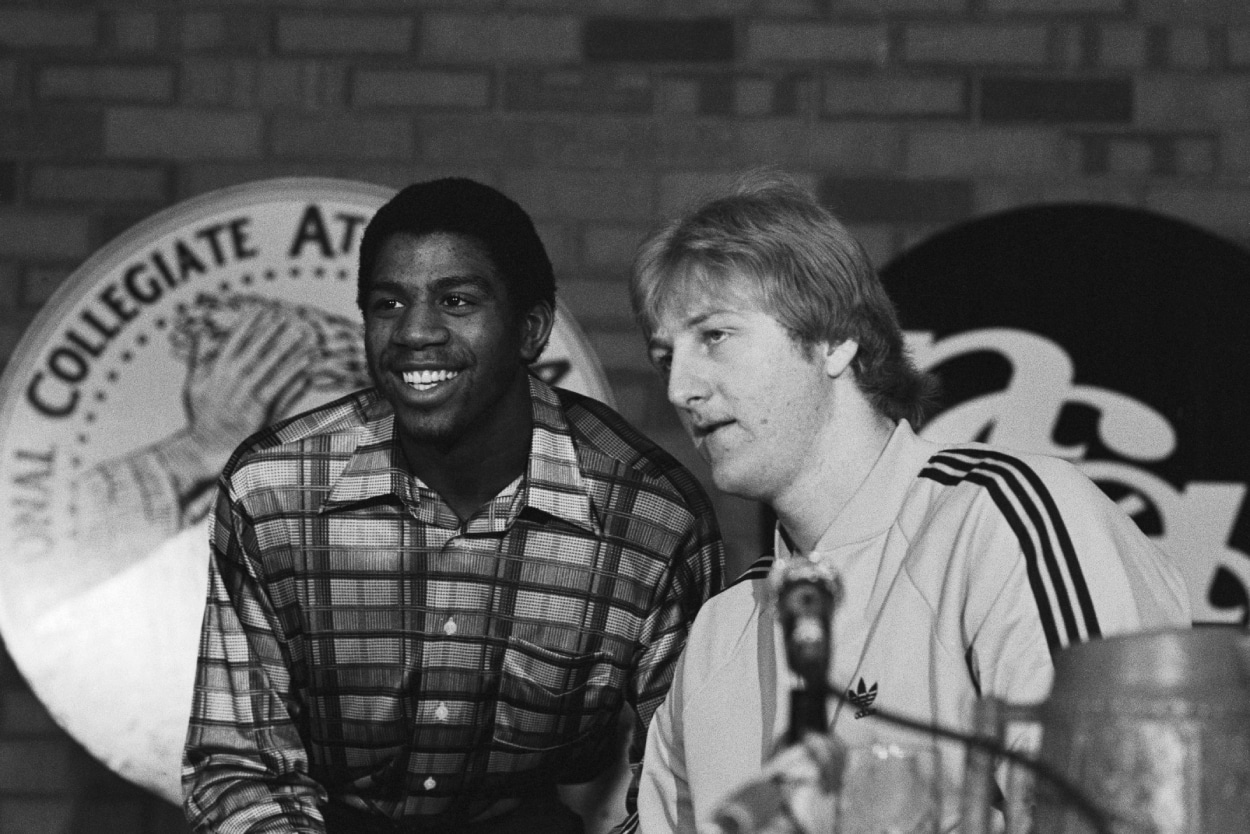 Larry Bird Once Described the Madness Before Facing Magic Johnson for the 1979 NCAA Title: 'It Was Impossible to Have a Good Time'
Larry Bird could have done without all the pregame hype before the 1979 NCAA title game against Magic Johnson.
This was even before Larry Bird vs. Magic Johnson became one of the biggest individual rivalries in all of sports. Bird and his undefeated Indiana State Sycamores were the darlings of the NCAA tournament in 1979. Johnson and his Michigan State Spartans were the favorites.
Before the title game, Bird and Magic got a true taste of what was to come as both stars carried their rivalry into the NBA with the Boston Celtics and Los Angeles Lakers. Bird reflected on the pregame hoopla in 1979 and didn't care for it at all.
Larry Bird vs. Magic Johnson in 1979 is still the most-viewed NCAA basketball game ever
Amazingly, 44 years later, the Indiana State vs. Michigan State game remains the top-viewed NCAA basketball game ever. According to Forbes, 35.1 million viewers turned in on NBC to watch Bird and Magic go at it for a championship.
Magic got the better of Bird. The Spartans' point guard led all scorers with 24 points on 8-for-15 shooting from the floor. He went 8-for-10 from the line. Johnson also racked up seven rebounds and dished out five assists in Michigan State's 75-64 victory.
Bird, on the other hand, wasn't so hot. He took 21 shots, making just seven. He went 5-for-8 from the free-throw line, but he did pull down 13 rebounds and had five steals.
"I thought every shot the Bird took would go in," Heathcote said after the championship game, per The New York Times.
"We thought we had proved that we could beat every kind of defense, but we had never seen anything like that zone of theirs," Bird wrote in his book Drive: The Story of My Life. "I couldn't do anything at all against it. I couldn't get the ball and make moves anywhere on the floor. They did a really good job on me."
Bird admitted the pregame hype wasn't for him
While the game was entertaining, there was too much pregame hype for Bird. Not one to enjoy the media spotlight, Bird admitted the time between Saturday's semifinals and Monday's championship game was exhausting.
"The buildup for the game was crazy," he wrote. "The semifinals were on Saturday afternoon, and the championship game was on Monday night, so there were two full days for the press and the fans to get ready.
"You couldn't concentrate because there were just too many people milling around. You'd go to practice, and everybody would be at practice. You'd go to the hotel, and they'd be at the hotel. Security was nonexistent.
"We went there hoping to have a good time and win. It was impossible to have a good time. We would have been much better off if we had gotten away from the center of everything. We went about it the wrong way."