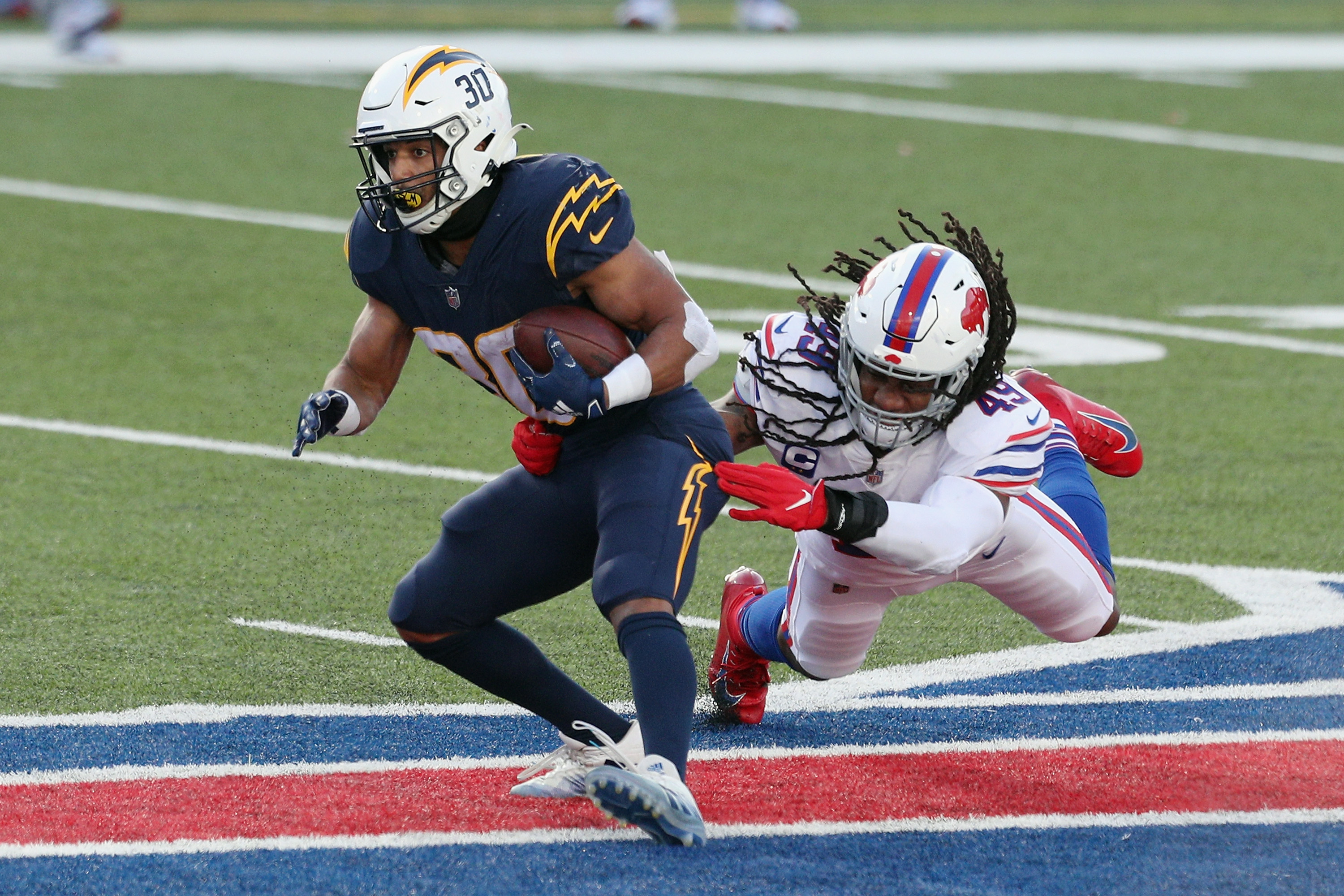 Austin Ekeler Can Thank Melvin Gordon for His New Beginning
Los Angeles Chargers running back Austin Ekeler can thank Melvin Gordon for the opportunity he's taken advantage of.
Sometimes all someone needs is a chance. Los Angeles Chargers running back Austin Ekeler got his when former Chargers running back Melvin Gordon wanted out. Gordon got his wish, moving on to the Denver Broncos and Ekeler stepped in and took full advantage.
Austin Ekeler's early football career
Austin Ekeler played his high school football at Eaton High School in Eaton, Colorado. Ekeler wasn't heavily recruited when he graduated from Eaton in 2013 and remain in the state, playing college football at Western State Colorado University, a Division II school.
In 2017, Ekeler went undrafted in the NFL, but hooked on with the Los Angeles Chargers as an undrafted free agent. He had to sweat it out during training camp as he was battling Kenjon Barner, Andre Williams, and Kenneth Farrow for the third running back spot. Melvin Gordon and Branden Oliver were already established in the Chargers backfield.
Ekeler had a strong final preseason game in 2017 during a loss to the San Francisco 49ers. He led the team in rushing with 50 yards on eight carries. Ekeler also showed his versatility in the passing game with three catches for 58 yards. He survived the final cuts and made his way onto the 53-man roster.
Ekeler continued to grow each year
As a rookie in 2017, Austin Ekeler made an appearance in all 16 games. He rushed 47 times for 260 yards and a pair of touchdowns. Ekeler caught 27 passes for 279 yards and three touchdowns. He also saw a little action on special teams, returning five kickoffs.
Each year, his role grew. In 2018, Ekeler played in 14 games and carried the ball 106 times for 554 yards and three touchdowns. He continued to show his strength as a pass-catcher out of the backfield, hauling in 39 passes for 404 yards and three more scores. In 2019, he had his best season as a pro.
Beginning the season as the starter after Melvin Gordon held out because of a contract dispute, Ekeler shined. He started eight of the 16 games in which he played and rushed for a career-high 557 yards on a career-high 132 carries. Where Ekeler made his mark was in the receiving department. Ekeler caught eight touchdown passes out of the backfield after collecting 92 catches for 993 yards.
Ekeler made the most of Gordon's absence
The best thing to happen for Austin Ekeler's career was Melvin Gordon holding out. Gordon was a standout running back but was caught up in a contract dispute that eventually saw him bolt for the Denver Broncos. The Los Angeles Chargers hardly skipped a beat with Ekeler filling in.
He missed having a 1,000-yard receiving season by seven yards. In the season opener in 2019, Ekeler scored three touchdowns as the lead back. He had 154 yards from scrimmage, drawing high praise from head coach Anthony Lynn. "He looked good," Chargers coach Anthony Lynn said, according to ESPN. "(Ekeler) broke tackles and made plays. He showed speed through the hole. He's shown that all along, but he's never done it from the lead role."
Ekeler said he knew he was always capable of making the big play. Gordon was always just in his way. "I can't focus on Melvin not being there. Today was a little show of what we could do," said Ekeler. "In the past I still made plays on the field. People are acting like I came out of nowhere. I made plays, but it was more limited because Melvin was here." Gordon is gone and now the full-time job is his.