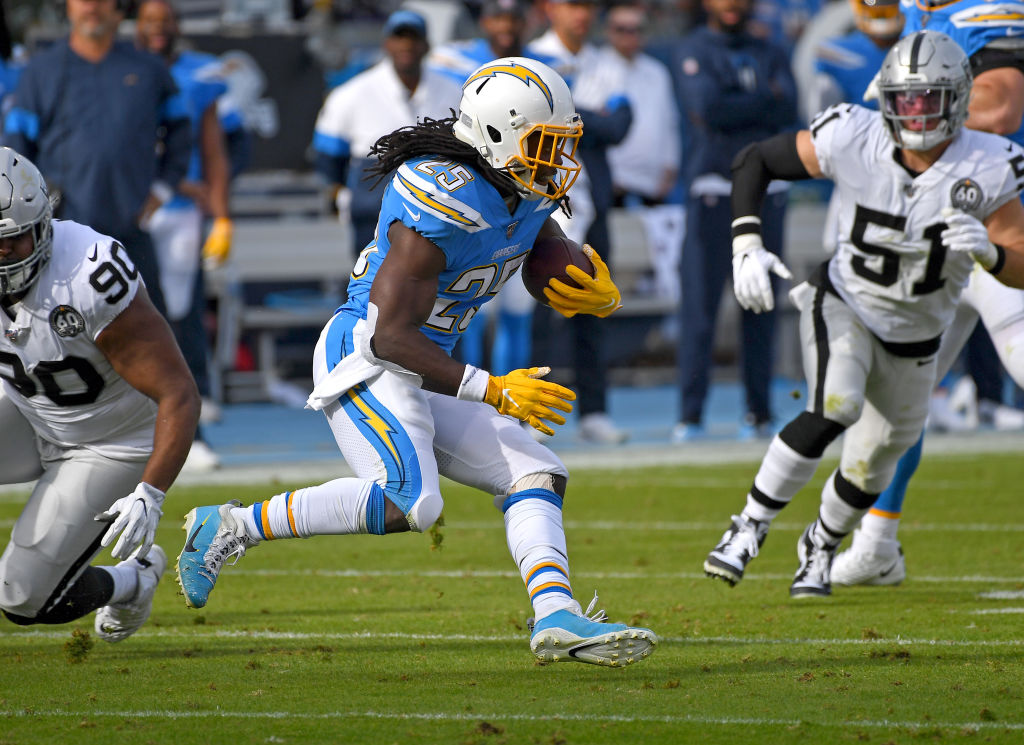 Melvin Gordon's Holdout Cost the Running Back Millions of Dollars
Last summer, Melvin Gordon bet on himself and held out for a new contract. That move, however, cost the running back millions of dollars.
Every professional athlete has to be supremely confident in their own abilities. While that attitude makes sense—you can't go into a game thinking your opposite number is better than you—things don't always work out. Just ask Melvin Gordon about that.
Last season, the running back bet on himself and held out, hoping for a long term contract. That decision, though, ended up costing Gordon millions of dollars.
Melvin Gordon's road to the NFL
During his time in high school, Melvin Gordon's speed served him well on the football field and the track. When it came time to head to the next level, however, he chose to ply his trade on the gridiron at the University of Wisconsin.
While Gordon's freshman year was nothing to write home about—a groin injury prematurely ended the campaign—he started to make an impact during his second season on campus. The third-string running back racked up 621 yards on only 62 carries; the next season, his numbers only improved.
As a junior, however, Gordon took his game to the next level. The running back piled up 2,587 rushing yards and 29 touchdowns, earning himself Big-10 Running Back of the Year and Player of the Year Honors. Gordon also finished second overall in Heisman Trophy voting, losing out to Marcus Mariota.
On the back of that impressive offensive campaign, Gordon entered the 2015 NFL draft and landed with the San Diego Chargers. While the running back has been a solid pro, capable of running the ball and catching passes out of the backfield, he hasn't reached the same heights as his final collegiate season.
How a holdout cost Melvin Gordon millions
At the start of the 2019 season, Melvin Gordon placed a major bet on himself. With the benefit of hindsight, it's safe to say that the running back went bust.
Entering the last season of his contract, Gordon refused to report for training camp without a new deal that paid him top dollar. The Chargers, however, didn't blink. The running back eventually returned to action in Week 5 and posted unremarkable numbers for the rest of the season.
During his holdout, Gordon reportedly could have signed a contract with the Chargers worth roughly $10 million per season. The running back, of course, refused to sign it, believing he was worth more, but that decision backfired. He recently signed a two-year, $16 million deal with the Denver Broncos. While that's still a nice chunk of change, Gordon is still taking a financial hit.
We'll see what the running back is worth
Last summer, Melvin Gordon's gamble didn't pay off. The running back, however, now has a two-year opportunity to show teams what he's worth.
While moving from the worst team in the AFC West to the second-worst team in the AFC West might not seem like a groundbreaking change, the move could work out for Gordon. While he'll be splitting carries with Phillip Lindsay, the former Charger should get a chance to show his stuff. The Broncos will be trying to create a good situation for Drew Lock to develop; Gordon, whether he's carrying the ball or catching passes, could be a nice safety valve for the young quarterback.
During his holdout, Melvin Gordon bet on himself and lost at least $2 million per season. Now it's up to him to prove he can stay healthy, be productive, and earn a big-money contract in two years' time.