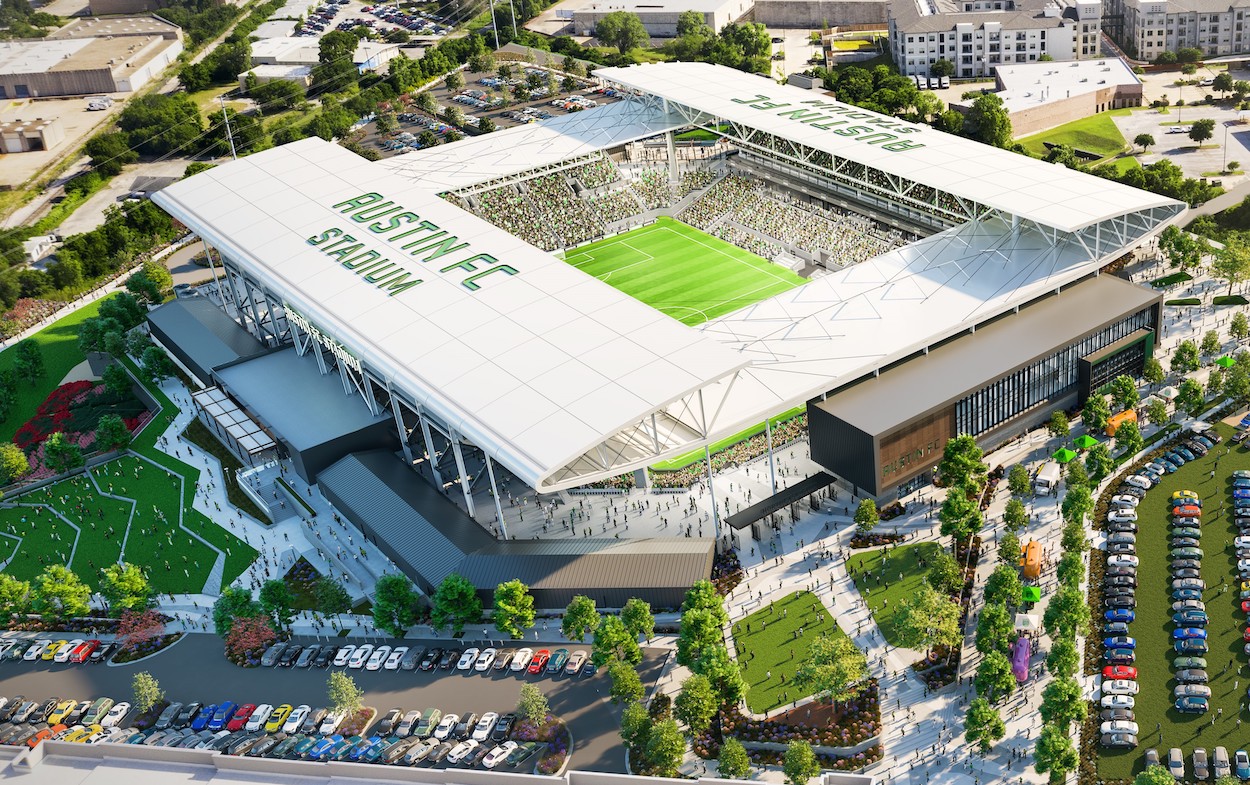 Austin FC Announces First Match Dates in Franchise History Including Season Opener on Road Against LAFC Before National Television Audience
Major League Soccer announced expansion side Austin FC will play its first game in franchise history on the road against LAFC in front of a national television audience on April 17.
The journey of Austin FC becoming a Major League Soccer franchise started in August 2018. Since that time, a front office and coaching staff has been assembled, players were drafted and signed, and the stadium is almost completed. Now, the biggest milestone of all has officially been announced with a start date for the first-ever game in Austin FC history on April 17 on the road against LAFC.  
Austin FC coach Josh Wolff talks about excitement of first game 
Major League Soccer announced on Wednesday that Austin FC would play the first game in franchise history on the road against LAFC — the 2019 MLS Supporters' Shield winners and 2020 CONCACAF Champions League runner-up — at Banc of California Stadium. The match will be broadcast nationally on FOX and FOX Deportes.
Head coach Josh Wolff said the official announcement of the first game is exciting because it now allows him and his team to start preparing for a specific opponent on a specific date. 
"That's our first game ever as a club. It's against a good team in a very nice stadium," Wolff told the media. "We've mapped out preseason and now we have a nice target date, April 17 in LA against one of the premier clubs in the league. It's a great opening game for us. I'm sure our fans are going to be excited. I know our players are excited, and I'm certainly excited. It's going to provide a nice test for us, but we're excited by it." 
Special meaning to Josh Wolff competing against Bob Bradley
While the match itself has special meaning as the first-ever in Austin FC history, it resonates even more with Josh Wolff because it's against the first-ever professional coach he played for in Bob Bradley. Wolff played for Bradley and the Chicago Fire starting in 1998, the inaugural season of the club, and stayed until 2002. 
"It will be great. I have the utmost respect for Bob Bradley. He was my first professional coach. That was an environment, that was a team, that was a coach, that gave me great guidance. Certainly gave me lasting memories and lasting impressions of what the game is about, what team is about. It'll be nice to compete against him. Again for me, one of the best coaches, if not the best coach in U.S. history."
Wolff admitted Bradley's influence will be reflected on the team he puts out on the pitch. 
"I think they play a very good way. They're a great model for what teams can come in and be like if you commit to that…We've come in and built our team in a similar way. We want to play a certain style and have a good identity. It starts with the leadership: your staff, your coaches, your sporting director. It'll be an exciting challenge and I certainly look forward to it for our players and our fans."
Austin FC will host first home game at Q2 Stadium on June 19
In addition to announcing the first-ever Austin FC match date and opponent, the club and its fans have a first home match to look forward to on June 19 at Q2 Stadium, hosting the San Jose Earthquakes. The game will be nationally televised on UniMas and TUDN. 
The club announced in February that the stadium would not be ready to host a home game until early June. Head coach Josh Wolff said the delay won't affect the team's preparation and he still plans on the team earning points on the road.  
"I think we all look forward to coming home to Q2 stadium. Our fans are ready. In the meantime, we know what it's going to look like because we're going to be on the road for a good bit at the beginning of the year. Our preparation will be pretty consistent once we get into a training center at the end of this month. It's going to be a challenge. That's whether you're playing at home or away. Going on the road, we expect to compete and get points and still maintain the way that we want to play."
Austin FC fans have waited years for this moment. The wait is almost over.
Like Sportscasting on Facebook. Follow us on Twitter @sportscasting19.