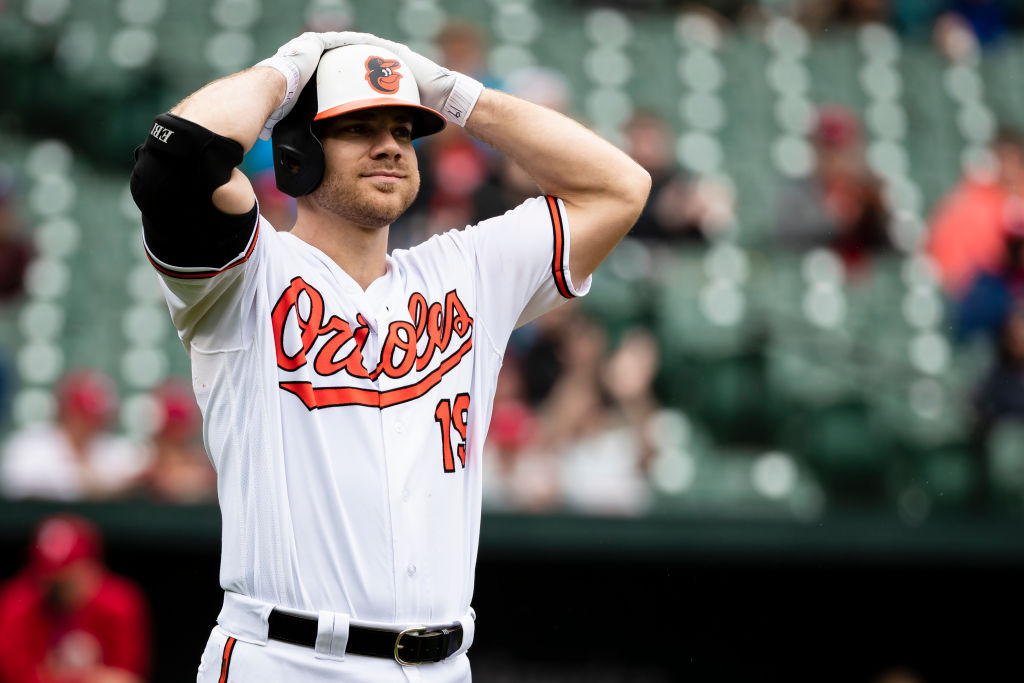 Baltimore Orioles First Baseman Chris Davis Nearly Walked Away From $69 Million
Former MVP candidate Chris Davis of the Baltimore Orioles almost walked away from the remaining $69 million on his contract.
The last three Major League Baseball seasons haven't been overly kind to Chris Davis.
Davis, the Baltimore Orioles' first baseman and former Most Valuable Player candidate, has struggled mightily at the plate, has been mocked because of his sizeable contract, and his team has become one of the bottom feeders in all of baseball. During the offseason, Davis considered walking away from the game and a whole lot of money.
Chris Davis' mammoth contract
In 2016, the Orioles rewarded Davis with a seven-year contract worth $161 million after the slugger smacked 47 home runs and drove in 117 runs during the 2015 season. Two years prior, Davis jumped onto the scene with a 53-homer season while driving in 137 runs. During that 2013 season, Davis was named to the American League All-Star team and finished third in the MVP voting.

During a three-year stretch from 2013-15, Davis smacked 126 home runs and collected 327 RBIs despite missing 35 games in 2014.
Davis' deal runs through the 2022 season and $42 million will be deferred from 2023-2037.
Chris Davis suspended in 2014
Sandwiched between his biggest home run seasons of 2013 and 2015, Davis was handed a 25-game suspension by Major League Baseball late in 2014 as the Orioles were cruising to a postseason berth.
Baltimore held a 10-game lead over the New York Yankees when MLB came knocking on Davis' door to tell him he would miss 25 games for his second violation of testing positive for amphetamines associated with the drug Adderall.
Davis had previously been given permission by MLB to use Adderall to help control an ADHD diagnosis but did not reapply for an exemption in 2014.
The Orioles finished first in the AL East with a 96-66 record. They swept the Detroit Tigers in the ALDS before getting swept by the Kansas City Royals in the ALCS. As part of the suspension, Davis was not allowed to play in the postseason.
The decline of 'Crush' Davis
Davis' home run totals have decreased every season since 2015. So has his playing time. Last season, Davis finished with 12 homers and 36 RBIs while hitting .179. He played in 105 games for a team that finished 54-108.

Things got so bad for Davis, nicknamed Crush, a year ago that he set a Major League Baseball record when he went 62 plate appearances without a hit. Davis finally snapped the hitless streak on April 13 when he laced a two-run single against the Boston Red Sox at Fenway Park. Prior to that single, his previous hit came on Sept. 14, 2018 against the Chicago White Sox.
Chris Davis nearly left $69 million on the table this offseason

During his hitless streak, he was repeatedly booed at home and mocked on the road and Davis said he even considered retirement at the end of last season. He said he talked things over with his wife Jill and decided there is "something left in the tank."
He decided to return to the Orioles, and although it's just a small sample size, so far this spring Davis has been red hot, playing in three games and going 4-for-5 with a pair of home runs.