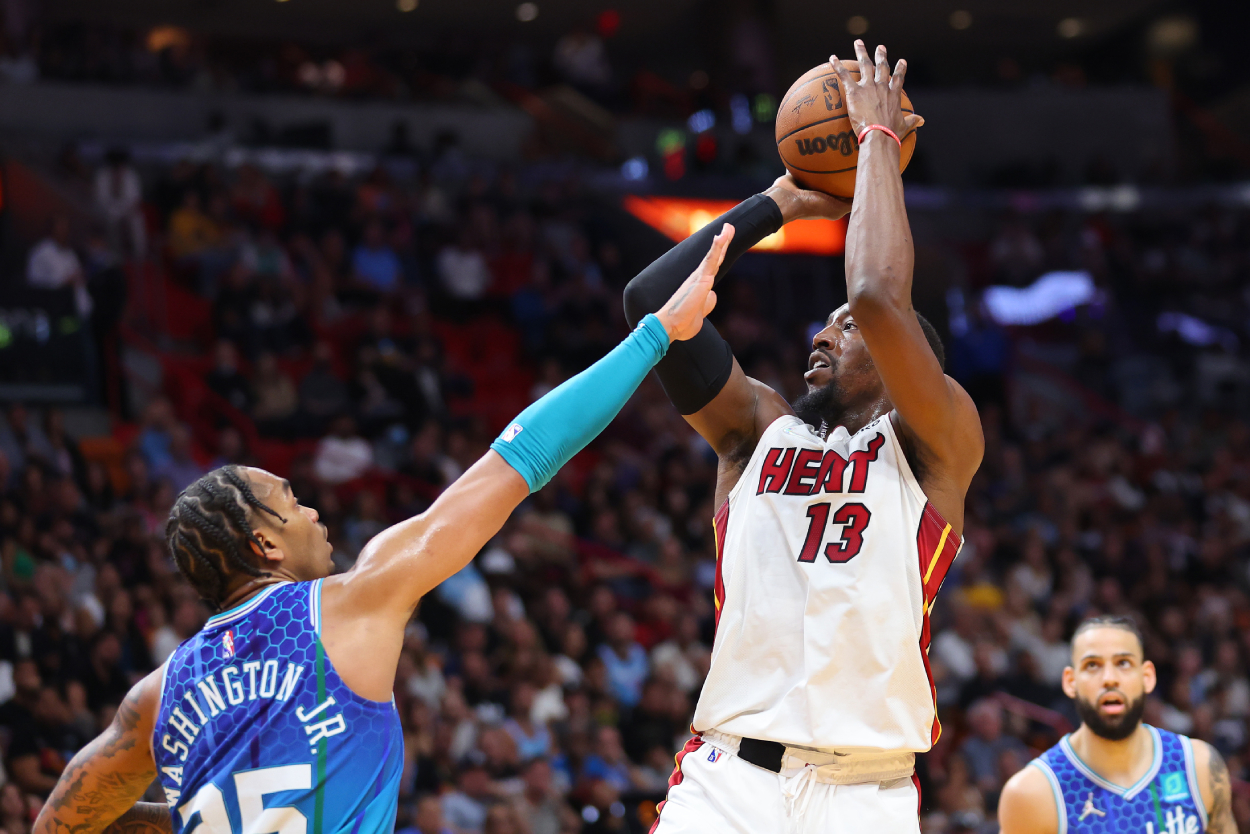 Bam Adebayo Grateful His Mom Let Him 'Leave the Nest Early'
Bam Adebayo had to leave the nest early to prove his basketball skills.
Bam Adebayo didn't have much competition in Pinetown, North Carolina. The Miami Heat power forward/center towered over everyone and his athletic skills dwarfed his competitors.
It wasn't until his senior year of high school that he gained serious notoriety and confidence. Averaging 40 points and 20 rebounds against lesser competition was impressive but not a true test. He broke free from Pineville for his senior year and showed what he really could do.
Bam Adebayo also played football and baseball while growing up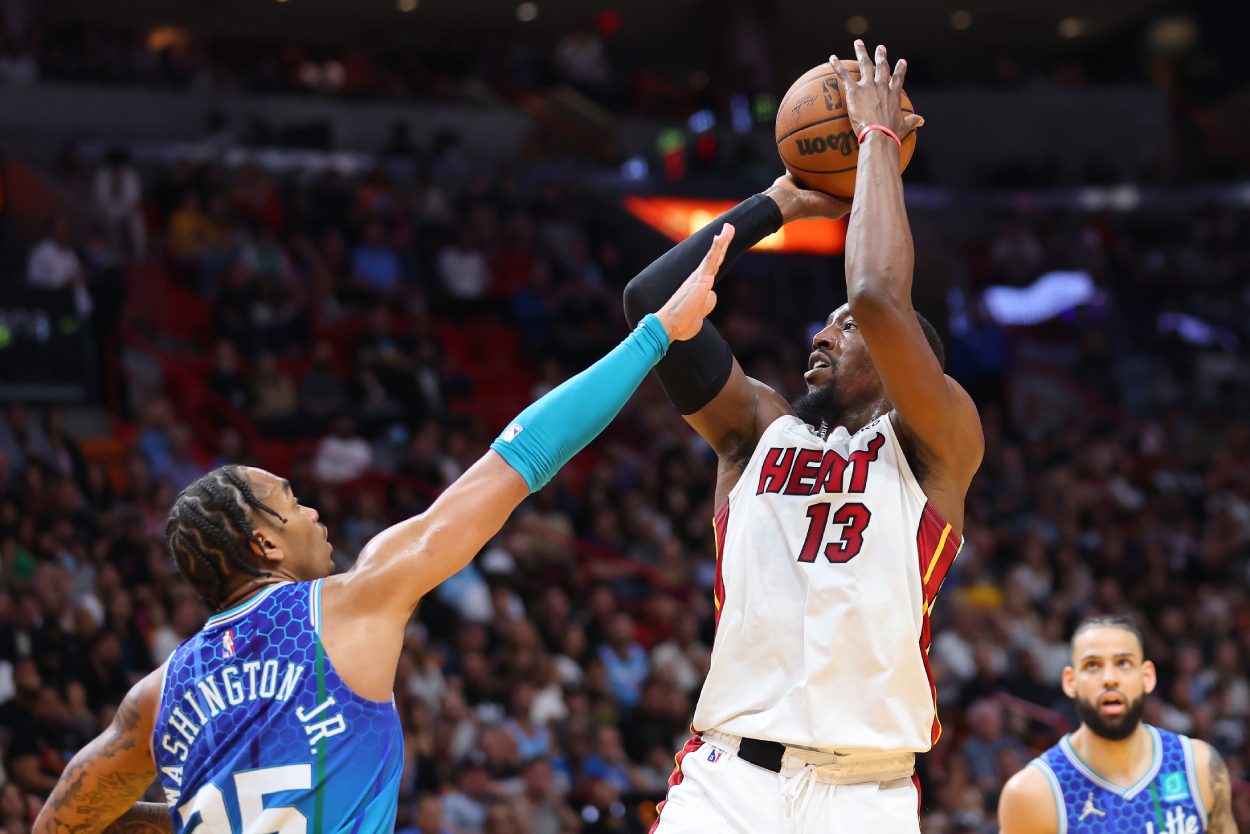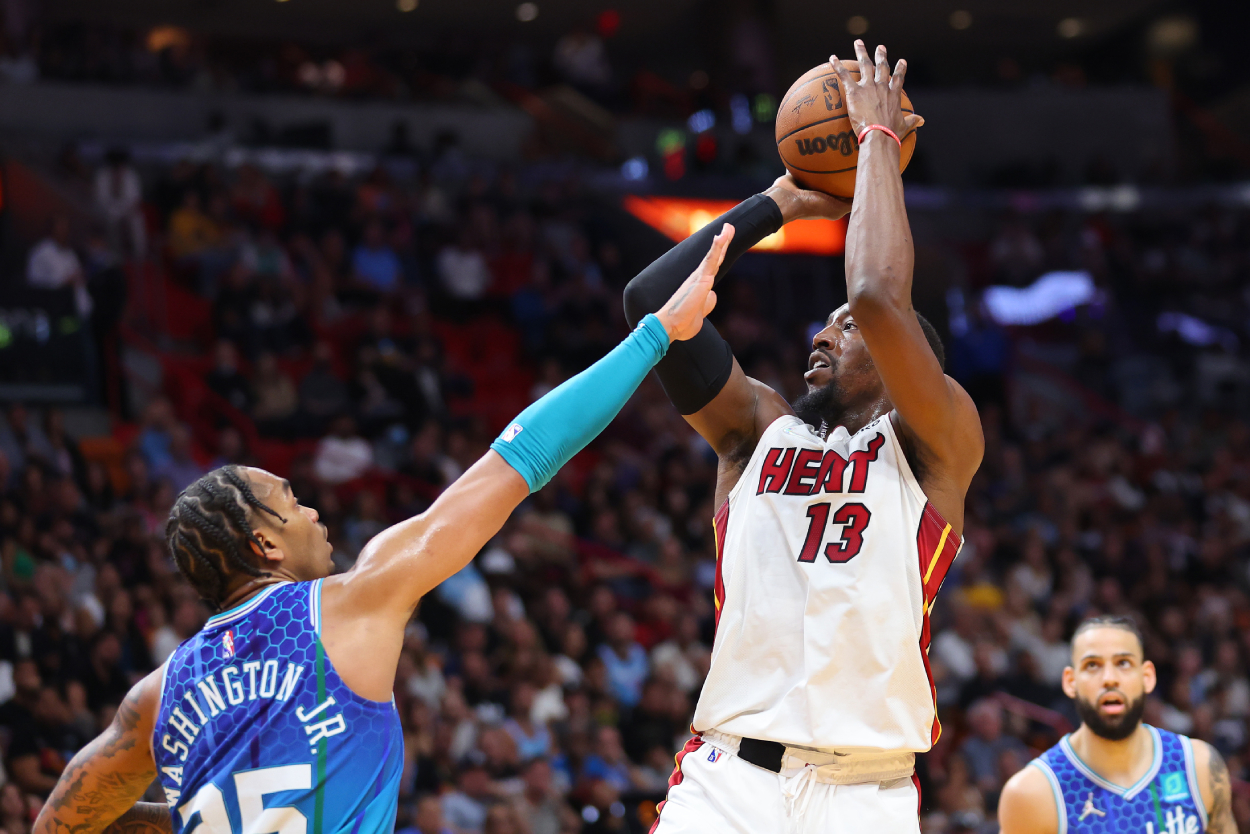 Because of his size and skill level, it became clear early that basketball was in his future. Before deciding on shooting hoops for a living, he dabbled in football as a defensive end, and he tried out his talents on the pitching mound.
"I played football, and I played baseball when I was in middle school," Adebayo said this week on JJ Redick's The Old Man & the Three podcast. "Baseball was different to me. I didn't really like baseball that much when I was younger, but I gave it a try. I wanted to be a pitcher, but I didn't have the skillset for that at the time."
He then said he believes had he pursued a baseball career, he could have gone much further.
"I do believe I could have went far if I stuck with it," he said. "They would have made me like a 6-10 pitcher. Can't nobody really guess what I'm doing because I'm so tall on the mound. By the time (the ball) leaves my hand, it's halfway to the plate. I'm throwing all fastball because that's all I knew how to do."
He did get a lot of enjoyment out of football.
"I loved playing defensive end," he said. "That was my favorite position on the field. I felt like it was unique to me. I used my quickness, and then I had size."
Bam Adebayo 'left the nest early' to test his skills
As a high school player, Adebayo knew he was good. He just didn't know how good. In Pinetown, North Carolina, he didn't face the competition he needed to in order to see how good he really was.
"My first three years, I stayed at my public school," he said. "My junior year, I averaged like 40 (points) and 20 (rebounds). It wasn't only people in my town saying I needed to go to a new school for better competition, but it was also me. I was like I can't keep averaging this. This is too easy.
"I made a decision, and my mom — you know, it's always been me and my mom — she allowed me to leave the nest early, and I went to Greensboro, North Carolina. Went to High Point Christian Academy. It was a private school, and it was all the top dudes in my area. I wanted to be a part of that, and I wanted to be in the mix. It gave me better exposure than I was getting in my little town."
Adebayo was heavily recruited and settled on Kentucky.
"I went to Kentucky just one time, and it felt like it was home," he said. "I just felt like it was the place for me. the assistant coach, Kenny Payne, was the one who really convince me to go."
He spent one year at Kentucky before declaring for the NBA draft. The Miami Heat selected him with the 14th overall pick in 2017.
Adebayo has led the Heat to the top seed in the East for the playoffs
The Heat secured the No. 1 seed in the Eastern Conference on Thursday without even playing. Losses by the Boston Celtics and the Philadelphia 76ers helped the Heat take their top-seeding into the postseason.
Adebayo has played a big role in making that happen, despite being limited to 55 games with a thumb injury. The big man has averaged 19.0 points and 10.1 rebounds this season, but he's really made his mark on the defensive side of the ball.
A prime candidate for Defensive Player of the Year, Adebayo is as versatile as they come defensively. Listed at 6-foot-9, he's big and strong enough to guard a center, but he's also quick enough to defend guards.
It's the defense that has propelled the Heat to that top spot in the Eastern Conference. It's also Adebayo leading the charge.
"We're one of the more unique defensive teams in the league," Heat coach Erik Spoelstra said, per NBA.com. "We have a lot of experienced, highly decorated, veteran defenders, but to do what we're doing requires a unicorn. That's what Bam is defensively. He can defend in any scheme, and he can defend any player within that scheme."