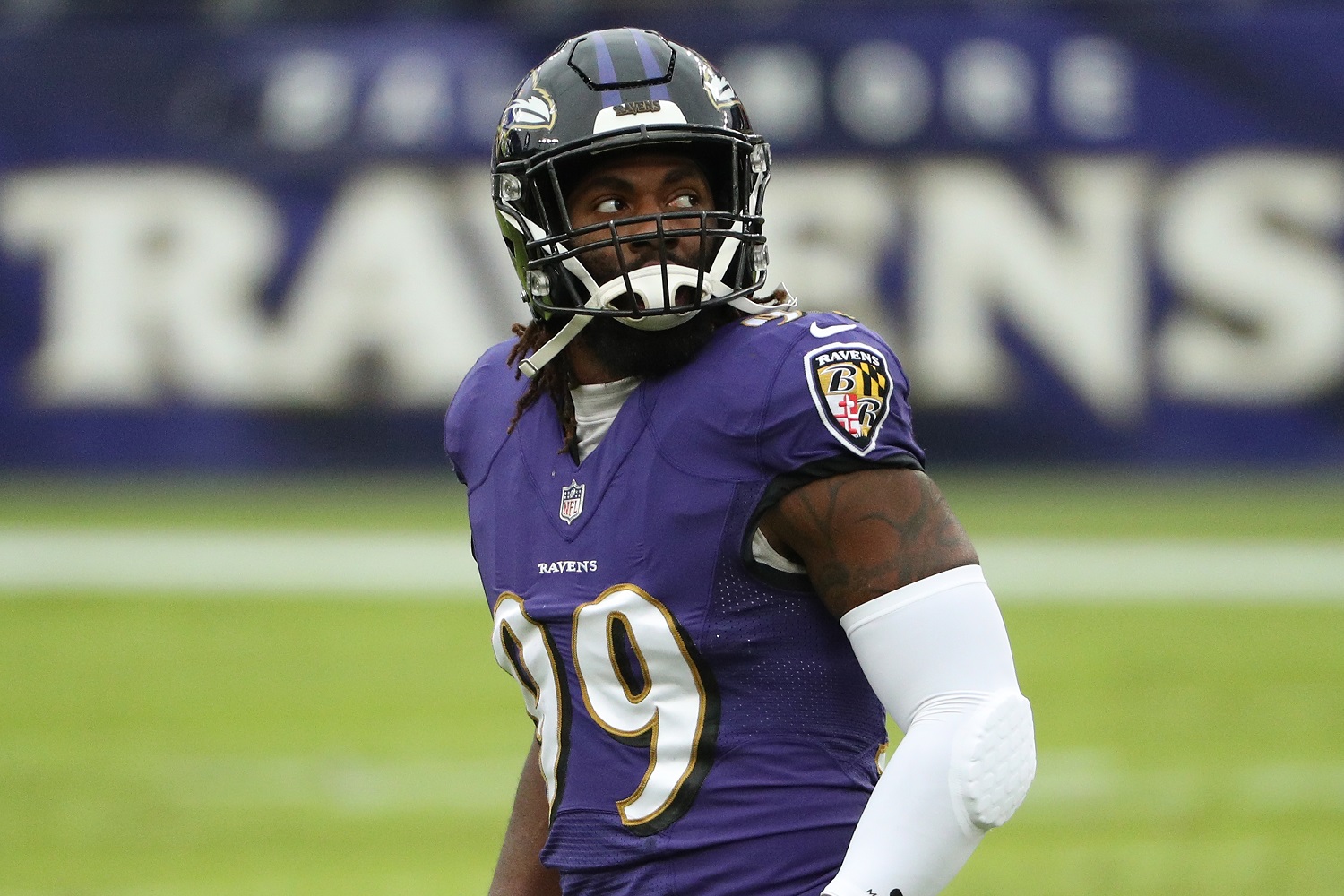 Ravens Linebacker Matthew Judon Plots Bizarre Revenge Against an ESPN Reporter
Baltimore Ravens linebacker Matthew Judon went on social media to threaten taking a drastic measure against an ESPN reporter.
If Matthew Judon had been as tough on quarterbacks as he is on reporters, the Baltimore Ravens linebacker would already have the reported contract offer that he swears he didn't get. If that's a bit confusing, then imagine how ESPN reporter Jamison Hensley feels.
Judon's game might be football, but he is currently throwing figurative beanballs at Hensley. When it comes down to it, his complaint isn't worth the drama he's bringing on. But it sure is entertaining.
Matthew Judon was productive but not as busy as usual
Linebacker Matthew Judon recently completed his fifth NFL season after the Baltimore Ravens selected him in the fifth round out of Grand Valley State in 2016. After a reserve role as a rookie, Judon started 49 games over the next four seasons.
Judon has accumulated 34.5 sacks and 103 quarterback hits for his career. The 2020 season was typical with six sacks and 21 quarterbacks in 14 games. However, he was only on the field for 53% of the Ravens' defensive snaps, well below recent seasons.
Judon's rookie contract was a four-year, $2.59 million deal. He played the 2020 season under a franchise tag that was a $16.8 million bonanza for him but didn't bring with it the security of a long-term deal.
It would be understandable, then, that seeing his contract status reported on ESPN might be a touchy subject — especially considering that his playing time was down. Still, he's expected to be in demand when free agency opens next month.
Matthew Judon's contract is a touchy subject
A story by ESPN reporter Jamison Hensley said that Baltimore Ravens linebacker Matthew Judon, 28, turned down a contract extension worth an average of about $16.5 million per season last summer.
Upon seeing the story, Judon lashed out and asserted that there was never an offer. Going on social media, Judon called out the reporter's "lying butt," to which Hensley explained that the information he had was that the team's offer had been similar to what the Green Bay Packers paid to lure Za'Darius Smith from the Ravens the previous year.
Judon said he wanted to know the source of Hensley's information. "If you can't tell me that we're all going to have to think you pulling stuff outta nowhere," he wrote.
Hensley, whose ESPN bio says he began covering the NFL in 1999 and been their Ravens reporter since 2013, wasn't about to out a source. Instead, he suggested taking the conversation private.
He ultimately updated his original story and wrote that "Judon fell short of expectations after getting the franchise tag" but noted that the linebacker disputed the info about the contract offer.
The linebacker threatens the ESPN reporter
Whatever professional relationship Baltimore Ravens linebacker Matthew Judon and ESPN reporter Jamison Hensley had before this week is pretty much shot. As reported by AwfulAnnouncing.com, Judon lobbed an interesting threat in Hensley's direction:
"@jamison.hensley so I'm waiting on your ESPN sourced apology or I'm leaking these photos I got with you in the strip club," Judon wrote.
The nature of the photos, assuming they actually exist, is unknown. But it's a pretty serious card to play against a man whose company bio says he has a wife and two children.
Spending an hour or two throwing back beers with athletes that a reporter covers isn't necessarily an issue. In fact, it can build trust while establishing ground rules about what can be discussed on and off the record. But someone might have some explaining to do about having those beverages at a strip club.
Like Sportscasting on Facebook. Follow us on Twitter @sportscasting19.