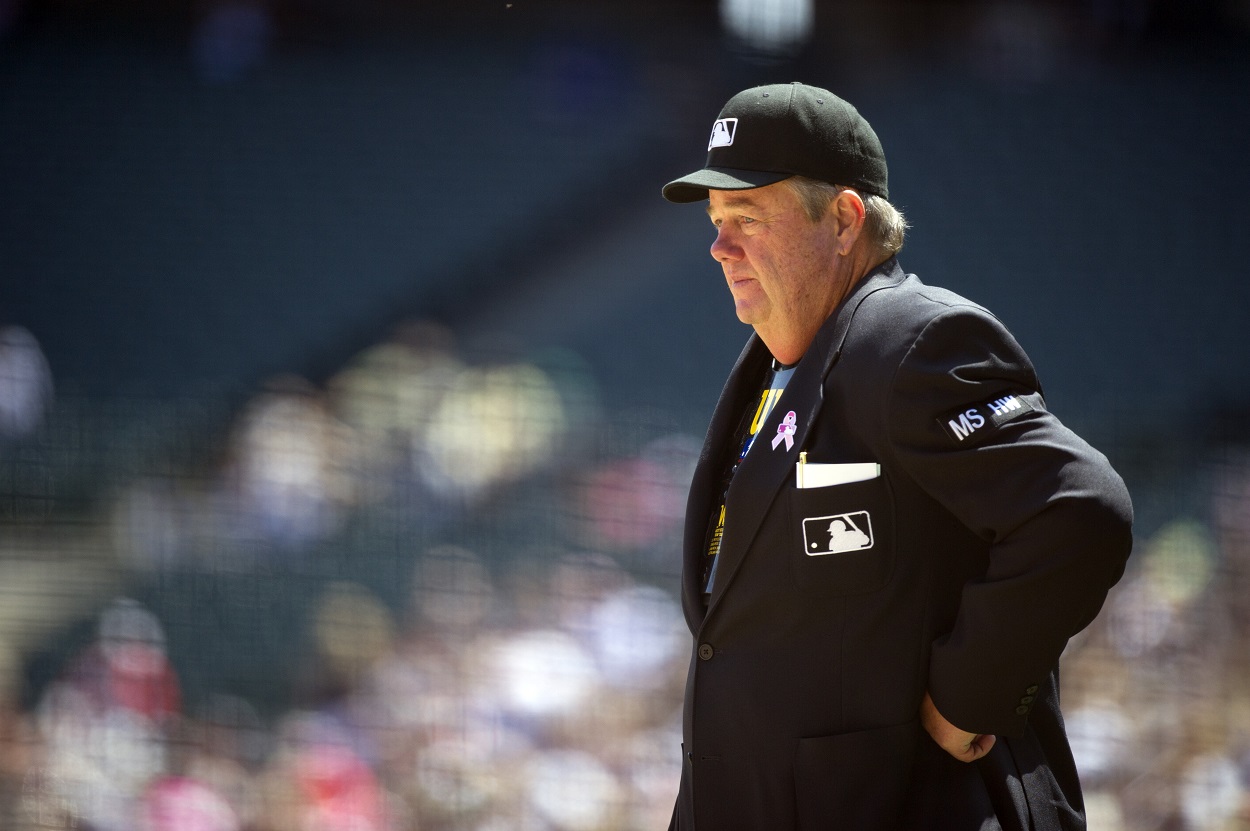 Before Joe West Became a Record-Setting MLB Umpire, He Was a Record-Setting College Football Quarterback
Joe West was a record-setting college football quarterback before beginning his career as an umpire in Major League Baseball.
It's not often that a Major League Baseball umpire becomes as well known as some of the players, but Joe West certainly falls into that category. Over the last four-plus decades, West has become arguably the most famous (also the most hated, depending on who you talk to) ump in MLB history and on Tuesday night became the big leagues' all-time leader in games called when he took the field for an interleague matchup between the St. Louis Cardinals and the Chicago White Sox.
Before he made a life of calling games, West was a player himself. But we're not just talking baseball here as the North Carolina native was a three-sport star in high school, playing football, basketball, and baseball. And while the last sport on that list is the one that made him famous later on in life, it was the first in which he excelled in his younger days.
Joe West quarterbacked Elon College to three straight division titles and a national championship game appearance
Born in Asheville, North Carolina, West spent the majority of his young life about 65 miles south in Greenville and attended J.H. Rose High School, which has produced a number of professional athletes over the years — mainly NFL players but also some MLB players who West likely upset at some point. But I digress.
While not much is known about his basketball skills, we do know he was a solid catcher as a baseball player and was once part of a VFW Teener League team that finished second in the country. West was also a solid football player at Rose and took his talents to East Carolina University, where he played safety for the freshman team but left the program after ECU head coach Mike McGee resigned to take the same position at Duke.
In 1971, West transferred to Elon College (now Elon University), a private institution that, at the time, was a Division I NAIA school. He'd planned to play both baseball and football, but spring football practice made it difficult to do both. So he turned his athletic focus to football and umpired high school baseball games on the side.
West became the starting quarterback for the Fighting Christians (now the Phoenix) and went on to lead the team to three consecutive Carolinas Conference championships, setting numerous school passing records in the process that stood for two decades. As a senior in 1973, a season in which he threw for 1,836 yards and 18 touchdowns, West was named team MVP as he led Elon to a 12-1 record, marking the first time any North Carolina college or university had recorded a dozen wins. That lone loss came in the national title game to Abilene Christian, leaving Elon as the No. 2 team in the country.
West was inducted into the Elon Sports Hall of Fame in 1986.
West called his first MLB game in 1976
While umpiring during his days at Elon, West was introduced to Malcolm Sykes, who was the umpire supervisor in the famed Carolina League and suggested he attend an official umpiring school. West, of course, did so. The rest, as they say, is history.
After just a few years working in the minors, West made his MLB debut in 1976 and became a full-time member of the National League Staff in 1978. In that first full season, he was on the field when Willie McCovey hit his 500th home run and was behind the plate when Pete Rose set the record for the longest NL hitting streak. A few years later, in 1981, he worked Nolan Ryan's fifth career no-hitter and soon after became the youngest umpire to work a National League Championship Series at age 28.
In the four decades since, West has certainly made his fair share of controversial calls and been involved in numerous controversial incidents. We could sit here and go through them one by one, but we're guessing you don't want to be sitting here for two straight days, right?
While he hasn't always been everyone's favorite umpire, there's no denying that West has given his life to the game. Now 68 years old, he's in his 43rd season and has called six World Series, 10 league championship series, eight Division Series, three Wild Card Games, three All-Star Games, and the 2009 World Baseball Classic.
'Cowboy Joe' has now called the most games in MLB history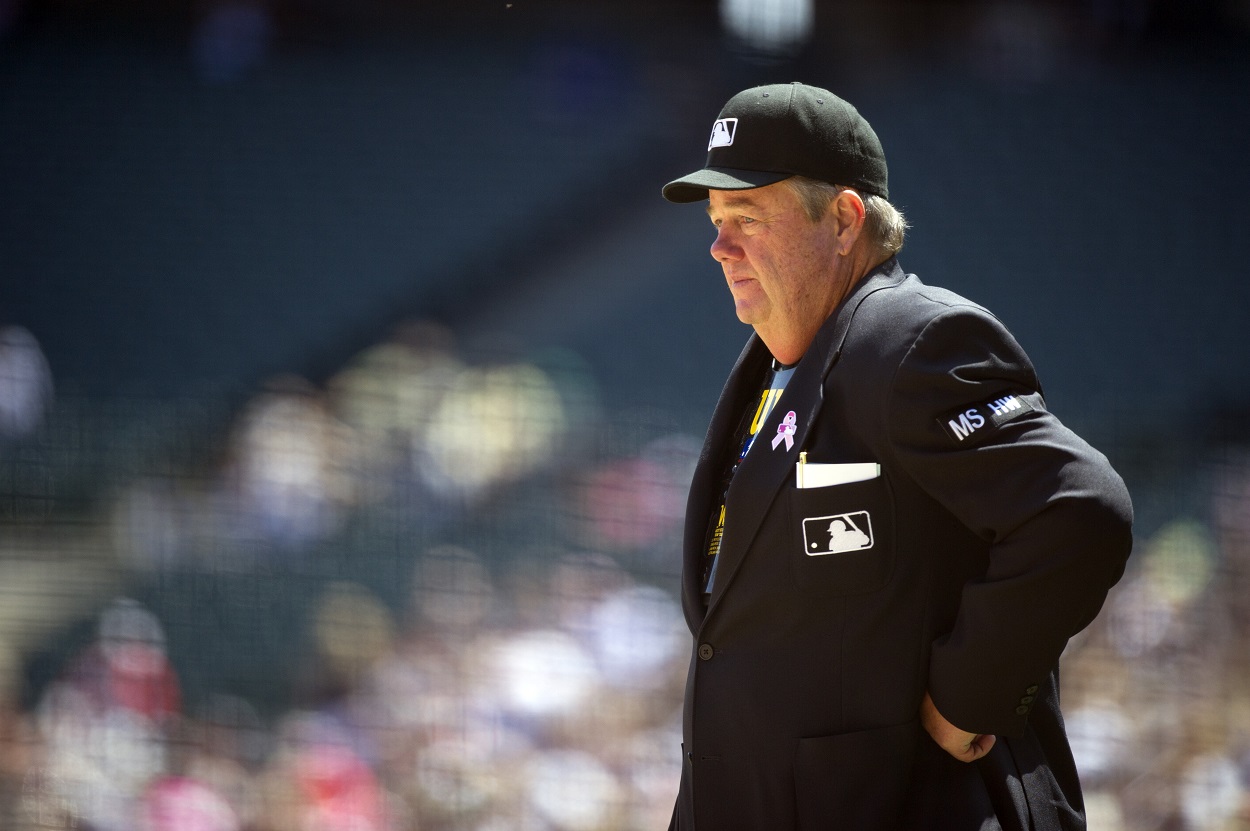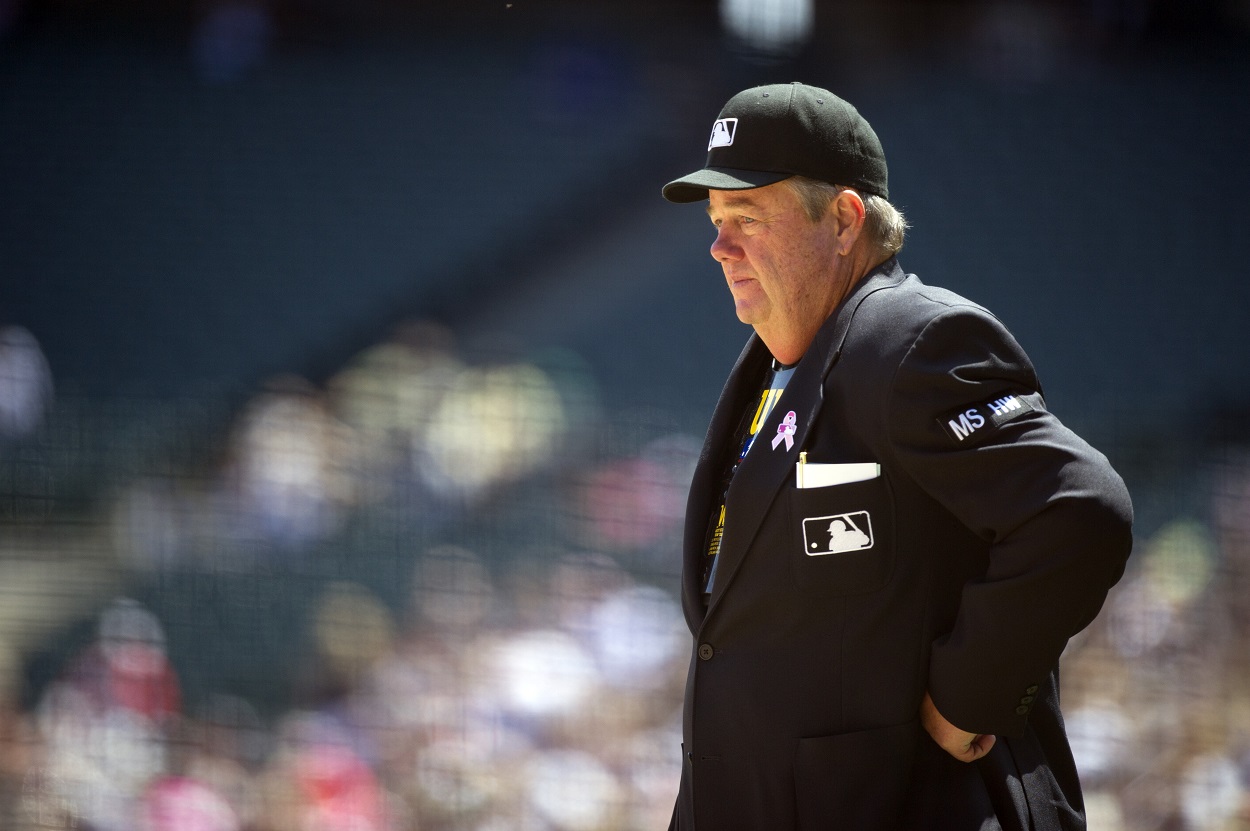 Tuesday night's matchup between the Cardinals and White Sox was West's 5,376th game as an MLB umpire, breaking the record set by Bill Klem, who called National League games from 1905 to 1941 and worked a record 18 World Series.
Klem was inducted into the Hall of Fame in 1953, and "Cowboy" Joe West, a nickname given to him because he also writes and records country songs, will likely join him at Cooperstown at some point in the near future.