Hated MLB Umpire Joe West Woke Up $500,000 Richer Thanks to a Former Catcher's White Lie
Major League Baseball fans won't be thrilled to know that universally hated umpire Joe West is having one heck of a Tuesday.
West woke up $500,000 richer after winning a defamation lawsuit against former MLB catcher Paul Lo Duca. The famed umpire originally sued Lo Duca for defamation back in 2019, and the New York Supreme Court finally settled the suit in favor of West on Monday.
Paul Lo Duca defamed Joe West on a podcast in 2019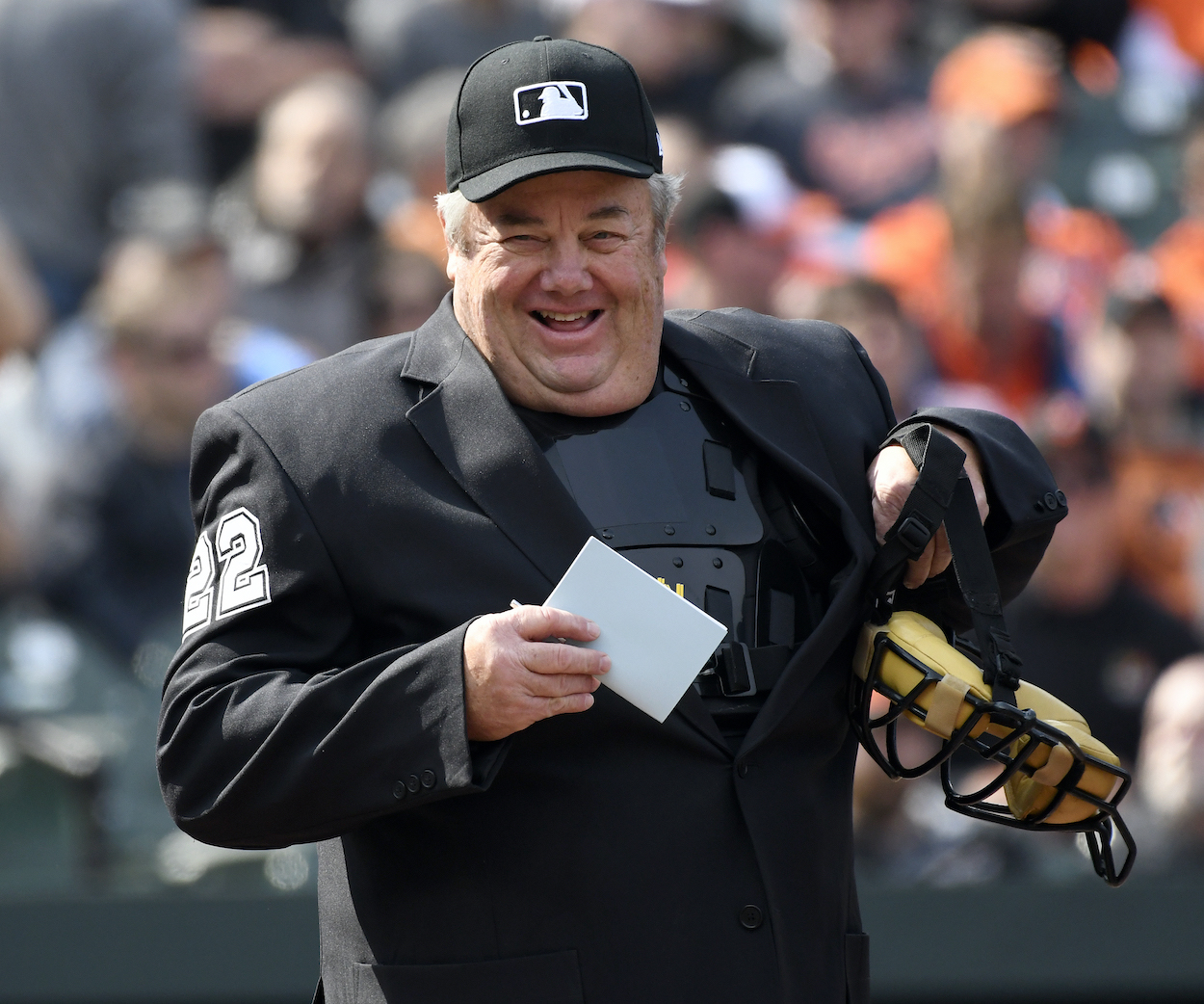 During an appearance on The Action Network podcast on April 18, 2019, Paul Lo Duca, who played for the Dodgers, Marlins, Mets, and Nationals during his 11-year MLB career, told a story about well-known umpire Joe West. Lo Duca detailed a game against the Phillies in which former Mets reliever Billy Wagner took the mound with West calling the game from behind home plate.
Here's how his story went:
"I used to go to the mound every time and like, 'What's going on?' and [Wagner]'s like, 'Hey, Joe's behind the plate. Set up a couple more inches inside," Lo Duca said on the podcast. "I was like, 'Are you kidding me? Joe hates me.' He's like, 'No, no, no, no, no, no. Joe loves me.'
"I go, 'He hasn't given us the corner all day.' He's like, 'Don't worry about it.' He literally throws 10 pitches and strikes out three guys. Joe rings up all three guys. Eight out of the nine pitches were at least three to four inches inside, not even close. Guys were throwing bats and everything. Joe walks off the field …
"I get back into the clubhouse and I'm like, 'What the f*ck just happened just right now?' And Wagner just winks at me. I'm like, 'What's the secret?' He's like, 'Eh, Joe loves antique cars so every time he comes into town I lend him my '57 Chevy so he can drive it around so then he opens up the strike zone for me.'"
Lo Duca also said that West threw him out of "eight or nine" games during his career.
West sued Lo Duca for his comments
After the podcast was released, West caught wind of Lo Duca's comments and became "incensed," according to USA Today. He immediately filed a defamation lawsuit against the former catcher, claiming his tale was completely fabricated.
And guess what? He was right.
It turns out West never worked home plate for any Mets game in which Wagner pitched and Lo Duca caught at the same time. In the suit, West claimed Lo Duca's comments damaged his chances of eventually being voted into the Hall of Fame. The New York Supreme Court finally came to a decision on Monday, two years after the suit was originally filed.
Joe West woke up $500,000 richer thanks to Paul Lo Duca's white lie
On Monday, West was awarded $500,000 plus interest by the New York Supreme Court in the defamation lawsuit filed against Lo Duca from 2019, as first reported by USA Today. The longtime umpire will also be awarded $250,000 for "past mental anguish and emotional distress.''
"The plaintiff expressed a legitimate concern that, if Hall of Fame voters credited Lo Duca's false assertion regarding his integrity and character, he might not be elected for induction into the Hall of Fame for the same reasons as otherwise excellent players 'Shoeless' Joe Jackson, Pete Rose, and Barry Bonds had or have not been elected," the court's decision reads. "He also expressed concern that it would be difficult to completely repair his reputation, particularly because a special committee of baseball executives and former players chosen by the directors of the Hall of Fame is responsible for selecting umpires for induction into the Hall of Fame."
A restored character and $500,000 in his pocket? Not a bad Tuesday for "Cowboy Joe."