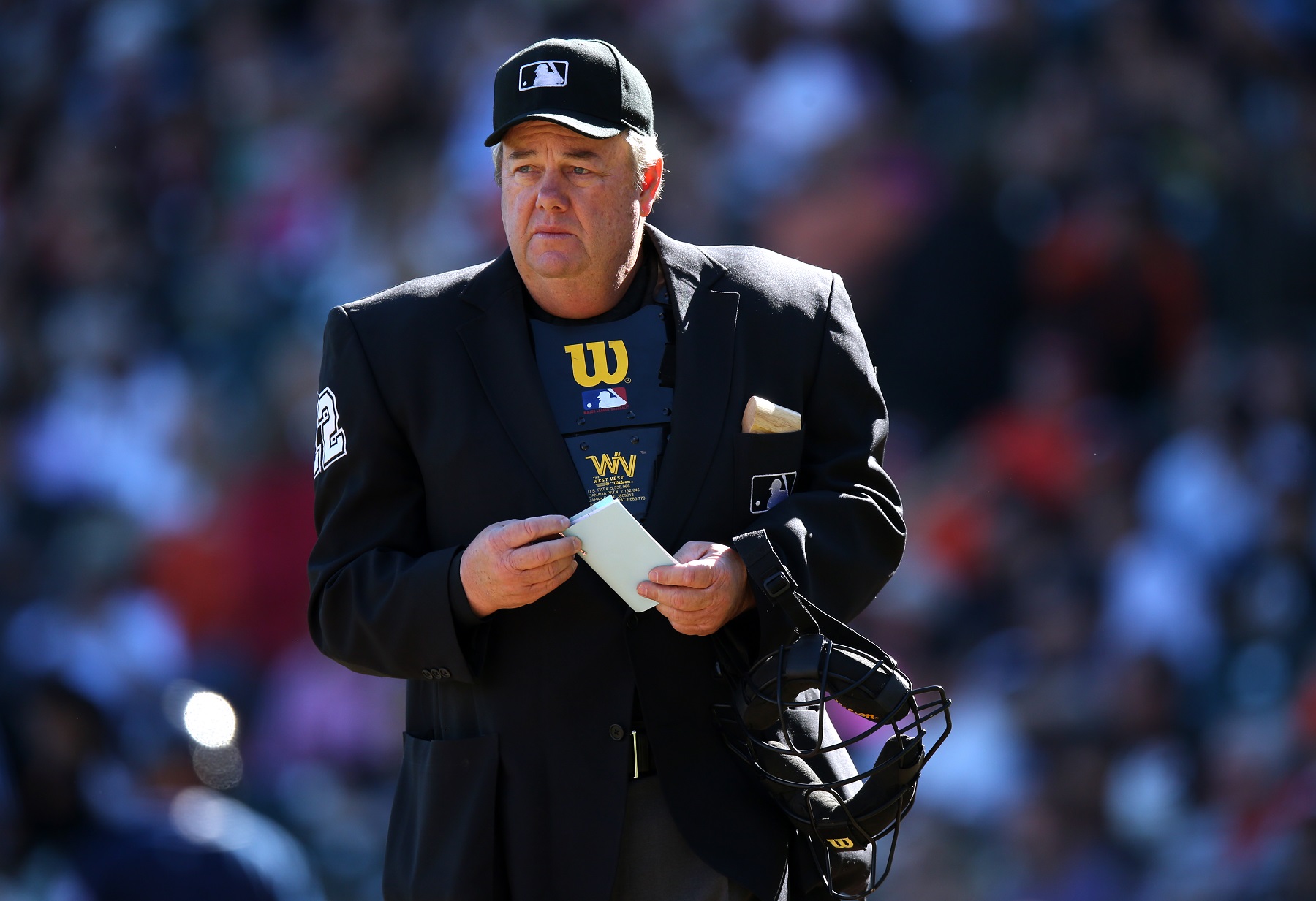 Joe West Lets Slip That He's a Donald Trump Supporter While Ejecting a GM
Umpire Joe West invoked Donald Trump's name while explaining the ejection of Washington Nationals GM Mike Rizzo.
The impolite take on Joe West is that he's getting cranky in his old age. Then again, the veteran MLB umpire has long been controversial. And he just added to his reputation by ejecting a general manager from a nearly empty stadium and invoking the name of Donald Trump while doing it.
Joe West has been around long enough to see it all
Joe West, 67, has worked almost his entire adult life as a Major League Baseball umpire. The former Elon College football quarterback began doing National League games in 1976 and earned full-time status in 1978. He has handled six World Series, 10 League Championship Series, and eight League Division Series. West worked his first NLCS at 28, making him the youngest umpire at the time to earn the honor.
He's served continuously since except for a stretch from 1999-2002 when he took part in a mass resignation by MLB umpires during a contract dispute. West is on pace to break Bill Klem's record of 5,369 umpiring appearances late in the 2021 season.
Off the field, West is president of the Major League Baseball Umpires Association, which puts him front and center in defending colleagues from criticism by players and managers or disciplinary measures handed down by the commissioner's office.
Not surprisingly, he has seen some of the sport's most memorable moments in person, including a game in his first season, during which Willie McCovey hit career homer No. 500. He also worked the 2012 perfect game by Felix Hernandez and Nolan Ryan's fifth career no-hitter in 1981. West worked the plate in the 1988 National League Championship Series when Los Angeles Dodgers pitcher Jay Howell was ejected for having pine tar on his glove.
However, West has also created numerous controversies, the most recent of which came Sept. 6 when he ejected Washington Nationals general manager Mike Rizzo and referenced President Donald Trump in doing so.
Calling Joe West controversial is like saying water is wet
While it's a given that umpires are going to engage in arguments with players and managers over calls on the field, Joe West has a history of questionable behavior.
In 1983, NL president Chub Feeney suspended the umpire for three days and fined him $300 after West engaged in a shoving match with Atlanta Braves manager Joe Torre beneath the stands.
West ejected Jonathan Papelbon in a 2014 game. However, MLB suspended West for a game after replays showed the umpire initiating contact with the pitcher. Ironically, the decision came from Torre, who was serving as MLB's executive vice president for baseball operations.
In 2017, the commissioner's office suspended West for three games for telling a reporter that Texas Rangers infielder Adrian Beltre was the worst complainer in the sport. Interestingly, Beltre subsequently said he thought the penalty was too harsh.
Surveyed by ESPN in 2010, MLB players rated West as the sport's second-worst umpire. Four years earlier, a Sports Illustrated survey had West rated fourth-worst by players.
How did Donald Trump get dragged into Mike Rizzo's ejection?
Umpires Joe West and Hunter Wendelstedt ejected Mike Rizzo from the Sept. 6 at Truist Park as the Washington Nationals general manager was watching from behind the plate in a suite in the club level.
The host Atlanta Braves led in the top of the seventh inning when Wendelstedt stopped the game and instructed security to remove him. Rizzo apparently heckled Wendelstedt's work behind the plate calling balls and strikes.
According to West, Rizzo had been riding the umpires, saying things like "you're brutal." Under ordinary circumstances, such comments would go unnoticed. However, stadiums are empty this season due to the COVID-19 pandemic, meaning that even casual conversations nearby can sometimes be heard on the field.
"I wouldn't take that from a player. I wouldn't take that from a manager," West told The Associated Press. "If it was Donald Trump, I'd eject him, too. But I'd still vote for him."
It was not clear why West chose to invoke the president's name or announce his voting intentions.
"We have already been in communication with the Nationals regarding what transpired during today's game, and we will speak with the umpiring crew today," MLB said in a statement. "We will expect Joe West's crew to provide a full account of their perspective, and we will follow up with them accordingly."