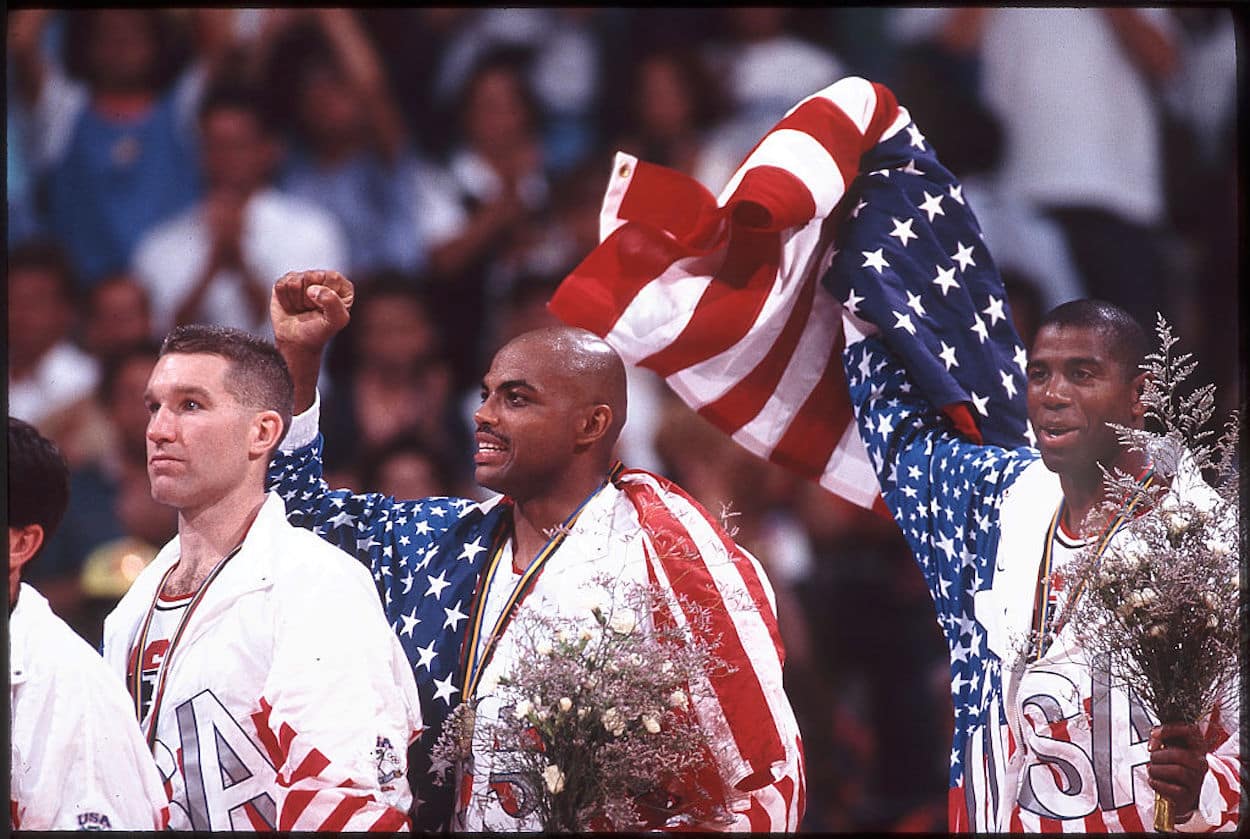 The 'Best Compliment' Charles Barkley Ever Received Still Left Him Behind Michael Jordan
While every athlete wants to be number one, Charles Barkley was still pretty happy to be called the second-best player in the world.
In the world of sports, confidence reigns supreme. Just take Michael Jordan as an example of that. The living NBA legend took things personally, smoked victory cigars before even taking the court, and dominated the competition. While most athletes don't have that same level of raw talent, they still have to believe in their own skillset. Just look at Charles Barkley.
During their time with the Dream Team, Chuck Daly told Barkley that he was the second-best player in the world, only trailing His Airness. While Sir Charles appreciated the comment, he still felt he was superior to MJ. The next summer, however, everything would change.
In 1993, Barkley's Phoenix Suns met Jordan's Chicago Bulls in the NBA Finals. At that point, the forward finally admitted defeat. That doesn't mean he appreciated the compliment any less, though.
Charles Barkley was called the second-best player world, but he couldn't beat Michael Jordan
During his time on the hardwood, Charles Barkley received plenty of compliments. None, however, were greater than what he heard from his Olympic head coach.
"Chuck Daly said to me, he said, 'Charles, can I talk to you a second," Barkley explained on The Pivot podcast. "I said, 'Yeah, Chuck. Anything.' He says, 'You're the second-best basketball player in the world.' I said, 'Who better than me?' He says, 'That motherf***** right there [Michael Jordan.]' I says, 'You're right about that.' I says, "But thank you.' And I've said many times, that's the best compliment I've ever gotten from somebody."
He may have agreed in the moment, but Chuck still wasn't ready to back down. In his mind, the 1992-93 NBA season was his chance to prove his superiority over Jordan.
"I said, 'I actually agree with you, but I'm gonna put an end to that s*** next year," Barkley continued."I said, 'We're playing those motherf***** in the finals, and I'm gonna bring it.' The next year, I'm going to Phoenix. And I said, 'I got Dan Majerle, Kevin Johnson.' I said, 'We're going to the f***ing finals.' And, when I got to Phoenix, I told those guys the first day, I said, 'Guys, we're going to the finals, and we're gonna play that motherf***** from Chicago.' I says, 'I'm sick of people telling me he's better than me. I just didn't have no help in Philly. '"
The Suns did make it to the 1993 NBA Finals, and they did meet Michael Jordan and the Chicago Bulls. Barkley, however, didn't prove his superiority. The Suns lost in six games, and Chuck had to finally acknowledge that he wasn't the greatest player.
"We got there, and they beat us," Sir Charles admitted. "And that was the first time I ever said in my life, 'Damn, I think there's somebody better than me at basketball.' In my whole life."
With that newfound knowledge, being called the second-best player after His Airness sounds like a pretty good deal.
Barkley may sound a bit overconfident, but he was a pretty special player
Given Barkley's comedic presence on TNT and Michael Jordan's (relatively) undisputed status as the GOAT, it's easy to think that Chuck was simply being overconfident. While there was probably some element of believing his own hype, the forward was a pretty skilled player in his own right.
Working purely from a statistical perspective, Sir Charles averaged 22.1 points, 11.7 rebounds, and 3.9 assists per outing across his 16-year career. While those numbers might not put him in the GOAT debate — his lack of postseason success doesn't help either — they are solid totals, especially for someone who didn't tower over the competition. Despite having several names alluding to his larger frame, Barkley was surprisingly athletic; in many ways, his ability to pull down a rebound, dribble down the floor, and finish at the rim foreshadowed today's NBA.
Circling back to Chuck Daly's comments, Barkley also played well during the 1992 Olympics. Although you could argue that the strength of the completion was a factor, the forward's numbers were still impressive. He outscored Michael Jordan to lead the tournament in points and shot an unbelievable 71.1% from the floor en route to a gold medal.
As Sir Charles himself learned, few men can compare to His Airness. There's no shame in being a close second (or wherever you rank Barkley) to the GOAT.
Stats courtesy of Basketball-Reference