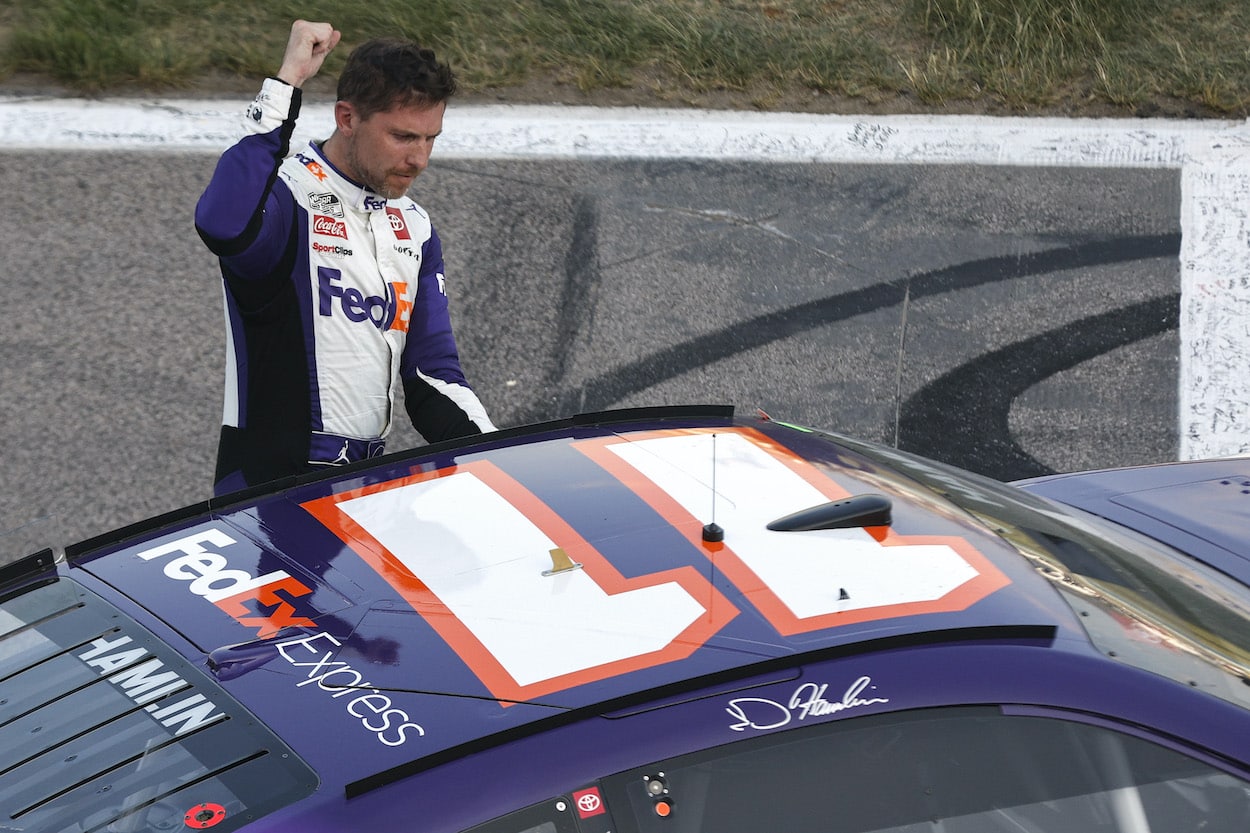 There's a Big Development on Denny Hamlin and His Future at Joe Gibbs Racing in 2024, According to New Report
Denny Hamlin and his future with FedEx and Joe Gibbs Racing in 2024 got a little clearer this week, according to a new report.
Denny Hamlin is in his 18th full-time season with Joe Gibbs Racing driving the No. 11 car. The question is — could it be his last? 
The three-time Daytona 500 winner is currently under contract through the 2023 season. Coincidentally, so is his main sponsor, FedEx. However, this week fans of the JGR driver received some good news when it was reported that the longtime business partner plans to return in 2024.
Denny Hamlin talks about future
Denny Hamlin has been synonymous with Joe Gibbs Racing and FedEx since 2006. But at 42, the future Hall of Famer recognizes the clock is ticking on his racing days. He talked about racing into the twilight of his career and if he would be interested in driving for his 23XI Racing team during an appearance on the popular Dale Jr. Download podcast earlier this year.
"Not if FedEx extends," Hamlin told Dale Earnhardt Jr. "I think that I would like to retire at Gibbs with FedEx because it's so unique to have a sponsor that has been part of the sport as long as they have and backed me as long as they have. There's just no way I could leave them. 
"Maybe at that point, then I just run one or two races. I would just like to retire at Gibbs with FedEx. But if things change, then things change, and you've got to reevaluate."
FedEx expected to return and sponsor Hamlin in 2024
Over halfway through the 2023 regular season, and Silly Season talk is heating up. The future of Denny Hamlin in 2024 is, unsurprisingly, a big story everyone is closely following, with many wondering if he might have to "reevaluate."
This week, Adam Stern of the Sports Business Journal reported on Twitter that won't be necessary because his longtime sponsor is expected to return to the No. 11 car in 2024.
"@FedEx is close to striking a contract extension with @JoeGibbsRacing to continue sponsoring the team into the 2024 @NASCAR season, per people familiar," Stern wrote. "The precise scope of the agreement is unclear, but FedEx is expected to retain a sizable presence on the No. 11 @Toyota."
Still some doubt after Kyle Busch situation in 2022 
While Hamlin fans will be encouraged by the news, it's understandable if there's still some doubt after what happened to his former JGR teammate Kyle Busch last year. Busch lost M&M's as his main sponsor, but team officials repeatedly insisted they were hopeful they would find a replacement. That never happened and the two-time champion is now racing with Richard Childress Racing. 
Until FedEx officials confirm that they will be returning to the No. 11 car in 2024, it's a wait-and-see-game for the driver and his fans.
To stay up to date on the latest happenings in NASCAR, including breaking stories you can't find anywhere else, follow Kyle on YouTube and Twitter.