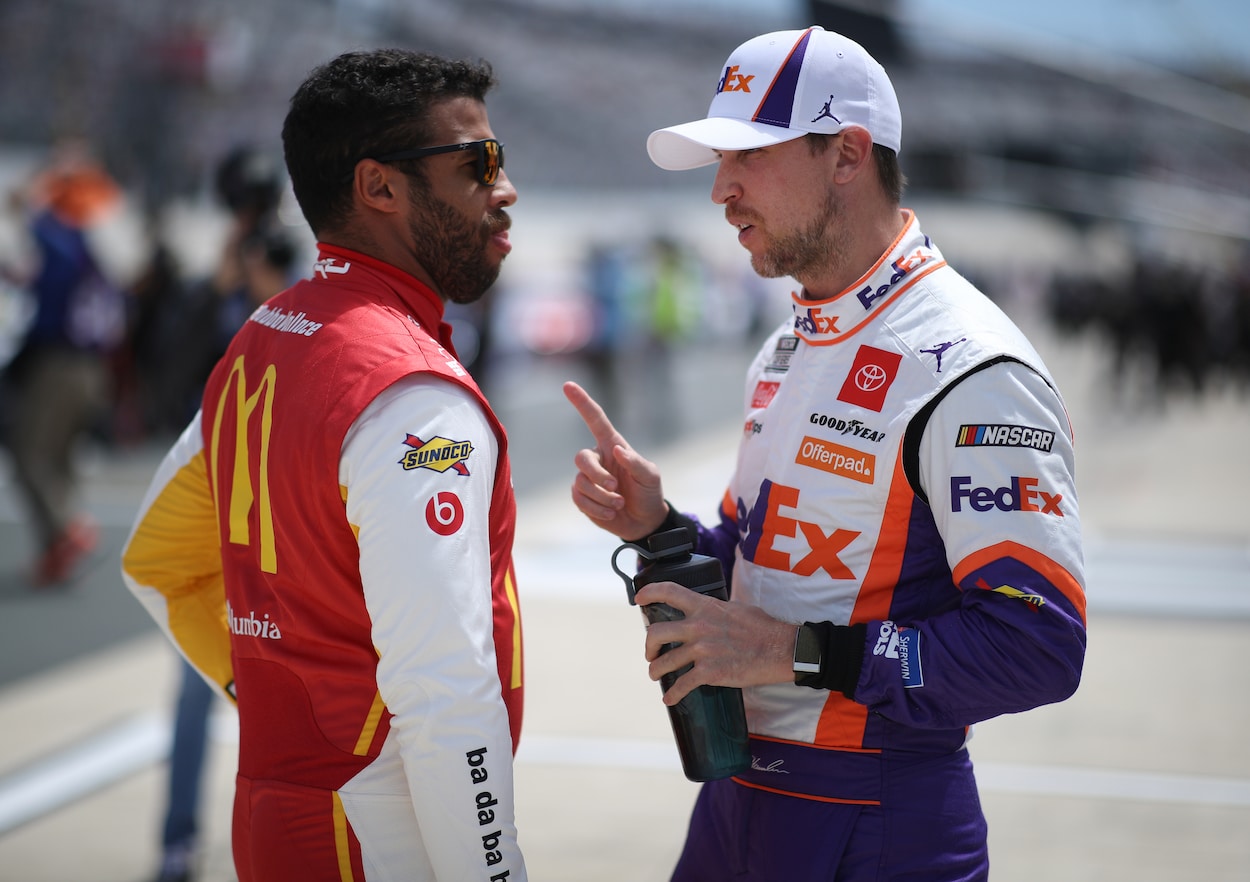 Denny Hamlin Doesn't Mince Words, Calling Bubba Wallace Behavior 'Childish' and Saying It Needs to Stop
Bubba Wallace is in the headlines a second consecutive week for flipping the bird and 23XI Racing co-owner Denny Hamlin didn't sugarcoat what he thinks about the gesture on his podcast.
Bubba Wallace is currently one of the hottest drivers in the NASCAR Cup Series, earning three consecutive top-five finishes in the last three points races, plus a runner-up finish in the All-Star Race. However, for the second week in a row, no one is talking about his impressive performance but his behavior.
On Tuesday, a day after Aric Almirola shoved the 23XI Racing driver during a rain delay in the Coca-Cola 600, Wallace's boss Denny Hamlin talked about the latest incident and didn't mince words on what he thinks about his driver's use of the middle finger.  
Bubba Wallace flips off camera at North Wilkesboro
Moments after recording his career-best finish in an All-Star Race at North Wilkesboro Speedway, Bubba Wallace visited with Fox's Jamie Little on pit road, who asked him what it would have taken to catch Kyle Larson. 
"I don't know. I think we needed the louvers and whatever cheated up stuff they have on there," Wallace said, followed by a laugh. "No, his capability throughout the whole run. He can attack hard and have something there at the end."
Wallace's comment about "cheated up" parts was noteworthy by itself, but that's not what got all the attention. Instead, social media was abuzz about the middle finger the 29-year-old briefly displayed early in Little's question. 
It was later reported that he was delivering a message to a team PR person telling him to fix his collar to better show the team sponsor. 
Wallace gets into altercation with Aric Almirola at Coca-Cola 600
During the Coca-Cola 600 on Monday, Wallace displayed the middle finger again, except this time, it was directed at Aric Almirola. The bird usage was confirmed by the Stewart-Haas Racing driver when asked after the race why he confronted the driver on pit road during a rain delay.
"Early in the race, I felt like I was giving Bubba a lot of room when we were racing around each other," Almirola said. "And when he got by me, he shot me the bird so I just went to go ask him, why he shot me the bird and he started mouthing off and cussing at me and I told him I wasn't gonna have that. So yeah, disappointing. That's him. I know that."
Wallace unsurprisingly offered a different take on the incident.
"Passionate man, we're racing hard for that second stage and we finished fourth so it was a good day," he said. When asked if surprised about the SHR driver's reaction, the 23XI driver didn't hold back. "No, when you walk around with two faces, that's what you get."
Denny Hamlin calls bird usage 'out of style' and 'childish'
Denny Hamlin had plenty to discuss on his post-Coke 600 podcast this week, most notably, Chase Elliott right-hooking him in retaliation and causing a nasty crash, which earned the Hendrick Motorsports driver a one-race suspension. But the 23XI Racing co-owner also addressed Wallace's finger usage and made it clear that he was not a fan. 
"As his car owner, I don't love it at all," Hamlin admitted. "I mean, just keep your hands in your car. Just stop it. You've got some positive momentum on the racetrack. Let's just chill for a little while and, you know, just take the dubs when you get them, and that's running well."
Podcast co-host Jared Allen then asked why drivers take the gesture personally.
"It's out of style. Everyone needs — whoever still does it, needs to stop because it's out of style. Stop doing it. It's childish. It's just not worth it. Like, you know, many times someone's gotten the finger and the next thing you know, they just get dumped in the next corner because people take it personally. It's not something you should probably do for sure."
Will Wallace take his boss's advice or will he, in effect, give him the bird?
Time will tell.
To stay up to date on the latest happenings in NASCAR, including breaking stories you can't find anywhere else, follow Kyle on YouTube and Twitter.