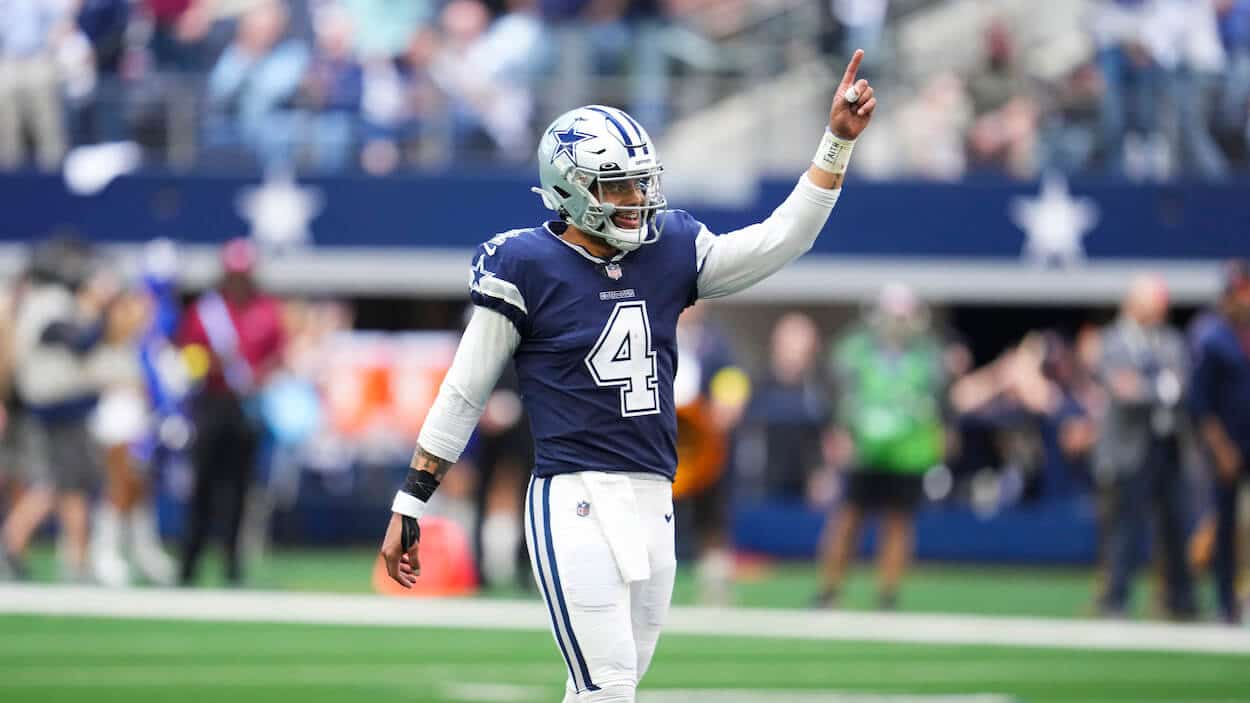 The Biggest NFL Salaries of All Time
There are several different ways to judge the biggest NFL salaries of all time. Here are three ways to look at the highest-paid players ever.
NFL salaries have skyrocketed over the years. Early professional football players often had to have a day job in order to pursue their sporting dream. However, that has all changed in the last few decades, and now NFL players routinely make millions of dollars a year. Here is a look at the biggest NFL salaries of all time.
Biggest NFL salaries of all time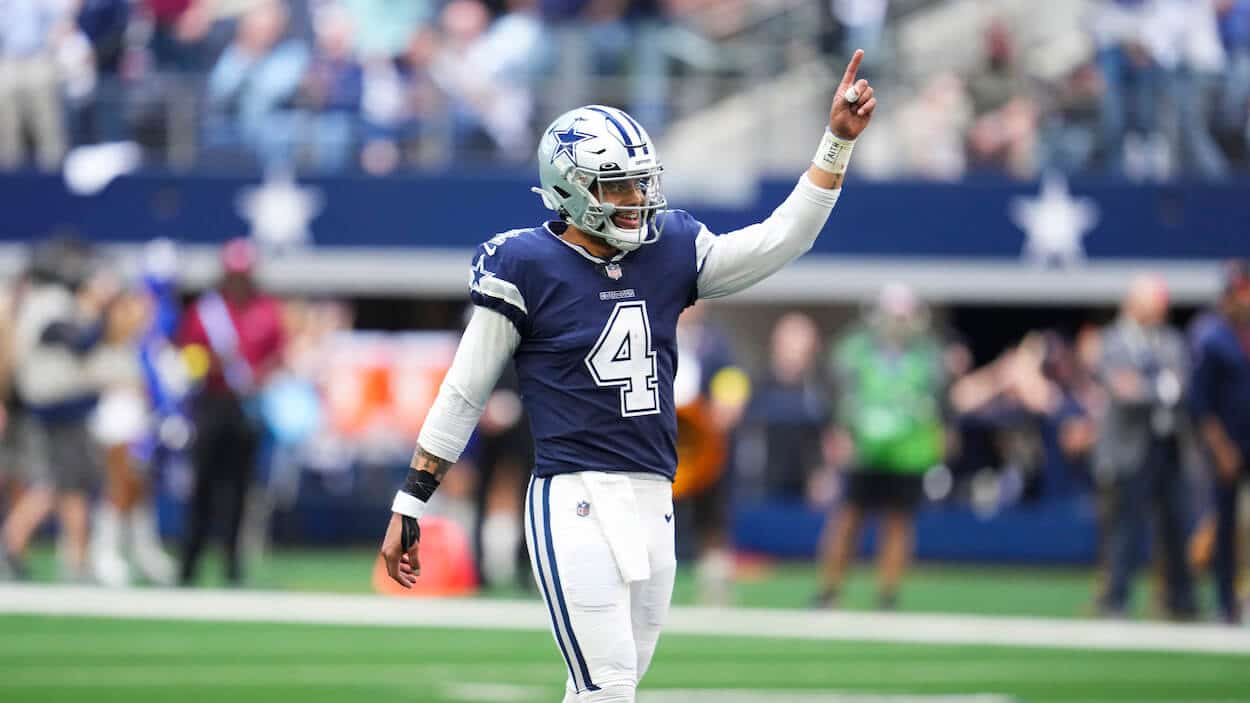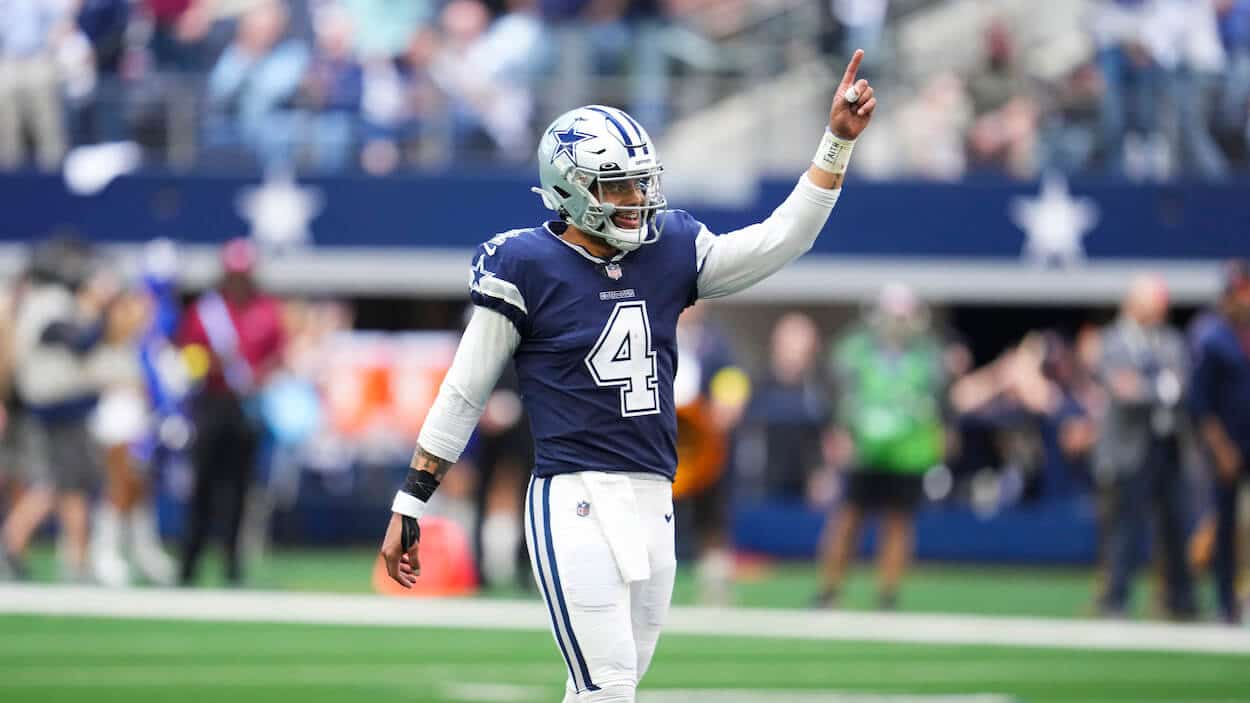 NFL contracts are complex, and there are different ways to interpret the "biggest NFL salaries of all time." You can go by the total cash a team paid a player in a given year, which includes base salary and all relevant bonuses. You can also go by the average annual value (AAV) of the contract. And, of course, you can look at career earnings and see who has made the most money throughout their pro football career.
Below are the biggest NFL salaries of all time, broken down into those three categories: Total cash, AAV, and career earnings, per Spotrac.
Total cash 
The total cash of an NFL contract is how much the player actually gets paid by the team. The biggest spike in total cash for players comes in the form of signing bonuses. These signing bonuses are generally paid in a lump sum in the first 12 to 18 months of a player's new contract.
However, for salary cap purposes, teams can prorate that signing bonus on their books over (up to) five years.
As you'll see below, the biggest one-year salary in terms of cash is Dallas Cowboys quarterback Dak Prescott in 2021 with $75 million. That's due to his record $66 million signing bonus that was paid out that season, along with his salary and other bonuses.
To help with salary cap issues, teams will often restructure contracts and turn base salary into signing bonus, which ups a player's total cash in a given year.
Here are the biggest NFL salaries of all time in terms of total cash in a single year, with the six players who've pocketed $50 million or more in a season:
Dak Prescott, Cowboys, 2021: $75 million
Aaron Rodgers, Packers, 2018: $66.9 million
Matthew Stafford, Rams, 2022: $61.5 million
Russell Wilson, Broncos, 2022: $57 million
Russell Wilson, Seahawks, 2020: $53 million
Matthew Stafford, Lions, 2017: $51 million
Two notes on this list. First, the last time a non-QB had the biggest total cash salary was in 2011, when Carolina Panthers defensive end Charles Johnson made $34 million.
Second, as of the 2023 offseason, the New York Jets restructured Aaron Rodgers' deal after trading for him, and as of now, the team owes him $107.6 million in cash next season. That will likely change, but even if it does, Rodgers is going to make a ton of money in 2024.
Annual average value
The annual average value of an NFL contract can be misleading. AAV is calculated simply by taking the total announced value of the contract and dividing it by the number of years.
However, most NFL contracts don't run their full terms. Players almost always negotiate a new extension or get cut by their teams before the entire contract pays out.
Still, when teams, media, and fans talk about how much a player makes per year, they usually use AAV as the number. Here are the biggest NFL salaries of all time by AAV:
Lamar Jackson, Ravens: $52,000,000
Jalen Hurts, Eagles: $51,000,000
Aaron Rodgers: Packers, Jets: $50,271,667
Russell Wilson, Broncos: $48,517,647
Kyler Murray, Cardinals: $46,100,000
As you can see, those are all quarterback contracts. The largest non-QB salaries by AAV are:
Aaron Donald, Rams: $31,666,667
Tyreek Hill, Dolphins: $30,000,000                
LB T.J. Watt, Steelers: $28,002,750             
WR Davante Adam, Raiders$28,000,000
WR DeAndre Hopkins, Cardinals: $27,250,000
AAV is also generally the target number that players shoot for to declare themselves the "highest-paid." That means you can look for stars like Joe Burrow, Justin Herbert, and Trevor Lawrence to surpass these numbers soon.
Career earnings
With each new contract that a superstar signs, there are different ways a player (and their agent) can declare that they are among the biggest NFL salaries of all time.
In the end, though, the true measure of who made the most money comes from the total amount deposited into a player's bank account (before taxes and the like) to date or at the end of their career.
Here are the players who have taken home the most money to date from playing professional football:
Tom Brady, Patriots, Buccaneers: $332,962,392
Matthew Stafford, Lions, Rams: $328,306,037
Aaron Rodgers, Packers: $306,823,010
Matt Ryan, Falcons, Colts: $303,713,631
Drew Brees, Saints: $269,710,422
Ben Roethlisberger, Steelers: $267,286,864
Russell Wilson, Seahawks, Broncos: $266,362,520
Eli Manning, Giants: $252,280,004
Peyton Manning, Colts, Broncos: $248,732,000
Philip Rivers, Chargers, Colts: $243,944,322
Stafford will overtake Brady during the 2023 NFL season, and Rodgers likely will in 2024. Several others will be close to the top after their current contracts finish. If these players get another extension, they could easily end up topping this list at the end of their careers.
To get an idea of how today's highest-paid stars are stacking up, here are where the top-five quarterbacks under 30 stand heading into the 2023 season:
Dak Prescott, Cowboys: $162,317,825
Jared Goff, Rams, Lions: $161,016,068
Deshaun Watson, Texans, Browns: $142,762,978
Patrick Mahomes, Chiefs: $119,854,472
Josh Allen, Bills: $113,076,199
You can look for these names to top the list above in the next decade or so.