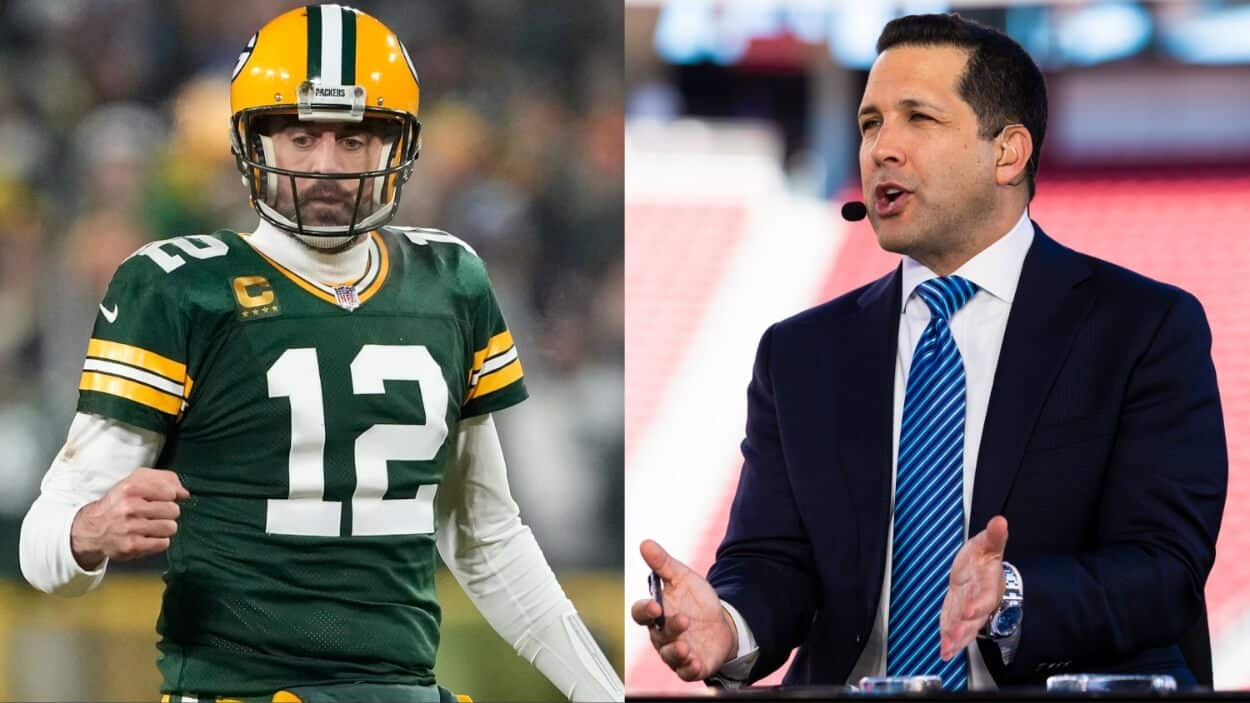 WATCH: Adam Schefter Excitedly Breaks Aaron Rodgers Trade News on Live TV, Shocks Co-Hosts
ESPN NFL insider Adam Schefter was as shocked as anyone when he got the news on live TV about the Aaron Rodgers trade to the New York Jets.
We're all excited about the Aaron Rodgers trade. Some because of what it means for the New York Jets or the Green Bay Packers, and some simply because we don't have to hear about it anymore. The most excited person when the trade came down, though, was ESPN insider Adam Schefter because he got to break the news on live TV. And his NFL Live co-hosts were stunned when it happened.
Adam Schefter shocked his 'NFL Live' co-hosts breaking news of the Aaron Rodgers trade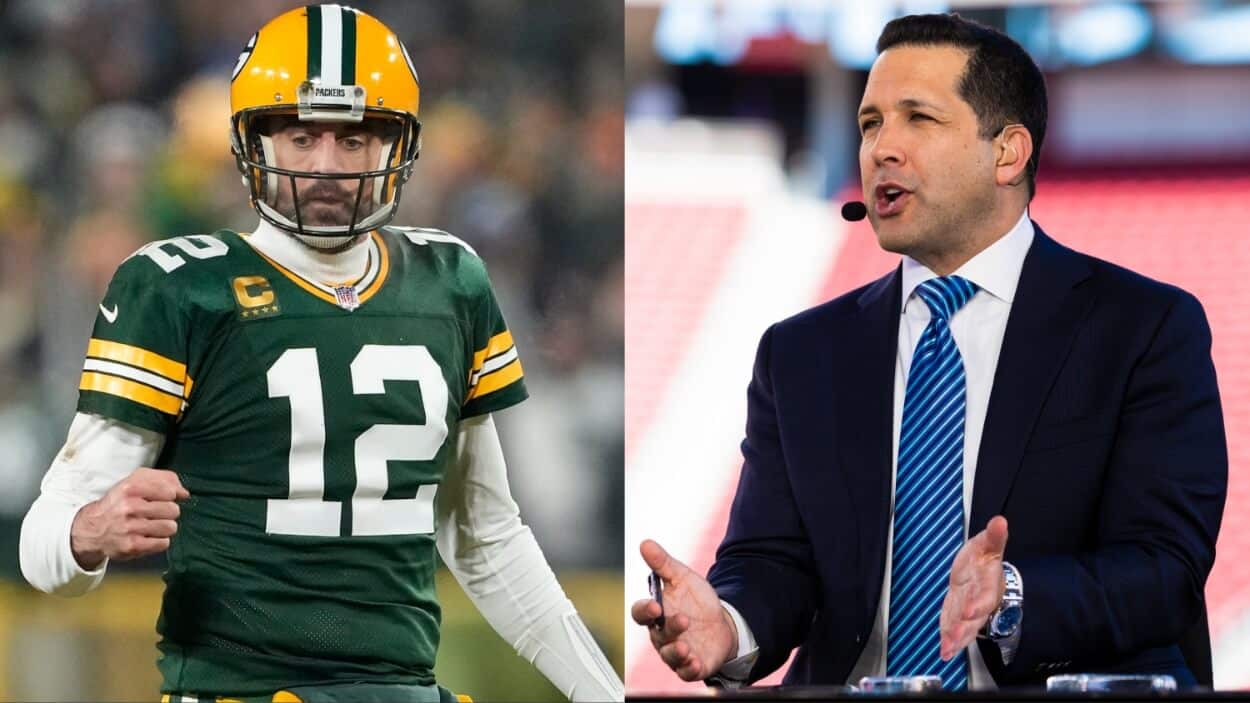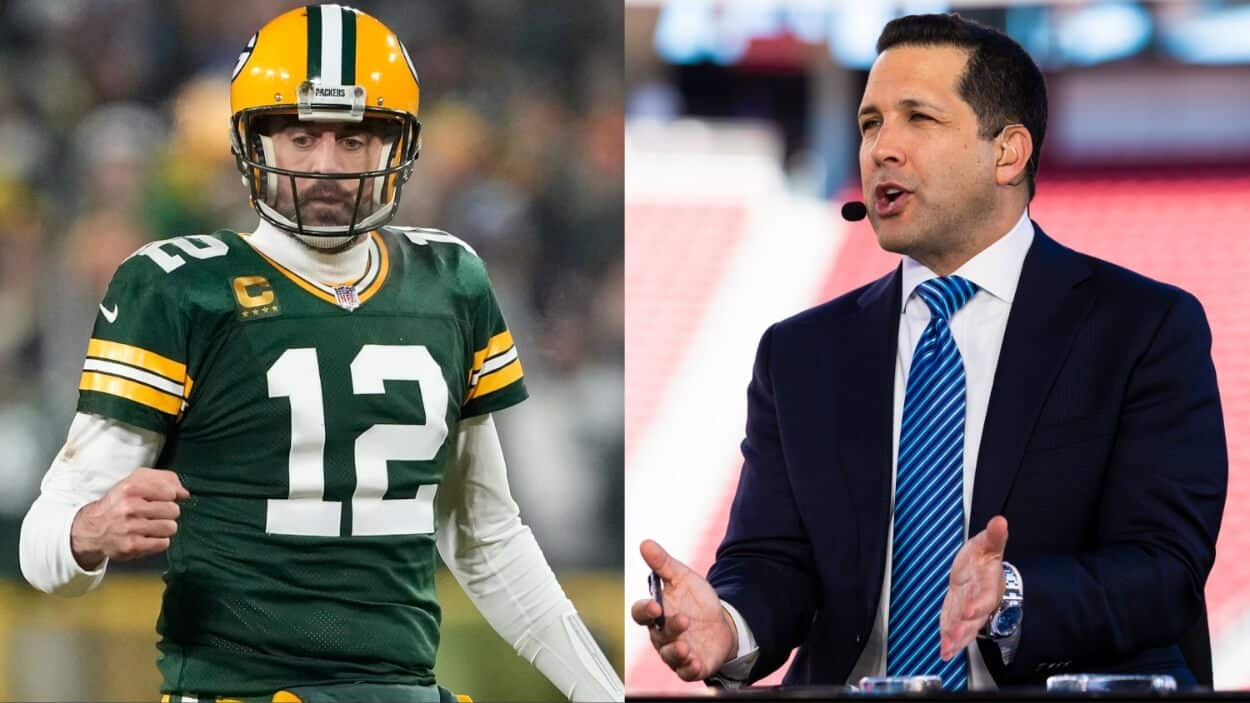 The Aaron Rodgers trade saga has gone on for months, and NFL insiders repeatedly pointed to this week as D-day in the negotiations. This is because the 2023 NFL Draft kicks off on Thursday, and if the Packers wanted 2023 picks, they'd have to do the deal before April 27.
However, most NFL analysts pointed to Wednesday or even Thursday or Friday as the drop-dead date for the deal. That's one reason ESPN NFL insider Adam Schefter seemed as shocked as anybody when he looked down at his phone on Monday afternoon's NFL Live.
"Oh, Laura. We have breaking news right now," Schefter breathlessly announced to NFL Live host Laura Rutledge during a segment on a potential Trey Lance trade. "Breaking news. Aaron Rodgers is officially being traded to the New York Jets. And it just came down moments ago in a trade involving six picks. Aaron Rodgers is going to the New York Jets. It's official. It is happening, finally!"
Then Schefter really set the hook into his co-hosts as he announced the details of the trade.
"The Jets are sending their first-round pick this year," Schefter started in dramatic fashion. This caused co-host Marcus Spears to shout, "I told you!" while Rutledge, Mina Kimes, and Dan Orlovsky all made stunned faces.
"Hold on! Big Swagu, hold on!" Schefter shouted at Spears.
The insider then explained the Jets are giving up first-, second-, and sixth-round picks in 2023 and a conditional second-round pick (that could become a first) in 2024 but are getting back a 2023 first and fifth, essentially making this year's first a trade back and the sixth a one-round trade up.
If you find all this a little hard to follow in writing, check out Schefter's NFL co-hosts trying to figure out what actually happened with the Aaron Rodgers trade in real-time in the Twitter video above.
Schefter continued to read directly from his cell phone, trying to explain the complex trade to his fellow ESPN'ers as he got it. He also added the fact that the conditional second-round pick in 2024 "becomes a one if Rodgers plays 65% of the plays this year."
After Schefter came up for air, Kimes rubbed her hands together and pondered, Spears took a long pull from his water bottle, and Orlovsky's face stayed stunned. Only Rutledge, the pros pro that she is, recovered quickly and started breaking the trade down for the viewers.
It was a fun moment and one that ESPN will likely replay for a long time to come.