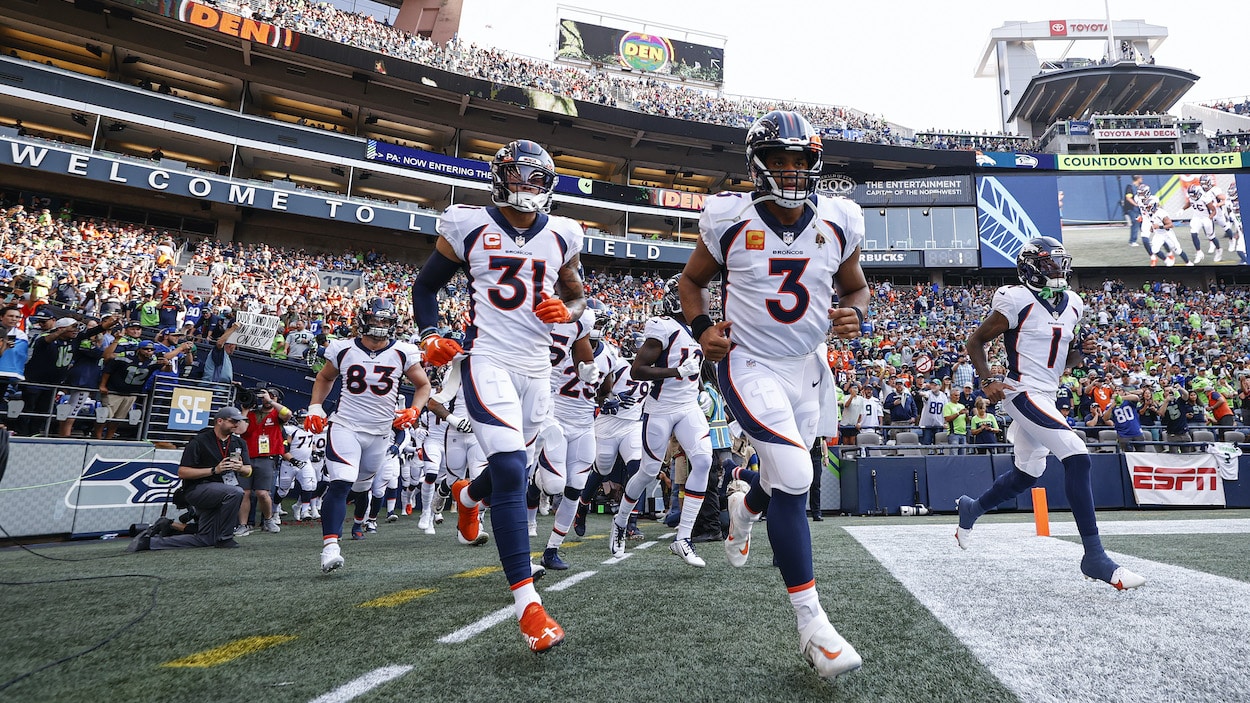 Seahawks Superfan Mina Kimes Defends Fans Booing Russell Wilson
Broncos QB Russell Wilson returned to Seattle and heard a chorus of boos, and that doesn't surprise Seahawks fan Mina Kimes at all.
There are unwritten rules in pro sports when a fan base welcomes back a former superstar who left for another team. You show a nice tribute video, give them a respectful ovation during introductions, and then root for the home team like always during the game. That's not what Seattle Seahawks fans did for Russell Wilson in his first time back (and first time with) the Denver Broncos on Week 1's Monday Night Football. The Lumen Field crowd booed him lustily, and ESPN pundit/Seahawks superfan Mina Kimes says Wilson deserved it.
Seattle Seahawks fans booed Russell Wilson after giving them 10 years and a Super Bowl 
Russell Wilson wasn't supposed to be a star. After three years at NC State, Wolfpack coach Tom O'Brien wanted to start Mike Glennon, and Wilson transferred to Wisconsin. The 5-foot-11 QB then led the Badgers to the 2011 Big Ten Championship and the 2012 Rose Bowl crown. The Virginia native declared for the NFL Draft in 2012.
That year, after teams drafted quarterbacks Andrew Luck, Robert Griffin III, Ryan Tannehill, Brandon Weeden, and Brock Osweiler, the Seattle Seahawks finally picked Wilson in the third round, No. 75 overall.
Wilson quickly beat out Matt Flynn to start Week 1 of his rookie season and didn't miss a start until hurting his hand in Week 5 last season.
He also led the Seahawks to back-to-back Super Bowls in 2013 and 2014, winning the first and heartbreakingly losing the second by throwing the infamous Malcolm Butler interception against the New England Patriots.
When the Seahawks traded Wilson to the Broncos this offseason, he left the Pacific Northwest with a 104-51-1 record as a starter, 37,059 passing yards, 292 touchdown passes, and 87 interceptions.
Despite all that, Seahawks fans gave Wilson a hearty Bronx cheer when he came out for Week 1 of the 2022 season sporting the Broncos' blue and orange.
Mina Kimes defended Seahawks fans (and former players) beating up on Wilson
When Russell Wilson returned to Seattle, it shocked many NFL fans that the team the QB led for a decade would boo him like they did. ESPN personality and noted Seahawks fan Mina Kimes wasn't surprised at all.
During an appearance on the Dan Le Batard Show with Stugotz, Kimes discussed the signal-caller's reception:
Even before he left, there has been drama surrounding Russell Wilson for two or three years at that point. Rumblings of discontent. Rumors that he wanted out. A list of teams he would like to be traded to, provided by his agent. That sowed a lot of discontent among the fan base. And, as we learned eventually, amongst his teammates. But that goes back to the Legion of Boom roster.

Mina Kimes on Russell Wilson
Kimes went on to explain that some of the animosity from the fans also comes from teammates — like former Seahawks Richard Sherman and Doug Baldwin — not liking Wilson. The writer, reporter, and podcast host even compared Wilson to "an ex who's moved on to a better partner that he's living his best life."
She specifically referenced Wilson's quote from this summer where he said, "glad to be with a team where I don't have to carry them."
In summation, Kimes told Dan Le Batard — and any other stunned observer — "I'm actually shocked that you're shocked by the booing, given the history and the recent history between the two parties."
Is Pete Carroll's team better without his former superstar QB?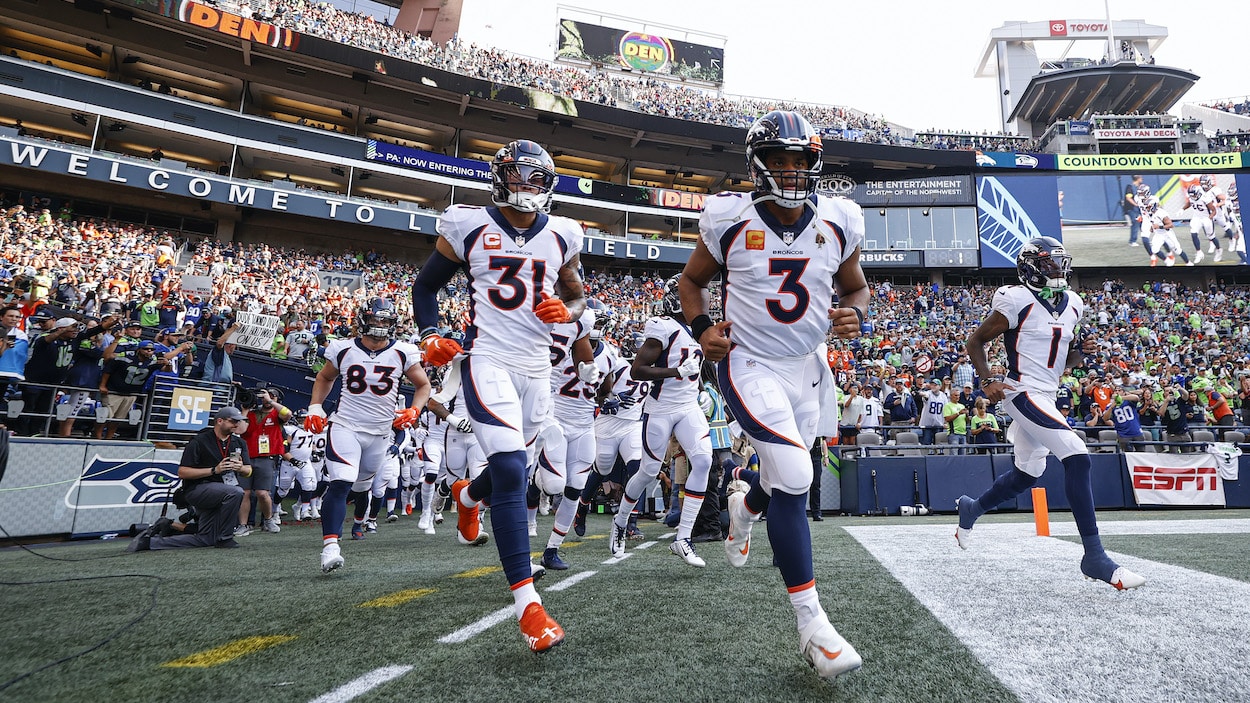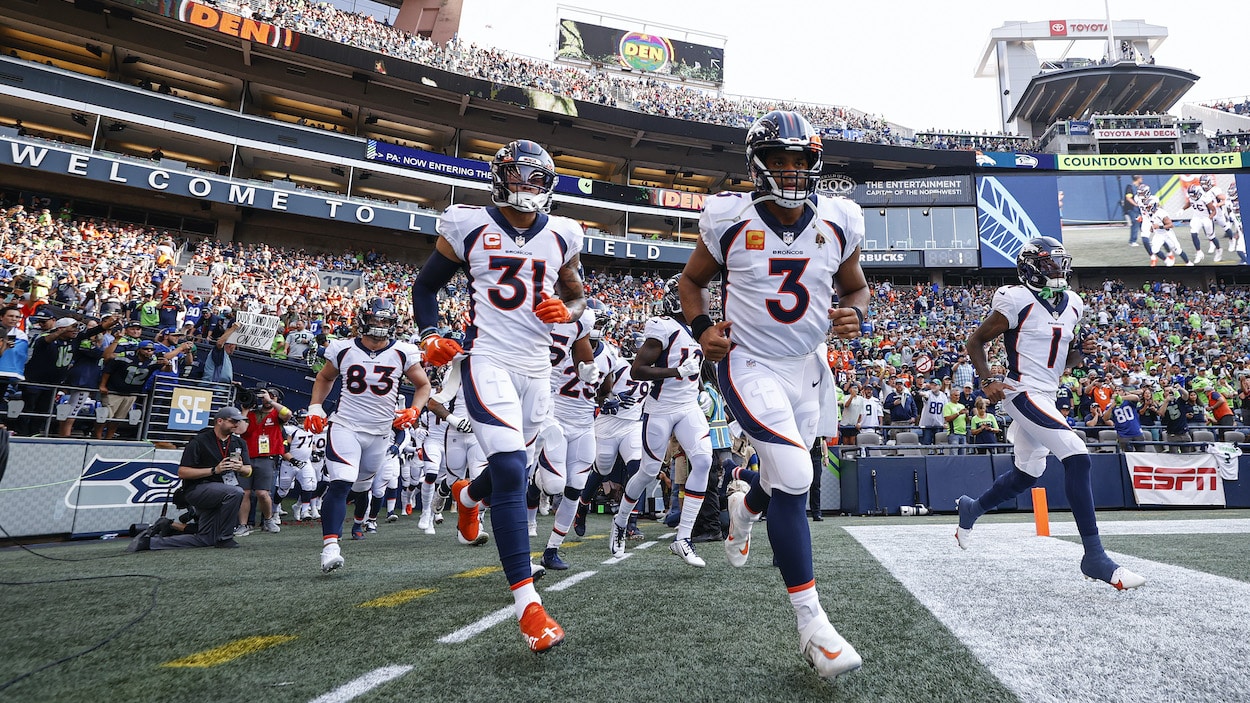 After losing a quarterback with nine Pro Bowl appearances and a Lombardi Trophy, Pete Carroll and the Seahawks started Geno Smith in Week 1 on Monday Night Football. And they beat Russell Wilson and the Denver Broncos.
That result begs the question, are the Seahawks better without Russ?
The answer in the short term is no. The Seahawks went full-on Pete Carroll this offseason and bulked up on running and defense, and in Week 1, beat a team still trying to integrate a dynamic new quarterback.
First-year head coach Nathaniel Hackett also takes a lot of responsibility for the loss, not going for it down one on 4th-and-5 with about a minute left in the 4th quarter.
Denver will right the ship and win its fair share of games, while Seattle will revert to the overall talent on the roster and lose quite a few.
In the long run, though, getting off Wilson was a good move. The Seahawks reached their ceiling with the 33-year-old QB, and trading him a year before a loaded 2023 quarterback draft class comes out makes a lot of sense.
Whether the Seahawks fans were right to boo Wilson is another story. While it's generally not pro sports protocol, Wilson isn't blameless, as Mina Kimes explained. The relationship is tense now, so the booing is fine.
And in a few years, when Wilson is ready to retire, don't be surprised if the QB finally makes a triumphant return to Washington state, and all is forgiven.
All stats courtesy of Pro Football Reference