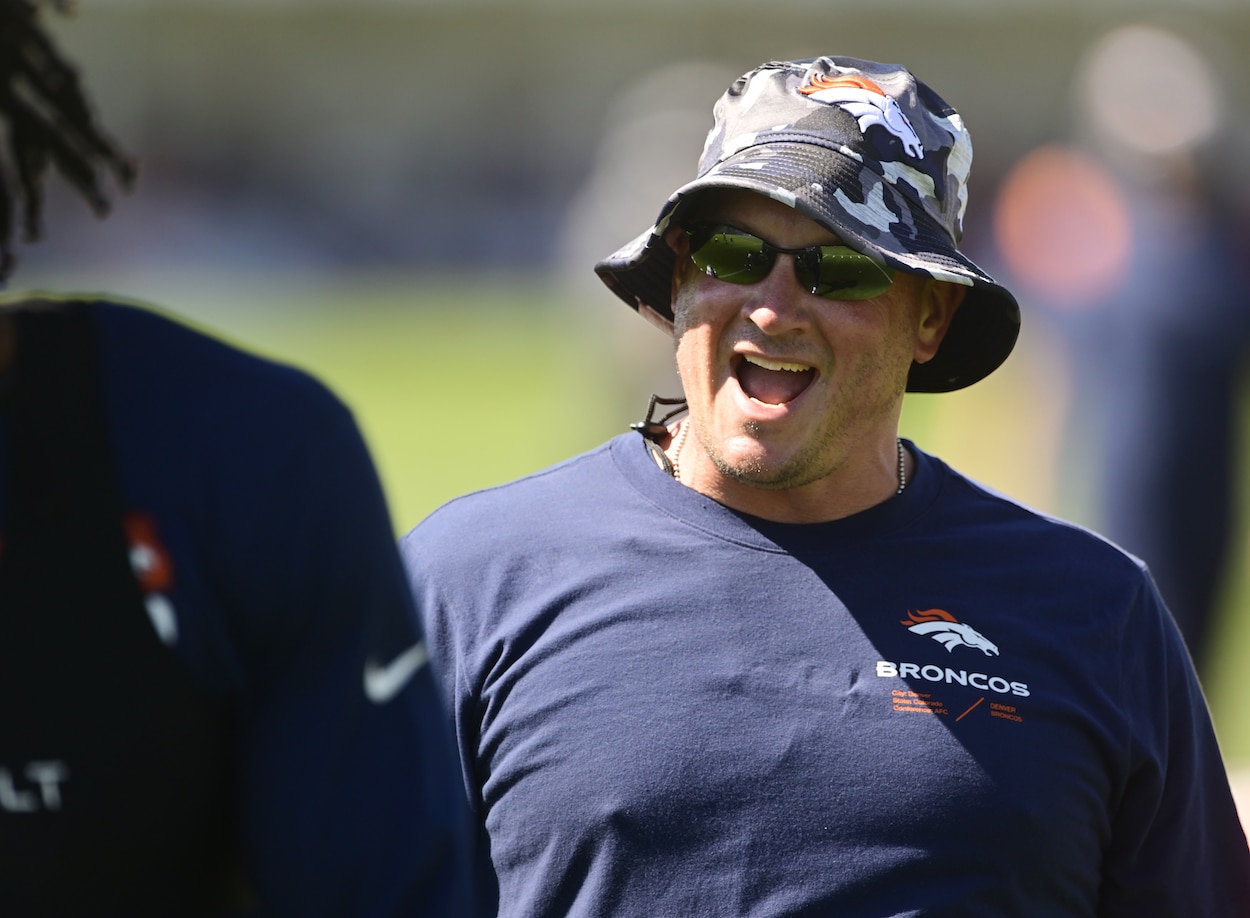 New Broncos Head Coach Nathaniel Hackett Has Unique Strategy to Make Training Camp 'Hyper-Competitive'
The Denver Broncos' Nathaniel Hackett is doing things his way in his first head coaching gig. Will it pay off this season?
The Denver Broncos Nathaniel Hackett waited a long time to get his first NFL head coaching gig. Now that he is in charge, the former Green Bay Packers offensive coordinator is doing things his way. Early reports from Broncos training camp say that Hackett is implementing a unique practice strategy that is making the lead-up to the 2022 NFL season "hyper-competitive."
Nathaniel Hackett is doing things his way at Broncos training camp
Denver Broncos first-time head coach Nathaniel Hackett is only 42, which is relatively young for an NFL head coach. However, the son of legendary NFL offensive coordinator Paul Hackett already has nearly two decades of football coaching experience.  
After three seasons calling plays for Aaron Rodgers and the Packers, the Broncos hired Hackett after parting ways with Vic Fangio.
The organization then promptly traded for quarterback Russell Wilson, signed pass-rusher Randy Gregory, and instantly became a contender in the loaded AFC.
Now leading his first training camp as a head man, Hackett is implementing his vision in his own way. According to NFL insider Albert Breer, Broncos training camp features no 1-on-1 drills, no 7-on-7 drills, and "a LOT of 11-on-11."
Breer explains that the idea is to "Get most from [the NFL-mandated] 13 full-speed camp practices." This is creating a "hyper-competitive" environment at UCHealth Training Center in Englewood, Colorado.
This is an interesting approach from Hackett. Over the years, the NFL and NFLPA have collectively bargained for fewer and fewer full-speed training camp practices to avoid wear and tear on players' bodies and keep them safer.
Hackett is pushing these limits to prepare his team for a grueling and physical upcoming 17-game season.
Fans will see if this intensity pays off when the regular season comes, but, for now, it is worth noting that the Broncos have already suffered a major injury blow. The team lost wide receiver Tim Patrick for the year with an ACL tear.
Born to be an NFL coach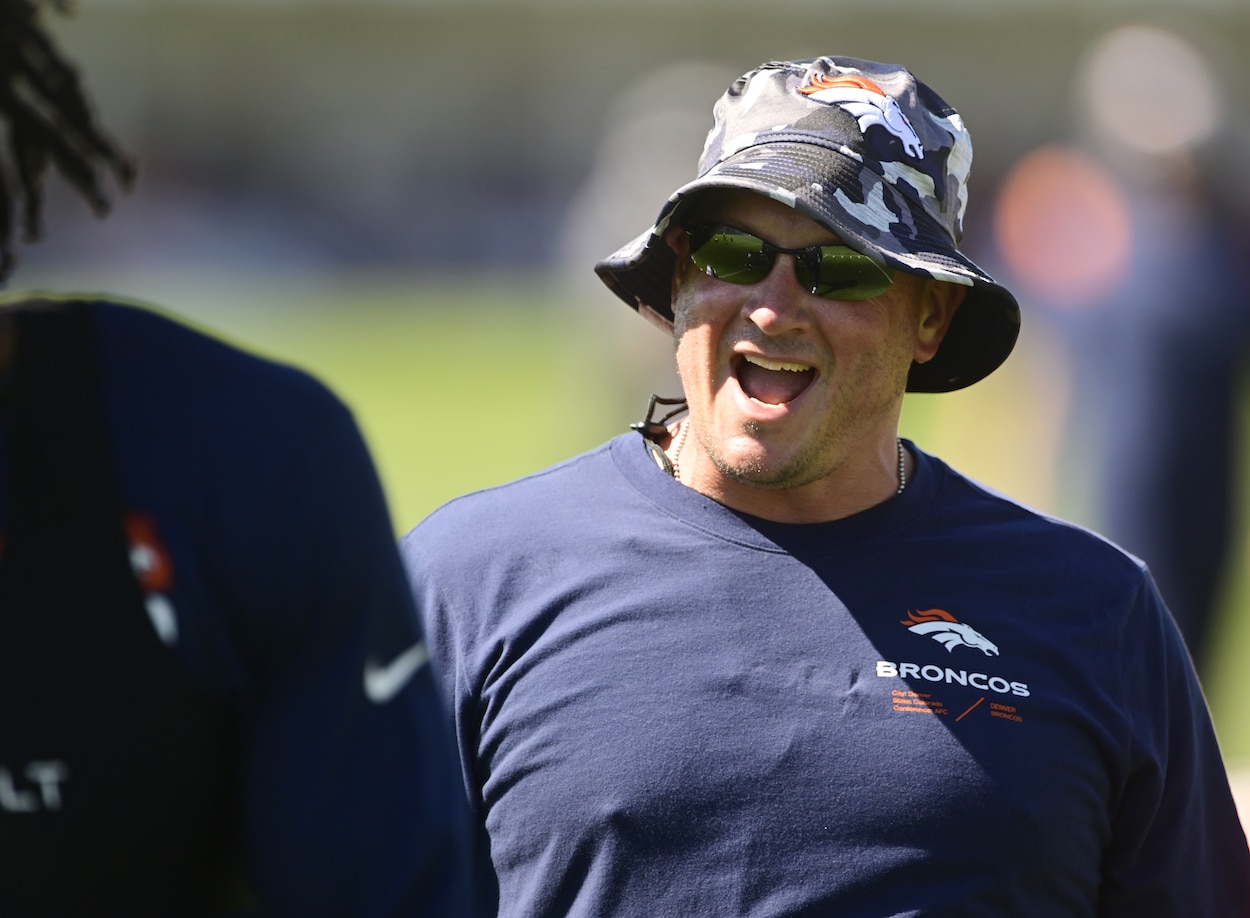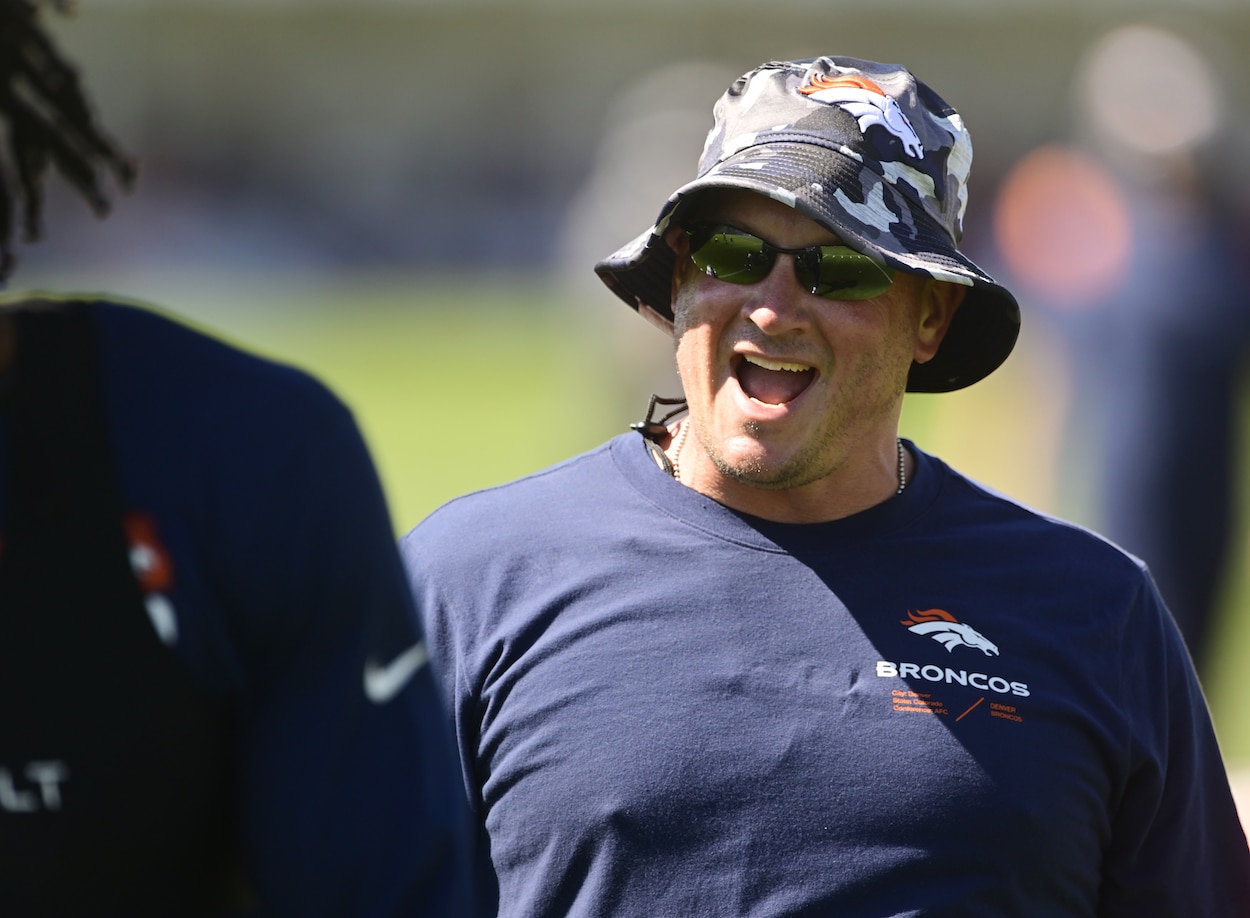 Nathaniel Hackett grew up as the son of a football coach and saw a lot growing up. His father, Paul Hackett, was a college and NFL assistant, a college head coach at Pitt and USC, and an NFL offensive coordinator for the San Francisco 49ers, Dallas Cowboys, Kansas City Chiefs, Cleveland Browns, New York Jets, Tampa Bay Buccaneers, and Oakland Raiders.
Paul won as a QB/WR/TE coach for the 49ers in 1985.
Like his father, Nathaniel attended UC Davis for college and started his coaching career there. After he left his alma mater, assistant stints with Stanford, the Tampa Bay Buccaneers, Buffalo Bills, and Syracuse followed.
Nathaniel's first OC gig came at Syracuse in 2011 under Doug Marrone. The California native followed Marrone for the next several years to the Bills and then the Jacksonville Jaguars. In 2019, Nathaniel became Packers OC of the Green Bay Packers under Matt LaFleur.
Now Nathaniel has the opportunity his father never got, as an NFL head coach. Time will tell whether he will succeed or fail. But what you can definitely say now is that he is doing it his way.
Like Sportscasting on Facebook. Follow us on Twitter @sportscasting19 and subscribe to our YouTube channel.