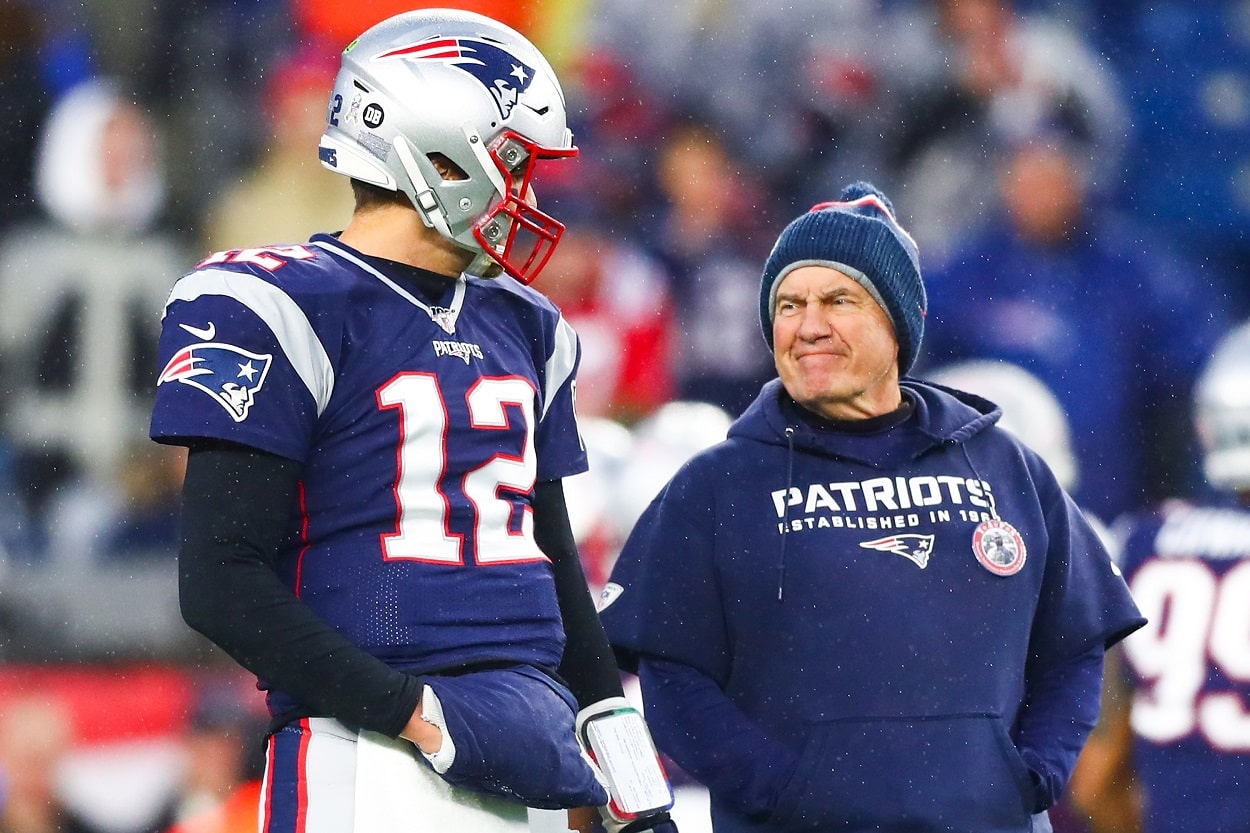 Bill Belichick May Have to Do the Unthinkable to Preserve His Patriots Legacy
Could Bill Belichick bring Tom Brady back to the New England Patriots?
The universe has a funny way of working. 
Ironically, both Bill Belichick and Tom Brady are in the midst of perhaps the most trying season of their respective careers. With the New England Patriots looking bound to miss the playoffs for the second time in three years and the Tampa Bay Buccaneers two games below .500, it's safe to say the two NFL legends have seen better days. 
While Brady's legacy as the greatest quarterback of all time is safe no matter how this season ends, Belichick's reputation as the greatest coach in NFL history isn't nearly as secure as it was a few years ago. 
After all, just like he did before Brady took over for an injured Drew Bledsoe, Belichick has struggled to consistently win with other quarterbacks. As the Patriots attempt to avoid completely falling on their face down the stretch, speculation about potential changes to the coaching staff continue to swirl. 
And if Belichick wants to preserve his legacy and retain his position within the organization, he may have no choice but to swallow his pride and pull off a move that would instantly make the Patriots a viable contender again–at least in the short term.
A reunion with Tom Brady could solve a lot of problems for Bill Belichick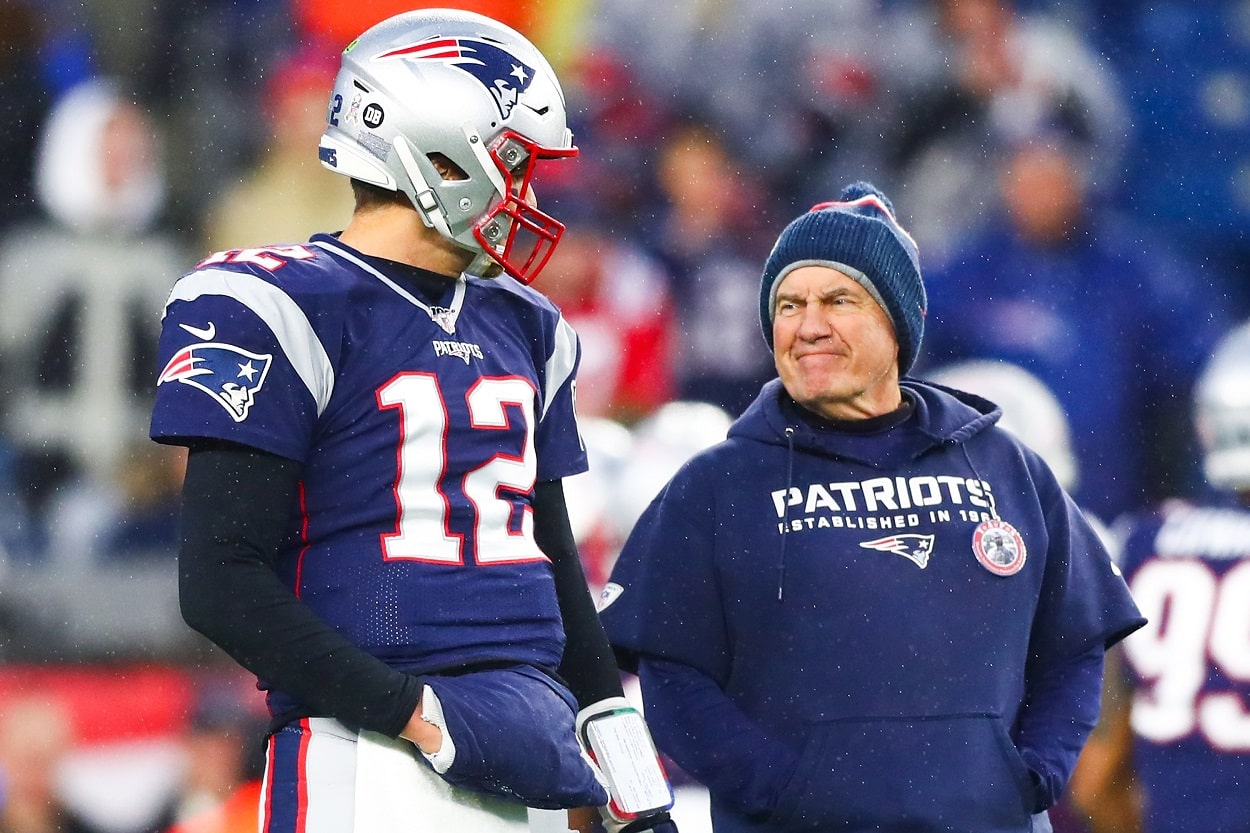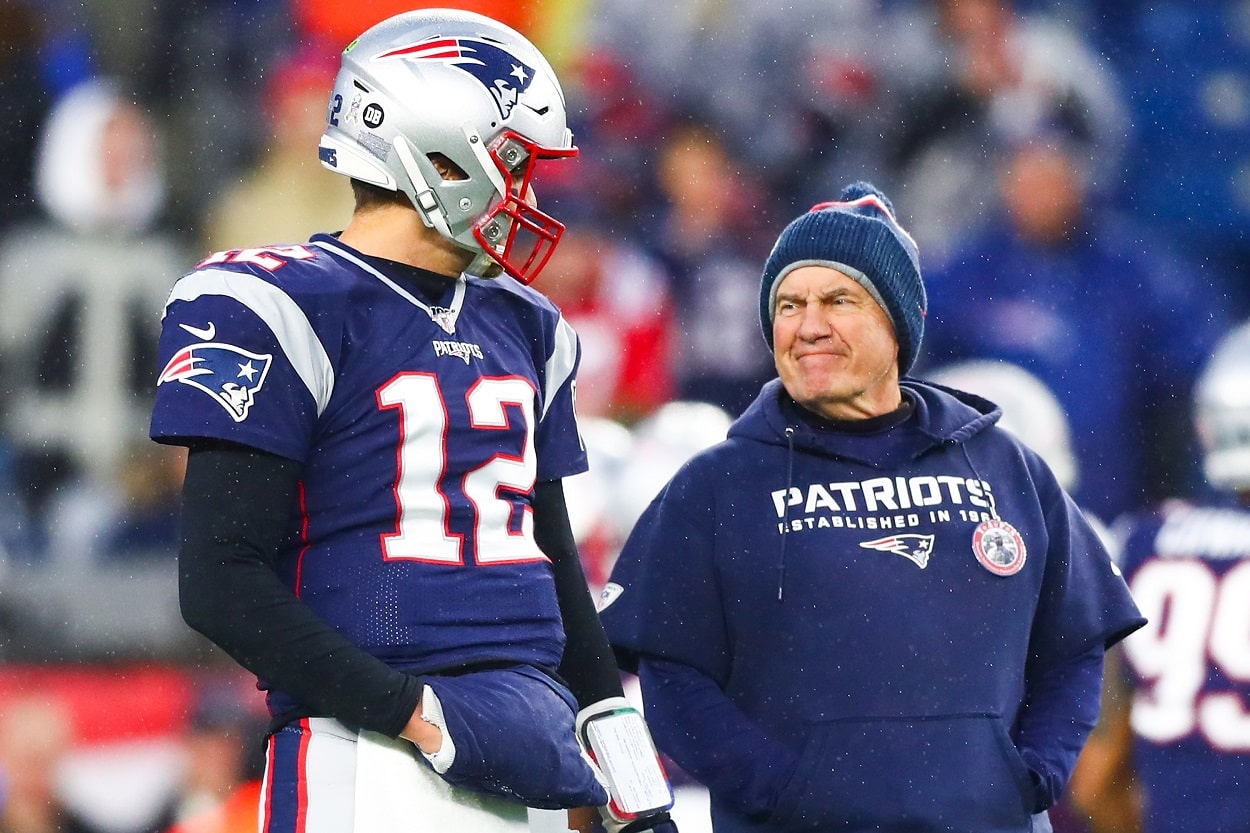 Considering he essentially shoved him out the door, it would take a drastic change of heart for Bill Belichick to want to have Tom Brady as his starting quarterback.
But desperate times call for desperate measures. 
And for anyone who's been forced to watch New England's offense under Matt Patricia, it's evident that the entire operation is broken. 
So, what better way to fix a unit that isn't totally devoid of talent than to bring back the most iconic player in franchise history? 
Although Mac Jones can rightfully blame some of his struggles on inept play calling and a porous offensive line, he's also made enough mistakes to raise questions about his ability to be a starting quarterback. On the other hand, even though the Buccaneers have regressed on offense, Brady still has something left in the tank. 
Belichick clearly has his sights set on breaking Don Shula's all-time wins record, and you can bet he'd like to add another Super Bowl ring to his collection. With a top-10 defense and some solid playmakers on offense, the Patriots have some of the parts needed to compete for the Lombardi Trophy.
Signing Brady in free agency would instantly bring much-needed experience, knowledge, and confidence to the huddle, reignite interest in the team, and give Belichick the leader he needs on the field. 
Of course, whether TB12 would be interested in working for the notoriously demanding coach again remains a mystery. And there's certainly no guarantee that Belichick would entertain a reunion in the first place. 
However, objectively speaking, there's no denying that the Patriots would be in a stronger position for the 2023 season with Brady under center. And given how shaky things have gone since TB12 took his talents to Tampa, Belichick should consider a reunion before he continues to rack up losses.
Brady could also benefit from returning to New England
Would Brady pass on the opportunity to sign with a more talented team like the San Francisco 49ers in order to come home to New England? 
It would be awfully difficult to say no to throwing to Deebo Samuel, Christian McCaffrey, and George Kittle. Plus, it would be tough to pass on wrapping up his illustrious career playing for his childhood team. 
But how could Brady not view returning to the Patriots as a fitting end to his football life? 
On one hand, he turned the Patriots into the most successful dynasty the sport has ever seen. Without him, Robert Kraft wouldn't have made hundreds of millions of dollars, and Belichick wouldn't have a collection of Super Bowl rings at home. And as we've seen, New England (aka Belichick) hasn't figured out a way to win without Brady. 
The 45-year-old quarterback already proved his worth by immediately leading the Buccaneers to a championship in his first year with the team. Brady could strengthen his legacy even further by being Belichick's savior for the second time. After all, Kraft may have pulled the plug on Belichick if not for a miraculous turnaround in 2001 under a much younger version of TB12. 
Signing a one-year deal that would ensure he retires as a member of the franchise that selected him 199th overall in the 2000 NFL Draft would provide Brady with a path to compete for another ring with the two men he enjoyed so much success with across two decades.
And for someone who deeply appreciates NFL history and a good storyline, how could Brady not see the upside of playing in front of Patriots fans again?
Should Patriots fans want to see TB12 back in Foxborough?
The idea of Brady suiting up in a New England uniform in 2023 may bring excitement to some members of Patriot Nation. However, if TB12 finds himself back in Foxborough, that may not necessarily be a great sign of what's to come. 
Bringing back Brady would be a massive admission of failure by Belichick and, by extension, Kraft. What was the point of letting him hit free agency after the 2019 season when the team could have signed him to an extension for several years? 
What was the point of spending a first-round pick on Mac Jones?

What was the point of putting fans through the awful Matt Patricia experience?

And what about that record-setting spending spree two offseasons ago that has hampered the team's financial flexibility? 
At the end of the day, a one- or two-year reunion with Brady would do nothing to answer the question of, "Who will replace Tom Brady?" 
Somehow, the Patriots are in a position where they may actually be better off with a quarterback who's closer to 50 than the one they selected 15th overall in the 2021 draft. Ultimately, though, that would still leave the franchise without a long-term answer at the most important in sports. 
But with how badly the decision to let Tom Brady walk has backfired, maybe Bill Belichick will be desperate enough to do the unthinkable.