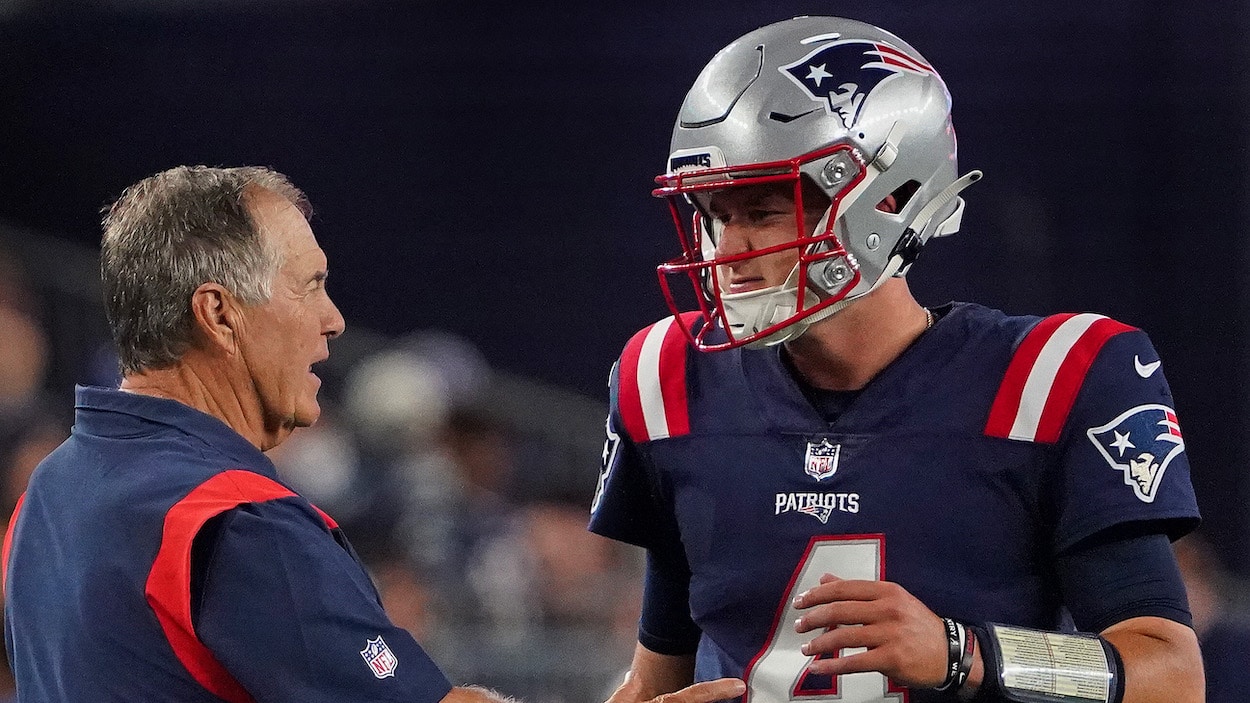 NFL Insider Ian Rapoport Reveals Why Bill Belichick Might Stick With Bailey Zappe When Mac Jones Gets Back
Bill Belichick only has another week or two before he has to make a decision between Mac Jones and Bailey Zappe at QB for the Patriots.
Two decades ago, Drew Bledsoe went out with an injury for the New England Patriots, and a young quarterback named Tom Brady stepped in for him. When Bledsoe was ready to come back, Bill Belichick made the tough decision to stick with his youngster and send Bledsoe to the bench. Six Super Bowl wins later, it is clear Belichick made the right decision. In 2022, he will have a similar decision on rookie QB Bailey Zappe to make when Mac Jones returns from injury.
Bill Belichick's open mind could lead him to pick Bailey Zappe over Mac Jones
In the first three games of the 2022 NFL season, Mac Jones was 64-of-97 for 786 yards with two touchdowns and five interceptions. During this stretch, the Patriots were 1-2.
After Jones went out with a high ankle sprain, Bailey Zappe has played in three games and is 51-of-70 for 596 yards with four TDs and one INT. More importantly, the Pats are 2-1 with Zappe under center, and the loss was an overtime defeat that got close after Bill Belichick replaced Brian Hoyer with Zappe.
While most expect Belichick to put Jones back in the lineup when he's ready, there is some buzz that Zappe could be the guy moving forward.
On the Rich Eisen Show this week, the host and NFL insider Ian Rapoport discussed the Mac Jones vs. Bailey Zappe situation. After Rapoport explained that Belichick is going to wait until all the information is in on Zappe, when Jones is fully healthy, Rich Eisen noted that it sounds like there is a chance that Zappe will keep the job.
Rapoport responded that while he believes Jones will (and should) be the starter, "I would say no, but it's Bill Belichick, so I would say, yeah. There is a chance. He opens his mind to different evaluations at all times for every player."
The point is, Belichick is one of the few coaches (and people) who truly keeps an open mind and won't make a decision until he's seen everything there is to see from Zappe, and he will weigh that against everything he knows about Jones.
Mac Jones injury update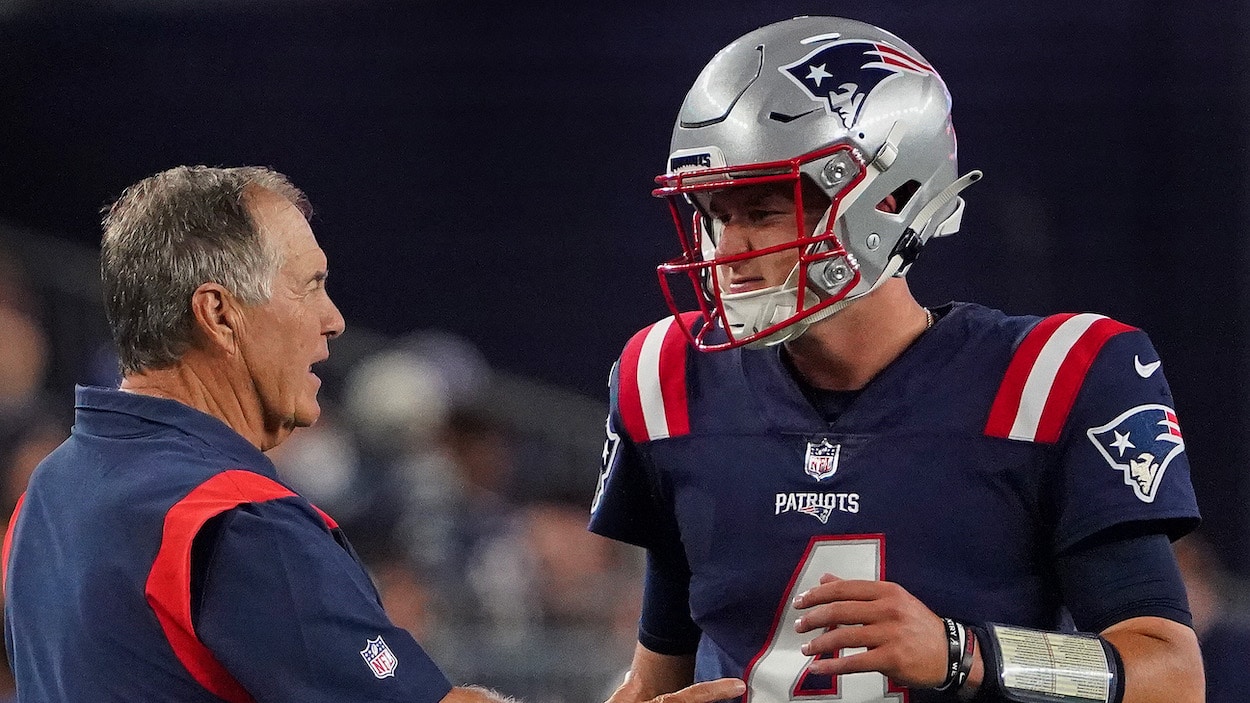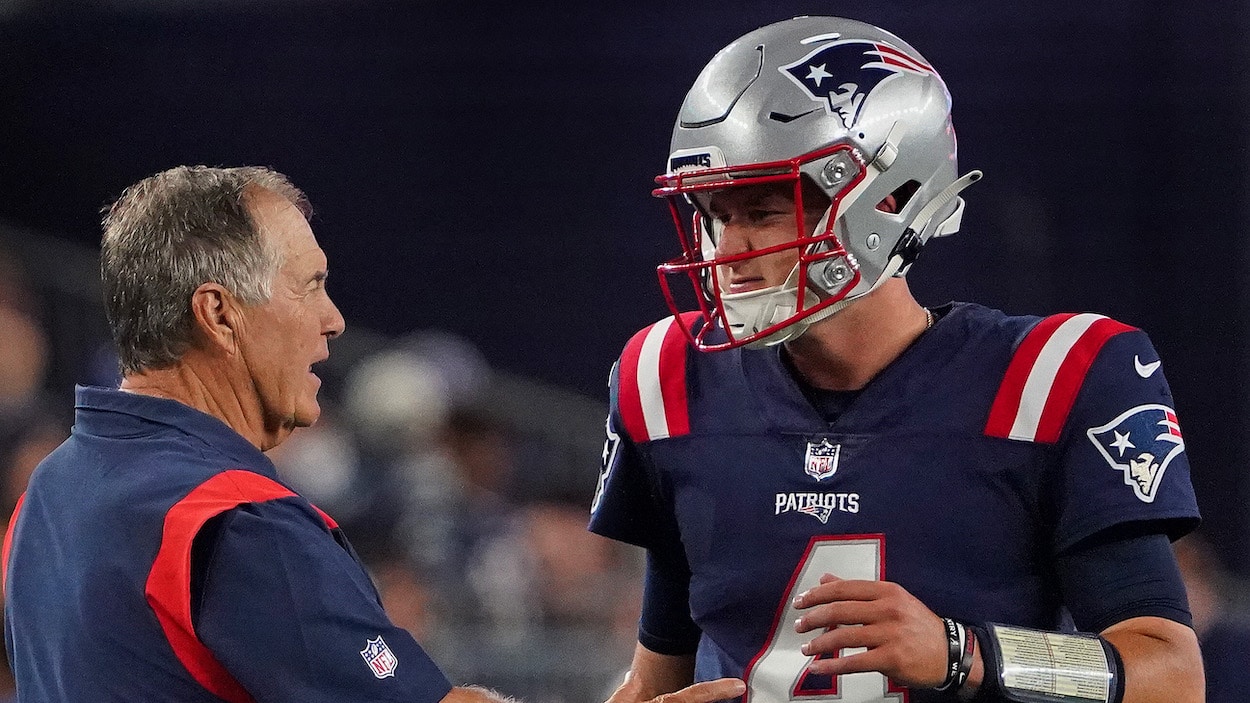 Now the question becomes, when is Mac Jones coming back?
Obviously, the Patriots are notoriously secretive about, well, everything, so there's no clear timeline for Jones to return. And, of course, Bill Belichick is being cagey about the whole situation.
"Mac is making good improvement," Belichick said, per Patriots beat writer Mark Daniels on Twitter. "We'll see where he is today. He did a lot more this Thursday than last Thursday … We'll see."
Despite the improvement, Bailey Zappe still got his second career start against the Cleveland Browns in Week 6 and helped the Pats win the game 38-15.
Now the team is heading into a home Monday night game against the Chicago Bears in Week 7 and a road game the next Sunday vs. AFC rival the New York Jets. By the Jets game, at least, Jones should be healthy enough to go. That's when Belichick will finally have to make his Tom Brady vs. Drew Bledsoe decision 2.0 and choose Mac Jones or Bailey Zappe.
Have thoughts on this topic? Keep the conversation rolling in our comments section below.