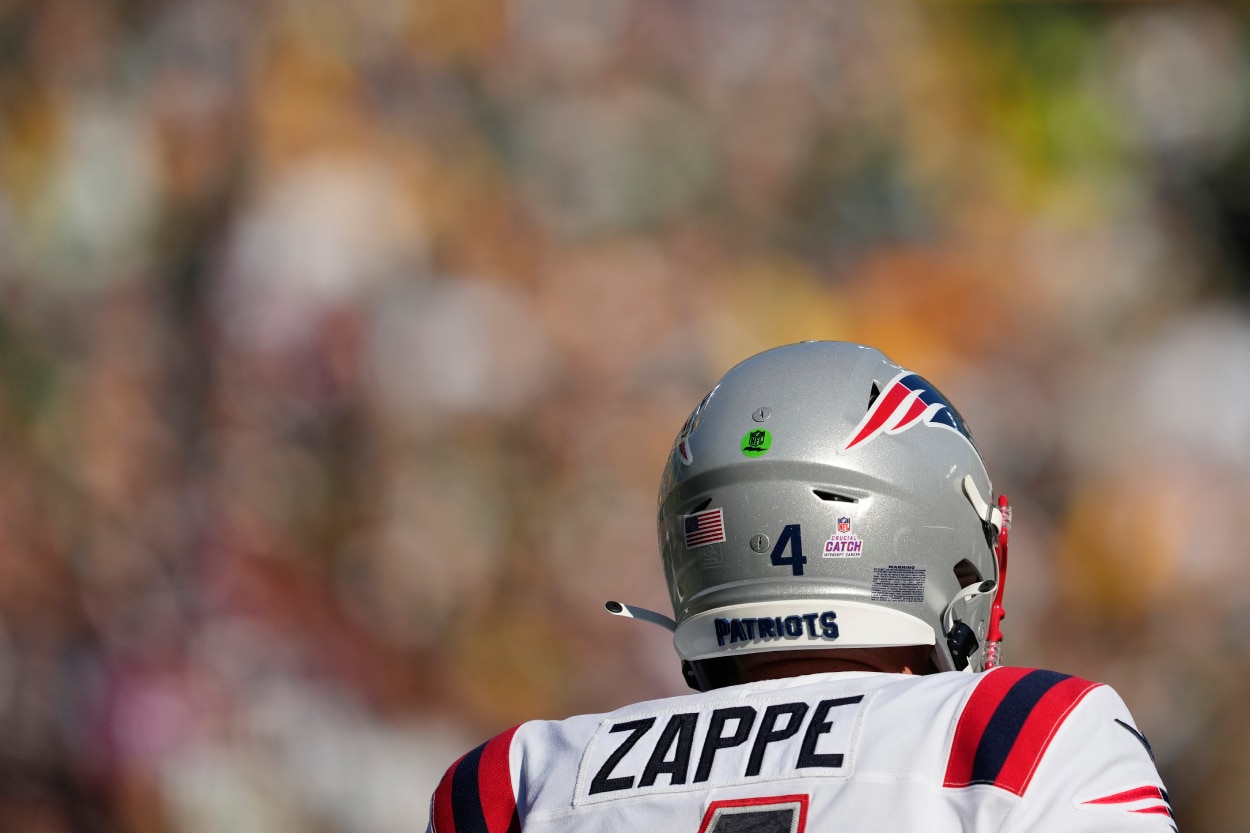 Bailey Zappe vs. Mac Jones Isn't a Quarterback Controversy — Yet
There's no quarterback controversy with the New England Patriots right now, but things could change quickly.
The job still belongs to Mac Jones, but the New England Patriots quarterback may want to speed up the recovery process.
Jones hobbled off the field at the end of a Week 3 loss to the Baltimore Ravens with a high ankle sprain. Two days before last Sunday's game against the Green Bay Packers, the Patriots ruled him out, naming Brian Hoyer the starter. Hoyer left the game in the first quarter, leaving the job for third-string rookie Bailey Zappe. Zappe didn't wow anyone with his numbers, but he nearly guided New England to an improbable victory.
Bailey Zappe showed his mettle in his first NFL game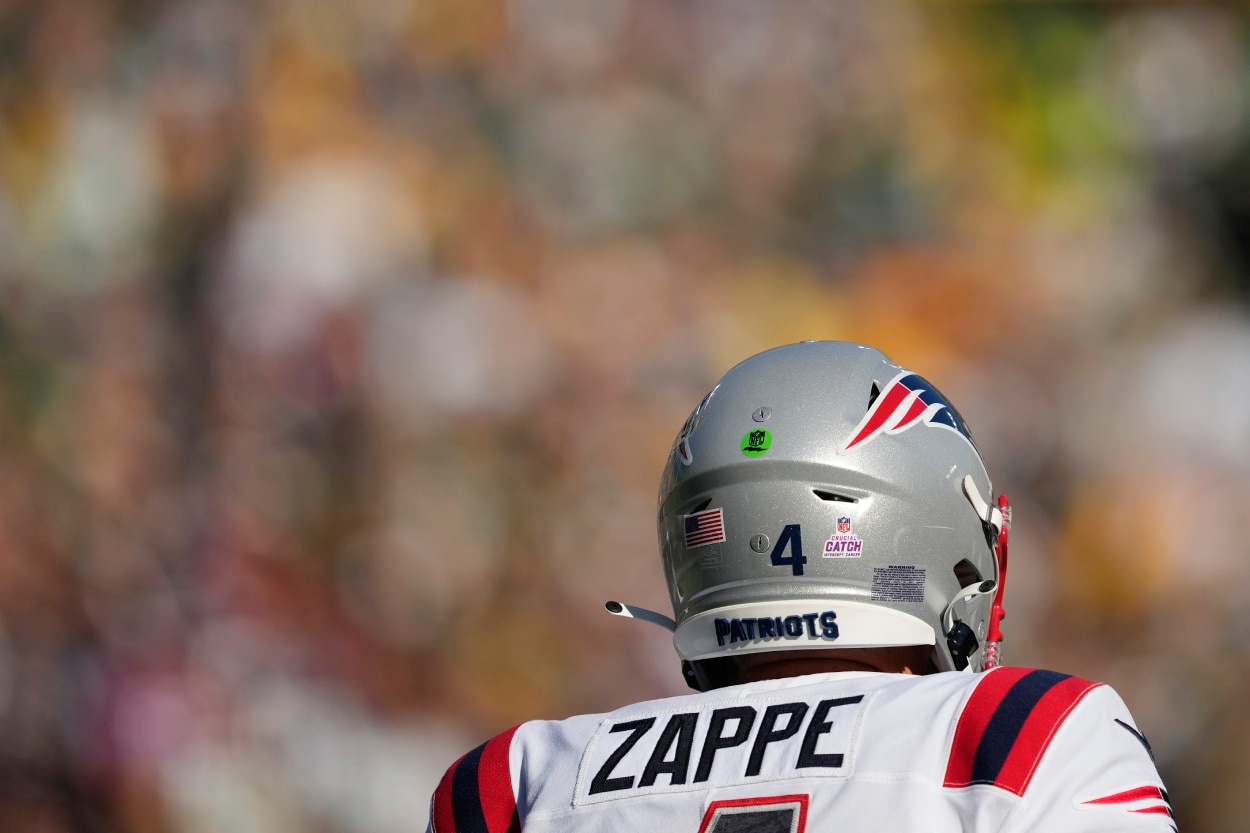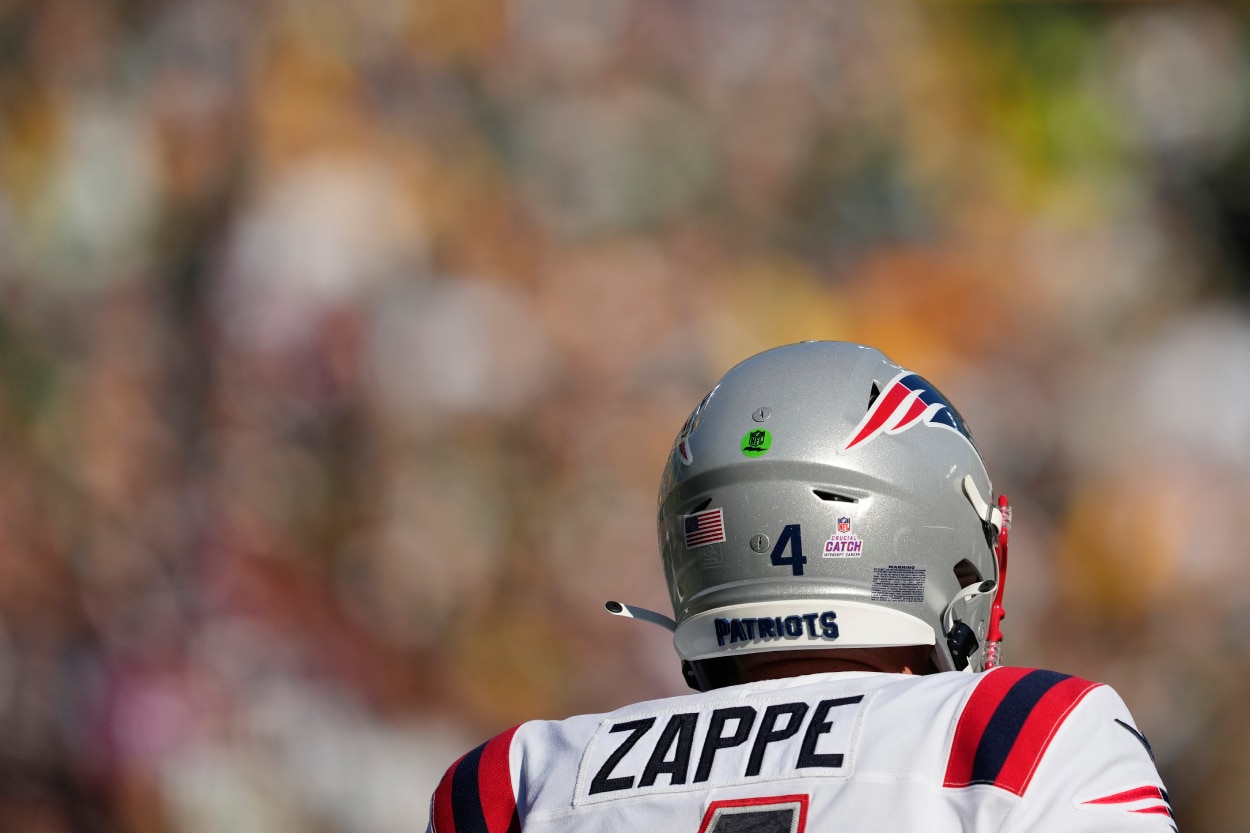 When the season began, Zappe wasn't much of a thought for the Patriots. Last Sunday, he nearly helped New England pull off the biggest upset of the week.
The Patriots headed into Lambeau Field as a 9.5-point underdog, the biggest of Week 4. Then things got worse for New England when Hoyer left with a concussion, leaving Zappe to run the show. With Zappe on one side and four-time MVP Aaron Rodgers on the other, the Patriots put quite a scare into the 3-1 Packers.
Zappe completed 10 of his 15 passes for 99 yards. He relied on a strong ground game and a Patriots defense that helped give New England a 10-3 halftime lead when Jack Jones returned an interception for a touchdown with 13 seconds left in the half.
Zappe was calm in his debut. He lofted a 25-yard touchdown pass to DeVante Parker in the third quarter that put the Patriots ahead 17-14. He then led another drive in the fourth quarter that gave the Pats a 24-17 lead, but Rodgers responded for a game-tying drive and eventually won it in overtime.
Zappe even sounded like an old pro in his postgame interview. He credited his teammates for keeping him calm and took the blame for not getting the job done.
"First, I give credit to my teammates," he told reporters. "They kept me calm, getting the nerves out of me. They kept me in my space, cool, calm, and collected. Everybody played well tonight. O-line played well tonight, we ran the ball well tonight. It really just comes down to me, I've got to make more plays, and the outcome is different."
Zappe vs. Jones is no quarterback competition — yet
It's only been one week, so to say Zappe is threatening to take Jones' job away is premature. However, if Jones is out for any length of time, that could change. According to ESPN, Jones is "unlikely" to play in Week 5, and his return is unknown. Carolina Panthers quarterback Sam Darnold suffered a high ankle sprain in preseason and still isn't ready to go.
If Jones misses the same amount of time as Darnold, things could get interesting. The Patriots play the softest part of their schedule starting this week.
New England hosts the Detroit Lions on Sunday. The Lions are a cure for any offense. Last week, Geno Smith completed 23 of 30 passes for 320 yards and two touchdowns on the road in a 48-45 Seattle Seahawks victory over Detroit.
The Patriots then play at the Cleveland Browns before hosting the Chicago Bears in a prime-time game. After the Bears, New England travels to play the New York Jets and then hosts the struggling Indianapolis Colts. The Patriots then have a bye week before playing the Jets again.
What if the Patriots go 5-0 or even 4-1 during their next five games with Zappe leading the way? Can you take out a quarterback who turned a 1-3 team into 6-3 or even 5-4?
If the Patriots have any aspirations of making the playoffs, this upcoming stretch of games will play a key role. If Zappe is the man leading the way and puts them into position, how can you take him out? Just ask Drew Bledsoe.
Like Sportscasting on Facebook. Follow us on Twitter @sportscasting19 and subscribe to our YouTube channel.