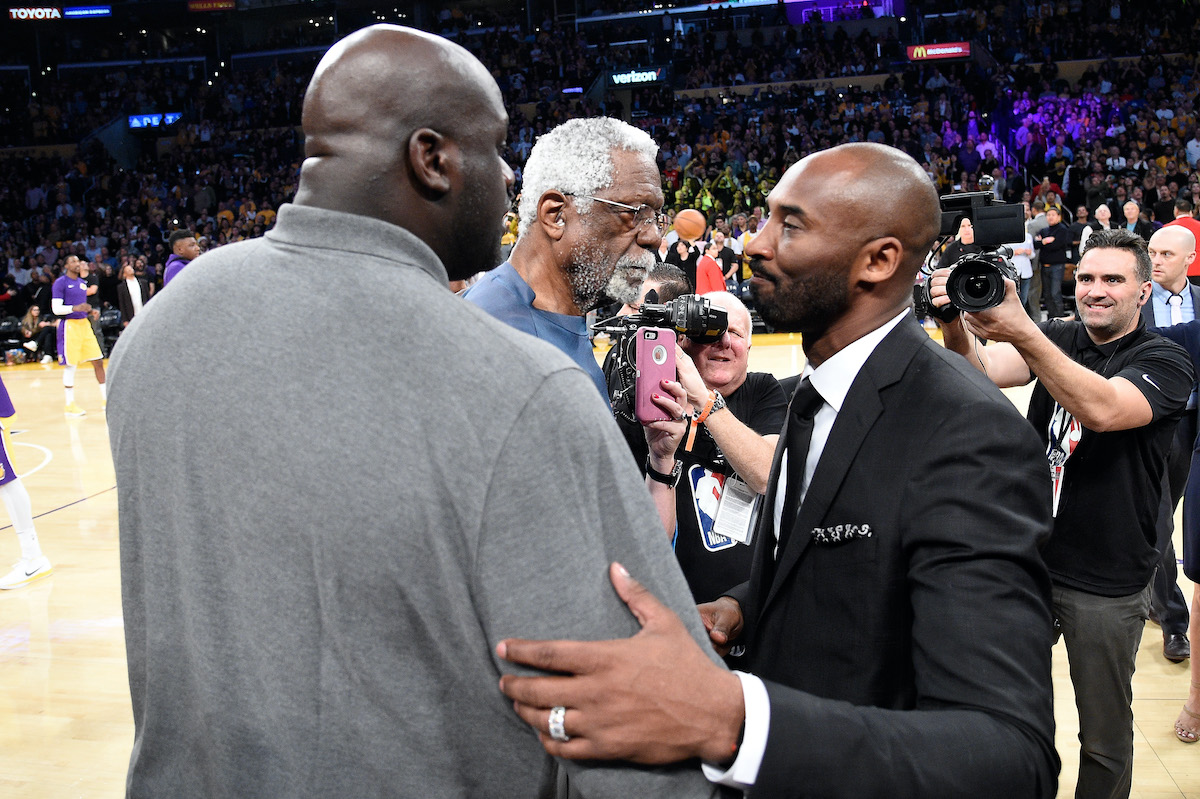 Bill Russell Is Actually the Reason Why Kobe Bryant and Shaquille O'Neal Stopped Fighting
Kobe Bryant and Shaquille O'Neal could barely stand each other. This is how they stopped fighting and became friends thanks to Bill Russell.
Two of the greatest NBA players to ever compete won three consecutive championships together. Under the guidance of the greatest coach in the league, they became a formidable duo. Kobe Bryant and Shaquille O'Neal were obvious Hall of Fame candidates; their time together felt like history in the making even as it unfolded in real-time. 
But on a personal level, they could barely stand each other. It took sage advice from a third NBA great to finally put a stop to the conflict. This is how Bryant and O'Neal worked past their beef and became friends thanks to Bill Russell.
How Kobe Bryant and Shaquille O'Neal's fight began
The Kobe/Shaq feud started off as soon as the Lakers drafted a teenage Bryant in 1996. Shaq was unmoved by the hype surrounding the young prospect and wasn't shy about saying it. Bryant said on the Hollywood Reporter Awards Chatter Podcast that Shaq went as far as slapping him during a pickup game during this era.
As the two became more effective on the court together, the acrimony seemed to get more public, and more heated. The New York Times reported that during the 1999-2000 season, Shaq called out Kobe in front of the team. During a meeting, he said Kobe was playing too selfishly for the Lakers to have any playoff success.
The two regularly said negative things about each other in the press during their time together, as this New York Times follow-up piece notes. But these types of interactions were not entirely out of line with how NBA players often called each other out during heated moments. It was the personal clashes, happening completely outside the public eye, that made this a true beef between the two superstars.
Bill Russell's sage advice ended the acrimony
Shaq, fed up with Kobe, pushed for a trade and got it. Via Basketball-Reference, he would go on to win one more championship, this time with the Miami Heat. Kobe won two more championships sticking with the Lakers. The two met several times in the intervening period, never acknowledging one another.
That changed on Martin Luther King Jr. Day in 2006. Before the game, Shaq met with Russell. The two talked about their experiences in the league, according to an ESPN report at the time. Russell revealed that his one-time rival, the great Wilt Chamberlain, became a close friend in retirement. By the time Chamberlain passed away, the pair were talking on the phone twice a week.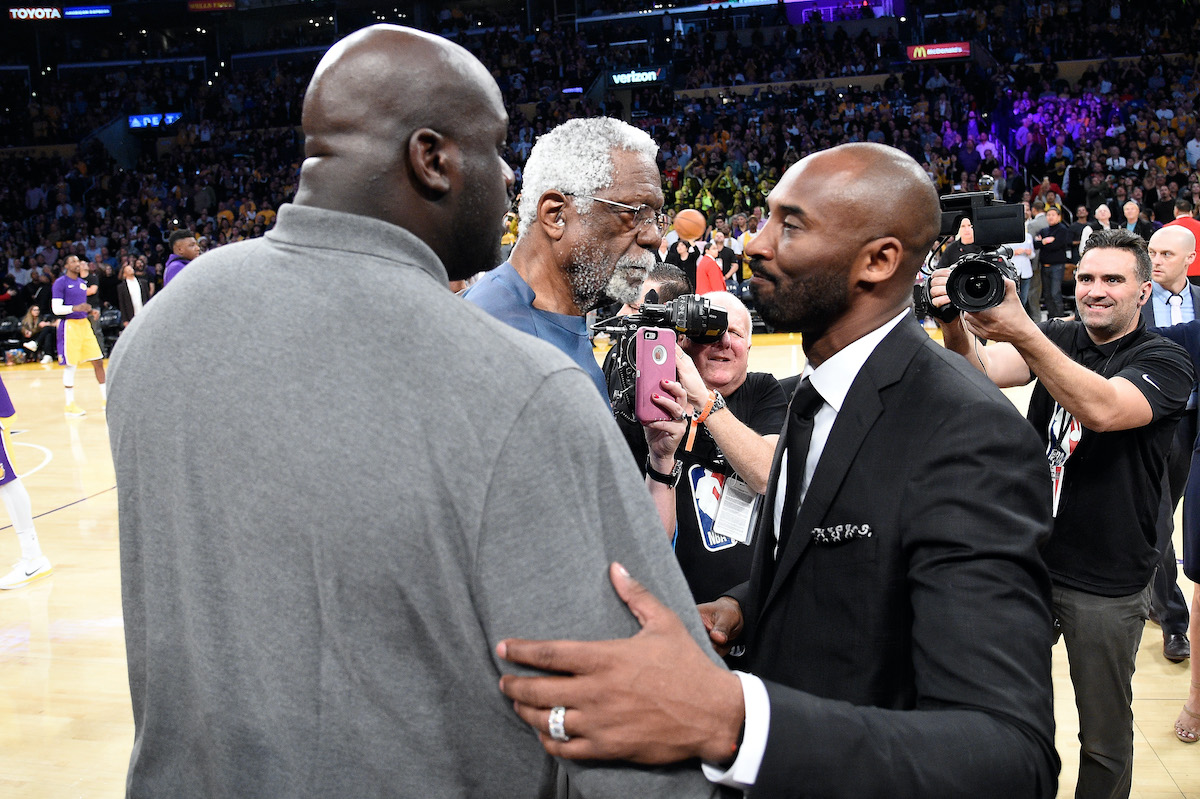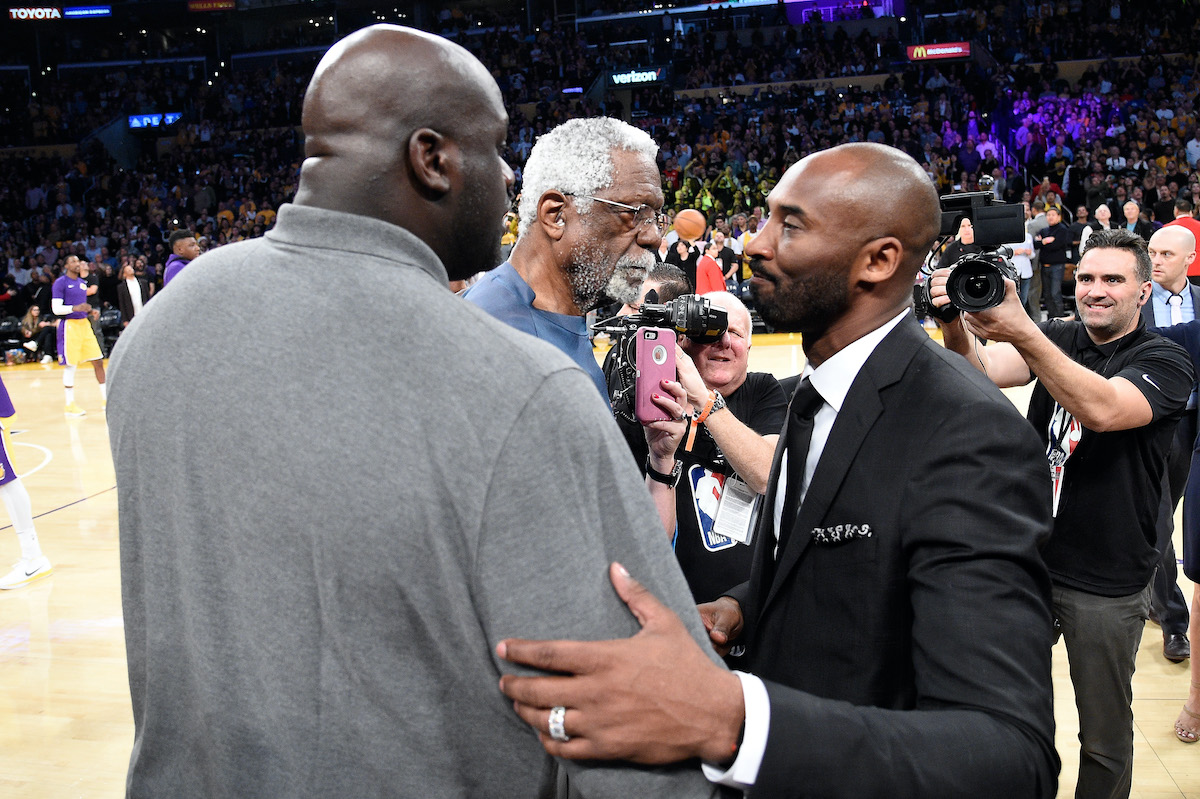 Russell pressed Shaq to try to develop his rivalry with Kobe into a similar phase. He made a point of greeting Bryant before the game, asking about his family. The two hugged.
"We've been through so many wars together," Bryant told the Associated Press. "Now, [it feels good to] just be able to move on, try to do the best for this team, wish him the best in South Beach." Shaq went on to help win the NBA Finals for Miami.
Shaq's reflects on his relationship with Kobe
These interpersonal moments are key, because much of the trash talking between the two in public may have been somewhat exaggerated. Both players have since admitted that they played up their feud to an extent. As early as 2009, Shaq admitted to ESPN that he "always loved Kobe," and that the two came to an understanding during the threepeat Lakers years.
But they still weren't exactly friends until Russell's intervention set them on a new course. Their feud took on a smirking, knowing sort of feel. It became entirely kayfabe, with no substance behind it. When Shaq's infamous 2008 freestyle threw in a hilarious offhanded line meant to insult Kobe, it was hard to imagine there being any malice behind it.
When Kobe died in a freak helicopter crash, Shaq was stunned. The two had grown close over the years. He gave a memorable speech at Bryant's memorial service, acknowledging how the two grew from legitimate feuding to a loving rivalry. Their family connections were deep enough at the end, that one of Kobe's final texts was to Shaq's son Shareef. A far cry from a young upstart enraged at being hazed by a massive, experienced guard.